After discovering alternative Lausanne, we moved a short distance to Montreux, a beautiful town on the shores of Lake Geneva. We really had no idea of things to do in Montreux, but it was an amazing surprise. We renamed it the city of happiness – are you curious to know why? I'll give you three hints – mountains, music and wine!
You can't discover Switzerland without heading to the mountains! Here are 8 wonderful hikes in Switzerland for everyone!
Montreux, capital of happiness
If you read our Lausanne post, you'll know we were a bit unlucky with the weather. It was windy and freezing, and mist hung over the lake, hiding the Alps on the opposite shore. We had fun searching for street art and alternative spots, but we missed out on the views.
The day we moved down to Montreux, the weather had turned. The sun shone bright, the air was clear and the Alps were finally visible. Mont Blanc was there, dominating them all, with her majestic, beautiful snowcapped peaks.
Montreux was a dream. A mishmash of architectural styles, perhaps not the most elegant city we've ever seen, but with a setting that made up for it all. Built close to the shore of Lake Geneva, unlike Lausanne that was further inland, surrounded by the shimmering lake waters and the Alps, it looked like the picture of happiness, on those bright winter days.
There was something about it. When we were in Warsaw, we tried to listen to the city, and what we heard was sadness, death and despair. Montreux was the opposite. Its streets were paved with a thousand happy memories. The wavelets on the lake reflected a thousand smiles. It was a place where we could feel people had been happy.
Later, we found out we were right. Usually, when we post photos on Facebook or Instagram, we get comments saying how nice the picture was, and sometimes messages asking for practical info or tips on the destination. When we posted our Montreux pictures, the comments were of people reminiscing.
'It's such a beautiful place in Spring, with all the magnolias in bloom.'
'Memories…. yes, many. Great day trips from Geneva to Vevey on the boat. The Jazz festival. Mont Blanc always there, on the other side of the lake. Chillon… it's a beautiful area.'
'Lac Léman… I love this place'
I don't know why Montreux gave us that feeling. The weather was surely part of it. Maybe it was also the small town feel, or the faded grandeur of the place, reminiscent of a past when the European nobility went to balls and spent their holidays on the lake. An atmosphere that I find fascinating.
Or maybe it was the sunsets. Or the three things the Montreux Riviera is famous for – besides the lake, of course – mountains, music and wine.
Things to do in Montreux: the mountains
I think Swiss people learn how to ski before they know how to walk. We got to Montreux on a Sunday and the town was deserted, but the station was packed with people in ski attire walking with Terminator-like ski boots, skis casually slung over a shoulder. Even young children. I was amazed. You can actually travel to the slopes by TRAIN? In Italy, a day out skiing pretty much means endless queues on the way back.
As train lovers as well as ski lovers, we thought it was brilliant. Not to mention that the train to Rocher de Naye, the place where we would ski, was a tiny panoramic train run by Goldenpass, one of Switzerland's best sightseeing railway companies (offering also the cheese train and the chocolate train, but I'm going off topic…)
The hour-long trip up the mountains was one switchback after another of magnificent views. First there was Lake Geneva from above, and Montreux looking like a toy village. Then we ascended higher and higher into the mountains, where… the sun disappeared behind the clouds.
Mountain people will be familiar with clouds appearing all of a sudden, even on bright sunny days. Down in Montreux it was sunny and glorious, up at Rocher de Naye visibility was pretty much zero and a blizzard was in full-spin.
We were lucky to get a couple of hours respite from the storm, when the skies opened to this amazing view.
Rocher de Naye is a small ski station, with only a couple of slopes, but it was great fun. Perhaps not the best for absolute beginners nor for advanced thrill-seekers, but great if you want to have a couple of runs on the slopes and be back in town for Sunday lunch.
I almost forgot. On the way back into Montreux, we got off at the wrong station. Bummer, we thought. And then we saw this.
Montreux, city of Music
The only thing I knew about Montreux before visiting was that there's a Freddie Mercury statue on the lake front. Hardcore fans will know for sure that Queen lived in Montreux for a while and owned Mountain Studio, where they recorded six of their albums.
Nowadays you can explore Montreux's Queen connection at the Queen Studio Experience, a free permanent exhibition housed in Montreux Casino, the former home of Mountain Studios.
I didn't know the famous Deep Purple song Smoke on the Water is inspired by the fire at the Montreux casino in 1971, that broke out during a Frank Zappa concert when a fan fired a flare gun. The casino was later rebuilt in 1975, and now a monument next to the casino stands to remember the event.
I guess I never really paid attention to the lyrics – because the reference is pretty obvious.
We all came out to Montreux
On the Lake Geneva shoreline
To make records with a mobile
We didn't have much time
Frank Zappa and the Mothers
Were at the best place around
But some stupid with a flare gun
Burned the place to the ground
Smoke on the water, fire in the sky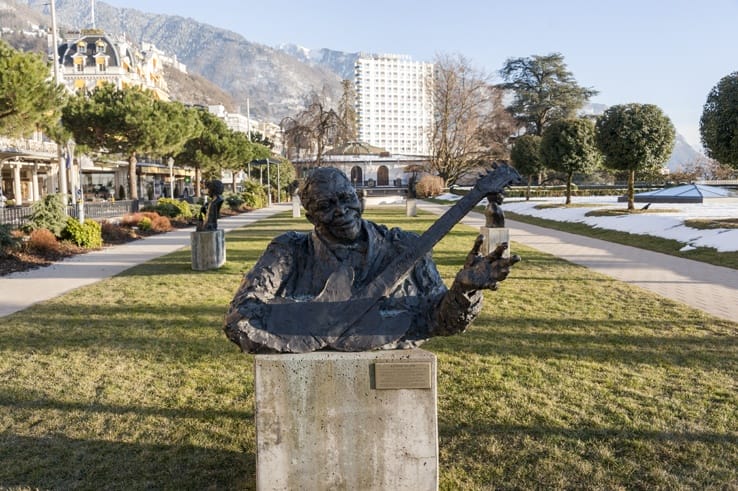 Music is everywhere around Montreux. A poster of the Montreux Jazz Festival, the second largest in the world, held every year in early July. A busker playing Tom Waits near the lake. A cinetic sculpture in honour to Frank Nobs, creator of the Statues and monuments everywhere – a giant saxophone in honour of Adolphe Sax, inventor of the instrument, the composer Stravinsky with his baton aloft, near the as if he were directing an imaginary orchestra near the lake.
We stayed in great little Hotel Tralala, with music references around every corner – from the giant James Brown stencil in the corridor, to a Norah Jones poster next to our bed and the portraits of jazz musicians all over the breakfast room. I half-expected a jazz quartet to appear out of thin air as I was having my café creme in the morning – but the radio did indeed play jazzy tunes.
I can't speak for Montreux in summer, but I imagine long summer nights, with musicians in the street serenading passer-bys, and that feeling that you don't have to work tomorrow, and there's a long night ahead of you. And the music plays on, between the stars, the lake and the Alps.
The Unesco-listed Lavaux Vineyards
Now, raise your hand if you've heard of Swiss wines. No, me either. So, when we were offered to spend a morning visiting the Lavaux vineyards between Montreux and Lausanne, our first reaction was 'meh'. After all, we live in Italy. What's so special about Swiss wine?
Oh, how wrong were we. As soon as we got off the train in the tiny Epesses village, we couldn't believe our eyes. The mountains around us were covered in terraced vineyards covered in snow. I wondered how they came about – I had seen vineyards before, but never terraced, and never in the snow. It was another beautiful day, with the mountains watching over us, and the lake shining like melted gold.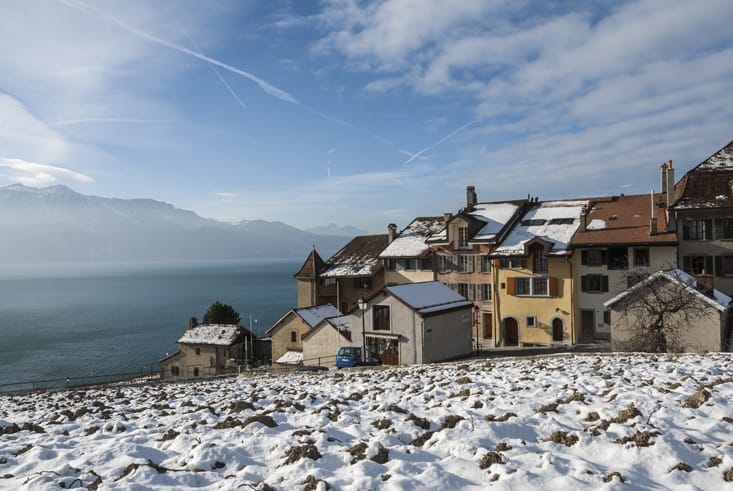 We visited Domaine Blaise Duboux, where owner Blaise gave us a guided tour and told us about his wines. The Lavaux vineyards were first planted by Benedictine and Cistercian monks, nearly one thousand years ago. Blaise's family has been making wine for seventeen generations. Surely, he must mean seven, I thought. No, seventeen, he corrected me, that's right.
Blaise told us about the terroir, essence of old world wines, even more so in this geologically diverse area. These hills were the product of the last ice age, and the soil still shows the glaciers action. Blaise showed us the thinner mud, the sandstone bedrock, gravel of various thicknesses – all things that need to be taken into account, as certain types of soil are suitable to some grapes and not others.
I really wished I had paid more attention to my high-school geology lessons, as I was kind of lost when he was talking about lateral moraines and other obscure geological terms. But I can tell you the wines were delicious. The signature wine of the Lavaux region is pale-yellow Chasselas, a very gentle wine, perfect to be sipped on a summer afternoon on the lake, but as a lover of punchy reds, I preferred Plant Robert, reminiscent of black cherry and spices.
We could have spent the whole day talking and tasting wine with Blaise – and we very nearly did – but the hills beckoned, and we finished our day with a walk around the hills and the vineyards. I have no words to say how pretty it was – the stunted vines etched on the snow like graphic patterns, and Mont Blanc 'always there, on the other side of the lake'.
We have no doubts we will be back. We've already left in Montreux our very own happy memories, somewhere between the lake and the mountains.
Food in Montreux
In a town where most places are a bit upmarket, a restaurant like Caveau des Vignerons was a life saver for us. The restaurant serves hearty, traditional Swiss favourites like raclette, fondue and rosti – portions are big and prices reasonable by Swiss standards.
We were guests of the Lake Geneva Region Tourist Office, Goldenpass and Montreux-Vevey Tourisme during this trip. We would like to thank Hotel Tralala for its kind hospitality. As always, all opinions are our own.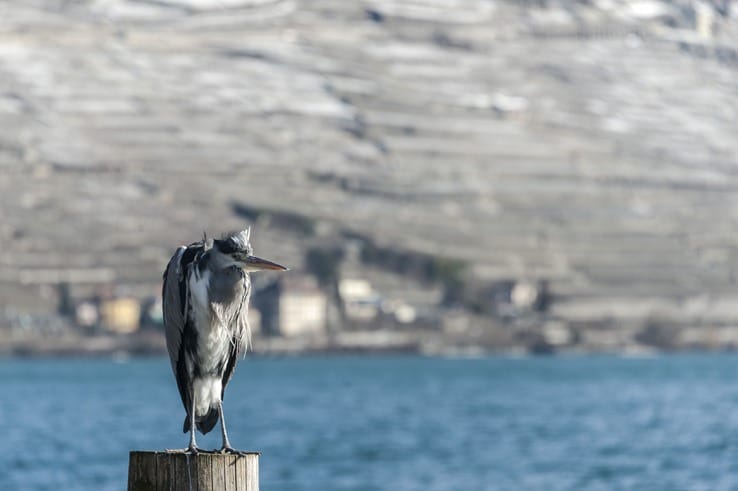 Welcome to the new Weekend Travel Inspiration Linkup!
Ready, set, link!
1. Link one of your inspirational travel photos or stories to this post by adding your info.
2. Copy and paste our badge and a link to this page.
3. Visit some of the other wonderful travel bloggers, read their posts, and leave a comment. It would be great if you could comment on 2-3 posts.
4. Tweet it and include this hashtag. #wkendtravelinspiration .
5. Follow all the hosts of Weekend Travel Inspiration – Corinne at Reflections Enroute, Paula at Contented Traveller, Rhonda at Albom Adventures, Rachael at Safari 254, Crystal and Francisco at Bay Essence.
[inlinkz_linkup id=498651 mode=1]