Are you looking for a fun, lesser-known city break? Head to Nuremberg – this town in Southern Germany offers a great mix of history, culture, culinary attractions and lots of nature within day-trip distance.
Here is our guide to the city, with 36 fun things to do in Nuremberg, including the Altstadt, Nuremberg Castle and what to do on a rainy day!
I know many people will disagree with me, but I'll say it – Nuremberg reminded me a lot of Berlin.
Not in terms of looks, of course, as the two cities couldn't be more different. Nuremberg is charming and fairytale-like, with half-timbered houses and traditional architecture surviving through post-WW2 reconstruction, whereas alternative Berlin has a gritty, alternative feel.
The reason why the two cities reminded me of one another is layers. I've visited Berlin over a dozen times, and each new visit reserves me new surprises – at the same time, I keep hearing people saying there's nothing to see in Berlin, besides the usual handful of tourist attractions.
Similarly, you could visit Nuremberg, explore Nuremberg Castle and learn about the Holy Roman Empire, and then never leave Altstadt, the Old City, with its cutesy cobbled streets and picturesque corners.
Yet, somehow Nuremberg's dark recent history would catch up with you at some stage – and that would open up a whole new layer, one where you would uncover the role played by the city during Nazi times.
From the grandeur of Holy Roman Empire history, to the darkness of the 20th century, but what about modern Nuremberg? The city can indeed be cool and quirky at times, albeit not in a manner as straightforward as in places like Berlin and Dresden.
However, there are still plenty of bohemian shops, independent cafés and unusual things to do in Nuremberg.
Let's have a look at what the city has to offer – settle down, grab a coffee, as this is likely to be a fairly long read. Here are the 36 best things to do in Nuremberg, one layer at a time!
No time to read? Have a look at these fun Nuremberg tours!
Would you like to know more about what to do in Nuremberg? Check our Wowanders diary with where to go, what to see and where to stay in Nuremberg and Franconian Switzerland!
Things to do in the Nuremberg Altstadt
1) Visit Nuremberg Castle
You can't miss Nuremberg Castle, sitting on a sandstone ridge right at the north of the Nuremberg Altstadt. It is not one single castle, but a group of fortified buildings surrounded by walls – and visiting it is probably the #1 unmissable thing to do in Nuremberg.
The history of Nuremberg Castle is closely related to the Holy Roman Empire, which used to include most of modern-day Germany. The Holy Roman Empire wasn't an empire per se, it was a collection of small allied statelets and fiefdoms, with no capital city or centralised power.
Holy Roman Emperors didn't have a 'base', they voyaged from one castle to the next. The castle was both an imperial residence and a centre of administrative power, where the Reichstag (Imperial Diet) used to meet.
In 1356, the importance of Nuremberg Castle rose further when Charles IV enacted the 'Golden Bull', requiring newly-elected emperors to have their first assembly at Nuremberg Castle.
Thanks to this decree, trade flourished and Nuremberg became one of the three main cities within the Holy Roman Empire.
Make sure you dedicate at least a couple of hours to visiting Nuremberg Castle. Most of the castle was destroyed by WW2 bombs, and painstakingly restored during the postwar period.
Upon entering the castle, you'll be visiting the Double Chapel, one of the few spaces to survive the war unscathed. It is called 'double' as there are two chapels on top of one another, connected through the middle.
Afterwards, you'll be heading through the Imperial Hall, housing an exhibition about imperial times in Nuremberg, then to the Imperial Living Room, with its ceiling painted with imperial insignia.
Other places worth visiting are the Imperial Castle Museum, full of swords, spears and other weapons, and the Deep Well, a 50-m well to an underground water source – it s argued that the presence of this source was the reason behind the castle's construction in this specific place.
When you're done visiting, don't forget to enjoy the views over Nuremberg Altstadt! The best view can be enjoyed from the top of the Sinwell Tower, one of the few places in the castle to survive WW2 bombs. It was closed when we visited, so we had to make do with the views from the castle walls!
TOP TIP! Nuremberg Castle is FREE with the Nuremberg Card – for only 28 euro you'll get free entrance to museums, attractions and public transport!
2) Spend the Night in Nuremberg Castle
If you're really into history, you may be pleased to know you can actually spend the night in Nuremberg Castle – and the experience won't break the bank.
Remember when I said that Nuremberg Castle comprehends a group of buildings surrounded by stone walls? One of these buildings, the former stables, was renovated and turned into a youth hostel – maintaining original features like vaulted ceilings, heavy doors and iron gates.
There are both private rooms and dorms, and rates start from only €34 per person, per day – including breakfast!
3) Take Pictures in Weiβgerbergasse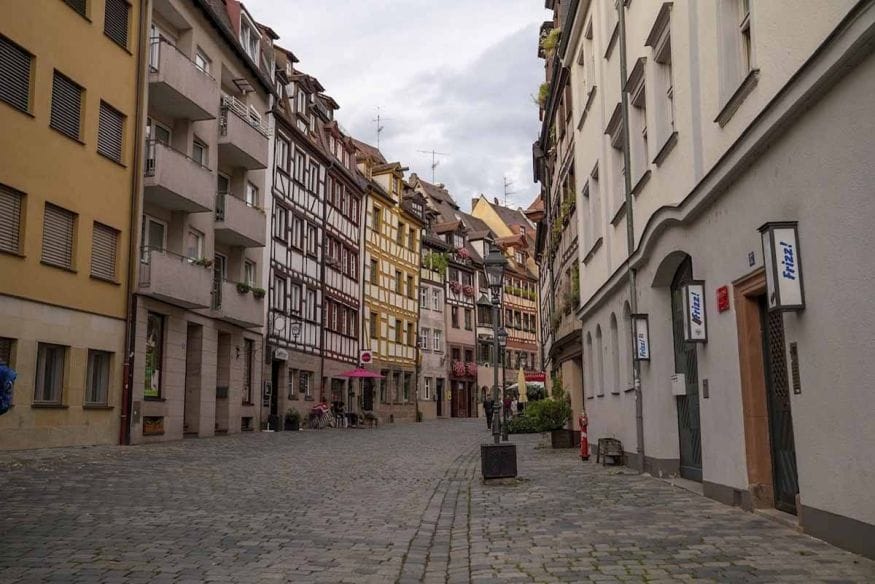 When I asked my local friend Alex for recommendations on the best things to do in Nuremberg, he recommended Weißgerbergasse, one of the few places in town to retain the fairytale charm wiped out by Allied bombs in 1945.
This pedestrian street in the heart of Nuremberg Altstadt is lined with colourful half-timbered houses, built by wealthy tanners in the Middle Ages.
There are also some Baroque and Rococo additions on some façades, as well as spectacular inner gardens, some of which still have wells – a relic of the time when they housed tanner workshops.
Nowadays you'll find cute shops, cafés and some cool settings for your Instagram pictures. Well worth the detour!
4) Learn about Nuremberg's most famous citizen at Albrecht Dürer House
All over Nuremberg, you'll find images of a strange-looking fellow, with long, wavy hair, a goatee and moustache. No, he's not a modern-day hipster – even though he does indeed look like one.
I'm talking about Albrecht Dürer, one of the protagonists of the German Renaissance, author of a wealth of paintings and engravings, and one of the best printmakers in art history.
Albrecht Dürer was born in Nuremberg and lived there most of his life, until his death in 1528. He lived for 19 years in a half-timbered house overlooking Tiergärtnerplatz – now a museum dedicated to the artist's life and work.
If you're into art, this is definitely one of the top things to do in Nuremberg – inside, you'll see sketches and engravings by Dürer himself, as well as an explanation of his artistic heritage, and development of printmaking and engraving techniques. You can also follow printing workshops at the museum.
FREE with the Nuremberg Card!
5) Listen to a Concert at Lorenzkirche
Next up on our list of things to do in Nuremberg are three amazing churches – let's start with the first one!
You'll definitely notice the two twin towers of Lorenzkirche (St. Lorenz Church) as you wander around the Altstadt, overlooking the pretty half-timbered houses and reconstructed buildings from their 80 meter height.
The façade is a true Gothic masterpiece, decorated by statues and with a stained-glass rose window. However, the true marvel lies inside – there's art everywhere, from paintings to statues, to altarpieces and other unique pieces like the Angelic Salutation by Veit Stoss, a wooden sculpture hanging over the central nave.
Lorenzkirche is also home to one of the largest organs in the world, with 12,000 pipes. If there's a concert on, don't miss it!
6) Visit Nuremberg's Patron Saint at Sebalduskirche
The second on our 'amazing Nuremberg church list' is Sebalduskirche (St. Sebald's Church), dedicated to Nuremberg's patron saint.
Sebalduskirche was also built in Gothic style and it dated back to the 13th century, making it actually older than Lorenzkirche. It was originally a Romanesque church, and it was altered according to Gothic architecture about a century later.
The church was almost to the point of no return during World War II, and a miracle preservation job was undertaken in postwar times to restore the building to its original glory.
Inside the church, the main sight is the Shrine of St. Sebald, where the bones of the saint are laid to rest in a silver casket.
7) See the Fancy Clock at the Frauenkirche
The third and last church on this list of things to see in Nuremberg is Frauenkirche, located on the far side of Hauptmarkt, the main market square where the famous Christmas markets are also being held.
Frauenkirche is also a Gothic church from the 14th century. Notable features on the façade are the triforium and carved twin entrance doorway, making it look very different from the other two famous Nuremberg churches.
Yet, the real reason to visit Frauenkirche is to see Männleinlaufen in action, a mechanical clock installed in the 16th century to commemorate the Golden Bull (I explain what it is in the section about Nuremberg Castle).
The clock is activated every day at midday, with small statues of Prince Electors parading around the Holy Roman Emperor.
8) Make a Wish at Hauptmarkt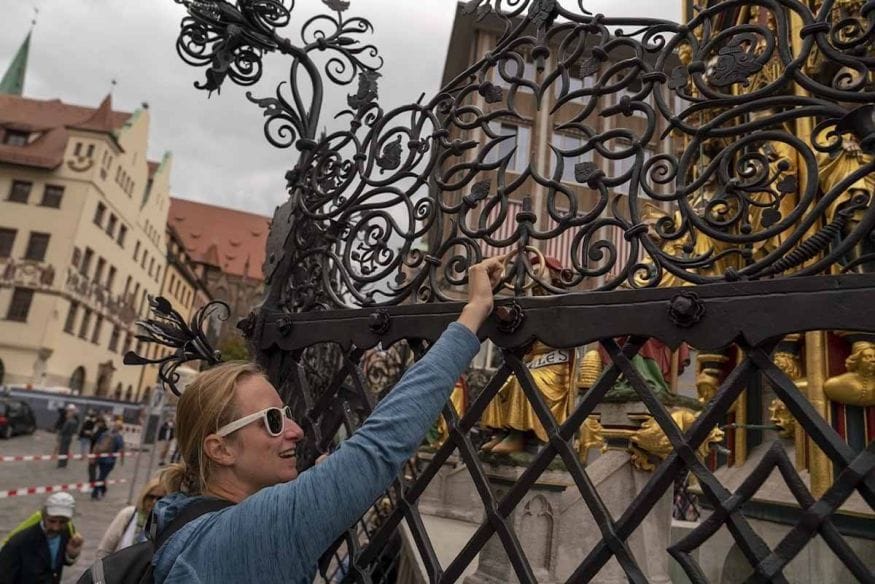 On weekdays, you'll see Hauptmarkt (Main Market Square) full of all sorts of stalls, selling delicacies and handicrafts from Franconia, street food from all over the world and more.
Yet, there's another curious thing to see in Hauptmarkt – on the side of the square opposite to Frauenkirche you'll see a golden Gothic fountain, resembling a spire and covered with gilded decorations and statues.
On the wrought iron gate surrounding the fountain, there's a golden ring that's said to make all your wishes come true if you turn it three times. It's too soon for me to report whether or not it works, but it's worth a try!
9) Walk around the City Walls
Are you curious to learn where Nuremberg Altstadt ends? Well, it's quite easy to figure out – the entire Old Town is surrounded by city walls, one of the best preserved examples in Europe.
Walking around the City Walls is another fun thing to do in Nuremberg. The total length of the walls was about 5 km – most of it were destroyed during WW2, and about 4 km were rebuilt.
The strips of land surrounding the walls have been turned into city parks. Following the path all around the city walls is an excellent way to enjoy nature and history in Nuremberg at once – don't miss it!
10) Go Souvenir Hunting at Handwerkerhof
On the southern side of the Nuremberg City Walls, not far from the station, you'll find Handwerkerhof (Craftsmen's Courtyard) – a collection of craftsmen's workshops in Nuremberg's last surviving courtyard within the walls.
Walk around to see gingerbread makers (yum), glass painters, doll shops, wooden toy makers and many more, and feel as if you stepped back int the Middle Ages between cobbled laneways and the scent of bratwurst.
Except that Handwerkerhof was only created in 1970 to celebrate Albrecht Dürer's 500th birthday – the attraction only meant to be open for a limited time, but given its success it still stands. It's a unique place to buy your Nuremberg souvenirs!
11) Marvel at the Hospital of the Holy Spirit
Built in the early 14th Century by a wealthy patrician, Konrad Gross, it was the largest private healthcare structure in the Holy Roman Empire. And after the year 1500, it was extended, spanning over the river Pegnitz and taking up two more buildings.
The hospital used to house considerable wealth, including art pieces and none other than the Nuremberg Imperial Regalia, kept in the hospital's church between 1424 and 1796.
In my opinion, it's one of the most photogenic places in Nuremberg, especially at night, when the building is lit up and reflected on the river.
Nowadays, most of the hospital has been turned into a senior residence. You can still visit the courtyard, and eat at the Restaurant Heilig-Geist-Spital, serving excellent Franconian cuisine.
12) Walk Down Henkersteg – Hangman's Bridge
Last but not least, my father's favourite place to see in Nuremberg! He spent two summers living in the city, and he told me not to miss visiting Henkersteg (Hangman's Bridge), and eating at the traditional restaurant right on the bridge.
Sadly, the restaurant closed decades ago. You can still walk down the covered bridge connecting the Altstadt to Trödelmark Island on the river Pegnitz, and snap some cool pictures of the nearby building Weinstadel, the largest half-timbered house in Germany.
BTW, do you want to know the reason behind the name? The tower at the end of the bridge used to be home to the city executioner, that has now been turned into a museum. If you like quirky, creepy tourist attractions, add this to your Nuremberg list of things to see!
FREE with the Nuremberg Card!
Things to See in Nuremberg – 20th Century History
13) Learn About History at the Nuremberg Documentation Centre
This is where you'll leave the fairytale historic centre, and scratch away the first layer. You travel 3 km to the southeast, in an part of town that, at first glance, doesn't look like much – large roads, supermarkets, apartment buildings and little else.
Then, you'll see it – a huge horseshoe-shaped building, vaguely reminiscent of Rome's Colosseum. It's the Congress Hall, one of the largest surviving National Socialist building, even though it is not finished.
The Congress Hall is located in the Nazi Party Rally Grounds, where rallies where held yearly from 1933 to 1939.
Nuremberg was an important city during the Third Reich – it was a hotspot of Nazi support, the city of the race laws, and it was known as the 'most German of all German cities.'
After the end of the war, it was decided to preserve all surviving Nazi buildings and relics in accordance to the policy known as 'Obligation to the Past' – history is not erased but presented avoiding sensationalism, keeping alive the memory of those who suffered.
As a result, the Congress Hall was not finished, but left how it was and turned into the Nazi Party Documentation Centre. This museum highlights the history of the National Socialist Party from its inception to before, during, and after WW2. Meanwhile, it also describes Nuremberg's role during the war, and the city's new role as "City of Peace and Human Rights".
Audioguides are provided but beware – the tour is very, very interesting and detailed, so don't think you'll be done in an hour or so. Dedicate at least half a day to the Nazi Documentation Centre – it's one of the most interesting things to do in Nuremberg!
FREE with the Nuremberg Card!
14) Survey the Zeppelinfeld
After visiting the Nazi Documentation Centre, you can take a walk around the Nazi Party Rally Grounds – there's a map right outside the entrance with a suggested itinerary, lasting about an hour in total.
The tour will take you to the Groβe Straβe, the main axis of the military parade taking place during the rallies, and then to the Zeppelinfeld (Zeppelin Field), a large square with enough space for 200,000 people, with a grandstand where Hitler and other Nazi leaders used to give speeches.
You may be thinking that the name 'Zeppelinfeld' came from the fact that the place was so huge, it was used to park Zeppelins. Sorry to disappoint you – the place took this name after Count von Zeppelin landed one of his airships there in 1906.
15) Sit in Courtroom 600, the location of the Nuremberg Trials
After the war, Nuremberg was chosen as the location for the trials of prominent Nazi members and leaders.
Given Nuremberg's role in the history and development of national socialism, one may think the city was chosen to exorcise this uncomfortable heritage. This may indeed be part of the reason, but the main reason is another – Nuremberg was the only major German city where the Palace of Justice was still standing, with a courtroom and large prison attached.
The Nuremberg Trials took place between November 1945 and December 1946. There were 24 accused, and three judges and prosecutors from each of the four Allied countries. To know more about the Nuremberg Trials, it's possible to visit the Memorial located in the Palace of Justice.
You'll also be able to sit in Courtroom 600, where the actual trial took place.
FREE with the Nuremberg Card!
16) Walk the Way of Human Rights
In 1988, with the enlargement of the Germanisches Nationalmusem (Germanic National Museum), a design competition was held to decide on how to connect the old and new wing of the museum – the winning project was that of Israeli architect Dani Karavan, known as the Way of Human Rights.
This monumental sculpture, located on Kartäusergasse, includes a marble archway, and a series of pillars, each with an article of the Universal Declaration of Human Rights engraved in a different language, plus German.
It's a striking monument, movement in its simplicity – and one of the most unmissable things to see in Nuremberg.
Quirky and Unusual Things to Do in Nuremberg
17) Try to Find the Baroque Gardens
Ok, let's move onto some lighter things to do in Nuremberg! If you like attractions that are not immediately easy to find, we recommend looking for the Baroque Gardens on Johannisstraße – there are two, one at number 43 and another at number 13.
The gardens lie behind closed doors, but if you visit during opening times (8 am to 8 pm) you just need to push the door and walk in to discover stunning Italian-style gardens, with fountains decorated with statues, manicured fences and lawns.
These gardens were established in the 17th century. They were known as 'Gardens of the Hesperides', and used to cultivate citrus fruits. Nowadays, they're a nice place to escape the traffic!
18) Decide Not to Get Married at Ehekarussel
Here's one of the quirkiest things to see in Nuremberg – Ehekarussel, meaning the 'marriage merry-go-round'.
This truly crazy-looking fountain can be found near the Weißer Turm, and depicts the history and course of a marriage with no shortage of graphic descriptions.
As you move around the fountain, you'll see the sweet idyllic phase, turning sour as the two people get married and have children, then become old, fat then frail, before finally murdering each other. Yes, I know. Crazy – but kind of cool.
19) Explore the Historisches Kunstbunker
Nuremberg lies on sandstone, and over the centuries kilometres of tunnels were cut into the rock, to store beer from the many city breweries.
When World War II came, most of these tunnels were turned into air raid shelters, and some were used to store art from Germany and other nations occupied in the early stages of the war.
Works by Albrecht Dürer, an altarpiece from Poland, the mechanical clock on the Frauenkirche and the Imperial Regalia were only some of the priceless artefacts that survived the war in these tunnels. Nowadays, it's possible to take a guided tour through these bunkers – a recommended Nuremberg attraction for art lovers!
FREE with the Nuremberg Card!
20) Visit the Pigeon Museum
Weird museum lovers come to me. Check out this crazy thing to do in Nuremberg – the Pigeon Museum, which is (yes, you guessed it!) a museum dedicated to all things pigeon.
The museum includes a collection of pigeon related objects, including a collection of 4000 porcelain figures. A great idea to spend an unusual afternoon when it's raining!
21) Perfect your tricks at Airtime
Looking for something active to do in Nuremberg on a rainy day? Head to Airtime, a trampoline park in a former industrial building north of the city centre.
There are regular trampolines, extra bouncy ones, a trampoline 'half pipe', and trampolines with soft mattresses or foam pits for those who want to practice their front flip and backflip skills.
It's very popular with children and teenagers, making it a great idea for families visiting Nuremberg, but you'll also have fun as a grown-up. Opt for the two hour package, as time goes quick!
22) Go Shopping in GOHO
Every city has its hipster neighbourhood, right? In Nuremberg you'll find Gostenhof, GOHO for friends, right to the south of the Altstadt.
This is the kind of place to head to for independent cafés, street art and cool shops – some examples are Anemoi, selling stamps and custom stationery, edi.m, an eco/upcycled shop, and ZeroHero, the first shop where you can buy groceries with no packaging.
If you get hungry, head to Palais Schaumburg, a vegan-friendly restaurant with a large and shady beer garden.
23) Find the Weirdest Rabbit Statue
The Ehekarussel is not the only weird statue in Nuremberg! There's another one in Tiergärtnertorplatz, right opposite Albrecht Dürer's house.
The sculpture represents a hare, an interpretation of artist Jürgen Goertz of Dürer's famous Young Hare watercolour painting. There's only one difference – the painting represents a cute, fluffy hare, where the statue looks more like a nightmare vampire hare.
For some reason, though, children love it!
Nuremberg for Foodies
24) Explore Nuremberg's Historic Rock Cut Cellars
Nuremberg's brewing tradition goes back centuries, all the way to the Middle Ages. Back then, drinking beer was a necessity rather than pleasure – the brewing process achieved the twin aims of providing nutrition, and killing the bacteria present in water through fermentation.
I already mentioned that Nuremberg lies on sandstone, and through the centuries kilometres of tunnels were excavated, primarily to store beer. After all, there used to be hundreds of breweries, and per capita consumption exceeded 100 liters a year, meaning lots of storage space was needed!
Nowadays, only one brewery survives in the Old Town – the Hausbrauerei Altstadthof. It's worth a visit, not only to taste Nuremberg's iconic Rotbier (red beer) but also because it's possible to take a 1 hour-long tour of the historic rock-cut cellars, led by a guide who will reveal lots of secrets about brewing in Nuremberg.
If you're a foodie or a beer lover, don't miss this fun and unusual Nuremberg tourist attraction!
25) Sample a 'Drei im Weggla'
Bratwurst may be an ubiquitous sight all over Germany, with different sausage varieties in each town. Nuremberg Rostbratwürst are strictly regulated by a series of rules regarding ingredients, size and weight – you'll notice that they are way smaller than usual würst found all over Germany, only 7 to 9 cm long and up to 25 grams in weight.
You can enjoy them in various ways – grilled, sour (cooked in vinegar and onion broth), 'naked' (meaning raw – only for the brave!) or smoked.
There's a legend regarding the creation of these sausages, diminutive in size but definitely not in flavour. Business-savvy innkeeper made them small so that they could be sold to hungry punters even after hours, by pushing sausages through keyholes.
Nowadays, there are two favoured ways to enjoy Nuremberg Rostbratwürst – grilled on plate, with sauerkraut or potato salad, or Drei im Weggla, three of them roasted in a bun. The best can be had at Bratwursthäusle near Sebalduskirche.
If you're into street food, this is one of the best things to do in Nuremberg!
26) Enjoy Schäuferla
Naturally, there's more to Franconian cuisine than just bratwürst! From dumplings to roasts and meat stews, if you're a lover of hearty, meat-heavy comfort food, you're bound to love traditional Nuremberg food.
One of the most unique and local Franconian dishes is Schäuferla, made with pork shoulder that is first roasted, then stewed with onion and red beer, creating a thick (and tasty!) gravy.
The preparation of Schäuferla lasts several hours, so you'll probably only find it on menus during weekends or special occasions. We tried it at the Hausbrauerei Altstadthof, and it was just delicious with some local red beer!
27) Stuff Your Face with Lebkuchen
Who else loves sweets? You'll be happy to know that Nuremberg is home to Lebkuchen, gingerbread biscuits made with nuts and spices first baked by monks in the 14th century.
Nuremberg was an important centre of trade ever since the Middle Ages, with wares coming from Asia transiting en route to other destinations in the Holy Roman Empire and beyond, which explains why spices were used in the recipe.
Lebkuchen are traditionally enjoyed during Christmas, but you can find them year round – you can even join a Gingerbread Baking Class to make them yourself!
Things to Do in Nuremberg in Winter
28) Shop at the Christmas Market
The Nuremberg Christmas Market is one of the prettiest in Germany – and also one of the busiest, unfortunately.
It takes place from the first Friday before Advent all the way to Christmas Eve – opening dates in 2019 are November 29th to December 23rd. The centre of all celebrations is the Hauptmarkt, filled to the brim with stalls selling Nuremberg sausages, Glühwein, Lebkuchen, local handicrafts, decorations and more.
If you're planning to visit Nuremberg in Winter, this is a truly not-to-be-missed thing to do. Yes, it is busy, but you'll truly feel as if you were living in a fairytale!
For more info, have a look at the official Christkindlesmarkt (Christmas Market) website!
29) Travel Around the World at the Sister Cities Market
Another fun thing to do in Nuremberg in Winter is visiting the Sister Cities Market. It's located just north of the main Christmas market, and you'll find stands selling handicrafts and souvenirs from Nuremberg's sister cities – including Antalya, Atlanta , San Carlos in Nicaragua, Shenzhen and many more.
If you're looking for unique souvenirs, or you simply had enough bratwurst and Lebkuchen, this is the place for you!
The Best Nuremberg Museums
30) Spend a Rainy Day at the Germanic National Museum
Another fun thing to do in Nuremberg in Winter or when it rains is visiting a museum – and there's no better choice than the Germanisches Nationalmusem, (Germanic National Museum).
The museum was founded in the mid-19th Century, and it houses an eclectic collection of artefacts, which reflect Germany's art and culture from prehistoric times through to the modern day.
Some of the most noteworthy exhibits are in the Medieval section, with stunning altarpieces and wooden statues. There are also several portraits by Nuremberg's most famous son, Albrecht Dürer, as well as Martin Luther's famous portrait by Lucas Cranach the Elder.
If you prefer creepy sights, there's an entire section on 'Old Justice', with fetters, stocks, metal masks and even an executioner's sword.
Another unmissable sight for travel lovers is the Erdapfel, the oldest globe in the world, dating back from 1490. Naturally, there are some imperfections – the Americas are missing, Japan is twice its real size and some 'mythical lands' are included.
Don't miss visiting – this is definitely Nuremberg's best museum for history buffs!
FREE with the Nuremberg Card!
31) Travel Through History at the City Museum in Fembo House
The City Museum in Fembo House is a restored merchant's house from the 16th century, which presently houses art, culture, and historical exhibitions. It is located halfway up to the Castle, and it's another great place to visit in Nuremberg for history lovers.
More than 950 years of German history are put on display inside this house with beautiful architecture. You can also see some replicas of the Crown Jewels, housed in Nuremberg's castle for over four centuries.
If you are in a rush, the audioguides are a perfect way to get the gist of Nuremberg's history in just half an hour.
FREE with the Nuremberg Card!
32) Relive Your Childhood at the Toy Museum
Nuremberg has been renowned for its toy making industry for over 600 years – starting from the first medieval dolls, and extending all the way through present-day action figurines and toy train models.
At the Nuremberg Toy Museum, you'll find ancient and modern toys on display, including an impressive collection of dollhouses of all shapes and sizes.
There is also a section where games can be played, making the Toy Museum a great thing to do in Nuremberg in winter or on a rainy day, especially with children!
FREE with the Nuremberg Card!
33) Admire Architecture at the Neues Museum
Are you more into modern than ancient art? If that's the case, make your way to the Neues Museum, dedicated to contemporary art and design.
First of all, the sleek, airy exhibition space will win you over – think lots of white, curved walls and a minimalistic aesthetic contrasting with the 'fairytale look' found all over Nuremberg.
Exhibition are rotated about twice a year, so if you've been to the museum before, you may find something completely new. Another reason to visit? There are beehives on the hotel roof, and you can buy their honey at the gift shop!
FREE with the Nuremberg Card!
Best Day Trips from Nuremberg
34) Get into Nature in Franconian Switzerland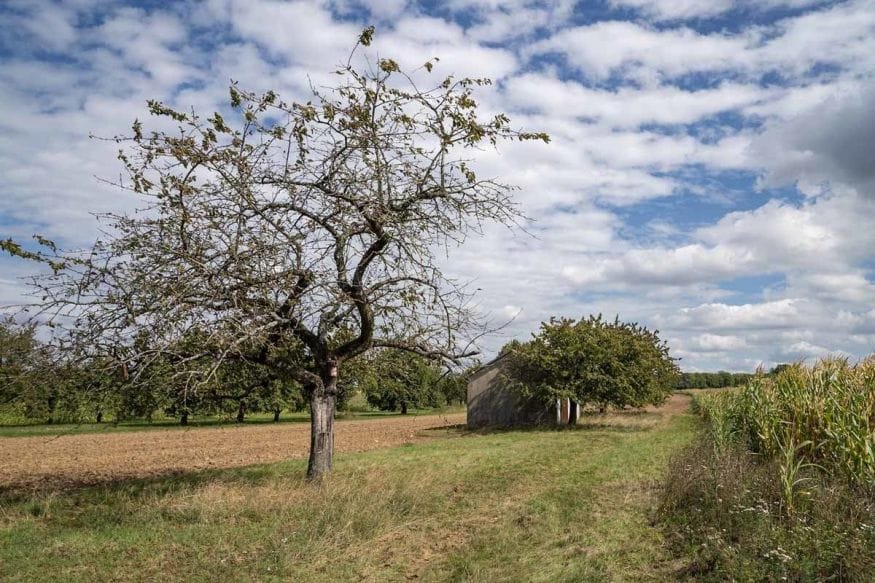 If you're one of those people that like escaping to nature after two or three days in a city, you'll be pleased to know there's amazing nature to be found within day trip distance from Nuremberg!
I'm talking about Franconian Switzerland, a region extending north of Nuremberg, where you'll find rocks, caves, hiking trails, castles, rivers you can kayak and a lot more.
Check out our article about Franconian Switzerland to know more about what to expect!
35) Hike the 5 Seidla Steig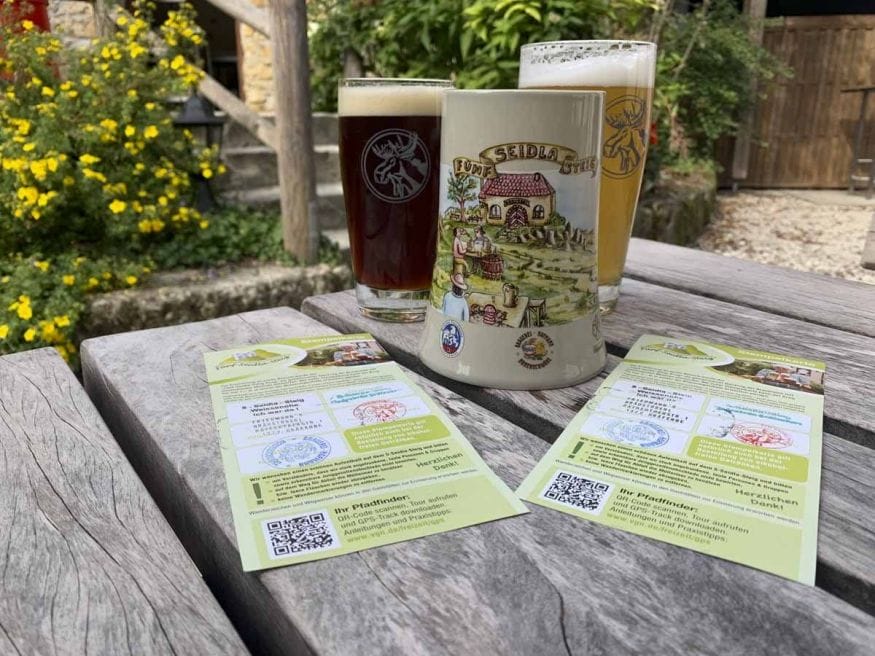 Another good reason to visit Franconian Switzerland is beer – the region is home to the highest concentration of microbreweries in Germany, and it's possible to do go on 'beer hikes', walking from one brewery to another.
The easiest of these hikes is the 5 Seidla Steig, which can easily be done as a day trip from Nuremberg. 'Seidla' means brewery – the trail connects five different breweries, and round-trip length is 18 km.
To know more, and to plan your own day trip from Nuremberg, have a look at our 5 Seidla Steig post!
36) Explore Fürth
Does Fürth even count as a day trip from Nuremberg? The two towns are actually adjacent, and it's hard to notice where one ends and the other begin.
However, especially if you're visiting Nuremberg in winter, Fürth can be a fun day trip to get away from the crowds.
There are a variety of fun points of interest to explore in Fürth, like the Wildschweingehege, a park dedicated to wild boars, the Comödie Fürth Art Nouveau theatre, and the Rathaus, resembling an uncanny similarity to Florence's Palazzo Vecchio.
You can also visit museums if it's a rainy day – the two best ones are the Jüdisches Museum, retracing the time when the city was home to Franconia's largest Jewish community, and the Rundfunkmuseum, dedicated to radio and television broadcasting in Germany.
Have we missed any things to do in Nuremberg? Let us know in the comments!
We would like to thank the Nuremberg Convention and Tourist Office and Franken Tourismus for having invited us to visit the region. Many thanks – we hope to be back very soon!