Did you see our post on the 10 best reasons to visit Franconian Switzerland, the region just north of Nuremberg? If you didn't, you've landed in the right spot – here we'll tell you all about the 5 Seidla Steig, our favourite experience!
For more info about Nuremberg, check our massive 36 things to do in Nuremberg post!
If you know us, you'll know we love hiking – so much so, that we've dedicated an entire section of this blog to hiking. There's one more thing we love as much as hiking – no, not cats, because we love cats more. I'm talking about beer.
Both Nick and myself are massive beer lovers. Not in the drunk, downing pints as fast as you can kind of way, more like 'let's look for the best craft breweries' – something we do every time we travel, from New York to Mexico City and beyond.
The world may just have been swept over by the craft beer craze over the last decade or so, but there is a place in Europe where local microbreweries have been a thing for centuries – Germany.
The largest concentration of breweries in Germany can be found in Franconia, a part of Bavaria, but with a very distinct culture and identity. In Franconia, there are over 300 different breweries, many of which still brew beer according to the beer purity law known as Reinheitsgebot dating back to 1516, which allows beer can only be made with water, barley, hops and yeast.
So, you can imagine our excitement when we first heard about the 5 Seidla Steig – a hike in Franconian Switzerland connecting 5 breweries ('seidla' in Franconian dialect), some of which have been operating for centuries.
The 5 Seidla Steig is 19 km round trip, making it ideal for a day out in nature, savouring Franconian brewing tradition as you go. We've put together a guide to make it easy for you to plan your day out, including directions on how to get to and from the trailheads from Nuremberg, and where to stay.
For more info, please refer to the official 5 Seidla Steig website, full of practical tips and a detailed trail description.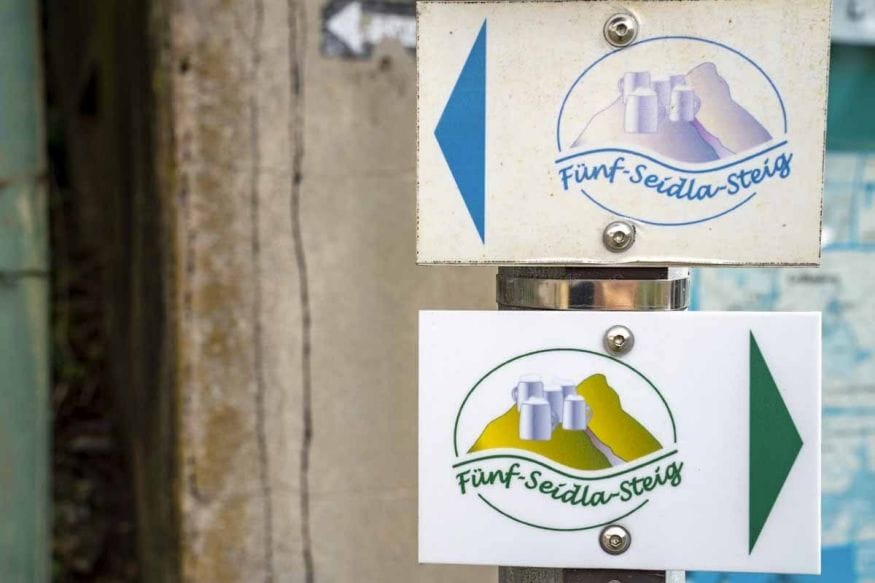 Hiking the 5 Seidla Steig
The 5 Seidla Steig extends from Weißenohe to Thuisbrunn and back, with a total length of 19 km return.
You can choose to hike it one way, visiting all the breweries as you go, and then use public transport to make your way back to the start – but buses are few and far between, and you may end up waiting hours.
Alternatively, you can hike it both ways. There's a variant of the trail to avoid retracing your steps between Thuisbrunn and Gräfenberg. If you opt to hike both ways, we recommend saving one of the two Gräfenberg breweries for your way back – that's what we did.
1) Klosterbrauerei Weißenohe
The 5 Seidla Steig starts at Weißenohe train station, so we started our day with visit to Klosterbrauerei Weißenohe.
Klosterbrauerei means 'cloister brewery' in German, in reference to the fact that the brewery used to be located in the former Benedictine monastery of St.Bonifatius.
According to the rules of Benedictine monasteries, work was almost as important as prayer – and naturally, the brothers didn't mind the odd tipple or three, so a brewery was established within the walls of the monastery in the year 1050.
Yes, you've read that right – almost 1000 years ago!
At Klosterbrauerei Weißenohe, beer was brewed by monks for almost eight centuries. Back then, beer was a staple food/drink for the Franconian population – it has nutritional value, and fermentation killed the bacteria present in unclean water.
Monks left the monastery in the early 19th century – the brewery was sold to a local family, who's been running it for five generations.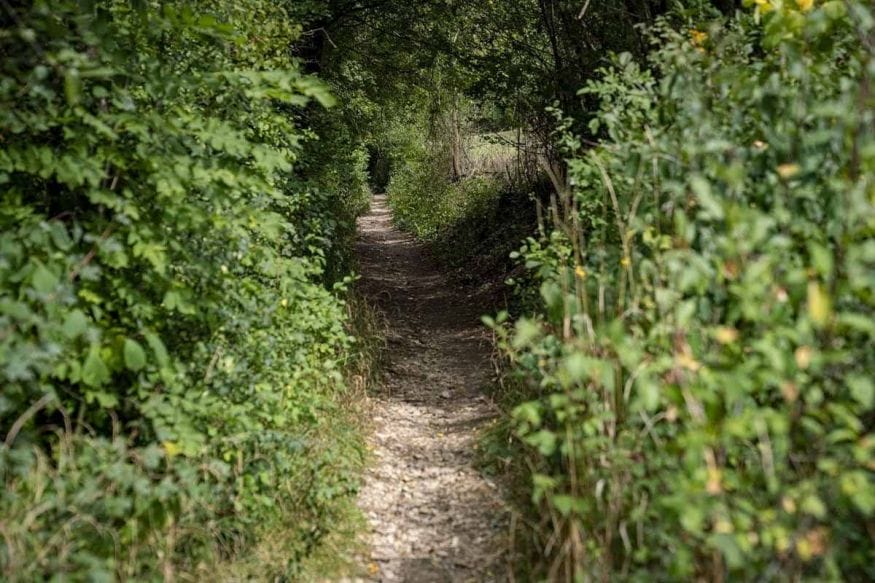 We reached Klosterbrauerei Weißenohe in the morning, around 1o am, and sat outside in the leafy beer garden. There were two beers on offer – their signature, the Altfränkish Klosterbier, and the Green MONKey Hersbrucker.
The Altfränkish Klosterbier is a traditional Franconian brew – malty and slightly sweet, with a deep amber colour. The Green MONKey (get it? MONKey?) is a twist on a Pilsner, made with three different types of hops, lending it a fresh and crisp taste.
If you start your 5 Seidla Steig at Weißenohe, don't forget to pick up your 'Collector's Card' and get a stamp in each of the five breweries – you'll be able to get a surprise once your card is full!
2) Brauereigasthof Lindenbräu
From Weißenohe, we followed the 5 Seidla Steig signs to the upper part of town, until a steep trail led us into the forest and then down to Gräfenberg, the next town along the brewery trail.
In Gräfenberg, there are two breweries, just a few hundred meters from one another. Since the 5 Seidla Steig is a point-to-point hike, and we needed to hike back to the start where we left our car, we decided to visit just one of the two breweries, and head to the other on the way back.
We decided to visit Brauereigasthof Lindenbräu first, because there was a nice outdoor table which looked perfect for lunch. We proceeded ordering two more beers – their iconic Vollbier, and a nice, honest Pilsner.
Vollbier means 'full beer', in reference to the fact that, traditionally, it had a higher wort content. The Lindenbräu version had a really balanced flavour, with sweet notes counteracted by a faint bitterness, and both toasted and flowery aromas coexisting. The Pilsner was also very good, crisp and refreshing, with distinctive hopped notes.
We sat outside, with the brewhouse right opposite us, and a pipe depositing malt by-product onto a container. This made us want to try the 'traditional brewer Schnitzel', with malt instead of the usual breadcrumbs. Needless to say, it was delicious!
3) Brauerei Hofmann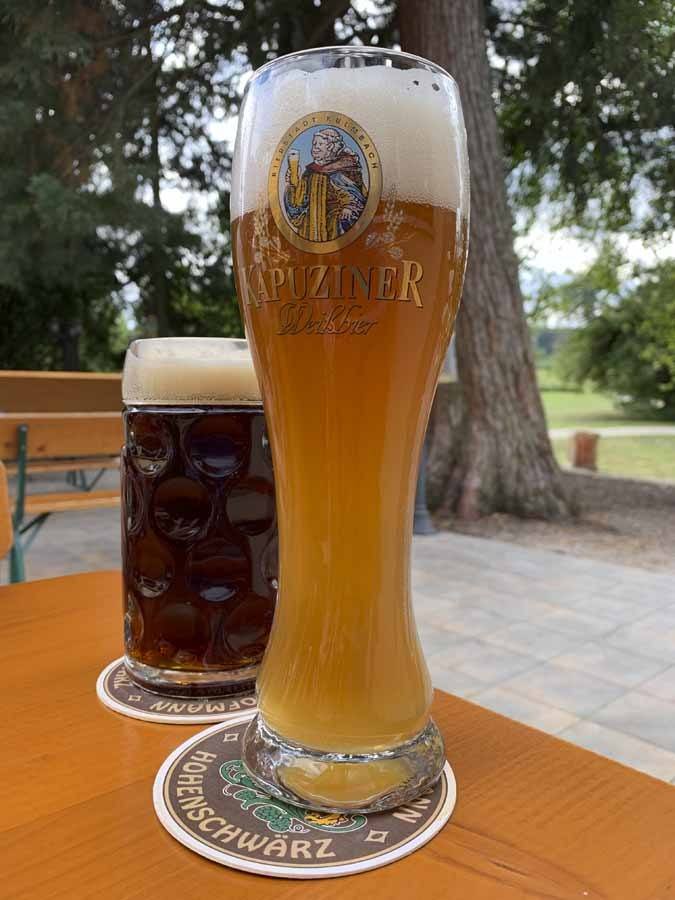 From Gräfenberg, we hiked another 5 km to Hohenschwärz, home to the next brewery. Compared with the first stretch, which was quite steep, this section was mostly flat and pleasant, weaving between farmland and forests.
Hohenschwärz is a blink-and-you'll-miss it kind of place. It didn't take us long to find Brauerei Hofmann, the next up on our list of 5 Seidla, founded in 1897 and still run by the same family, brewing in traditional style using locally-sourced ingredients and an open fire.
By that stage it was approximately 3 pm, and the place was fairly quiet. We sat outside under a cloudy sky and ordered our next two drinks, trying different varieties this time – starting with 'Hofmann Dunkles Exportbier', their signature brew, and continuing with a Weizen.
The toasted, smooth malty flavour of the Dunkel and refreshing Weizen were enjoyable, but not as remarkable as the beers we tried in the other two breweries. Still pretty good though.
4) Thuisbrunner Elchbräu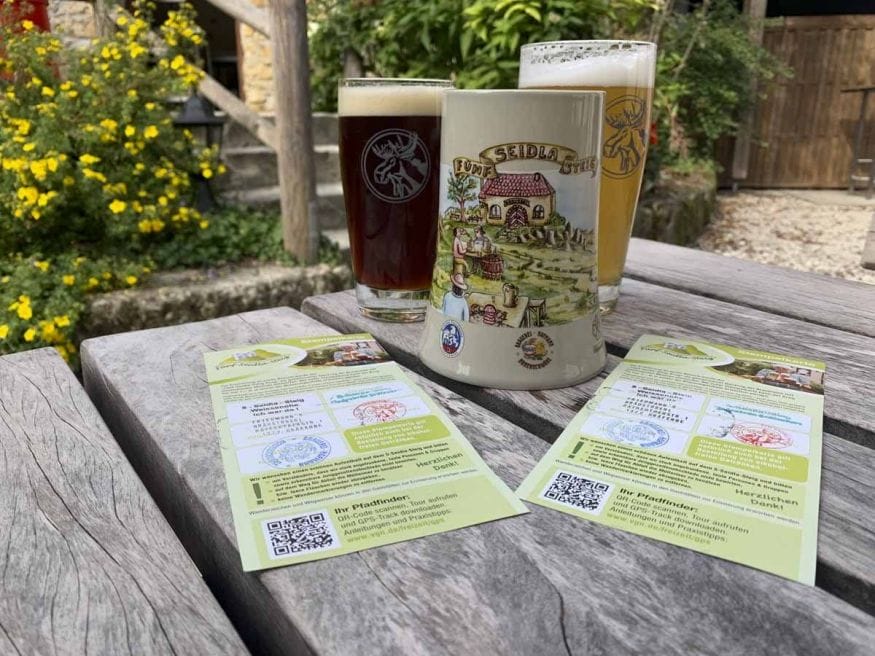 Full disclosure – we didn't hike to Thuisbrunner Elchbräu, as it was closed on the day we hiked the 5 Seidla Steig. We drove there the following day, before making our way back to Nuremberg – and we are super glad we did, given this was probably our favourite brewery!
There was an inn with brewery in Thuisbrunn ever since the 16th century, but the Thuisbrunner Elchbräu was only opened in 2007. There is also a restaurant serving Franconian specialties – we didn't eat there, but saw some food going past and it looked (and smelled) good!
Inside, the brewhouse is bright and airy, the beer garden is shaded and really pleasant to sit in, and the people we spoke to were really kind and welcoming – everyone we met in Franconia was nice, but these guys really went the extra step!
We tried two different brews – their natural, unfiltered Pils, and Kellerbier Dunkel. The Pils was really out of this world, one of the best we've ever had, with a low hop bitterness balanced by the sweetness of malt, and a really refreshing taste overall.
The Dunkel had way more flavour compared to the previous one, with distinct toasted and biscuity aromas – the overall result was mild and easy to drink, really tasty!
5) Brauerei Friedmann
To return to Weißenohe, we followed the path variant via Neusles to avoid retracing our steps. The path included less forest and more farmland, but also fewer uphill stretches and some beautiful places, like a field full of yellow flowers and a random llama and his own tiny house in a field.
We saved one of the two breweries in Gräfenberg for the way back – Brauerei Friedmann. It's located right in the centre of town, only a few steps away from the pretty market square with painted houses, so it feels more of an 'urban brewery' compared to the others.
There were two beers on offer, so naturally we had both – one Helles and one Dunkel, both very good. The menu also looked particularly inviting and we half-thought me might have dinner there, but we still had an hour-long hike back to the trailhead and didn't want to get back too late.
Overall, we LOVED our experience along the 5 Seidla Steig. Once your Collector's Card is full, don't forget to pay €7 and pick up your souvenir – a 5 Seidla Steig memorial ceramic mug.
It was a fun, pleasant, but tiring day – if you're a hiker and think '19 km is NOTHING!' remember that 19 km hike is one thing, 19 km plus 5 beers is a whole different story, and a wonderful way to spend a day out in Franconia!
Getting to the 5 Seidla Steig
From Nuremberg
If you're doing the 5 Seidla Steig as a day trip from Nuremberg, we recommend taking a train from the city to Weißenohe, then hike all the way to Thuisbrunn and back to Gräfenberg following the path variant.
In Gräfenberg, you can hop on a train back to Nuremberg. This will mean you can do the entire itinerary by public transport, so there's no problem if you want to sneak in an extra beer! Just make sure you check the Deutsche Bahn website for train timetables.
From Ebermannstadt
We spent a few days exploring Franconian Switzerland, so we reached the 5 Seidla Steig from Ebermannstadt. We tried finding a way to reach the trailhead by public transport, but it involved two or three bus changes each way!
We ended up going by car – we drove to Weißenohe and left our car at the station. Then we hiked all the way to Hohenschwärz and back, as the Thuisbrunn brewery was closed.
Alternatively, you can hike one way and take buses for the way back – check the by VGN website for bus timetables, including all transport options for greater Nuremberg,
If you do drive to the 5 Seidla, remember to have a designated driver, or be responsible with your drinking – just have a few sips of beer instead of downing a full one at each stop. You definitely don't want to get in trouble on the road!
5 Seidla Steig Trail Rules & Tips
All the breweries included in the 5 Seidla Steig are closed one or two days a week. The only days when they're all open are Friday and Saturday, so plan a visit one of those days to cover all five Seidla in one day!
Definitely don't hike the 5 Seidla Steig on Monday, as all breweries are closed on that day.
Don't forget to ask for your collector card and get a stamp at each of the five breweries – at the end, you'll be able to buy a souvenir mug!
Everyone is welcome in the inns and breweries along the 5 Seidla, including groups and families. However, rowdy and noisy behaviour is not tolerated – it's meant to be a fun day out between nature and tradition, not an excuse to get hammered.
For a detailed rundown of all 5 Seidla Steig rules, check this page.
Where to Stay Near the 5 Seidla Steig
You can easily visit as a day trip from Nuremberg, but we highly recommend spending a few nights in Franconian Switzerland to enjoy villages, castles, caves, adventure activities and more.
We stayed at Hotel-Gasthöf Resengörg in Ebermannstadt, a hotel spread over three buildings – a traditional guesthouse and two more modern apartment buildings. Our room was comfortable and the room rate included a good breakfast.
We also had dinner at the hotel one night, and tried some really good Franconian specialties. Otherwise, here are other great hotel options in Franconian Switzerland!
We would like to thank the Nuremberg Convention and Tourist Office and Franken Tourismus for having invited us to visit the region. Many thanks – we hope to be back very soon!