Have you ever heard of Franconian Switzerland? This fascinating region surrounding Nuremberg is worth more than a day trip from the city – come and discover all there is to see and do!
To be honest, I'm not a fan of statements like 'oh, this place is truly the real *insert country*' – as an Italian, I have had to battle all my life with the stereotype of Italy as a whole big village with narrow cobblestoned streets full of Vespas and Cinquecentos, gossipy nonnas hand-rolling pasta, and endless lunches that ALL end with a siesta.
I'm sure we'll all agree that most places are far more than their stereotypes. Let's take Germany, for example. It's Europe's second-largest country by population, and one of the largest by landmass.
Therefore, it comes as no surprise that Germany has an incredible variety of towns, landscapes and experiences, from alternative Berlin to the palaces of Potsdam, from the rough charm of Hamburg to Cologne and its crazy Carnival.
Yet, ask people what represents Germany in their mind, and the answer will probably be something along the lines of castles, half-timbered houses, traditional restaurants serving a variety of pork dishes – and naturally, lots and lots of beer.
There's one place we recently visit where all this – plus much more – can be found. I am talking about Franconian Switzerland, a region just north of the city of Nuremberg in Southern Germany.
BTW, Nuremberg is also really worth visiting – for more info, check our huge 36 things to do in Nuremberg post!
It's a day tripping paradise for Nuremberg locals and visitors, but in our opinion, it's worth visiting for at least two or three days.
We spent two days in Franconian Swizterland during our trip to Nuremberg, and that just made us want to go back and explore more. So, while we wait for our next trip, here are 10 reasons to include Franconian Switzerland in your Germany travel plans!
Where is Franconian Switzerland?
The region of Franconia is part of Northern Bavaria, with Nuremberg as its unofficial capital. Historically, Franconia was an independent duchy that formed part of the Holy Roman Empire – it was annexed to Bavaria by Napoleon in 1806, after the demise of the Empire.
To this day, Franconians still have a very distinct and unique cultural identity – don't tell Franconians they are Bavarians! our guide warned us the day of our arrival.
Franconian Switzerland is the part of Franconia located north of Nuremberg, bordered by the rivers Pegnitz, Regnitz, and Main.
Historically, the area was known as Muggendorfer Gebürg, the Muggendorf Hills – it became known as Franconian Switzerland only during Romantic times, when it was compared to Switzerland because of its limestone mountains and valleys, much like Saxon Switzerland near Dresden.
Reasons to Visit Franconian Switzerland
1) Hiking in Franconia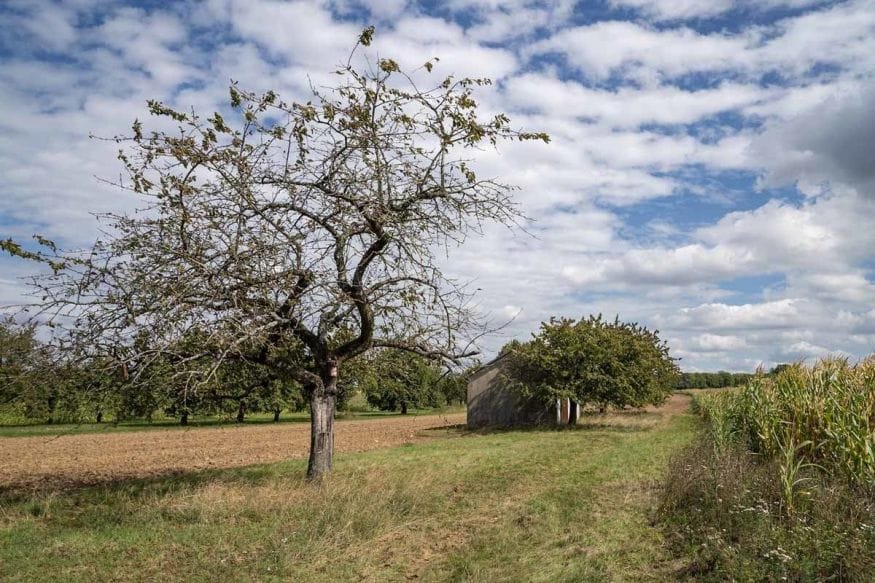 Hiking is one of the main reasons to visit Franconian Switzerland – Nuremberg locals like our friend Alex often head to the region during weekends for a hike, to get a quick 'nature fix'.
The history of hiking in Franconian Switzerland stretches back to Romantic times, when poets and artists started visiting to capture the region's wild beauty in their art.
Nowadays there are over 4000 km of marked trails all over Franconian Switzerland, all well maintained by local hiking groups.
There are hikes for all difficulty levels all over Franconian Switzerland, including brewery hikes like the Funf-Seidla below, and art and sculpture trails joining works of art surrounded by nature.
2) The Five Breweries Hike
As beer and hiking lovers, we couldn't miss hiking the Fünf-Seidla-Steig, a trail connecting five breweries. Franconia has a long brewing tradition and it's one of the places in Germany with the highest number of independent breweries, with a total of 71.
The Fünf-Seidla-Steig is a point-to-point hike, from Weissenhohe to Thuisbrunn (or vice versa). It measures 9 km from one end to the other – you have the option to catch a bus to return to the trailhead, or hike the entire way back following an alternative path (well signposted).
It takes the entire day to hike the entire Fünf-Seidla-Steig and back, including stops at all the breweries to sample their specialties. You'll also find a flyer that you can use to collect stamps – once you've collected the stamps of all five breweries, you can purchase a collection ceramic mug.
If five breweries are not enough for you, there's also the 13 Brauereinweg, connecting 13 breweries in the surroundings of Bamberg.
3) Kayak the Wiesent River
If you're visiting Franconian Switzerland in summer, don't miss spending a day kayaking the Wiesent River.
Depending on when you're visiting and on the water level, you can choose from a variety of tours, covering the stretch between Riesenburg and Ebermannstadt.
You can paddle the entire way, taking about a day, or opt for shorter stretches – like the one we did, 4 km from Muggendorf to Streitberg.
These tours are self-guided, kayaking companies only provide drop off and pick up services.
When we visited in early September the water level was low, with a few rapids and even a couple of small waterfalls – don't forget to follow the arrows as you kayak down the Wiesent!
Contact Leinen Los for more info about kayaking Franconian Switzerland.
4) Visit Caves all over Franconian Switzerland
Steep limestone rocks are one of the distinguishing features of Franconian Switzerland, concealing the entrance to a vast network of underground caves – there are over 1000 in the whole of Franconian Switzerland.
The three most famous caves, which can be visited, are Sophie's Cave, the Devil's Cave and Bing Cave, which have all been outfitted with walkways and artificial lights.
Other caves in Franconian Switzerland can only be explored by specialist speleology groups, seeking authorisation in advance.
5) Go Climbing
If you're a climber like us, you'll be thinking that Franconian Switzerland looks a little bit like Arco, Italy's climbing capital!
In fact, Franconian Switzerland is one of the best known climbing hotspots in Germany, with over 1200 climbing routes on 800 cliffs, for beginners and experts alike.
If you're not a proficient climber, we recommend heading to the Nature Park Altmühltal, with lots of beginner crags available and even climbing schools nearby at hand to show you the ropes – quite literally!
6) Explore Fascinating Towns
Charming towns with a Medieval flair are another reason to head to Franconian Switzerland.
Think narrow streets leading up to wide market squares surrounded by half-timbered houses, bubbling rivers flowing through, and the clink of glasses in historic breweries.
The most popular places to visit are UNESCO-listed Bamberg, also known for its unique smoked beer, and Bayreuth, famous for having been home to composer Richard Wagner.
You'll find a fair number of tourists in both Bamberg and Bayreuth – to escape crowds (especially in summer), head to smaller towns like Pottenstein, close to the Devil's and Sophie's Cave, or Ebermannstadt, a cute town crossed by the Wiesent River, with an excellent brewery and restaurant.
7) Admire Castles
While we were kayaking along the Wiesent, our attention was captured by a ruined stone tower on a hilltop – it was Neideck Castle, the symbol of Franconian Switzerland, which can be reached from Streitberg on an easy hike.
Neideck is just one of the 1oo castles that can be visited all over Franconian Switzerland. The region is also located along the Castle Road connecting Mannheim to Prague, also including castles where you can spend the night.
Some of the best Franconian castles to visit include Rabenstein Castle, Castle Egloffstein and Waischenfeld Castle – after visiting the best castles in Luxembourg, we can't wait to return to Franconian Switzerland to check out more of its castles!
8) Forchheim's Walk of Beer
When I was mentioning places to visit in Franconian Switzerland I purposely left Forchheim out, because it is worthy of a special mention!
In the 16th century, Forchheim was a true brewing hotspot, with over 160 breweries operating and storing their products in the a network of underground cellars just outside the city walls.
Nowadays, to honour its brewing past, Forchheim created the Walk of Beer, an urban trail connecting the town's four surviving breweries to the Kellerwald, the forest on a sandstone hill where the underground beer cellars are located.
On the day we visited Forchheim, two of the four town breweries were closed for holidays – we still managed to visit Brauerei Neder in the historic centre, famous for its Schwarze Anna dunkel beer, and Brauerei Josef Greif, with a 1950s nostalgia look and some outdoor seating.
9) The Largest Beer Garden in the World
No visit to Forchheim is complete without heading to the Kellerwald, a hill just outside town home to 23 beer cellars, where local breweries store beer to this day.
In the past, the cellars were also were beer was fermented, and it was recommended to drink beer close to its production site – and so, tables and benches were to be found all over the Kellerwald, always full of punters drowning mugs of frothy brews.
Nowadays, the setup is a little more modern, with actual bars serving food and drinks to be found all over the Kellerwald – all connected, they're believed to form the largest beer garden in the world. You can sit down and order Franconian food to go with your beer, but eating your own food is also allowed.
Not all beer cellars are open every day, but the best time to visit to see them all in operation is Annafest, a folk festival and beer extravaganza taking place for 11 days in late July.
10) Enjoy Franconian Food
There's nothing better than some hearty Franconian food to restore your strength after a day of adventuring around Franconian Switzerland.
The dishes on offer at most traditional restaurants include lots of pork specialties, but not only – you can opt for Forelle (trout), Sauerbraten (a beef pot roast), and in season, don't miss Pfifferling (chanterelle mushrooms).
The most iconic Franconian specialty is definitely Schauferla, roast pork shoulder served with dumplings and gravy – perfect to enjoy when it's cold outside!
On a summer's day, it's probably better to opt for Bratwürst (grilled sausages – don't miss the tiny ones found in Nuremberg and surrounds!) or a traditional Schnitzel.
If you're visiting a brewery, you may find schnitzel breaded with malt – it's really good!
When to Visit Franconian Switzerland
The weather in Franconian Switzerland is typically continental, with hot summers, cold winters, and mild weather in Spring and Autumn.
Rainfall is not abundant and it's well distributed throughout the year – so really, the best time to visit Franconian Switzerland depends on what you want to do.
Every season has its pros and cons – winter can be bitterly cold, with sub-zero temperatures regularly reached, but it's the ideal time to enjoy Franconian food and beers by the fire; summer is definitely more pleasant outdoors, and it's the time of Annafest, but it's really busy.
This is just to say that Franconian Switzerland is great the whole year round – don't miss visiting, next time you're around!
We would like to thank the Nuremberg Convention and Tourist Office and Franken Tourismus for having invited us to visit the region. Many thanks – we hope to be back very soon!