Have you ever heard of Queretaro? Unless you're a Mexico connoisseur, the answer is probably no. Follow us as we show you 17 amazing things to do in Queretaro, Mexico!
If you like visiting a country again and again, moving away from the busy 'must do' tourist destinations, this article is for you. The name 'Queretaro' may not ring a bell at first – it definitely didn't for us, until we visited Mexico earlier this year.
Our previous trips to Mexico included many popular places like Tulum, Isla Holbox, and Mexico City. So, when we got the chance to visit the country again this year, we chose to head to the Bajio Mexico region – including the states of Queretaro and Guanajuato, plus the famous city of San Miguel de Allende.
The aim of our visit was reporting on the Tourism Recovery Programme organized by enpact and Tui Care Foundation, offering support to sustainable, locally-owned businesses impacted by the pandemic.
We chose to focus on Bajio Mexico because we wanted to visit San Miguel de Allende, the stunning colonial town that sprung to worldwide fame after being named as 'best city in the world' by Travel and Leisure in 2017. Well, guess what – we didn't love it, and believed it to be too much of an 'Expat Disneyland'.
On the other hand, we loved exploring Queretaro – both the city, with its interesting statues and museums, and the surroundings, where we spent a day touring the Ruta de Vino y Queso and two days hiking in the mountains of Sierra Gorda.
So here are 17 amazing things to do in Queretaro City and State, including businesses part of the Tourism Recovery Programme!
Things to do in Queretaro City
1) Queretaro Statues
In Queretaro's historic center, you will come across a lot of stunning monuments and majestic statues. In fact, it was declared a Historic Monuments Zone in 1981 and is on the UNESCO World Heritage List.
One of the most important statues is El Danzante Conchero (Aztec Dancer), a statue performing a traditional Mexican dance. Another notable statue in Queretaro is the Monumento de La Corregidora, a statue of Mexican independence hero doña Josefa Ortiz, holding a flame. This statue is a tribute to Josefa Ortiz de Domínguez, one of the most important characters in the struggle for Mexican independence.
Also, at the entrance to the city of Santiago de Querétaro you can find the statue of Conin, honoring him for his involvement in helping Spaniards conquer territories in the central part of Mexico.
Another notable monument located in the historic center is Fuente de Neptune. This statue was constructed in 1797 by the Mexican architect Francisco Eduardo Tresguerras and showcased the Roman God of the Sea, Neptune.
Lastly, there is also the monument of Santiago Apóstol located on Independence Street in the historic center.
2) Queretaro Plazas
There are a lot of beautiful and grand plazas in Queretaro, but one of the most popular is Plaza de Armas, located at the city's historic center. This plaza features fascinating colonial-era buildings, and here you can experience history and local culture. The square's central fountain also has a statue of Juan Antonio de Urrutia y Arana, the nobleman who financed the construction of the aqueduct, a symbol of Santiago de Queretaro.
To fully take in the monument and buildings in this plaza, you can join one of the guided tours offered in the center. Plaza de Armas is carved in pink stone, beautifully maintained, and features many local shops, bars, and restaurants. The Plaza also hosts cultural events, concerts, and plays, open to the public for free.
Another Plaza you don't want to miss is Plaza de los Fundadores, an important historical site in Queretaro. This plaza features 4 statues representing those who founded the city of Santiago de Querétaro. On the other side of the square, you will find restaurants, cafes, and spaces where you can enjoy your afternoon and take in the environment.
The Plaza de la Constitución is another charming plaza to visit while in Queretaro. This square is one of the busiest as it's always filled with both locals and tourists. You can enjoy the fountain and cool off at one of the few restaurants located in this square.
3) Queretaro Museums
Queretaro's museums are a world of their own and a must-visit if you are in town. If you are craving some culture, art, and history, you can visit one of the most visited museums, the Queretaro Regional Museum. Located in the former San Francisco convent, this museum features six rooms that showcase unique artifacts and exhibits on the city's history.
Another must-visit museum for lovers of art is Queretaro Art Museum. Here, you will come across an extensive collection of European paintings, sculptures, and drawings dating back to the 17th and 19th centuries.
Lastly, you can stop at Museo del Calendario or the Calendar Museum, where you'll find 19 exhibition rooms displaying Mexican calendars through the decades. Do note that all museums are closed on Monday, so plan your visit accordingly.
4) The Famous Aqueduct
The nearly 2 kilometers long Aqueduct is one of the best things to see in Queretaro. This architectural wonder was completed in 1726 and remained one of the few colonial aqueducts left in Mexico. The 75-arched aqueduct was initially built to supply water to the city from the springs.
Now, the aqueduct supplies water to the fountains in Queretaro's historical centers. The aqueduct is always lit up at night, and you can get great pictures, especially from underneath the arches. Also, one of the best spots to get a perfect view of the aqueduct is from the Mirador de Los Arcos lookout point.
5) Templo de Santa Rosa
Templo de Santa Rosa has been in existence for more than 200 years and is one of the most beautiful Baroque-decorated historical churches in Queretaro. This functioning church is known for its fine architecture, and sometimes hosts some art expositions.
The temple belonged to the congregation of the Roses Mother until they were expelled in 1861. In 2019, the temple was reopened as a museum, and objects belonging to the nuns, such as books, paintings, and letters, were returned to the church.
There are many art masterpieces in this temple, including the sculpture of the Last Supper, portraits of Father Juan and Sor Theresa, and the famous portrait of Sister Maria de Francisco y Neve. Outside the church, you will find giant letters spelling the city's name where tourists often take pictures.
6) Try Out the Gorditas
One of the popular street dishes you should definitely try when in Queretaro is the Gorditas. This local delicacy looks like a sandwich but is made from corn dough and has a pocket made for stuffing delicious Mexican fillings. For Gorditas fillings, you can pick between ingredients like pork rinds, cheese, salsa, refried beans, shredded chicken, potatoes, nopal cactus, and more.
The most traditional variation of this dish is filled with chicharron (spiced stew of pork rinds) and eaten with different types of salsa, which you can add depending on how much you can handle chilli! You will find this delicacy in many local restaurants and markets in Queretaro – one of the best is Las Deliciosas Gorditas del Portal, right in the city centre!
7) Drink Craft Beer at Cerveceria Hercules
You can visit many breweries and pubs in Queretaro for a beer, but one of the best spots is definitely Cerveceria Hercules.
The brewery is an old factory renewed to be a bar, celebrating centuries of brewing traditions. Cerveceria Hercules is about a 20-minute drive from Queretaro Historical Center, and you can walk around the factory to visit the old beer-making machines.
Also, you get to pick from a wide selection of craft beer, a total of 15 taps, with the price depending on the size and style of the beer. Aside from the fantastic beer, this pub has a beautiful outdoor setting, open-air lounge, mountain backdrops, and food. If you are here with kids, there is a playground for them to enjoy, plus lots of craft shops selling handmade goods that are ideal to take home as gifts.
8) Find Local Crafts At The Market
Admiring and buying goods and local crafts at Queretaro markets is a great way to have a local experience. One of the best markets in Queretaro to experience local vibes is the La Cruz market. Here, you can buy all sorts of things, including crafts, fresh fruits, shoes, clothes, and souvenirs. Asides from consumer goods and crafts, the market also has many restaurants and stands where you can try out local delicacies.
9) Buy Souvenirs For Home
Your trip to Queretaro isn't complete without getting some handmade crafts and souvenirs you can take home.
Queretaro souvenirs are colorful, pretty, and unique, and most of them are inspired by the Otomi culture, the Native population that inhabited this area of Mexico before the arrival of the Spaniards. In the souvenir stands, you will find jewelry, key chains, t-shirts, and other traditional clothes.
You should also be on the lookout for the Otomi doll, sold by indigenous women of Queretaro. Most of the sellers have their little stands in the historic center, and you can have a chat with them. Also, the Otomi doll is said to offer some protection against evil spirits.
10) Spend a Haunted Night at Meson de la Merced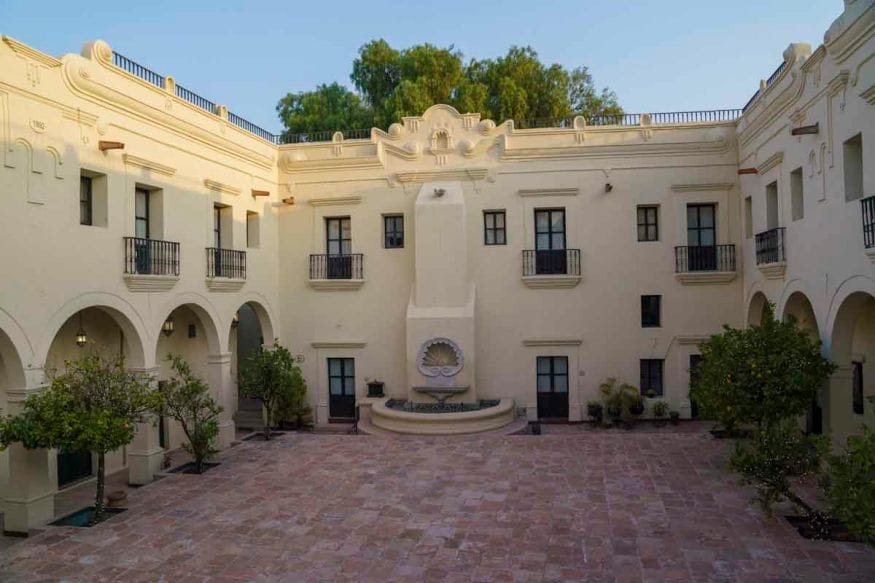 If you can't make up your mind on where to stay in Queretaro, we recommend Meson de la Merced, a unique boutique hotel right in the centre of the city.
The hotel is set in a vecindad, a communal housing unit dating back to the 19th century, where families lived in apartments located all around a central patio. The various apartments have been converted into suites – some with up to three levels – all overlooking the patio.
We loved the historical vibe of the hotel, with creaky floors and vintage furniture. That's why we weren't surprised when we heard from hotel manager Annya that the hotel has its very own ghost, the former landlady who now 'lives' in the cava, and comes out at night to collect her dues.
If you're after a paranormal experience… you may get lucky!
Things to do in Queretaro State
11) Explore El Cerrito
Mexico's smallest pyramid, El Cerrito, is located about 10km from Queretaro's historical center. This archeological site was founded 300 years ago and features many details and information history buffs will enjoy.
El Cerrito used to be a place of worship among Mesoamerican civilizations. People are not allowed to climb the pyramid, but you can take photographs and explore the beautiful setting. The pyramid itself is a stunning site with centuries worth of history, manicured garden, and an onsite museum. This pyramid is open from Thursday to Sunday with no entrance fee.
12) Climb One of The Largest Monoliths; Peña del Bernal
Peña del Bernal is the third largest monolith in the world and is considered one of the 13 wonders of Mexico. Located in San Sebastián Bernal, around 1-hour drive from Queretaro, this rock rises approximately 300 meters above the town. The monolith is a spectacular sight from any angle, but the best way to enjoy and experience Pena del Bernal is by hiking up to it!
There is a path pilgrims and hikers use to climb the rock, but you will need some climbing gears to get all the way up. If you are not up to climbing the 45 meters high monolith, you could take a walk around the base – this can be done with no equipment besides good hiking shoes. Also, every weekend, visitors at Pena del Bernal get to enjoy a free show of dancing water fountains synchronized to music.
13) Cheese and Mezcal at Cava Bocanegra
Queretaro is also located a short distance away from the Ruta de Vino y Queso, a set of itineraries to discover cheese and wine making tradition in this part of Mexico, definitely one of the best things to do in Queretaro!
A good place to start is Cava Bocanegra, producing cheeses that blend Italian techniques with Mexican ingredients – think hard cheeses with the addition of pimento or achiote seeds, or with tequila-washed rinds.
Visits at Cava Bocanegra start with a tour of the cellar and explanation of the various kinds of dairy products on offer, and end with a unique tasting – a cheese platter accompanied by various kinds of mezcal. If you are planning to visit some wineries along the Ruta de Vino y Queso, take it easy!
14) Wine Tasting outside Queretaro
There are also several wineries you can visit during a day trip from Queretaro. The region is ideal for winemaking, and this caught the eye of European producers, who started establishing wineries in the area over the second half of last century.
The winery credited to have spearheaded the development of winemaking in Queretaro is Freixenet's Sala Vive, still one of the largest and most popular to visit. Tours include a visit to the deepest cellar in Mexico 25 meters below ground, plus a glass of their iconic cava – and you'll get to take the glass home with you.
Another interesting winery to check out during your day along the Ruta de Vino y Queso is Viñedos Azteca, a winery on a horse farm active since the time of the Mexican Revolution. During the course of a visit, you'll see the arena where 'charreria' (horsemanship) shows take place every September, take a walk around the pretty grounds, and taste a variety of labels depending on your preferences.
15) A Day with Cool Dads
Our day along the Ruta de Queso y Vino was organized by Cool Dads, a company based in Queretaro and Mexico City organizing unique tours for parents and their children. The idea behind the company is providing parents and children the chance to have one-on-one quality time while spending time in nature – their experiences include camping, hiking, and other adventures spent in nature.
Not being parents and not having children, Cool Dads organized an 'adults day out' for us – cheese and wine tasting, ending with dinner at Cerveceria Hercules. We loved the experience, and the care that Chano and Santiago put in every aspect of the tour – from the tasty freshly-baked pastries that were waiting for us in the car, to the water bottles with our names engraved that was given to us as a parting gift (that we use every day!)
Cool Dads was one of the businesses participating in the Tourism Recovery Programme, and we highly recommend getting in touch with them to organize a day trip from Queretaro for you – with children or without!
16) Hike the Sierra Gorda
Another day trip from Queretaro could be a Sierra Gorda hike – but be warned that it takes approx 3 hours 15 from Queretaro to Jalpan de Serra, where most hikes begin, so you'd better off spending the night!
We went hiking with Aventurate Sierra Gorda, a local company participating in the Tourism Recovery Programme, specializing in ecotourism experiences in this mountainous region famous for its biodiversity and for being one of the last refuges of the axolotl. There are many hikes to choose from – for an easy one, we recommend Puente de Dios, along the banks of Rio Escanela until a cave with a waterfall inside.
Other easy hikes that could be included in a day trip from Queretaro are Mirador de Cuatro Palos, a stunning viewpoint over the mountains, and the Chuveje waterfall.
During all hikes with Aventurate you'll be accompanied not only by an English and Spanish-speaking naturalist guide, but also by a guide from a Sierra Gorda village, ensuring that local communities benefit first-hand from tourist income.
17) Sunrise at Sotano del Barro
We also recommend spending one night in Jalpan de Serra to get the chance to hike up to Sotano del Barro for sunrise, to see one of the world's last colonies of guacamaya (green macaws).
Sotano del Barro is a large sinkhole in a remote stretch of the Sierra Gorda, inhabited by approximately 100 pairs of green macaws. Sunrise is when they fly out of their nests to feed, making it the best time to spot these stunning yet shy birds.
You can find more info about Sotano del Barro and our experience there in our Sustainable Bajio Mexico Itinerary post, also including more ideas for things to do in Queretaro and Queretaro day trips!
Have we missed any of the best things to do in Queretaro? If so, let us know in the comments below!
Our visit to Mexico was in partnership with the Tourism Recovery Programme organized by enpact and TUI Care Foundation – click on the link to find out more about the programme. Many thanks to Manuel from TUI Care Foundation and Nicholas from iAmbassador for this wonderful experience!