Have you ever considered the Bajio as a destination for your next Mexico trip? Here we'll tell you why you should, and we'll share our 1-week sustainable Bajio Mexico itinerary!
Ok, you've decided on Mexico for your next trip. Trouble is, it's a big country – so, where should you go? If it's your first trip to Mexico, I'm sure you'll have places like Mexico City, Oaxaca, or maybe the Riviera Maya on your mind. A modern megalopolis of 20+ million people, colonial and culinary history, flashy resorts, and luxuriant nature – three different faces of a sprawling, diverse country.
If you are finding it hard to make your mind up, or you are open to new ideas, we have another suggestion for an itinerary around Mexico, ideal for sustainably-minded travellers – the Bajio, the lowlands region of Central Mexico.
Where is Bajio Mexico?
The Bajio is a region in Central Mexico, north of Mexico City, including the states of Aguascalientes, Jalisco and the city of Guadalajara, plus the states of Queretaro, and Guanajuato. However, in Mexico when talking about the Bajio, people mainly refer to Queretaro and Guanajuato, where you will also find the uber-famous colonial town of San Miguel de Allende.
In recent years, there has been an exodus of sorts from Mexico City to the Bajio, with people leaving the capital for smaller towns looking for a better quality of life and better work/life balance. This brought an influx of new investment and creativity to the region – you'll find modern fusion restaurants alongside taco stands that have existed for generations, boutique accommodation in renovated period buildings, and locally-owned tour companies offering unique experiences.
The Bajio is also one of Mexico's most naturally diverse regions. Ecosystems like the desert, the semidesert, the dry forest, and the rainforest coexist within a short distance of one another, and the Sierra Gorda mountains have the largest number of plant and animal species anywhere in Mexico – including endangered species like the jaguar, puma, and military macaw.
Sustainability and the Tourism Recovery Programme
The Bajio was one of the regions included in the Tourism Recovery Programme organized jointly by enpact and TUI Care Foundation. The former is a Berlin-based non-profit organization focused on supporting entrepreneurs and helping them grow through capacity building, mentorship, financial support and network development, whereas TUI Care Foundation was founded by the well-known tour operator TUI, with the aim of building tourism as a force for good.
As the world of tourism slowly recovers from the worst crisis in recent memory, the Tourism Recovery Programme selected a number of travel operators in Mexico, Kenya, Tunisia, South Africa and Egypt to offer financial support, plus a training and mentorship programme to grow their business with an eye on innovation, sustainability, and resilience.
The initial financial support was to help these businesses survive the pandemic downturn – some of the owners we met said the €9000 support was a lifesaver for their business. However, the programme looked beyond immediate help, introducing a series of virtual learning experiences, dedicated mentoring with global tourism experts, and access to a network of entrepreneurs, coaches, business leaders and investors to facilitate global expansion.
To be selected, businesses had to be locally-owned and affected negatively by the pandemic. They also needed to show an innovative component in terms of sustainability, social inclusion and technological advancement.
During our 1-week itinerary around Bajio Mexico, we had the chance to visit 6 businesses that took part in the Tourism Recovery Programme – two hotels, two tour operators, and even a hot air balloon and a gelato-making company! I'll tell you more about each of them in the itinerary below, so you can visit them for yourself!
Bajio Mexico Itinerary for Sustainable Travellers
Day 1 – Mexico City to Querétaro
This 1-week Bajio Mexico itinerary starts and ends in Mexico City, and we recommend renting a car to get around with ease. If you want to be as sustainable as possible, you can indeed move around by local bus – but in that case, we recommend two extra days to get to and from Jalpan, the gateway to the Sierra Gorda mountains.
The Bajio is one of the most dynamic and fast-developing regions in Latin America, and motorways are excellent, as good as the ones we encountered during our recent road trip to the American Southwest. Your first destination will be Querétaro, capital city of the state of the same name. It takes just three hours to drive to Querétaro from Mexico City airport – if you depart in the morning, you'll have enough time to spend the rest of the day visiting the city.
The Historic Monument Zone of Querétaro is clean, compact, and car-free, easy to wander around on foot. The street plan is unique, blending the geometric street plan imported by the Spanish with the twisty alleyways of Pre-Colombian times – for this reason, it's UNESCO-listed.
Some sights to check out in Querétaro include the stunning Baroque church of Santa Rosa de Viterbo and the many statues all over the city – my favourites were La Corregidora, a local woman who played an instrumental role in the Mexican revolution, and El Danzante Conchero, showing a traditional dance combining Christian and Pre-Hispanic elements.
Also, don't miss having gorditas for lunch or dinner, thicker corn tortillas that are split open and stuffed with a variety of guisados (stews) – my favourite are carnitas (slow-cooked pork) and nopales (cactus), a popular veggie option.
We stayed at Meson de la Merced, a boutique hotel in a 19th-century building on a quiet side street in Querétaro's historic centre, part of the Tourism Recovery Programme. The hotel's 12 suites were set around a central patio, reminiscent of when the building was a vecindad, a communal building where families lived in separate apartments and shared communal areas.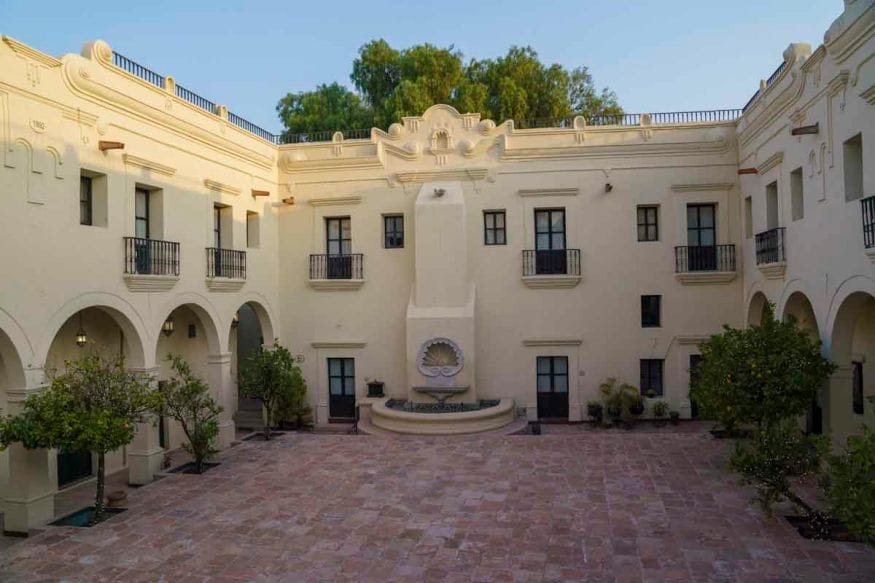 The suite where we stayed extended over three stories, with a balcony overlooking the patio. It's the kind of place where every detail spells history – even where you least expect it. In the words of hotel manager Annya, 'In the cava (wine cellar), you might meet the ghost of the landlady, who still comes out at night to collect her dues!'
The Tourism Recovery Programme helped management at Meson de la Merced look beyond their horizons. Annya explained that 'we thought most of our business would come from weddings and events. Now, we want to attract more international tourists – and the programme really helped us understand what we can do to improve our offer'.
To know more about the city and around, check out our 17 Amazing Things to do in Queretaro post!
Day 2 – Around Querétaro
Querétaro definitely has enough sights to fill a day, so we would recommend dedicating the second day of your visit to Bajio Mexico to exploring the surroundings of the city. The Ruta de Queso y Vino (wine and cheese route) connects various artisan cheese and wine producers in the region, who are spearheading the development of Mexican winemaking and boutique dairy industry.
Our guides for the day were Cool Dads, another company included in the Tourism Recovery Programme. The company specializes in one-on-one experiences for parents and children in nature, like hikes, mountain bike rides, and camping under the stars.
'I got this idea while on a trip to California with my son' explained Santiago, the founder of the company. 'I have two children, and I understand how important it is to spend time with them individually'. The idea is to strengthen the bond between parents and children by sharing unforgettable activities – and since the idea was so successful, they recently expanded to create Cool Moms and Cool Experiences, open to everyone.
Since we didn't travel with children, Cool Dads designed a unique itinerary for us based on food, one of our passions. 'This is not our area of expertise!' said Santiago – but every detail of the tour was just perfect, and I found myself hoping to have a little one to travel with next time.
We started our day at Cava Bocanegra, where we tasted cheese combining Mexican ingredients like achiote to Italian dairy making techniques, all washed down with mezcal (at 10 am – ouch). We then visited two wineries, one international and one Mexican owned, set in a horse farm that carries on the local tradition of charreria (horsemanship).
The day ended with a tour and tasting at Cerveceria Hercules, a brewery located in a former string factory that went out of business and was earmarked for development. A local beer company took over the premises just in time, preserving the original architecture and restoring the building bit by bit, leasing some of the spaces to local artisans and designers.
It was a long but truly unforgettable day, made even more special by the level of care and little surprises we enjoyed throughout the day – I won't reveal too much, but definitely get in touch with Cool Dads if you happen to find yourself around Querétaro, with children or without!
Day 3 – Querétaro to Sierra Gorda
Leaving Querétaro behind, we spent the first part of the day driving to Jalpan de Serra, the largest town in the Sierra Gorda region, departure point of many hikes and adventures in this stunning, ecologically diverse area.
Along the way, don't miss stopping in Bernal to have a look at Peña de Bernal, the third largest monolith in the world after Rio's Pao de Açucar and the Rock of Gibraltar. The Peña really sticks out in the lowlands of the Bajio, and you won't need to travel far from the centre of Bernal to see it in all its glory!
If you are driving, pay attention along the final 100 km of the drive to Jalpan de Serra, travelling along a twisty mountain road where overtaking gets extremely hard. The drive from Querétaro takes between 3 and a half and 4 hours, depending on how many trucks you get stuck behind. Try to reach Jalpan by lunchtime at the latest, so that after a quick bite you'll have time to go on a short hike in the Sierra Gorda.
We opted for Puente de Dios, an easy 3-hour hike along the Rio Escanela. Our guide was Paco from Aventurate Sierra Gorda, an ecotourism company offering guided hikes, mountain bike, and ATV tours through the region. He explained that the Sierra Gorda is a UNESCO protected biosphere reserve, harbouring a wide array of habitats home to rare and endangered species – including the iconic axolotl, still surviving in the wild, pristine rivers descending through the mountains.
Puente de Dios is a great hike for everyone, since it's fairly short (approx 2 km each way) and it's largely flat, following the course of the Rio Escanela. There are a couple of walkways and ladders descending through the rocks, but besides this, it's really easy. The trail follows a limestone canyon created by the river, ending at the Puente de Dios, a place where the two walls of the canyon meet, creating a cave where a waterfall flows during the wet season.
It's possible to swim in the cave, but be warned – the water is COLD!
Day 4 – Sierra Gorda to San Miguel de Allende
Our hike to Puente de Dios was merely a warmup for Sòtano del Barro, a must for everyone visiting Sierra Gorda, which we also did with Aventurate Sierra Gorda. This hike is truly one for the brave – in April, departure time was 2 AM from Jalpan, in order to get to the edge of the Sòtano for sunrise at 7 AM.
The destination, Sòtano del Barro, is one of the largest sinkholes in the world, 450 meters deep and over 400 meters across. It was formed 1.5 millions of years ago, as the bedrock collapsed, and over time a rainforest covered the bottom of the sinkhole, home to species that can't be found elsewhere. But more on this later!
The first part of the itinerary was a 2-hour drive to Santa Maria de Cocos, a tiny village at the end of an unsealed road deep in the mountains. A guide from the village accompanied us on the hike, and the same thing happened the day before – a way to ensure Sierra Gorda communities directly benefit from tourism.
'Sustainability doesn't just preserving nature, we also need to take care of local communities' our guide explained, and we couldn't agree more.
The trail to edge of Sòtano del Barro begins right outside of the village, and it takes between two to three hours to reach the edge of the sinkhole. If you're a fast hiker like us, you'll probably get to the Sòtano when it's still dark, and you'll hear a strange. mysterious noise, like a cry from the depths.
Here, the mystery will be revealed – sure, the Sòtano is indeed an amazing place, but the real reason to travel there at the crack of dawn is to see one of the last colonies of guacamayas (military macaws) fly out to feed. These birds mate for life, and they always fly out in pairs or small groups, their bright green plumage standing out against the dark green rainforest all around.
After hiking back down and reaching Jalpan in the early afternoon, the rest of the day will be spent driving to San Miguel de Allende – approx 4 hours. If you do have a day to add to this Bajio Mexico itinerary, we would recommend spending an extra night in Jalpan after hiking to Sòtano del Barro – otherwise, it will be a loooooong day!
Day 5 – San Miguel de Allende to Guanajuato
First things first – San Miguel de Allende is beautiful. A perfectly preserved historic centre, with yellow, ochre and rust-coloured colonial buildings, picture-perfect cobblestoned streets with azure jacaranda flowers, a lively zocalo with a Baroque cathedral – you get the idea.
In 2017, San Miguel was named 'best city in the world' by Travel+Leisure readers, and won the same award again the following year. This started a mass exodus of American expats in search of 'authentic Mexico' – which meant that rents skyrocketed, pretty much the entire historic centre is now taken up by foreign-owned Airbnb and expensive hotels, and many top restaurants are owned and managed by international chefs.
I even read tongue-in-cheek reports comparing San Miguel de Allende to 'Mexico Disneyland', and heard that up to 30% of residents are (mostly American) expats. As a result, locals have been priced out – just to get an idea, the average price of a home in San Miguel is $540,000 USD, in a country where the average household income is just $16,269 a year.
Am I recommending not to visit San Miguel de Allende? Not at all, considering how important tourism is for the economy of the city. However, I would suggest searching out and supporting Mexican-owned businesses. A place we really liked was Hierba Santa Cocina del Sur, set in a leafy courtyard and owned by a friendly couple from Guerrero.
If you're interested in finding out more about gentrification in San Miguel de Allende and how to visit responsibly, please take a look at this article, also including lots of recommendations on businesses owned by locals.
A true once-in-a-lifetime experience you can have in San Miguel de Allende is a sunrise balloon flight with Globos San Miguel, another locally-owned business part of the Tourism Recovery Programme. First, we got to enjoy a magical walk through the historic centre in the early hours of the morning to reach the departure point. Then, we drove to a secluded location on the edge of the city, where we saw the balloons being unfurled and set up.
Every balloon ride is different, since the wind dictates where and how fast you go. We had a perfect morning, and just as the sun was rising over the mountains we floated over San Miguel de Allende, and then over the new residential neighbourhoods on the outskirts of this fast-growing city – which may look dull from the ground, but strangely beautiful 600 meters up in the sky.
Flights last between 45 minutes to an hour, meaning you'll be back in San Miguel de Allende for breakfast. Spend time wandering the historic centre, and don't miss walking up to the mirador for views over the city – it's especially beautiful in April, when the jacaranda is in bloom.
Then take a quick hour and a half drive to the next city, the final destination in this Bajio Mexico itinerary – Guanajuato!
Day 6 – Guanajuato
Driving in Guanajuato is not for the faint-hearted. The city is built over very hilly ground, with tunnels and narrow streets, meaning that navigation becomes difficult. If you are staying in the historic centre, we recommend leaving your car in an estacionamiento (car park) away from the centre, or asking your hotel for valet parking.
We spent two nights in the city, staying at Meson Cuevano, a hotel in the heart of the historic centre, part of the Tourism Recovery Programme. The 'Cuevano' is the literary name given to the city of Guanajuato in the novel 'Estas Ruinas Que Ves' by Jorge Ibargüengoitia Antillón, a local writer and journalist. This reveals the literary theme found throughout the hotel – every room is individually decorated and dedicated to a different character in Ibargüengoitia's novel, and on the walls you'll find quotes by the writer.
Meson Cuevano is also set in the ideal location to experience one of Guanajuato's most unique experiences, callejonadas. These are walking tours through the historic centre led by local students in period costume, with music, singalongs and curiosities about the city's history and culture. Tours are held only in Spanish, and pass right by Meson Cuevano – meaning you can listen to songs and music every night, until about 11 PM.
Guanajuato is a pleasant place to spend a couple of days, wandering the narrow, colourful streets of the city and tasting local delicacies. A good place to get a bird's eye view of the city is Mirador Pipila, a balcony set by the statue dedicated to Pipila, a miner who died after rebelling against the government. Another cool place to check out is Callejon del Beso, an alleyway so narrow, that the two sides almost touch one another.
For more info about the city, check out our 14 Unusual Things to do in Guanajuato post!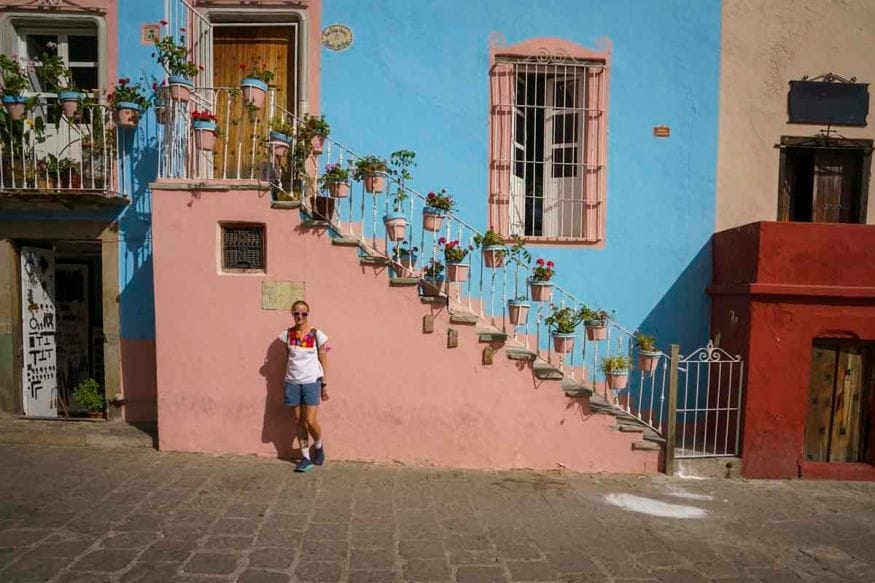 We also recommend paying a visit to Estacion Gelato, another local business included in the Tourism Recovery Programme. The owner Alejandra spent time in Italy and wanted to bring gelato-making techniques back to Mexico, while using native Mexican fruit and ingredients sourced from nearby farms. An example? Impossibly creamy mamey, a Mexican fruit that's similar to a sweet, orange avocado, strawberries from Irapuato, or guava and jamaica, hibiscus flowers enjoyed in agua fresca throughout the nation.
The pandemic was a real challenge for Estacion Gelato, as they had to shut their doors for several months. However, thanks to the help and guidance obtained throughout the programme, they were able to rent out new premises to use as a laboratory, and are thinking of expanding further offering immersive gelato-making courses outside the city.
Day 7 – Back to Mexico City
Most of your final day will be spent driving back to Mexico City – total driving time is about 4 and a half hours, but don't forget to allow extra time in case of traffic, especially when entering the capital.
Early risers might want to squeeze in a visit to one of Guanajuato's museums before setting off for the capital. The best-known museum in town is the Museo de las Momias de Guanajuato, housing over 100 naturally mummified bodies disinterred between 1870 and 1958. The museum includes mummies of children, babies, and even a 6-month fetus, so if it's something you'd find disturbing, please skip it.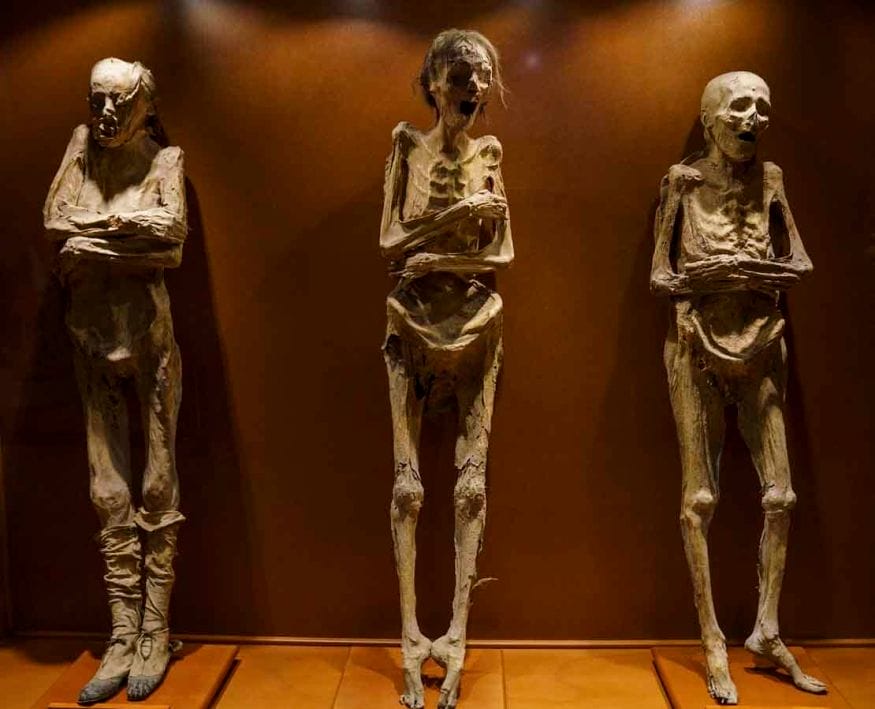 Another option is Museo Diego Rivera, the native home of the great artist, also housing works by Rivera himself and other Mexican artists.
Check out the 101 Museos website to get more info about museums in and around Guanajuato – and if you're looking for ideas to extend your Bajio Mexico itinerary, you'll find plenty for sure!
Our visit to Mexico was in partnership with the Tourism Recovery Programme organized by enpact and TUI Care Foundation – click on the link to find out more about the programme. Many thanks to Manuel from TUI Care Foundation and Nicholas from iAmbassador for this wonderful experience!