Welcome to this new guest post about the best Malaysia hikes! Malaysia is one of our favourite countries in the world, and we are lucky to have an incredible contributor this time – Marco Ferrarese, an Italian writer who's been living in Penang since 2009.
Marco is a a blogger and freelance writer. He covers Malaysia, India, Pakistan and the larger Southeast Asian region for a number of international guidebooks and publications that include the Rough Guides, Fodor's Travel, Lonely Planet, and Nikkei Asia among others. Find out more about him on Monkey Rock World!
Most people think of Malaysia as a beach-bum paradise, and if that's a partial truth, Malaysian forests, peaks and national parks are perfect environments for steamy and invigorating hikes.
Hiking in Malaysia is a past-time for hundreds of locals of all ages, who form hiking clubs and strike off every weekend to tackle different routes. Looking for these groups online is one of the best ways to hike in Malaysia with local experts and try some routes that may otherwise be unknown to foreigners.
Remember: Malaysians are a friendly bunch, especially when it comes to social hiking.
This article collects what I believe are some of the best, essential hikes in Malaysia. It starts with some iconic hikes in Peninsular Malaysia, and tops it off by including hiking routes in the East Malaysian states of Sarawak and Sabah in Borneo, which are often forgotten, and yet have their fair share of incredible hikes to consider putting on your Malaysian itinerary.
Best Hikes in Penang
1) Penang Hill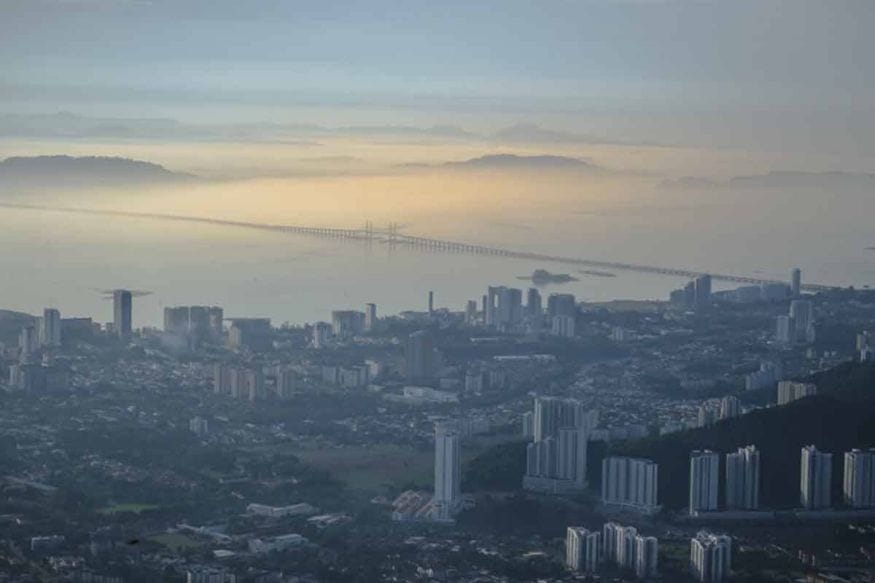 I live on this island and I know well that there are many things to do in Penang, and yet hiking is not among the first that pop to mind. With so much great food, hip Penang street art and great festivals like Thaipusam, nature takes a backseat for most visitors.
But Penang Hill is 820-meters-high, and straddles the central part of the island. Beyond an overpriced funicular train that whisks you up in ten minutes, Penang Hill offers a bounty of amazing trails that range from easy strolls up staircases and footpaths, to real jungle trawling with high chances to meet the local population of macaques and dusky leaf monkeys.
If you are adventurous, the "longest trail in Penang" (roughly 15.5 km) connects the northern beach of Batu Ferringhi via Chin Farm to Penang Hill and takes about 8 hours to complete.
Other trails, which start either at the Botanic Garden or nearby Moon Gate, whisk in many other directions, creating a web of routes that criss-crosses Penang Hill from east to west, with some "hiker stations" located at strategic points.
Many of these have free water and, sometimes, coffee and tea available to hikers. It's definitely worth spending a few days trawling Penang Hill, as it has much more scenic views than you may expect.
2) Penang National Park – Teluk Bahang, Penang
The smallest national park in Malaysia is great for hiking: a coastal route takes you to popular Monkey Beach and onwards to the old lighthouse Muka Head, while by cutting to the west, you'll emerge at Kerachut Beach, the home to one of the world's few meromictic lakes and a turtle conservation center.
More experienced hikers may decide to loop back from here via 460-meter-high Bukit Batu Hitam, the park's highest hill. It's a well-marked trek, in parts pretty steep, that will bring you back to either park headquarters, or a Hokkien cemetery near by. Definitely don't miss it if you're visiting Penang!
Best Hikes in Peninsular Malaysia
3) Bukit Larut – Taiping, Perak
Founded in the 1880's, Bukit Larut (also called Maxwell Hill) is Peninsular Malaysia's oldest and first British hill station, founded on the model of other British Indian hill resorts like Shimla and Darjeeling.
Sitting at 1050 meters of height, it's a stark contrast from the steamy plains of Taiping, the town it overlooks. Expect pine trees, fog, eerily abandoned cottages (a pity, really), and a "Scottish" atmosphere with plenty of cold and rain.
Climbing Bukit Larut is a long (about 8 hours round-trip) but straightforward affair along the paved road that the government Land Rovers use to go up.
An alternative jungle path reaches up to Hut 3, a popular rest stop for hikers, who often reach up to the Tea Garden (the mid-point) before coming down.
4) Taman Negara and Gunung Tahan – Pahang
Malaysia's center is occupied by Taman Negara, meaning National Park, which is the oldest rainforest in the world. Very easy strolls around the headquarters make for pleasant short hikes, but the best way to experience it is going beyond and into the park, and for that you'll need a guide.
(Margherita's note – yes, you DO NEED A GUIDE. We went hiking alone and got lost in Taman Negara – one of our craziest travel experiences!)
The best but toughest way to hike Taman Negara is to summit the peak of 2187-meter-high Gunung Tahan, the highest point in Peninsular Malaysia.
It's generally a 4 to 6 days hike, covering about 50km round trip either by entering and exiting at Taman Negara's main entry point of Kuala Tahan, or (the preferred option) by entering from the northwestern side of the park at Merapoh, and exiting to the south at Kuala Tahan.
5) Cameron Highlands – Pahang
This extremely popular Malaysian hill station is home to rolling green tea estates, strawberry farms and… plenty of jungle. Cameron Highlands has 14 different trails ranging in length and difficulty; it's always best to check directly with your accommodation as some trails are often closed for maintenance, disuse and so on.
A must do in Cameron Highlands is certainly the Jungle Walk 14, better know as the hike through the Mossy Forest, an ever-humid, ghost-like area filled with skeletal trees covered in moss.
You need a permit to come to this protected area these days, so don't forget to contact the Cameron Highlands District Forestry Office before you go, or you'll be limited to explore a short wooden boardwalk.
The trek continues along a very twisted path covered in slippery tree roots, with one final reward being a chance to climb 2110-meters-high Gunung Irau, the highest peak in the Camerons.
6) Broga Hill – Semenyih, Selangor
Tucked beyond the southern reaches of Kuala Lumpur is the quaint village of Broga near Semenyih, whose 400-meter-high hill may be one of the most popular hikes within striking distance of the capital. Broga Hill has no trees on top, only a sea of lalang grass, making it a very nice place to see the surrounding scenery unfold around you.
The hike takes about 30 to 45 minutes, but it's steep in places to keep your heart pumping. It's best attempted at sunrise to enjoy the best views — you should start from the foothill around 6.30 am to be able to get to the top for sunrise at 7.15 am.
Remember that the place is very popular on weekends and it gets pretty packed, so consider choosing a week day if possible. Remember that the main trail is now closed for "restoration" (read, some sort of shady development underway), but it's still possible to reach the top via the access way marked at "2nd viewpoint".
7) Bukit Gasing – Petaling Jaya, Selangor
Once you have had enough of Kuala Lumpur's traffic humdrum and concrete, you don't have to go far to find a green lung and some respite.
Bukit Gasing is a small forest reserve with a 160-meter-high peak set in the midst of the urban district of Petaling Jaya in Selangor state. It's just to the west of central Kuala Lumpur — the park's backdoor actually is in Kuala Lumpur.
There are several short one to two hours treks here, which lead to a suspension bridge, a watch tower or a Hindu temple. For sure, this is not an extremely wild destination, but for being stuck between the development of Malaysia's biggest city, it's quite an achievement.
On weekends you'll find many local hikers coming here to exercise and residents walking their dogs.
8) Panorama Hill – Sungai Lembing, Pahang
Perched on the eastern side of Pahang state, the village of Sungai Lembing is a well-known eco-tourism destination, and Panorama Hill is one of its main draw cards.
As such, don't expect a particularly difficult or long hike, for the path to Panorama Hill is just 150 meters off the main road, and it takes between 15 minutes to an hour to reach the viewpoint via a flight of stairs.
The climb is only about 270-meters high to a viewpoint situated along a ridge overlooking a valley and the Charas cave. Arrive at sunset, and you'll see a sea of floating clouds absorb the violet sun rays.
It's a beautiful setting and very much worth waking up and striking off as early as 6 am. You may then have breakfast in Sungai Lembing's market in town after your descent.
Best Hikes in Malaysian Borneo
Peninsular Malaysia has many beautiful hikes, but Borneo has an equal, if not superior, array of staggering hikes — including Mount Kinabalu in Sabah, Southeast Asia's highest mountain.
9) Bako National Park
This National Park to the north of Sarawak's capital Kuching offers a bounty of hiking opportunities. For starters, the setting is amazingly unique: a set of bays, only reachable by boat, set against a hilly backdrop where many different trails snake along low hills where you'll always see the South China Sea on your side.
Another perk is the local population of endemic Proboscis Monkeys, the primate equivalent to Cyrano de Bergerac — watch their nose, and if you see a male, their eternally flying "red rocket".
The park is relatively small (27 square kilometers) and yet has 16 different hikes that span 7 different ecosystems, from the shortest stroll to Tanjung Sapi (700 meters and 30 minutes) to the overnight trek to the park's farthest point, Telok Kruin, 12.8 kilometers away.
You will need to organise a guide for the multi-day treks, all easily done at park headquarters, where there is also decent dorm-type and chalet accommodation and basic restaurant facilities.
10) Mulu National Park Hikes
Malaysia's second UNESCO World Heritage Site is world-famous for its huge cave complexes, but it also houses some of Sarawak most adventurous hiking trails.
The most interesting and challenging is the hike to the Pinnacles, some sword-like limestone formations that soar at the top of the craggy Gunung Api.
You need to be fit to climb it, and if you won't be able to reach one point within 30 minutes of starting, the rangers will send you back down. The more you climb up, the more it becomes hard — you'll scramble on metallic ladders, limestone crevices and thorny bushes.
The Pinnacles can be hiked separately or as a side trek on the popular Headhunter's Trail, a two days/one night, 11.3-kilometers-long trek that crosses Mulu National Park, makes a stop in a longhouse community, and ends in the town of Limbang.
Alternatively, summit Gunung Mulu itself, a challenging peak of 2300 meters, is another adventurous climb that can be paired with a visit to the famous Deer and Clearwater caves.
For more info, read about our visit to Gunung Mulu National Park!
11) Mount Kinabalu
At 4095 meters, Mount Kinabalu is Southeast Asia's highest and a sacred mountain to the local Kadazan-Dusun people. They believe that the clouds that cover the peak for the best part of the day are the spirits of their ancestors.
The popular (and very expensive for foreigners, as there's a double-tiering price) climb takes one night and two days. You will sleep at a resthouse near the summit, wake up in the middle of the night and continue the hike to the summit in time for sunrise — the only time in the day when clouds don't obscure the amazing views that stretch all the way to Sabah's capital Kota Kinabalu and the sea.
Climbing Kinabalu is quite straightforward and suits most hikers, but the nature of the gradual and yet continuous incline may put some non experienced climbers off. Come prepared with stamina and don't carry too much unnecessary stuff — the resthouses provide basic food which is of course included in the steep cost of your compulsory tour.
Adrenaline junkies should definitely not miss the Via Ferrata on top, a chance to get more intimate with Kinabalu's bone-dry rock peak.
If your budget doesn't stretch that far, we have a post about alternatives to climbing Mount Kinabalu!
12) Batu Punggol
This sacred rock to the Murut people of southwestern Sabah may be one of the scariest climbs you'll find in the whole Malaysia. If you think the Pinnacles at Gunung Mulu where hard, well, think again: Batu Punggol IS a whole limestone crag soaring in the midst of the jungle and is only reachable after a canoe ride.
It's best to come here with the fine people at Orou Sapulot: Virgil Gunting organises perfect eco-tours that take in the climb to Batu Punggol. You will need some serious dose of stamina and guts to follow your guides up this monolith.
The views from the top are phenomenal and stretch as far as Indonesian Kalimantan, but if you suffer vertigo, you better think twice before attempting the climb.
13) Tawau Hills Park
Very few people consider visiting Tawau, the south-easternmost town in Sabah, but hikers should come here to visit the Hills Park and hike up to Mount Lucia.
The climb to 1100-metre high Mount Lucia starts right at headquarters, and continues for about 13 kilometers up a forested ridge that's home to a lot of wildlife, from hornbills to rare gibbons, tortoises and all sorts of tropical spiders and insects.
Once you reach the top, you'll be able to stay at the rustic but well-manned chalet where local rangers patrol the area against potential poachers.
You'll wake up hearing the gibbon's call, and you'll be able to explore the top of Mount Lucia in depth — open your eyes for Sambar deer, civets, all sorts of beautiful birds and of course, the incredible flora of Borneo.
Final Thoughts on Hiking in Malaysia
There are potentially endless hiking opportunities in Malaysia — every villager will point you to a trail in his 'hood, but we hope that this list will satisfy your craving and give you plenty of ideas to craft a perfect hiking itinerary in Malaysia.
One important word of advice: these forests and peaks remain clean because hikers keep them clean. Bring all your trash back down with you, do not litter, and always think of the welfare of the jungle and the next hiker after you.