I'm sure you'll know Riga – but have you ever heard of Sigulda, Latvia's adventure capital? Sigulda is a great day trip from Riga, perfect for nature and adventure lovers, and the best place in Latvia to enjoy magical autumn colours!
If you only had time for one destination in Latvia besides Riga, make sure you pay a visit to Sigulda. It's only an hour away from Riga, but you'll feel as if you'd left the big city bustle well and truly behind – Sigulda is surrounded by beautiful nature and offers a variety of interesting things to do, that will please history lovers (did anyone say castles?) as well as nature and adventure junkies.
The first spectacular thing about Sigulda is its location. In a relatively flat country like Latvia, where hills are few and far between (let's not forget that the highest point in the country is only 311 metres above sea level), a place like Sigulda is a true rarity.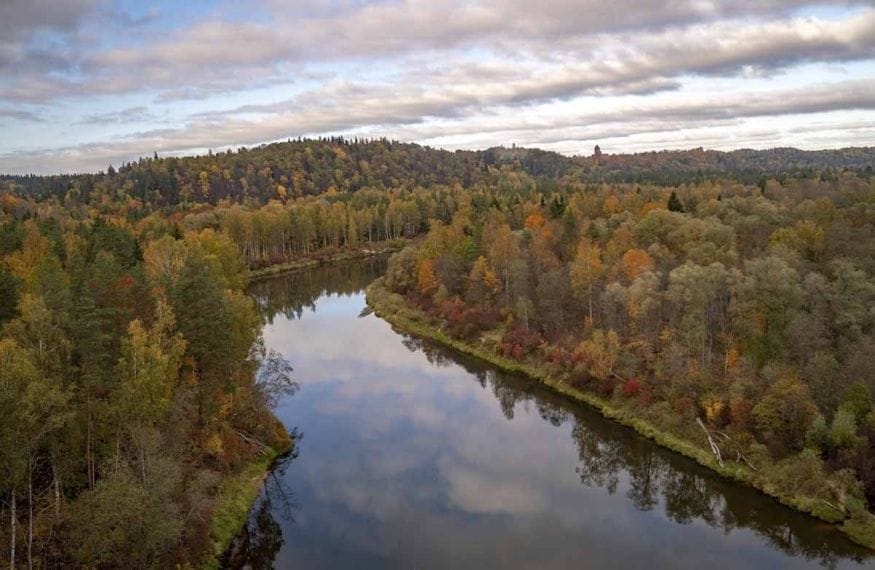 The town sits in an elevated position above the Gauja river valley, surrounded by forests which show their best when they turn golden, flaming red and deep orange – making Sigulda one of the best places in Latvia to enjoy autumn.
Having said that, don't expect to have Sigulda all to yourself, especially if you're visiting in autumn. Locals are well aware of how beautiful Sigulda is, and during the weekends the town is very popular with day trippers from Riga. Luckily, there's an easy solution to this – visit during the week, and get ready for your visit with this selection of things to do in Sigulda, Latvia!
BTW, another place we loved in Latvia was a town called Aluksne, in the eastern part of the country. Give our Aluksne post a read to know more!
What to do in Sigulda, Latvia
1) Visit Sigulda's Medieval Castle (and New Castle)
Sigulda is famous for having not one, not two, but three castles – actually, four if you count the manor house across the river valley in Krimulda, which is currently closed to the public and only used as a rehab centre.
We started our Sigulda exploration with the oldest of the three castles – the Medieval Castle, also known as Castle of the Livonian Order. This castle was built in the 13th century by the Livonian Brothers, a fraternity of warrior-monks, whose mission was protecting their homeland of Livonia, roughly corresponding to modern-day Latvia.
The castle was damaged during the Polish–Swedish war, and it is now little more than a ruin. However, it is possible to climb to the Castle's southern and northern towers, to enjoy views over the river valley and Turaida Castle just across, once home to the bishop who was the arch-nemesis of the Livonian Brothers.
Near the Castle of the Livonian Order, it is also possible to visit the New Castle, built in the 18th century. It was being be restored when we visited, but it should be open again by summer 2019. If you're looking for souvenirs, make sure you also pay a visit to the workshops outside the New Castle, including a jewellery, a paper workshop and an ironsmith.
2) Enjoy the Best Views over Sigulda from Paradise Hill
If you are visiting Sigulda in autumn, chances are you'll be looking for a place to enjoy views over the river valley painted with all shades of autumn. There are many panoramic places in Sigulda, but my favourite is definitely Paradise Hill, located about 30 minutes walk from Sigulda's historic centre.
Paradise Hill is also known as Painter's Hill, as it was a favourite destination of local artists for landscape scenes. Paradise Hill is a little tricky to find – the car park is right next to a cemetery, and you'll have to walk a further 600 meters to get to the viewpoint itself, marked by wooden 'umbrellas' vaguely reminiscent of mushrooms.
Just keep going – this stunning view will be your reward!
3) Go Hiking in the Gauja River Valley
Once you reach Paradise Hill, don't just turn back towards Sigulda after enjoying the views. Paradise Hill is the departure point for many hiking trails crossing the Gauja River Valley, which can keep you busy for as little as half an hour, or for the entire day.
We couldn't resist checking out the river valley trails, and started hiking even though we did have so many more things to do in Sigulda. We ended up hiking for about an hour and a half, through the autumn-coloured forest and all the way to a red sandstone ravine.
We'd love to return to Sigulda and hike more – the town and surrounding area are probably Latvia's prime hiking destination, so much so that Sigulda's most popular souvenirs are walking sticks. There's also a 'walking stick' park in the historic centre, where you can pose with pictures next to oversized walking sticks, painted green and red.
Planning to visit Latvia in summer? Have a look at our Latgale itinerary post, with plenty of cool outdoor activities and the best of Latvian nature!
4) Visit Peter or Gutmanis Cave
The Gauja river valley is rich in red sandstone, eroded over time by the action of glaciers, river and underground water springs. As a result, the valley presents several caves and rock formations – by far, the best known is Gutmanis Cave (Gūtmaņa ala), which also holds the double record of being the largest cave in the Baltic countries, and the oldest tourism attraction in Latvia, visited since the 18th century.
Now, don't expect Gutmanis Cave to be a Latvian equivalent of Mulu caves in Malaysia – it is only 18.8 meters deep, 12 meters wide and 10 meters high, but it still makes for an impressive sight surrounded by the forests of the Gauja river valley. The cave walls are full of graffiti and inscriptions dating from the 19th and early 20th century.
If you don't have time to visit this cave, the smaller Peter's Cave (Petera ala) is only about 15 minutes hike from Paradise Hill through the forest.
5) Choose Your Favourite Adventure from Tarzan's Adventure Park
All adventure lovers, big and small, shouldn't miss the Tarzan Adventure Park, located on a hill overlooking the Gauja River Valley. Yes, that's right – there are also wonderful panoramic views!
There are several activities to choose from around the park, suitable to 'all adventure levels' – if you really are an adrenaline junkie, you can opt for the 'Big Swing' or 'Crazy Roller', basically a huge wheel with seats in the centre, which is rolled down a hill. If you prefer something less extreme, you can ride the cable car up and down the hill, or try your hand at archery or crossbow.
We started with a toboggan ride down the hill, and then decided to have a go at the 'Human Catapult' – you're strapped into a harness attached to large elastics which are pulled to tension, then released, shooting you 20 meters into the air. Similar to a less extreme version of bungee jumping.
A really cool thing about Tarzan Adventure Park is that there's no fixed entrance fee, rather you pay each attraction separately, making it ideal for mixed groups or people who enjoy different things. Prices start around €2-3 for archery and tobogganing, and rise to €6 for the Human Catapult and Big Swing.
6) Fly Over the River Valley on Sigulda Cable Car
By now I'm sure you'll have realised that stunning views are not hard to come by in Sigulda. Paradise Hill was indeed my personal favourite, but it is closely followed by the Vagonin, Sigulda's beloved cable car running up and down the river valley.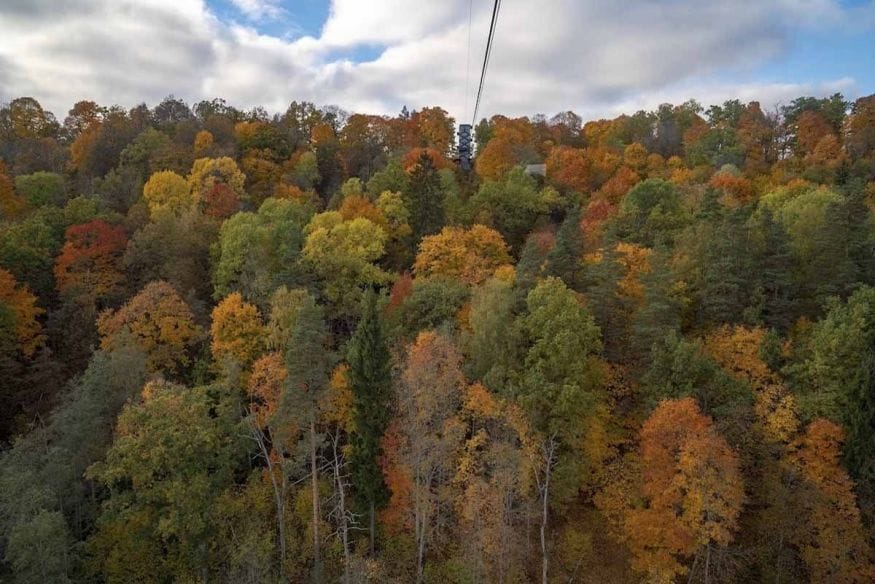 The cable car has been operating since 1969, and it connects Sigulda with Krimulda, on the other side of the river valley. It travels at a height of 43 meters, just higher than the treetops, offering the ideal vantage point to admire them in their flamboyant autumn colours. There's a tree with a bear on top – don't ask me why. See if you can spot it, the cable car runs just above it!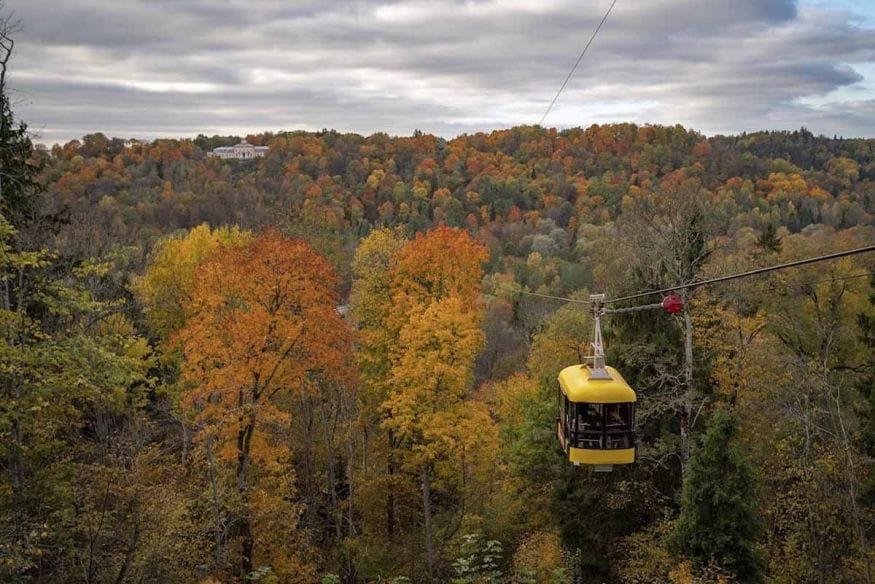 There's only one cable car travelling back and forth across the valley, with departures once every 20 minutes from either side between 10 am and 6.30 pm during the summer, and from 10 am to 5 pm during the winter. If you purchase a return ticket, you'll have to get out and queue again on the other side, and queues get very long during the weekend. So plan accordingly, or travel one way and hike back!
7) Visit Turaida Castle
The Sigulda Medieval Castle is wonderful indeed, but the real star attraction in my opinion is Turaida Castle, located across the river valley about 15 minutes drive from Turaida.
Don't make the mistake we did, and think that a couple of hours will be enough to visit this castle. The grounds are expansive, and besides the main castle building located right on the edge of the river valley with (yes, you guessed it) wonderful views, there are also several other smaller buildings, containing exhibitions about life in the castle or Latvian history and culture in general.
We visited a homestead with an exhibition about the Livonians or Livs, Latvia's native Finno-Ugric people. The last native Livonian speaker died in 2013, marking the language as dead. We also wandered around a tiny wooden Lutheran church, and visited the grave of the Rose of Turaida, a legendary beautiful maiden who sacrificed herself in order not to betray her love.
If you're visiting in autumn or spring, we recommend taking some time to walk around the Folksong Park, one of the places where the Singing Revolution took place, eventually leading to independence from the Soviets. The park contains sculptures by artist Indulis Ranka, inspired by Latvia's traditions and folklore.
8) Enjoy Latvian Food
Latvian food was one of the best surprises of our trip. We didn't know anything about local food before travelling to the country – I mean, who has ever said 'I fancy some Latvian' tonight?
Latvian cuisine borrows from the Russian, Central European and Nordic traditions, with dishes like potato pancakes with salmon, dumplings and schnitzel often featured on menus. It also makes use of fresh, seasonal ingredients like freshwater fish, forest mushrooms and berries, creating unusual flavour combinations.
We had a delicious dinner at Aparjods, an elegant old-fashioned dining room with open fire not far from Turaida Castle. Nick opted for a schnitzel with mushroom sauce whereas I couldn't resist ordering turbot with garlic butter, one of my favourite dishes. We also had a starter of fried black bread with a cheese and garlic sauce, and a chocolate cake for pudding – and the whole thing came under €50.
We also heard amazing things about Mr. Biskvits, a café with delicious cakes, and the Restaurant at Hotel Sigulda.
Things to do in Sigulda for our Next Visit
9) Visit the Sigulda Bobsleigh Track
My greatest regret of our time in Sigulda was not heading to the bobsleigh and luge track, a massive six-storey complex where Olympians also train. Visitors can have fun descending the bobsleigh track on a regular bobsleigh during the winter (Nov-March), or on a wheeled bobsleigh in summer (May-Sept).
Sadly, we visited in October and rides were not available. Apparently, the view from the top of the bobsleigh track is also one of the best in Sigulda! Definitely add it to your list of things to do in Sigulda if you can!
10) Explore the Obstacle Tracks at Tarzan's Adventure Park
Among the dozens of adventures you can have at Tarzan Adventure Park, there is one I really love – tree obstacle tracks! I already experienced obstacle tracks in Turku (Finland) and in the Moravian mountains (Czech Republic) and had an amazing time.
Sadly we only had a couple of hours to enjoy at the adventure park, so we had to give the obstacle track a miss. Next time!
Getting to Sigulda from Riga
By Car – it takes about an hour to drive the 52 km separating Sigulda from Riga. Finding your way is really easy – just follow the A2. Having your own car will also make it easier to travel around Sigulda, since the centre is compact but other points of interest like Paradise Hill and Turaida are a few km from the town.
By Bus or Train – if you don't have access to a car, it's also possible to travel to Sigulda by bus or train. Both options take about one hour and cost around €3 – the only difference is that trains are about once every three hours, while buses depart hourly, making them a more convenient choice.
We would like to thank Linda and Lelde from LIAA -Investment and Development Agency of Latvia for supporting our autumn trip to Golden Latvia!
Pin it for later?