Are you stuck at home, dreaming of travelling to Italy? Well, what if I said that you can? Have a look at these amazing virtual tours of Italy – from Florence, Rome and Venice virtual tours, to virtual tours of Italian museums, online cooking classes, and lots more!
If you're reading this, 2020 was probably the year you were finally planning to travel to Italy, but your plans are now on hold – who knows for how long.
Or maybe you're just bored and dreaming of Italy, of visiting David in Florence, marvelling in front of the Last Supper in Milan, hiking Cinque Terre or the Dolomites.
If these were 'normal' times, you'd be looking at flights and start making plans – but this is 2020.
What if I said that in a way, Italy has never been so close? True, you may not be able to travel there physically, but you can experience Italy from the comfort of your own home, thanks to many different virtual Italy tours, cooking classes, and other online travel experiences.
You'll be able to learn the secrets of the Colosseum, admire the Uffizi in Florence, learn how to make fresh pasta… and a lot more. These are just some of the best virtual tours of Italy, created over the last few months, for visitors from all over the world to experience our beautiful country.
If you know of any more Italy virtual tours or other travel experiences, feel free to share them with us!
Meanwhile, check this post for the best online travel experiences from all over the world!
Venice Virtual Tours
1) St. Mark's Basilica Virtual Tour
Have you always wanted to visit Venice? This 2-hour St Mark's Basilica tour is your chance to explore the floating city's most famous church, a true architectural wonder with a history stretching over one thousand years.
Follow licensed guides as they narrate a millennia of Venetian history in a fun and informative manner, before moving to St. Mark's and learning about its art, architecture, and hidden symbols.
This tour is organised by Take Walks – for any virtual tour you join, you'll receive a $25 voucher you can use to book any live tour over the next 2 years, not just in Italy!
2) Venice Highlights Webinar
Venice is a unique and fascinating city, and there's nothing better than exploring it with a local! In the duration of this 1-hour Venice webinar, you'll be led on a virtual walk around the city, learning about iconic sights such as St. Mark's Basilica, Rialto Bridge, Murano and the famous gondolas.
It's a great chance to chat with a Venice connoisseur, so make sure you have all your questions at hand!
3) Free Tour of Doge's Palace
Google Arts & Culture is a great way to explore many of Italy's best sights and museums for free.
If you want to virtually travel to Venice, one of the best tours on offer is that of Doge's Palace. You approach the Palace from the water, gliding under the iconic Bridge of Sighs connecting the Palace to the former prisons nearby.
Afterwards, you can enter the palace, wander the corridors and explore its luxurious rooms, taking a close look to some of the most notable artworks like Carpaccio's Lion of St. Mark.
You can find many other Venice museums on Google Arts & Culture, including Ca' Rezzonico – Museum of the 18th Century, Museo Correr, and the legendary Biennale.
4) Explore a Squero
Google Arts & Culture is not just for museums! You can also learn about local crafts and traditions – for example, you can virtually visit a Venetian squero, workshops in courtyards hidden throughout the city where gondolas are built by hand.
Florence Virtual Tours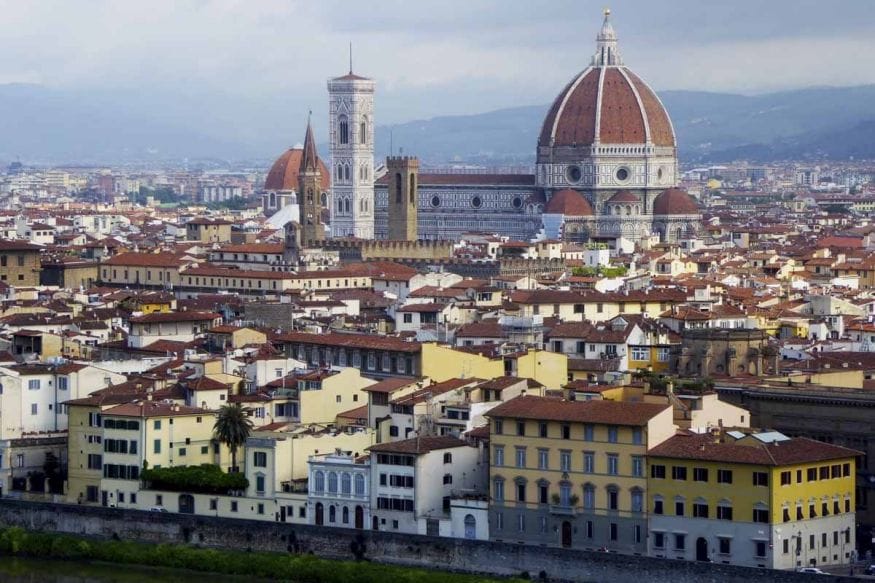 5) Florence Highlights Webinar
If you've visited Italy in the past, or you're considering doing so, I'm sure Florence features in your travel plans.
Did you know you can explore the best Florence highlights in just one hour, without having to worry about the heat and the crowds? This Florence webinar offers the perfect intro to places like the Florence Duomo, Ponte Vecchio, the most famous squares in the city, and naturally Michelangelo's David!
There's also a Q&A session at the end, with a Florence guide at hand sharing local tips – so you can start planning your future visit!
6) Free Uffizi Virtual Visit
If you only have time to visit one place in Florence, it would have to be the Uffizi Gallery. This art gallery shows the best artworks of the Italian renaissance, including the two famous Botticelli masterpieces – The Birth of Venus and The Primavera.
The Hypervisions section of the Uffizi website offers a high-tech virtual experience, allowing you to visit specific rooms or explore individual artworks. There are also virtual tours you can follow, and all images shown can be enlarged up to 40 times to appreciate even the smaller details.
7) Uffizi Gallery Virtual Tour
Sure, exploring by yourself is all well and good- but to really make the most of your time at the Uffizi, it's better to visit (even virtually) with a guide.
This virtual tour of the Uffizi Gallery takes place twice a week. Over the course of two hours, you'll explore the life and work of Renaissance masters like Leonardo, Michelangelo, Raphael and Botticelli with a local Florentine art historian, broadcasting from their home in the heart of the city.
You'll also learn about pictorial techniques and about life in Florence during the Renaissance, plus a lot more – you'll just have to join to find out.
Rome Virtual Tours
8) Colosseum Virtual Tour
I mean, who hasn't dreamed of visiting the mighty Colosseum, the symbol of the power of Ancient Rome?
The history of the Colosseum is one of light and darkness, or death and glory, symbolised by the feared and revered Gladiators, who battled to their death amidst these ancient walls.
This virtual tour of the Colosseum is an hour-long journey to this ancient Roman arena and its history, accompanied by a licensed guide and Rome expert. Get ready to discover the Colosseum from different viewpoints, and to learn secrets and curious facts.
9) Vatican Virtual Tour
This tour focuses on the two most famous attractions in the Vatican – St. Peter's Basilica and the Vatican Museums.
Over the course of an hour, you'll be introduced to their history and treasures. The tour starts with the Basilica, learning about its architecture and artworks like Michelangelo's Pietà, before moving on to the Museums and admiring some of the best exhibits.
You'll end your exploration at the Sistine Chapel – get ready to be amazed!
10) Sistine Chapel Virtual Tour
If you want to know more about the Sistine Chapel and the genius of Michelangelo, this dedicated tour is for you! You will learn about Michelangelo's life and work, about the symbolism hidden in the various parts of the chapel, and about life in Rome at the time.
However, this is not all – for centuries, the Sistine Chapel has been the location of the Conclave, the papal election. During the tour, stories about the Conclave and its rituals will also be shared.
11) Discover Ancient Rome
When I say 'Rome', what do you think? If Ancient Rome is your answer, you'll love this virtual tour!
Over the course of one hour, you'll be led on a virtual walk through some of the most iconic Ancient Rome locations, which survive to the present day. Start with the Colosseum, and its dark tales of gladiators and intrigue; then move onto the Palatine Hill, to learn about the foundation of the city.
You'll also explore the Roman Forum, where you'll journey back to the time of the markets and of Caesar's assassination.
Other Virtual Tours of Italy
12) Milan Duomo Virtual Tour
Italy is full of beautiful churches, but if you asked me what the most beautiful one is, I would respond with no hesitation – the Duomo of Milan!
True, I am from Milan, so I guess I am biased – but there's something special about our cathedral, its façade with statues and spires, its interiors with stained-glass windows, and the amazing rooftop terrace.
If you want to know more about our Duomo, you can have a look at GetYourGuide's FREE Milan Duomo Tour! It's a wonderful 20-min video, narrated by a licensed Milan guide, covering the locations visited during traditional Duomo tour. Find the free Duomo tour (along with many others) on GetYourGuide's The World At Home page!
Looking for other ways to explore Milan from your home? Have a look at our full post about Milan virtual tours!
13) Pompeii Virtual Tour
Pompeii is probably Italy's most mysterious town, frozen in time at the moment when it was destroyed by the eruption of Mount Vesuvius in 79 AD.
It's also one of those places in Italy that is best explored with a guide, to learn not only about the town's history and tragic demise, but also about life and culture at the time of Ancient Rome.
This amazing virtual Pompeii tour does just that – in one hour, you'll travel to the heart of Southern Italy with a guide, who will bring the history of Pompeii and its inhabitants to life.
14) Introduction to Italian Wine
Think about Italy. What drink comes to mind? More than likely, the answer will be wine – but how much do you really know about Italian wine?
If the answer is 'not much', that this virtual wine tour led by an Italian sommelier is just what you need. You'll learn about the history of wine in Italy and the difference between Italian wine regions, focusing on those surrounding Venice, Florence, and Rome.
After taking this tour, you'll know what wine to order when visiting Italy!
15) Wines from the Past
The love Italians have for wine is not a recent fashion – it stretches over thousands of years, to the time of Ancient Greeks and Romans. Back then, wine was consumed differently compared to now, most of the times with the addition of honey and spices or fruit.
Wine and history lovers will love this Wines from the Past virtual tour, available on Airbnb Experiences, led by an archaeologist from Naples. Over the course of an hour, you'll learn about the history of wine in the Italian peninsula, from the times of Pompeii to the Renaissance.
You'll also prepare different types of spiced wine to enjoy with your family and friends, and find out about ancient cuisine!
Virtual Italian Cooking Classes
16) Online Pizza Cooking Class
True, you can have pizza nowadays these days, but after taking this online pizza-making course with Italian chefs you'll sure impress your friends at your next dinner party!
You'll learn how to make perfect pizza dough, but not only – the chefs will also reveal the history of pizza in Italy, and how the famous 'Pizza Margherita' came to be. There will also be time to ask about the perfect toppings, but remember – pineapple is not allowed!
17) Online Pasta Cooking Class
After pizza, there comes pasta! Learn about Italy's most famous export in a fun, interactive virtual pasta cooking class, where you'll find out all the secrets on how to make pasta from scratch.
The chefs will also teach you how to make their favourite sauces, and there will be time to ask them to share their nonna's cooking secrets. Trust me, your dinner parties will be very popular!
18) Online Tiramisu Class
No Italian meal is complete without a dessert, and Italy's most favourite is definitely tiramisù!
Originally from Venice, this delicious mascarpone and coffee concoction can now be found all through the peninsula – and thanks to this online tiramisù class on Airbnb Experiences, you can learn how to make it in just an hour and a half!
Spoiler alert – making tiramisù is super easy and also very, very rewarding. The only challenge will be making sure you share it with your family and friends, rather than just eating the whole thing!
Airbnb Experiences also offer many more online Italy experiences – like a Medici escape room to learn about Florence history in a fun way, a themed tour about Caravaggio in Rome, a pasta cooking class with an opera singer and a lot more.
If you're not on Airbnb yet, sign up using this invite link to get credit you can use towards your first online experience!