Are you planning to visit Milan? You'll no doubt be wondering how to get tickets to the Last Supper, Leonardo da Vinci's most famous artwork in town.
Here we tell you all about the best ways to get Last Supper tickets, including how to reach the official site, and how to get Last Supper tickets last minute (this is a secret!) ***UPDATED MAY 2023
First things first – Leonardo da Vinci's Last Supper is DEFINITELY worth visiting in Milan. I would even go as far as saying that alongside the Duomo, the Last Supper is the other big not-to-be-missed activity for Milan first-timers – even if you're just spending 1 day in Milan.
So, no matter how hard it is – you have to get Last Supper tickets! It may be hard, but it will be worth your time.
Visiting Milan? Here are 18 Fun Day Trips from Milan!
No time to read? Get Last Supper tickets quick and easy booking one of these tours!
Why is it Hard to Get Last Supper Tickets?
Leonardo's Last Supper (usually referred to in Italian as Ultima Cena or Cenacolo Vinciano) is one of the world's most famous paintings. The enigmatic look on the face of Jesus Christ has baffled art critics and historians just as much as Mona Lisa's smile.
It was painted by Leonardo da Vinci between 1494 and 1498, and it is located in the refectory of the convent next to Santa Maria delle Grazie Church in Milan.
The refectory is sometimes referred to as the Last Supper Museum, but it's not actually a museum – it's just a room, with the Last Supper on one side, and some info (not much, really) about Leonardo and the artwork on some panels.
For this reason, consider booking a guided tour if you're not familiar with Leonardo da Vinci and the Renaissance, to really make the most of your visit.
The Last Supper is not a fresco, but a wall painting done with tempera – basically, Da Vinci painted it on a wall following the same technique used on canvas, so that he could make corrections along the way.
This explains why the painting is in such a poor state of conservation – it started deteriorating when Leonardo was still painting it.
At the moment, less than a thousand people a day are allowed to visit the Last Supper. Tickets correspond to a 15 minute slot, with a maximum of 18 people per slot.
The limit used to be 25, but it was decreased to 18 when the Last Supper was reopened in June 2020, after a 3 month closure.
Limit on visitor numbers and other safety measures are necessary to prevent damage to the artwork because of fine dust and particles carried by visitors, which accelerate the deterioration process.
Check this post if you want to know more about other Museums in Milan!
When do Last Supper Tickets go on Sale?
If you do want to visit the Last Supper, you'll have to plan ahead, as tickets routinely sell out. Yes, there are some ways to get Last Supper tickets last minute (I'll get onto these later), but it's much easier to book Last Supper tickets as early as possible.
To make matters even more complicated, there's no set date when Last Supper tickets go on sale. You can expect them to go on sale roughly 2/3 months in advance, but you'll have to consult the official site for the exact date.
Tickets go on sale at 8 am CET on the day they're released, and they are snapped up QUICKLY by travel agents. If you're in a different time zone, set your alarm and follow the instructions below!
How to Get Last Supper Tickets
1) On the Official Website
If you ONLY want Last Supper tickets, and you want to visit independently with no guided tour, your best bet would be booking Last Supper tickets from the official Cenacolo/Vivaticket site. Please look at the screenshot below – that's what the website looks like.
(Yes, there are some grammar and spelling mistakes in the English version of the site, but it is indeed the website to get official Last Supper tickets!)
Choose the available date you want to book, click through and choose the slot you prefer, then register on the site (or login if you have an existing username) and complete your booking.
This is the CHEAPEST way to get Last Supper tickets in advance – here are the Last Supper ticket prices when booked through the official website.
All prices include a €2 reservation fee.
Full price tickets €15
Reduced tickets for 18-25 y/o EU citizens €4
Concession Tickets for under 18, arts/architecture/fine arts students, disabled persons and carers, teachers €2
Check the official site for info on concessions
Tours at 9.30 am and 3.30 pm include a guided tour in English, and an Italian tour is on at 10 am and 4 pm. Tickets for these slots cost an extra €3.50 – this is the cheapest way to have a Last Supper guided tour.
A maximum of 5 tickets can be bought together, and since Nov 1st, 2018 tickets are name-specific. Quoting the official site, 'to collect Last Supper tickets bought on the website, it will be compulsory to show a valid ID document with the name of the owner of the reservation.'
There are just two main issues when getting Last Supper tickets through the official site. First of all, the site is quite hard to use, and you need to register before doing anything. Second, tickets are not refundable, and there is no mention on how to reschedule tickets in case your plans change.
2) Skip The Line Last Supper Tours
As I said, there are many ways to get Last Supper tickets, but they all require a little work. If you are visiting last minute, your best and easiest bet will be booking a skip-the-line Last Supper tour.
I have seen many reports of Last Supper tours being described as 'rip off', 'pricey' and even 'scams', but let me tell you, they are nothing of the sort. All guided tours in Italy must be conducted by licensed guides, and they sometimes offer out-of-hours access or tours including other Leonardo locations in Milan.
Here are the best options:
3) Visit the Last Supper at Night
Did you know it's also possible to visit Santa Maria delle Grazie and the Last Supper at night? On Tuesdays and Thursdays, twice a month, the Last Supper gates will be open from 7 to 10 pm, with last admission at 9.45 pm.
The Last Supper Museum is never crowded – as we mentioned above, only 18 people are allowed in every 15 minutes. Late night openings of the Last Supper are in high demand, so make sure you book them way in advance – you can get your Last Supper tickets here.
4) How to Get Last Supper Tickets Last Minute
Those planning a last minute weekend in Milan will probably miss out on the opportunity to book Last Supper tickets through the website.
You can still find a way to get Last Supper tickets when the site says they're sold out. There are two ways, actually – and one of them is A SECRET!
-Get Last Supper Tickets on the Phone
First, you can try calling the official phone numbers for Last Supper tickets – if you're calling from outside Italy, dial +39 02 92800360, from Italian landlines call 800 990 084 for free.
The ticket office opens at 8 am, and you will probably have to ring several times before being connected, and then you'll have to hold on. I tried ringing myself one random day in January, and I was able to connect about approximately 15 minutes.
Once you're connected to the ticket office, you can ask for an English-speaking operator, who will be able book your desired tickets for you. It is possible to pay via credit card over the phone, and you will receive a booking number which you'll have to present to ticket office on the day of your visit to redeem your tickets.
-Get Last Supper Tickets in Person
Here's my secret to get Last Supper tickets when they are sold out everywhere – in person at the ticket office, on the day of your visit.
As I mentioned before, tickets are snapped up quickly from the official site from travel agencies and resellers. Yet, when tickets cannot be sold, they are returned to the ticket office and kept for walk-ins on the day.
If you turn up at the ticket office shortly after it opens at 8 am, you will be able to enquire about walk-in Last Supper tickets for the day. This is also the cheapest way to get tickets for the Last Supper, since you don't have to pay the €2 reservation fee.
They may be available for times in the late morning or afternoon – in that case, just spend the day wandering around the city checking out the many free things to do in Milan!
I have secured Last Supper tickets this way most times, but naturally success is not guaranteed, so if you really, really want to be guaranteed to get Last Supper tickets last minute, book a skip the line Last Supper tour!
5) Visit the Last Supper Tickets for Free
Yes, I'm not joking – you can also visit the Last Supper (almost) for free, every first Sunday of the month. You still need to book tickets in advance, and you'll have to pay the €2 reservation fee. Otherwise, you can try your luck at the ticket office on the day, but I haven't tried it myself so I don't know how easy it is to snatch a free ticket in person!
What to Expect When you Visit the Last Supper
So, you've got your long-awaited Last Supper tickets in hand. What to do now? First of all, make your way to the ticket office about 20 minutes before your slot, with printed tickets in hand or your reservation number if you've booked over the phone.
If you're early, you can visit the Santa Maria delle Grazie Church, which is just next door. Then, when your time comes, you'll be shown into a room where you're kept for about five minutes, enough to get dehumidified to prevent damage to the painting.
After that, you'll enter the refectory. The Last Supper is on the north wall, taking up its entirety at 4.5 meters height, and almost 9 meters length. The painting is known for its clever use of perspective in depicting the room.
The moment depicted is not that of Jesus announcing the forthcoming betrayal, as it is usually done in Last Supper paintings, but that of the moment immediately before the betrayal, when the entire dining party is suspended in a dimension of feelings and emotions that is rarely seen before in art.
Not many people pay attention to the painting on the opposite wall, a fresco depicting the Crucifixion by painter Giovanni Donato da Montorfano – as a result, the two wall paintings depict the beginning and the end of the Passion.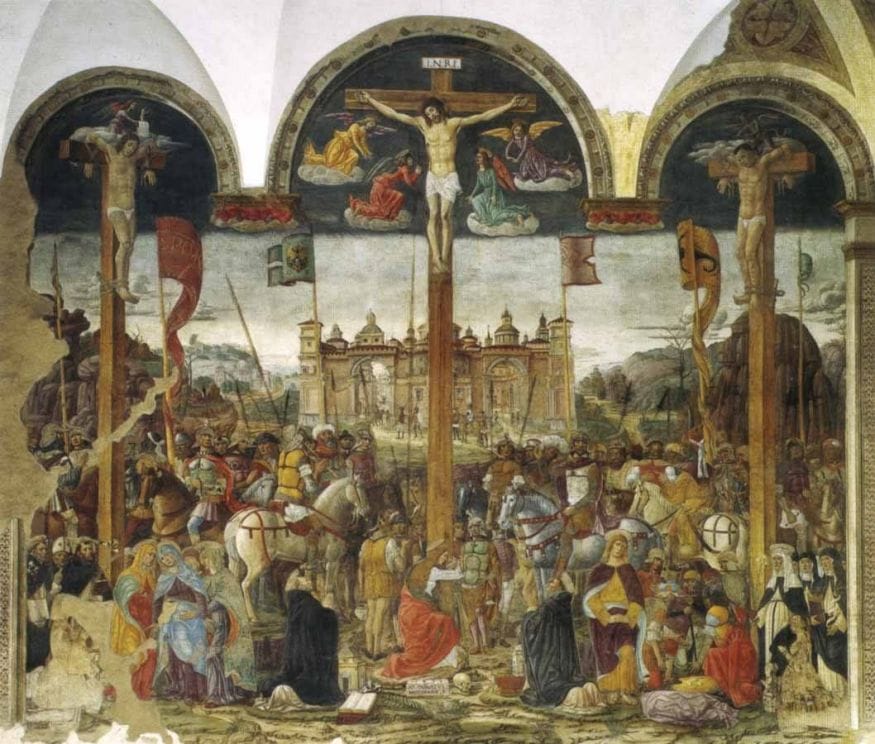 Last Supper Visitor Info
The Last Supper is located in the refectory of Santa Maria delle Grazie, in Piazza Santa Maria delle Grazie, Milan.
Getting There – the closest underground is Conciliazione (M1) or Cadorna (M1/M2), and then it's about a 10-minute walk. It's about 20 minutes to walk all the way from the Duomo, or else you can take tram 16 which stops right in the square.
Opening Times – the Last Supper can be visited from Tuesday to Sunday, from 8.15 am to 7 pm. Last access is at 6.45 pm.
Ticket Office Opening Times – Monday to Saturday, 8 am to 6.30 pm.
Last Supper Tickets Phone Number – +39 02 92800360