Are you looking for the perfect day trip from Helsinki? Visit Porvoo! This beautiful small town is just 50 km away from Helsinki and it's wonderful in summer – that's why we chose it as the starting point for our Summer in Finland hiking adventure! Here we share 10 reasons to visit Porvoo with you – and I'm sure you'll love it!
We fell in love with Porvoo as soon as we saw it. And not just because Porvoo is pretty – even though it is, very pretty indeed. It's one of those places that you find on those '10 most beautiful villages' kind of lists, alongside a plethora of stereotypical descriptions – picture-perfect, candy-coloured houses, picturesque, cute as a button, quaint cobbled backstreets, and so on.
Fact is, Porvoo really is that. It is picture-perfect.
The bus from Helsinki will drop you off in a nondescript square, but a few steps away you'll find Gamla Stan, or Vanha Porvoo in Finnish, the Old Town. There are pastel wooden houses, and the streets are indeed cobbled. Small shops sell locally-made design objects and furniture. People cycle or walk around, or sit on the riverbanks, enjoying a drink as the sun goes down – or does it?
The day we arrived in Porvoo, June 2nd, was a day of firsts. Porvoo was the first destination of our #EverymansFinland adventure, a walking journey across Finland that would take us all the way to Turku and across the Åland Islands over a period of 40 days. It was our first time in Finland in the summer, the first time we experienced the Finnish white nights, when the sun barely dips below the horizon, and darkness never comes.
'Porvoo is a summer town', a local friend told us. That very first day in Porvoo, we walked around like two excited children, soaking in the magic of the Northern summer, the first for both of us. Tiny details made us giddy with joy – the way the Porvoonjoki river reflected the sunlight, the
blue shade of the sky at 2 am, that night when we stayed awake wanting to see if it ever got dark.
Over the course of the next few days, we fell in love with Porvoo even more. Not just because of the Old Town and its pretty wooden houses. We loved nature, just a few steps away from the Old Town. We loved the relaxing atmosphere, the cafés and restaurants. Most of all, we loved the people of Porvoo – friendly and welcoming, and eager to share their little town with visitors.
Why visit Porvoo?
Here we've included 10 reasons to visit Porvoo, and to love it. After all, our stay was only 2 days long. If we had stayed longer, I'm sure we would have found so many more.
1) The Old Town
Porvoo is one of the oldest cities in Finland, already present in the Middle Ages. The Old Town may look out of a storybook, but in fact the pastel-coloured wooden houses you see today only date back to the 19th century – being wooden, they have burnt down several times throughout history.
Nowadays, the Old Town is blissfully devoid of chain stores and fast-food restaurants – instead, you'll find independent cafés, local restaurants, handicraft shops and some interesting art galleries.
One of the coolest buildings is the pink city hall, facing a cobblestone square where a small market takes place each day in summer. You can sit and enjoy a coffee (did I ever mention that the Finns love coffee?) at Café Fanny, right on the square, or just wander down Valikatu and Jokikatu, the two 'main streets' of the Old Town. Don't forget to wander down the backstreets and into the courtyards – you may find some cool surprises. But more on this later!
Porvoo Cathedral is just uphill from the Old Town. It dates back to the 15th century, but it was almost completely destroyed by a fire in 2006, when a local guy staggered in drunk and decided to play with fire next to some tar containers, and… Boom!
Reconstruction was completed only a couple of years ago, and the Cathedral now overlooks the Old Town once again.
2) Staying in a red shore house
Near the banks of the Porvoonjoki River you'll find the famous red shore houses, Porvoo's most recognizable landmark, former storehouses that were painted bright red to honour a visit of the Swedish King in the 18th century.
The shore houses have been converted into apartments and cottages, and you can even stay in one of them – the owners of Ida-Maria B&B in the heart of the Old Town have renovated one of the shore houses and opened it as a rental apartment.
We were their very first guests! The apartment is on two levels – downstairs there's the kitchen and a large living room, and upstairs is an open bedroom that sleeps up to 5 people. Being on a side street, it's also wonderfully quiet, and there's a shed where you can store your bikes.
You can end your day in Porvoo with a beer on the deck overlooking the river – but beware of mosquitoes, they can be fierce in the Finnish summer!
3) Iso Linnamäki Fortress
Nature is pretty much everywhere in Porvoo – and in the summertime, this becomes particularly evident, as the town seems to be engulfed by a sea of green.
A short walk away from the Old Town there's Iso Linnamäki, a fortress now reclaimed by the wilderness. Walking between secular trees and wooden bridges of 'Castle Hill' (Linnamäki in English), it's hard to imagine that a mighty castle once stood there, one of Porvoo's first buildings, probably built by the Swedes in the Middle Ages.
A battle took place in the fortress in the 18th century, and it was abandoned shortly afterwards. The landscape still shows traces of where the castle used to be – the moat is clearly visible, and the steep access paths give an idea of how impregnable the place was. There's a great view of Porvoo from the top, even though it is hard to make out in summer as trees partially hide it from view.
4) Pop-up Urbcult sauna by the river
Porvoo is not just all cutesy-cutesy – it's also a city that likes to reinvent itself, using its beautiful old city center and nature as a drawcard, while continuously trying to improve and offer new experiences to locals and tourists each year.
A few years ago the Art Factory was opened in a former industrial building, and now it houses a cinema, theatre, arts museum and a gallery where it's possible to rent pieces of art.
This summer, just opposite the Art Factory, it will be possible to enjoy the pop-up Urbcult sauna, open every day and free to access between 1 and 3 p.m. The sauna can be rented for private use at all other times for a cost of €100 for 4 hours. In the same area there's also a barbecue stand and a small 'stage' where anyone can perform.
5) Rent a Green Bicycle
Porvoo was the first place in Finland where we were able to appreciate how easy it is to move around by bike. Besides a few hills, Porvoo and its surroundings are mostly flat and a great network of cycle trails makes it fun to explore the area on two wheels.
You can rent Porvoo's iconic green bikes with chopper-like handlebars (so cool) from the tourist office, for €7.50 an hour or €35 for the whole day (discounts available for seniors and students).
6) Free hop-on-hop-off bus
If you don't feel like cycling, you can go stand-up paddle boarding on the Porvoonjoki River (there are boards for rent from the Tourist Office) or get acquainted with the city on a hop-on-hop-off bus tour, which – wait for it – is totally FREE!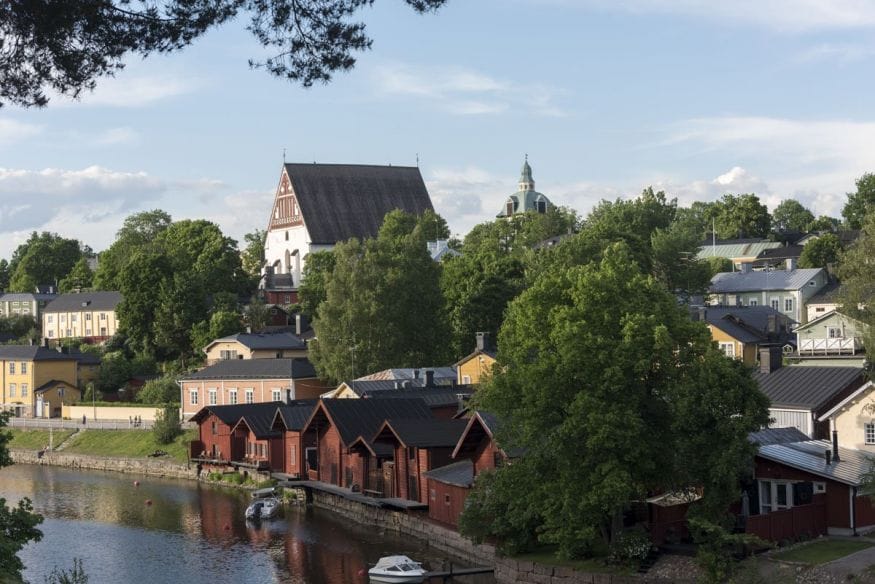 The bus runs once every 20 minutes from Monday to Friday, from 10 a.m. to 1 p.m. and then from 2 to 5 p.m. It does a 20-minute long loop that circles around the Old City, reaching up to the Cathedral, then across the river to the Arts Centre and then back across again. Ideal to get an overview of what there is to visit in Porvoo, especially if you're pressed with time.
7) Explore Sikosaari
Sikosaari, or 'Pig Island', is located a few km away from Porvoo, and can easily be reached in 20 minutes or so riding one of the green bikes along the river, heading south.
It is one of the best places near Porvoo to enjoy nature, and to find yourself (almost) completely alone. Iso Linnanmäki is beautiful, but you'll be likely to share your path with runners and locals walking their dogs – whereas on Sikosaari we didn't meet another soul.
We rode our bike along a dirt track heading to a beach, but our excursion was cut short by a summer storm that left us soaked in minutes. We stopped at this gate – I still wonder what lies beyond?
8) Näsi stone – aka 'the Magic
Rocks'
Standing from the top of Iso Linnamäki fortress you'll realize why the early settlers of Porvoo chose it as a vantage defense point – the town lies just below, and can be embraced with just one gaze. But if you're looking for the best vantage point to take pictures of Porvoo from above, that's not it – it's a bit too far to take good pics.
Instead, head over to Näsi stone (or 'The Magic Rocks'), granite cliffs overlooking the riverbank, on the opposite side from the city, surrounded by a small pine forest. Just cross the river and you'll see the forest, right opposite the red shore houses. Follow any trail leading uphill and after a few minutes you'll see the rocks.
Climb as high as you can – and don't worry, there are stairs – and you'll see Old Porvoo and the shore houses right there in front of you. In summer the treetops hide the view a little – I'd love to return in winter and enjoy the view at blue hour.
Are you wondering why they're called the Magic Rocks? No reason. We simply made the name up, because we couldn't remember the official one!
9) Colmio and the Peace Chairs
During our first breakfast in Porvoo, our host at Ida-Maria B&B recommended we went to Colmio, a small art gallery and design workshop in the Old Town. 'What Paivi does is really cool – she added – I'm sure you'll like it, and she'd love to meet you'.
Later that afternoon we visited Colmio, hidden in one of the backstreets of the Old Town. Remember when I said that the Old Town conceals lots of secrets? Colmio is one.
As soon as we entered we both experienced a lovely feeling of total, utter calm. Paivi came to meet us, with a big smile and kind eyes, and told us about her chairs. The 'Peace Chairs' are beautifully designed rocking chairs made of Finnish birch – here they are!
We sat and started rocking gently, while Paivi told us about her idea. 'I think there would be a lot less problems, and a lot more peace, if people used rocking chairs at meetings and while discussing politics'.
We just loved the sentiment behind the Peace Chairs and believe they're beautiful objects. If you find yourself in Porvoo in the summer we highly recommend visiting Colmio and spending some time chatting with Paivi. She's a remarkable, kind lady, and we're very happy to have met her.
Finnish restaurants are generally excellent – after all, the country does have amazing produce like mushrooms, fish, summer berries and many more. However, after a month in the country I can say – I hope I'm not offending anyone – that outside the main cities, the same dishes are offered over and over again. I have eaten salmon and pike perch more times in a month than in 30 years of my life, and butter and creamy sauces seem to cover pretty much everything.
Having said that, the restaurant scene in Porvoo is anything but monotonous – and Zum Beispiel is definitely the coolest restaurant we've been to. The restaurant has huge windows and the decor is a little hipster, but without being pretentious. There is free flavoured water on offer, and the menu offers a great mix of creative dishes inspired by cuisines from all over the world, as well as a selection of wines, cocktails and craft beers.
I had homemade pasta, sautéed with avocado king prawns, garlic and a little chilli (or a lot, if you ask) while Nick opted for a Mexican-inspired burger. The idea of avocado pasta kind of intrigued me – I had never thought of having avocado in a hot dish, but I'm glad to say that it really worked!
Zum Beispiel also serves lactose-free homemade icecream, in 'adult' and regular flavours. We sampled Jagermeister (clearly one of the 'adult' flavours) and raspberry and liquorice – not as weird as it sounds, delicious in fact!
So, whether you visit Porvoo for lunch, brunch, dinner or whatever, definitely head to Zum Beispiel. The avocado pasta is highly recommended, but don't forget to leave room for dessert!
We would like to thank Visit Porvoo for having hosted us. All opinions are our own.
Pin it for later?