Did you see the post about our 3-day hut-to-hut hike around Widderstein in the Bregenzerwald region, Austria? Here are 7 reasons to pick Bregenzerwald for your next hike – spoiler alert, you'll find few tourists, truly spectacular landscapes, yummy food, and more! (Did anyone say mountain cheese?)
Every year, Nick and I sit down and choose our favourite 'travel surprise' of the year together. The place that, most of all, exceeded our travel expectations – in 2017, we picked Jersey, and last year, we both agreed on Latvia.
2019 is not over yet, but Bregenzerwald will almost certainly be our favourite travel surprise. We've been hiking all over the Alps several times before, including the Dolomites, and thought no place ever would top those spectacular views – but we were wrong.
During our 3-day Widderstein hike we crossed forests wrapped in mist, mountain pastures with endless expanses of wildflowers, walked over ridges, up and down valleys, and stayed in tiny huts that can only be reached on foot.
It was definitely one of our favourite hikes in recent years – and it was made even better by the fact that we were alone for most of the 3 days we spent in the mountains.
We didn't see much of Bregenzerwald save for the mountains, but what we saw, we really liked. You don't need to be a hardcore hiker to enjoy your Bregenzerwald visit – you can spend your days exploring villages, tasting local products, taking relaxing walks or taking advantage of the many activities available all over Bregezerwald.
As we wait for our next visit, here are 7 reasons to visit Bregenzerwald – and go hiking, of course!
Where is Bregenzerwald?
The Bregenzerwald (meaning Bregenz Forest in German) is located in the state of Vorarlberg in Western Austria, not far from the borders with Switzerland, Liechtenstein, and Germany. The 'Bregenz' in the name is also the state's capital, a lovely town on the shores of Lake Constance (Bodensee in German).
Bregenzerwald is well connected with Switzerland, Germany and the rest of Austria by trains and buses. If you're coming from further away, your best bet would be flying to Zurich, about 100 km away, and taking the train.
Another nearby airport is Friedrichshafen in Germany – it's only about 40 km from Bregenz, but Zurich will offer more options and connections.
If you're driving, don't forget that in Austria you'll need a vignette (pass) to access motorways. Those accessing Bregenzerwald from the south will almost certainly drive through Switzerland, where you also need a vignette for the motorway. Make sure you have one to avoid hefty fines!
Bregenzerwald Weather & When to Visit
The weather in Bregenzerwald is typical of continental Europe – cold in winter, and warm in summer, with four distinct seasons.
The region is worth visiting all year round – in winter, the mountains are a paradise for skiers and snowshoe-lovers, whereas summer is perfect if you want to hike. Lower-altitude hikes can be covered year round, but hut-to-hut hikes (like the Widderstein trail we did) are limited to summer, as huts only open between June and September.
If you do decide to hike in summer, don't forget that temperature decreases the higher you get, and the temperature difference between day and night is far more marked high in the mountains than low in the valleys. Don't forget to pack something warm!
Reasons to Visit Bregenzerwald
1) Learn About Architecture
Are you a lover of those impossibly photogenic Alpine villages, all wooden houses with painted shutters, churches with onion-shaped domes, and colourful flowers everywhere?
You'll find all that in Bregenzerwald – in Schoppernau, the village where we stayed before and after our hike, is the perfect example of that 'storybook' feel many seek when heading this side of the Alps.
To be honest, you can find this architectural style pretty much everywhere in the Alps, from France to Slovenia. What makes Bregenzerwald special is that you'll also find plenty of modern buildings, where the ancient tradition of using timber is combined with modern construction materials like glass, obtaining sleek, contemporary-looking buildings with a creative and sustainable flair.
Bregenzerwald has a real treat in store for architecture lovers – the four-day Architecture Path from Hittisau to Au, taking in some of the region's architectural highlights including Krumbach, famous for its experimental bus stops designed by architects, and the Werkraumhaus in Andelsbuch, a wood and glass building with a café, restaurant, a shop, and an exhibition space.
Take a look at my friend Simon's article about the Architecture Path – and if you have a special interest for architecture, don't miss hiking even just a section of it!
2) Enjoy Heartfelt Hospitality
There's one word that defines this part of the world for me – herzlich Willkommen, meaning 'heartfelt welcome'. This is not something that is just scribbled on chalkboards outside restaurants, or embroidered on cutesy-looking felt cushions to add to the gemutlich-Alpine look of a place – hospitality in Bregenzerwald is truly outstanding.
Before and after our hike, we stayed at Hirschen Wohlfuhlhotel in Schoppernau. Wohlfuhl means 'feel good' – and it indeed did look as everything, from the impossibly-comfortable beds to the cosy wood-panelled interior, was designed to make customers feel well.
Yet, it was the unexpected touches that truly won us over. Like the complimentary selection of sweet and savoury snacks served in the restaurant each afternoon – including a slab of local bergkase (mountain cheese). Or the handwritten note on each table welcoming guests, and the small 'newspaper' given out each morning with tips on what to see and do.
More often than not, German-speaking people are not known for their warm and hospitable manners. Travel to Bregenzerwald, and you'll be proven wrong – trust me, you'll learn what herzlich Wilkommen truly is!
3) Escape the Crowds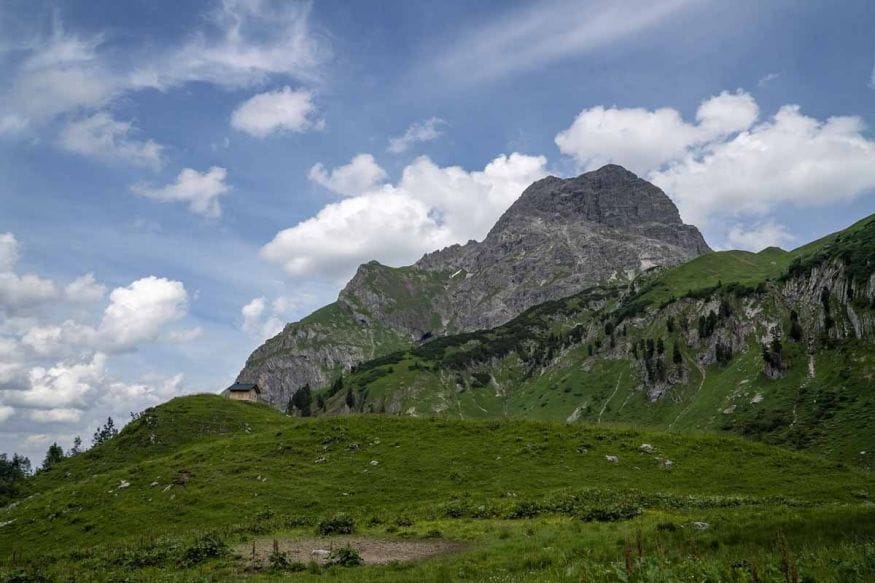 Once upon a time, people headed to the mountains to be alone with nature. In recent times, the Insta-loving hordes have descended en masse upon previously-unknown, remote places – prompting places like the Dolomites to introduce their own measures to curb overtourism.
Bregenzerwald is a popular holiday destination for people from other parts of Austria and Germany, but it's far from being overrun – yet? In Schoppernau, Warth, and Baad, the villages we hiked through, the atmosphere was lively but not overcrowded, with vacationing families but no tourist busloads to be seen.
If you want to be truly alone, take a trail to the mountains – during our 3 day hike we only saw a handful of other hikers, despite being the highest of high season. There were some day-trippers in the vicinity of mountain huts, but for most of the day, we were alone with nature.
4) Stay at Mountain Huts for the First Time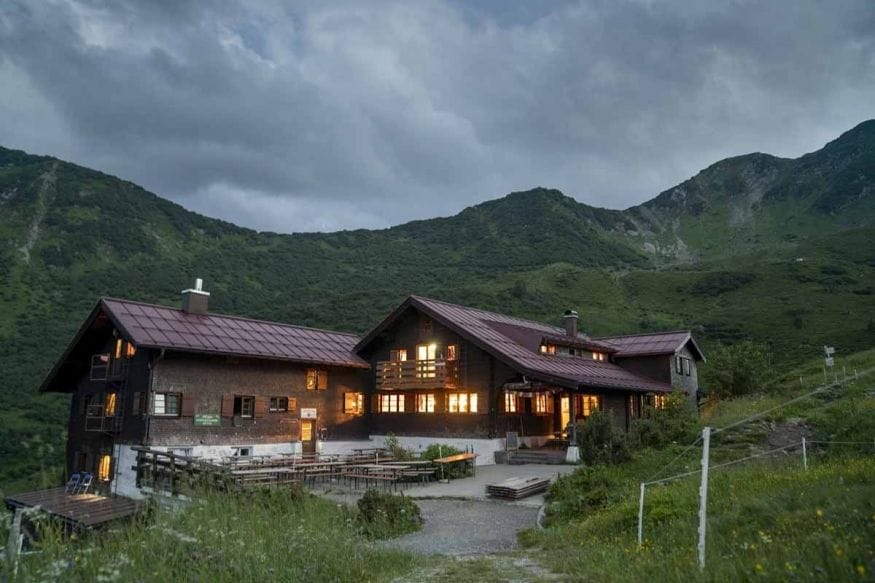 Have you always wanted to stay at a mountain hut for the view and the thrill of spending a night in the mountains, but the idea of spending the night in a room full of sweaty hikers doesn't appeal to you?
In Bregenzerwald, there's the perfect hut for first-timers. I am talking about Schwarzwasserhutte, the first hut we stayed at during our three day Widderstein hike.
It's fairly easy to reach, and not only does it have private rooms (with bunk beds, but still… private!), it has private rooms with ENSUITE BATHROOMS! In years and years wandering the Alps, I have never seen this, except in luxury 'mountain huts' costing hundreds of euros a night.
The second hut we stayed at, the Widdersteinhutte, was much smaller so it didn't have double rooms, but it had a couple of double 'cubby-holes' separated from the main dorm with a curtain – offering a certain degree of privacy, which is certainly appreciated by first timers and veterans alike.
If I haven't convinced you, just take a look at this picture. Imagine having this view right in front of your window, and falling asleep with the feeling of truly being surrounded by nature. Bregenzerwald is perfect for your first mountain hut experience!
5) Landscapes! What Else?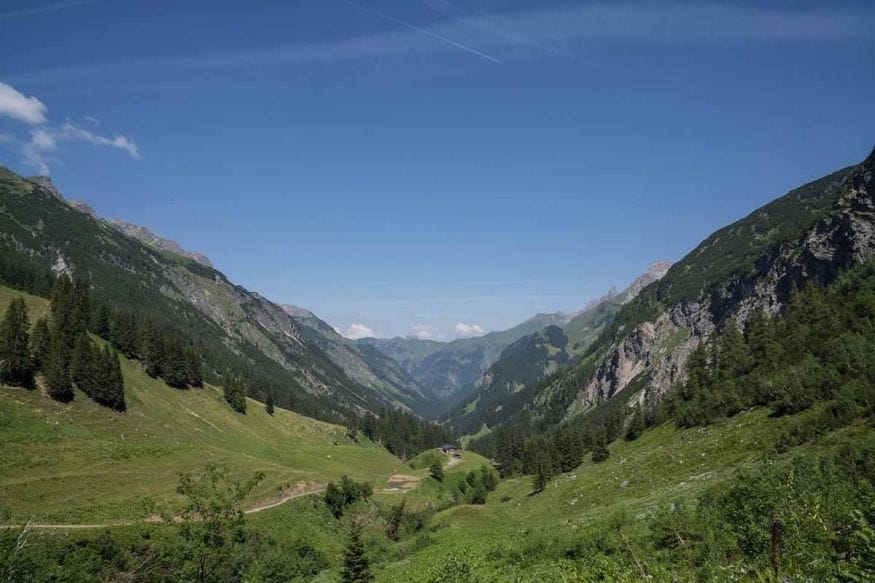 Hiking and landscapes usually go hand in hand – after all, the higher you get, the more beautiful the world usually becomes. If you've never experience this, come and visit Bregenzerwald – you won't be disappointed.
One of the things we liked best of our hike was that the landscapes we saw over the course of the three days were quite varied. Weather helped – we started hiking through a thunderstorm, and after it cleared, mist descended over the forests and pastures, and the mountains looked suspended between clouds.
We saw limestone mountains, which were just as beautiful as the Dolomites, and turned the same peachy-pink when sunset came. We also hiked through fields and pastures as remote and pristine as the ones we had seen two years before in Kyrgyzstan – and the villages in the valley below truly looked out of a fairytale, when seen from high in the mountains.
6) Eat ALL The Mountain Cheese
When I get to this point in lists like this one, my next point is usually FOOD. EAT ALL THE FOOD. How predictable.
The food in the Bregenzerwald ranged from excellent (the multi-course dinner we had at the Hirschen Hotel before and after our hike), to ok (dinner in the two mountain huts). But cheese, oh cheese, it truly was from another planet.
I understand Bregenzerwald is serious about their cheese when I saw a cheese vending machine in the centre of Schoppernau, just opposite the Käserei (cheese factory). Yes, I'm not joking – a cheese vending machine.
In this part of the Alps, cows are taken to the high pastures in summer, where they roam free and produce milk with a very distinctive taste, which is then used to make excellent mountain cheeses.
If you only have time for a quick visit, pop into the Schoppernau Käserei during opening time – the attendants will be happy to tell you more about mountain cheeses and give you some samples, and even invite you to look at the cheese cellar in the basement.
If you are planning to visit Bregenzerwald for longer, save some time for the Cheese Road – this is not a road trip per se, it's a union of 107 cheese producers, restaurants, farmers, craftsmen, and museums that welcome visitors, allowing them to witness various stages of cheese production and even join a cheesemaking class. We really hope to visit Bregenzerwald again to do this!
7) Activities for Everyone
If hiking is not your thing, and you're not so fond of cheese, don't worry – there are plenty of activities for everyone all over Bregenzerwald.
In summer, the gondolas and cable cars used in winter to access the ski resorts remain open, allowing visitors to get million dollar views without having to hike for it. If you're staying in Au or Schoppernau, you can jump on Diedamskopf and reach the top station at 2090 meters above sea level, where the view stretches all over Lake Constance.
Are you an adrenaline junkie? You can go paragliding from Diedamskopf, a great location for beginners with tandem flights on offer, go rock climbing at the crags between Au and Schnepfau, try your hand at a via ferrata or opt for mountain biking, with many trails available for beginners and downhill daredevils.
Those looking for something more relaxing have the option to go fishing, play golf, learn archery, orienteering and more. Check out the official Bregenzerwald page to learn more!
Our hiking adventure was sponsored by the Vorarlberg and Bregenzerwald tourism boards. Thanks so much for having us!