Have you ever considered spending a weekend in Tucson? This southern Arizona town has a lot to offer, including a unique national park split in two! Check out this wonderful weekend in Tucson itinerary, and let us know what you think!
Cactus, street art, fabulous Mexican food, microbreweries, stunning sunsets and desert vibes – it's very easy to fall in love with Tucson!
To be honest, we didn't really know what to expect when we decided to spend a weekend in Tucson during our last road trip around the US Southwest. We chose to spend two days in this southern Arizona town because it made logistical sense as a stop between hiking Sedona and visiting White Sands National Park – but we had no idea of what to see and do.
We only knew that we wanted to visit Saguaro National Park, only a short drive from town. Other than that, we were ready to be surprised – and we were, indeed!
Tucson is a wonderful place for a weekend getaway, with a great mix of quirky attractions and shops, a great dining scene, historical sights, and naturally the stunning Sonoran desert all around town.
A weekend is just enough time to get an idea of what Tucson has to offer. Here is our tried and tested weekend in Tucson itinerary, with local tips from our wonderful Airbnb hosts. One thing is certain – you'll want to visit Tucson again!
Meanwhile, check out these fantastic tours in and around Tucson!
Weekend in Tucson – Day 1
Brunch – Barista del Barrio
This Tucson weekend itinerary includes one day exploring Tucson itself, and the second day visiting Saguaro National Park and places situated just outside the town.
Since it's weekend, I'm sure you'll want to start your day with brunch. Let's not forget that Tucson is less than 100 miles from Mexico, so can you think of a better brunch than a breakfast burrito?
Our Airbnb hosts recommended Barista del Barrio, a tiny café with a covered back patio located just north of downtown. Unlike most other places dishing out huge wraps, Barista del Barrio includes two smaller burritos with each order, for only $4.75.
You get a choice of bacon, sausage, or (spicy) chorizo, with potato, egg, cheese, and beans. It goes down a treat with some iced coffee – the only downside is that lines are long, especially at the weekend!
Afternoon – Downtown Tucson/Historic 4th Avenue
After fuelling up with tasty burritos, it's time to explore what Tucson has to offer.
Tucson isn't a huge city, and the downtown area is easy to walk around. We recommend heading up to Historic 4th Avenue, lined with cool restaurant, cafés, independent and shops – perfect if you're after souvenirs!
After exploring 4th Avenue, walk a few blocks away to Borderlands, a microbrewery just by the train tracks – order a guava sour or the legendary German chocolate cake stout, before continuing your exploration.
By that stage, I'm sure you'll have noticed that Tucson is full of street art. You'll find great murals all over town if you just walk around, but make sure you pay a visit to the Greetings from Tucson mural at the corner of E 7th Street and N Arizona Ave, and the stunning Mayahuel (Goddess of Agave) at the Tucson Warehouse & Transfer Building.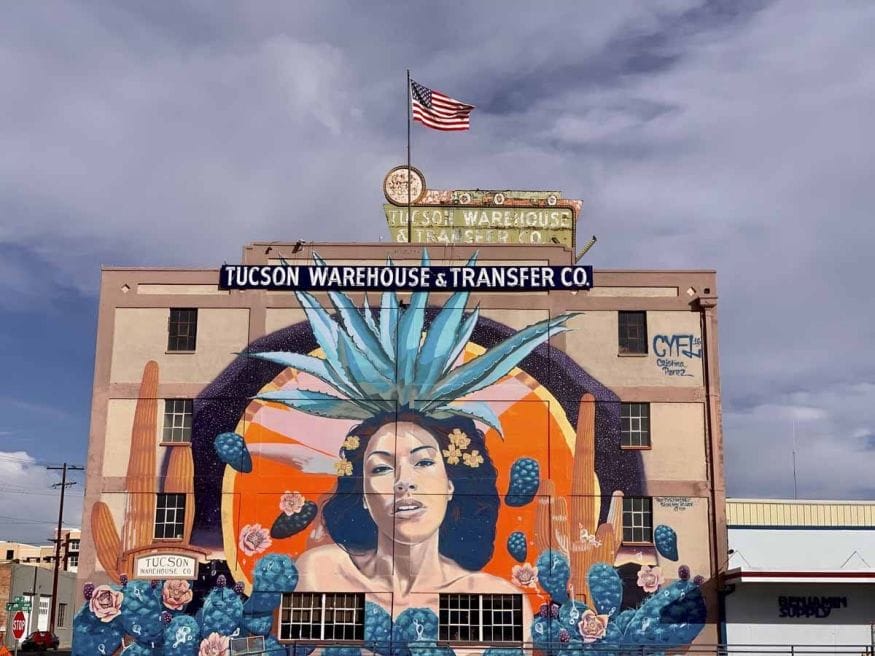 You can quite easily spend the rest of your day wandering around Tucson and looking for street art – here you can find a map with the location of all (or at least, most) Tucson murals.
Do you prefer to see art in museums rather than on the street? You can visit the Tucson Museum of Art in Downtown Tucson, with interesting exhibitions including Latin American art, folk art of the Americas, art of the American West and more.
Another great museum in Tucson is the Pima Air & Space Museum, with over 300 civilian and military aircrafts on display. For aviation geeks, this is definitely a must-visit – if that is the case, perhaps you'll want to skip exploring downtown, and dedicate the first day of your weekend in Tucson to this museum.
Evening – El Charro Café
Sorry if I'm getting tedious with my food choices, but I do indeed love Mexican food! Tucson is one of the best places in the US for food from south of the border – just wait for my recommendation for day 2 of your weekend in Tucson, a real treat!
Since you'll be spending most Day 1 around downtown, we recommend eating at El Charro Café, the oldest family-run Mexican restaurant in the country, open since 1922.
If you're visiting during the weekend, be ready for long lines and a real busy, festive atmosphere. The food is really good – the restaurant is said to have invented the chimichanga, which is basically a crispy-fried burrito, so that's naturally a good option.
Another great dish to order is the Carne Seca Platter, with marinated air-dried beef fried with onions, chilli and tomato, and served with beans, guacamole, pico de gallo and rice.
Weekend in Tucson Day 2
Morning – Mission San Xavier del Bac
Start the second day of your weekend in Tucson with a visit to Mission San Xavier del Bac, one of the most beautiful historical buildings in Arizona.
The Mission was built by the Spanish in the 17th century in Baroque style. The main building as a stucco-covered, Moorish-inspired building, with an ornate entrance portal leading visitors to the church, dominated by a huge retablo (altarpiece) decorated with Native American and colonial scenes.
If you're visiting on Sunday, be aware that masses are regularly held and the church is always packed, so you'll have to wait for the end of the service to be able to visit. While you wait, it's possible to climb the little hill to the right of the church, from where you'll be able to enjoy a great view of the Mission and the city from above.
Mission San Xavier del Bac is located on the land of the Tohono O'odham people. On Sundays, you'll find stalls selling crafts and Native American food in the square opposite the church – we recommend trying fry bread with beans and chili, it's really good!
Lunch – Sonoran Dog at El Güero Canelo
Some days call for two lunches. You can't possibly leave San Xavier del Bac without trying fry bread, but then you'll also have to make a quick trip to El Güero Canelo for another iconic Tucson specialty – Sonoran hot dog!
A Sonoran hot dog is made with a grilled hot dog, sometimes wrapped in bacon, stuffed in a bolillo bun and topped with salsa, guacamole, onion, tomatoes and beans. It's actually not as ridiculously heavy as it sounds, and yes it is delicious!
Afternoon – Saguaro West National Park
The rest of your day would be dedicated to visiting Saguaro National Park. This park is unique because it's made of two separate sections, divided by the city of Tucson – Saguaro West-Tucson Mountain District, and Saguaro East-Rincon Mountain District.
Both sections are about 40 minutes drive from Tucson. We only visited Saguaro West – if you want to visit both parks, we recommend skipping San Xavier Mission and heading there in the morning.
Saguaro West is the best of the two to choose if you want to see saguaro, the huge chandelier-shaped cacti the park is named after. They're literally everywhere – there's a short paved walk just behind the visitor centre where you'll see thousands, and many options for short hikes and scenic drives throughout the park.
With half a day to explore Saguaro West, we recommend driving the Bajada Loop, a 5 mile unpaved scenic drive with several scenic viewpoints. It can be accessed only a couple of miles from the visitor centre, but remember you need to drive it anticlockwise, as a small stretch is one-way only.
If you also want to do a little walking, we recommend starting with the Desert Discovery Nature Trail, a half-mile paved loop not far from the visitor centre, with info boards about nature in the Sonoran Desert.
For something a little more challenging (but still really easy), opt for the Valley View Overlook Trail, 0.8 miles roundtrip to a viewpoint over the park, or Signal Hill, another short hike to a spot where you can see petroglyphs and scenic sunset views.
Whatever you do, don't miss sunset at Saguaro West before making your way back to Tucson. It's one of the most beautiful sunsets we saw during our entire trip!
Evening – Los Tacos Apson
If you were to choose one thing to do during your weekend in Tucson, make sure you visit Los Tacos Apson. I'm sure that by now you will have understood that Tucson is famous for its delicious and authentic Mexican food – and Los Tacos Apson was our favourite place.
This taqueria is small food truck turned restaurant, with the option of sitting inside or outside. The specialty is (naturally) tacos with barbecued meats, with options like pastor, carne asada, the legendary rasurado (boneless rib), plus lengua, cabeza and creative combinations like Hass, with carne asada, queso and chile verde.
The place gets incredibly busy and service can be sloooow. We waited about half an hour for our tacos, but oh boy, it was worth it! Everything about it was delicious, from the homemade corn tortillas, to the crispy barbecued meats, and the fresh salsas layered on top.
Can you think of a better meal to round up your weekend in Tucson?
Practical Tucson Tips
When to Visit Tucson
The best times of the year to visit Tucson are April/May and September/November. During spring and autumn, Tucson is pleasantly sunny and warm, with daytime temperatures hovering between 25-30 C° (80-90°F). You are more likely to encounter rain in autumn compared to spring, but both seasons are good times to visit Tucson.
Winter is also great, since Tucson never gets really cold – we were there in January and daytime temperatures were 20-25 °C (70s °F), dropping to 10°C (50°F) at night. However, wintertime also coincides with busy tourist season in Tucson, with many visitors from northern states heading to the city to escape the cold and snow.
Summers are quiet in Tucson, but temperatures routinely exceeding 40°C (100°F) mean it's very hot to go sightseeing and exploring.
How to Get Around Tucson
Driving is the easiest way to get around and visit all the attractions mentioned in this article, and the only way to travel between the city and Saguaro West.
However, if you're like us and don't like to drive around cities, you can use a combination of public transport and Uber to get around Tucson itself. Uber works well, we used it at night and never had to wait more than 5 minutes.
There are regular buses all through the city, with cash fares ranging from $1.75 to 2.35 depending on whether you're riding a regular or express bus. Remember to have exact change! If you're going to be in Tucson for more than a weekend, it's worth getting a SunGO card (or SunGO app) and use it to pay as you go.
Where to Stay in Tucson
If you can splurge, around Tucson you'll find some luxurious desert ranches to retreat to after a busy day sightseeing around the city and Saguaro National Park. Here are some of the best options, plus a few budget-friendly options!