Who hasn't dreamed an American Southwest road trip? After countless hours researching, reading and crafting itineraries, not to mention 7 weeks road tripping the US Southwest, here you are!
Our itinerary for the American Southwest road trip of a lifetime!
There's no place like the American Southwest for a road trip. Imagine driving a convertible down long stretches of road with no one else in sight. The sun is setting right in front of you, you squint and hit the gas while the landscape changes colour – from burnt orange to dusty pink and purple, to a hazy blue hour.
You stop your car at a roadside diner, where a waitress named Betsy brings you cheeseburgers and a milkshake, with tall glasses of iced water. Time to go again – this time to a motel with a neon sign out front, flickering under the night sky.
I'm sure you've dreamed this, probably because road trips in the American Southwest have been part of popular culture for as long as movies have existed.
However, let me tell you – planning a road trip in the US Southwest is no easy task. It truly is a matter of 'so many places, so little time'. Distances are long, and getting from A to B is no easy task, with so much to see including cities, national parks, state parks, random roadside attractions and more.
It took us forever to decide where to go and what to see in the American Southwest – we ended up crafting an itinerary perfect for winter, including most must-sees as well as a couple of offbeat national parks.
And guess what – it truly was the road trip of a lifetime for us.
There you are – all info to help you plan your very own American Southwest road trip of a lifetime!
Planning Your American Southwest Road Trip
What Do you Mean by 'American Southwest'?
Ok, let's start with a clarification. The general agreement is that the term 'American Southwest' includes the states of Arizona, New Mexico, Utah, Southern Nevada and sometimes Southern California.
All locations included in this American Southwest itinerary are in Arizona, New Mexico, Southern Utah and Southern Nevada – California will be covered in a separate post.
How Long Should This US Southwest Itinerary Be?
Ah, this is the million-dollar question! You could spend MONTHS road tripping the region, and a week or more in some single national parks.
However, I'm pretty sure you've got limited vacation time – in that case, we recommend a minimum of 3 weeks for this American Southwest road trip.
3 weeks will give you the opportunity to spend at least one day in each location, to rest from driving and enjoy exploring.
With 2 weeks you could cover most of the destinations included in this itinerary – if that's all you have, we recommend skipping New Mexico and heading straight to Monument Valley after Sedona.
Best Time of Year to Visit the Southwest
After how long, let's move on to when to visit the Great Southwest! Every month of the year comes with benefits and drawbacks, so there's no 'perfect' time to visit – it all depends on what you're after.
We went on our American Southwest road trip of a lifetime in winter, and it was great. The weather was ALWAYS dry and sunny, and not too cold. The maximum we got were temperatures in the high 70s°F (20-25°C) in Southern Arizona, and the lowest was just below freezing in Bryce Canyon.
The weather was ideal to hike and explore without having to worry about carrying gallons of water, and there were very few tourists in sight.
The flip side was that some trails were closed for winter in Zion and Bryce Canyon, but besides that we thought winter was a great time for a road trip in the Southwest.
Compared to winter, summer has much higher temperatures, touching 100 or even 110°F (over 40°C). This means you'll have to do most of your sightseeing in the early morning and late afternoon.
On top of that, summer is high season in most national parks in the Southwest – expect crowds, queues and car parks filled to capacity. You'll also have to reserve your accommodation and rental car months in advance, leaving little room for last minute changes of plans.
Overall, the best times to visit the American Southwest are probably spring and autumn/fall. These two seasons offer the best compromise between good weather and manageable crowds – just be sure to avoid national parks on public holidays, as they do get busy!
Are you looking for an alternative US road trip? Here's a 5 days Georgia road trip, from Atlanta to Athens!
American Southwest Road Trip Itinerary
1) Las Vegas
Let's start your Southwest Road Trip with a stay in Sin City! Vegas is one of those iconic places that you MUST visit at least once in your lifetime, even if you're not a casino/party person – we most certainly aren't!
Vegas it's a great place to start this trip for two reasons. First of all because it's located close to a major airport with international flights and rental car companies, and also because it's not far from first and the last place in this US Southwest itinerary, so you can easily book return flights.
If it's your first time in Vegas, we recommend spending at least one full day in town. Stay on the Strip if possible, at one of the famous casino/hotels, and enjoy your day wandering from one casino to the other, marvelling at their outlandish architecture and eating at one of many excellent restaurants – we visited Gordon Ramsay's burger bar, highly recommended!
At night, don't miss checking out the famous Bellagio fountain and Mirage volcano shows, taking place each night. If your budget allows, Vegas is a great place for shows – there are always artists in residence, plus magicians and Cirque de Soleil shows at several hotels along the Strip.
With extra time, we recommend treating yourself to a helicopter tour over Vegas and the Grand Canyon – we really wished we did!
Where to Stay – for the full Vegas experience, stay for one of the big-name hotels on the Strip. The Bellagio and Wynn will probably be on the expensive side, but you can probably snag a room for $70 or so at place like the Luxor, Tropicana or Flamingo.
Make sure you opt to stay in Vegas midweek and away from major events or trade fairs to get good hotel deals!
2) Grand Canyon
Distance: 285 miles – Driving Time: 4 hours 45
Let's start this American Southwest road trip with a bang, shall we? Grand Canyon is the national park on everyone's list, especially when it comes to first-time visitors. To be honest, it wasn't our favourite – but it's still worth visiting!
It takes about 5 hours to drive from Vegas to Grand Canyon, longer if you stop at the amazing Hoover Dam, located about 45 minutes out of Vegas on the Arizona/Nevada border. You can take a Hoover Dam tour or just explore independently – access to the dam and the lookout points is free, you just have to pay for parking and to visit the museum.
If you make it to Grand Canyon in time for sunset, head to Hopi Point, the best sunset viewpoint in the park. Then, we recommend spending minimum one full day to explore Grand Canyon, driving up and down the rim checking out the views from all different angles.
To hike down to the Colorado River (and back) you'll need two full days, with one night spent camping out. The NPS does not recommend hiking rim to river and back in one day.
Have a look at our post for more info on visiting the Grand Canyon in winter!
Where to Stay – accommodation inside national parks is rarely budget-friendly, but we definitely recommend staying inside Grand Canyon! The closest town to the park is Flagstaff, about 90 miles away – which means you'll have to drive 1 and a half hours there and back.
We stayed at Yavapai Lodge, a midrange hotel located within Grand Canyon National Park, walking distance from the main visitor centre on the rim at Mather Point.
3) Sedona
Distance: 108 miles – Driving Time: 2 hours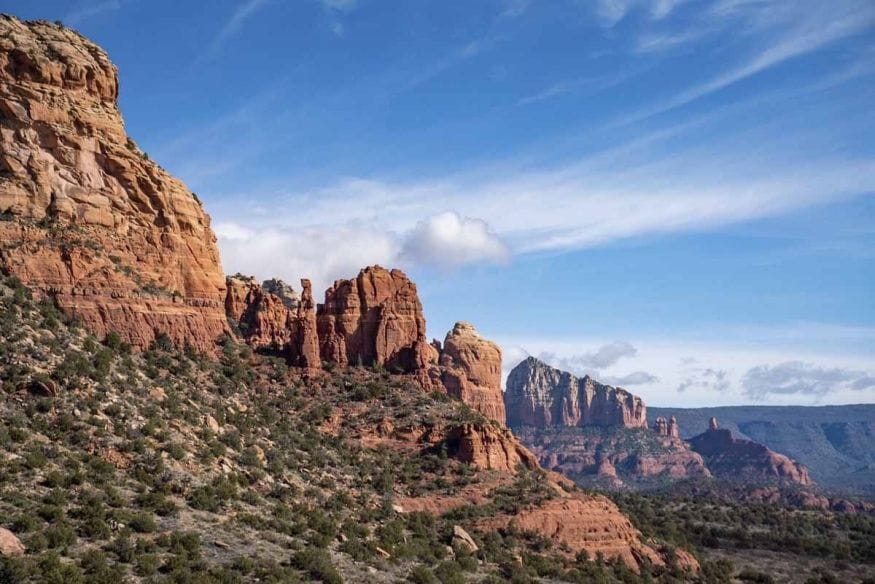 This was my favourite place to visit in Arizona, a worthwhile addition to your American Southwest road trip itinerary!
Sedona is stunning. Just stunning. A town surrounded by red rocks and hiking trails, home to yogis, shamans, tarot-readers, fortune-tellers and many more spiritually-minded folks.
It's the kind of place where you can pick up energy balls made with organic stone-ground chocolate and chia seeds before setting off for a hike that ends at a Buddhist stupa, followed by a sound bath near an energy vortex.
So, meditation and spiritual stuff are not your thing? Fear not – you can just ignore all that, and explore the myriad trails surrounding Sedona by bike or on foot. There are hikes for everyone, from quick family-friendly trails to more complex itineraries for expert hikers.
Trails in Sedona are often interconnected, so it's easy to plan the perfect hike depending on your needs. Here are 12 amazing easy hikes all around Sedona – but trust me, there's plenty more to explore!
Where to Stay – there are a few big-name hotels in Sedona, but we recommend staying in an Airbnb or rental to really make the most of its secluded atmosphere. We stayed in this colourful studio in West Sedona, owned by Taylor, an outdoor guide who gave us lots of tips on where to hike!
4) Tucson and Saguaro National Park
Distance: 229 miles – Driving Time: 3 hours and a half
If you're planning to head into New Mexico, after Sedona you could drive southwards to Tucson, a quirky desert town not far from the Mexican border. You'll drive through Phoenix on the way, so you could even stop there for a day or two – up to you.
Tucson is worth exploring for a couple of days. If you're into nature, your first port of call should be Saguaro National Park, a unique 'divided' national park, split into two parts by the city.
Depending on how much time you have, you can go hiking, go on scenic drives, see ancient petroglyphs and go crazy photographing saguaro, the giant candelabra-shaped cacti after which the park takes its name.
West Saguaro is the best of the two section to see giant cacti, whereas East Saguaro is less busy and perfect for long backcountry hikes. Whatever you opt to do, make sure you spend at least one afternoon in Tucson – the city is full of street art, craft beer and excellent Mexican food.
Here is our weekend in Tucson post, full of info and ideas on what to see!
Where to Stay – we found Airbnb to offer excellent value for money in the American Southwest, especially during winter! Our Tucson Airbnb was one of our favourites ever, a private room in a South Tucson home close to the best taco stand in town. The hosts were super friendly and also gave us lots of local tips!
5) White Sands National Park
Distance: 280 miles (to Las Cruces) – Driving Time: 4 hours
To be honest, White Sands National Park was the whole reason why I wanted to add New Mexico to our American Southwest itinerary. After seeing a random picture, I fell in love with the all-white landscape, an endless expanse of powdery sand dunes stretching into the horizon, surrounded by mountains and a clear blue sky.
Heading to White Sands may sound like a long drive, but trust me, it's totally worth it. It's the most recently-established national park in the country, upgraded from National Monument status only in December 2019 – this, combined with its remote location, means that tourists visiting are still very few.
The park isn't huge, but we still recommend dedicating at least one full day to appreciate all the things to do in White Sands, from scenic drives to dune hikes, sand boarding and star gazing. It's also possible to camp overnight, under the magical desert sky!
White Sands is also not far from the border with Texas. If you have extra time on your hands, you can explore the Lone Star state – here is our 2 weeks Texas road trip itinerary to get your curiosity going!
Where to Stay – part of the appeal of White Sands is that it's far from everything. For accommodation, you have three options – camp in the park, stay in Alamogordo, or in Las Cruces.
Alamogordo is closer to the park (20 minutes drive), but it will make your drive from Tucson about an hour longer. Las Cruces is a little further (about an hour drive), but it's also a larger town with more food and accommodation options.
6) Albuquerque
Distance: 220 miles (from Las Cruces) – Driving Time: 3 hours
After White Sands, it's time to head northwest towards the big-name national parks in the American Southwest. There's a little problem though – it takes over 8 hours to drive from White Sands to Monument Valley, so we included a stop in a city we really wanted to visit… Albuquerque!
Albuquerque and nearby Santa Fe are definitely worth spending more than a couple of days, but also work well as a quick pit stop. We spent half a day in Santa Fe visiting Meow Wolf, a whimsical art installation/house of wonders – you can just enter and admire the art, or try to solve a mystery following clues. Definitely an unusual attraction worth visiting!
In Albuquerque, we spent most of our time on a DIY Breaking Bad tour. Filming locations are scattered all over town – we visited some on foot and some by car, while admiring the beautiful adobe homes typical of New Mexico.
If you're not into Breaking Bad/Better Call Saul, Albuquerque still has plenty of interesting things to see and do. You can ride to the top of a mountain on the Sandia Peak Tramway, run or hike Paseo del Bosque Trail, visit several museums and attend the Albuquerque Balloon Fiesta, taking place every October!
Where to Stay – another vote for Airbnb! We booked a suite with private entrance in a residential neighbourhood, about 10 minutes from downtown Albuquerque. We didn't get to meet our hosts but they seemed friendly enough, and the suite was just perfect for our stay.
7) Monument Valley
Distance: 320 miles – Driving Time: 5 hours
Ok, this is a long drive, but it's so beautiful you won't mind all the hours spent in your car! A couple of hours out of Albuquerque you'll be entering the Navajo Nation, the ancestral land of the Navajo people, encompassing part of New Mexico, Arizona and Utah.
The Navajo Nation is sparsely inhabited, a land of sweeping deserts, wide skies and red rocks. You'll be amazed at every turn, even more so when you'll get close to Monument Valley, one of my favourite places in this American Southwest itinerary.
We recommend dedicating at least one full day to visiting Monument Valley. If you prefer exploring independently, you can drive the 18-mile Valley Drive scenic loop, stopping at various viewpoints along the way.
It's also possible to hike along the Wildcat Trail, a 4 mile path circling around West Mitten, one of the famous Monument Valley buttes.
If you want to get away from the visitor area and into the true Monument Valley backcountry, you'll need a Navajo guide. There are a variety of hikes and tours available, including the famous overnight camping expedition to Hunt's Mesa, the best viewpoint over the Valley!
Where to Stay – depending on how far your budget can stretch, you can stay at The View, offering cabins and campsites with a view inside Monument Valley. Alternatively, the closest town is Kayenta, about 30 miles away, with two good midrange hotels – the Kayenta Monument Valley Inn and Weatherill Inn.
You can also stay in traditional Navajo homes and hogans closer to Monument Valley – here are a couple of options available on Airbnb!
8) Page
Distance: 127 miles – Driving Time: 2 hours
After covering such long distances over the past days/weeks, the drive to Page will be over in the blink of an eye!
Page doesn't look like much at first, a dusty Northern Arizona town with the usual selection of subpar motels and restaurants, but it's the perfect base to visit two of the best points of interest in the American Southwest!
The first is Antelope Canyon, a narrow sandstone slot canyon with two separate sections that can be explored with a Navajo guide. We visited them both, and we've put together a post to help you choose – Upper or Lower Antelope Canyon, which to visit?
About 15 minutes drive from the centre of Page, you'll find Horseshoe Canyon, one of the most photographed locations in Arizona. It's easy to visit independently, as the car park is only 0.7 miles from the viewpoint overlooking the canyon.
In summer, sunrise/early morning are the best times to beat the crowds. Otherwise, sunset is also a great time to visit!
If you have time for one more attraction near Page, you can visit Lake Powell to go boating or hiking/running around the shore, stay in a houseboat, or visit Glen Canyon Dam.
Where to Stay – visitors on a budget should take note of Lake Powell Canyon Inn (formerly Page Boy Motel), a no-nonsense motel offering rooms for as cheap as $25 in low season.
Otherwise, the Best Western Plus at Lake Powell or Hyatt Place Page Lake Powell are definitely better options in terms of comfort and service.
9) Kanab
Distance: 75 miles – Driving Time: 1 hour 20
We're almost at the end of this American Southwest road trip, and you have a decision to make. Are you fed up of changing hotel every other night? If so Kanab, a small town on the Utah-Arizona border, could be your last stop.
Kanab is perfectly located to visit the Grand Staircase-Escalante National Monument, and only a short drive from both Zion and Bryce Canyon National Parks, both of which can be visited as a day trip.
We also recommend staying at least one night in Kanab to try your luck at the lottery to visit the Wave, one of the most amazing hikes in the American Southwest. Only a handful of permits are given out daily and demand largely outweighs supply, so you have to hope for Lady Luck to be on your side – unfortunately, that wasn't the case for us.
If you don't get the Wave permit, fear not – Grand Staircase-Escalante National Monument has countless hiking opportunities, like the Toadstools, an easy 1.5 miles hike leading you to some unique rock formations!
Where to Stay – we opted for a wonderful Airbnb farm stay in Fredonia, a tiny town on the Arizona side of the border (meaning most of the year it's on a different timezone than Kanab!)
Otherwise, there are plenty of nice hotels in Kanab, like the wonderful Canyons Boutique Hotels!
10) Bryce Canyon National Park
Distance: 78 miles – Driving Time: 1 hour 30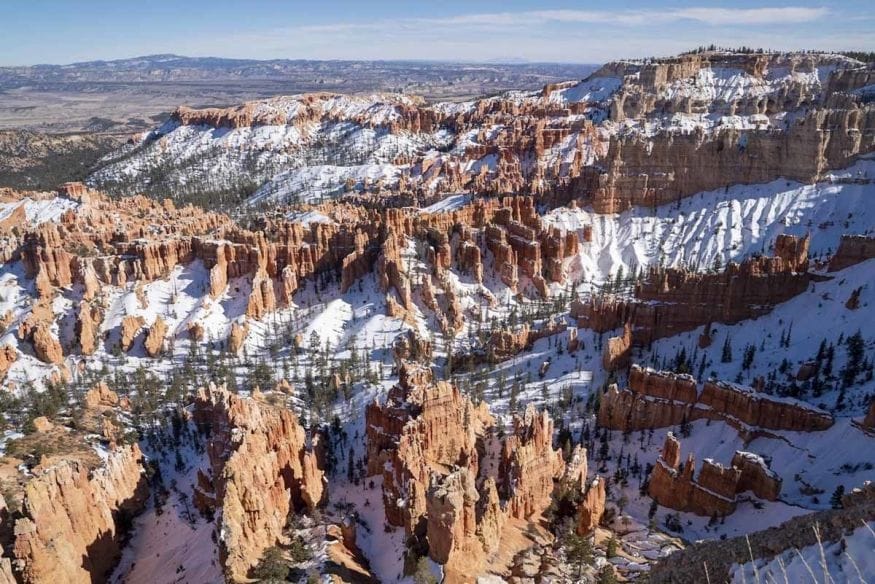 Just two more locations are left on your great American road trip of a lifetime – and they just happen to be two amazing national parks!
Let's start with Bryce Canyon, the northernmost of the two, located at almost 9000 ft. Bear this in mind if you're visiting Bryce Canyon in winter, as it almost certainly be cold and snowy!
Bryce Canyon can indeed be visited as a day trip from Kanab, especially in winter when most trails are covered in snow and there's little to do besides driving the scenic road between viewpoints on the edge of the canyon.
In all other seasons, we recommend staying at least a day or two to admire how the canyon changes colour throughout the day and to go on hikes into the canyon. Make sure to head to the visitor centre when you reach the park to pick up a trail map and for info about trail conditions!
Where to Stay – Ruby's Inn is a historic hotel located about 10 minutes drive from the visitor centre, offering wonderful deals in winter. Otherwise, look for accommodation in Panguitch, the closest town to the park.
11) Zion National Park
Distance: 73 miles – Driving Time: 1 hour 20
Welcome to Zion National Park, aka the American Southwest hiking paradise! This national park surrounds Zion Canyon, formed by the Virgin River, and offers an incredible variety of hiking trails – from easy riverside walks, to thrilling jaunts on chain-assisted ridges, river hikes, and much more.
You can easily spend a week in Zion and not do the same hike twice, but we understand you're at the end of your US Southwest road trip, and you're probably tired. Even if you only have one day to spare, you can still go on one long or two short hikes.
Some great Zion hiking options are The Narrows, a hike through the Virgin River to the narrowest section of Zion Canyon, and Angel's Landing, a half-day hike to a scenic viewpoint over the park including some chain-assisted sections.
If you're visiting in winter, you're in for a treat – Zion is at a much lower altitude compared to Bryce, and hiking is possible year round. As an added benefit, there are far fewer visitors! Have a look at our Zion National Park in winter post for more info and inspiration!
From Zion, you can easily drive back to Las Vegas in under 3 hours – the distance is 160 miles.
Your American Southwest road trip of a lifetime has come to an end, and what an experience it was!
If you want to explore more, you can head north from Zion further into Utah and explore Canyonlands and Arches National Parks, or continue into California from Vegas.
Where to Stay – it's possible to camp or stay in cabins within Zion National Park, or you'll find a wide choice of accommodation options in Springdale, the closest town to the park.
Zion is also a wonderful glamping destination – have a look on Airbnb for yurts or tiny house options like these ones!
Practical Tips For Your American Southwest Road Trip
Buy a National Park Pass
You'll have noticed that this US Southwest itinerary includes several national parks. In the US, there's an entrance fee for national parks, ranging between $25/30 per vehicle.
If you are visiting more than three parks, it makes sense to get an America The Beautiful national park pass, valid for a year for a cost of only $80/vehicle. You can pick one up at any national park visitor centre, or you can have it sent to your home before you leave!
Be Aware of Timezones
This itinerary includes four different states – Nevada, Arizona, New Mexico, and Utah.
Nevada is on Pacific time (GMT-8) and the other three are on Mountain time (GMT-7).
However, to make matters even more fun, Arizona doesn't observe daylight saving, meaning that in summertime it's an hour behind Utah and New Mexico. Keep this in mind if staying near a border, as it may be the case in Kanab and Monument Valley.
When joining tours, always double check what time zone is being considered for departure times!
And of Weather Changes!
This Southwest road trip itinerary spans a really vast territory, including mountains at high elevations, deserts and plains. Be ready for dramatic weather changes, especially in winter!
During our trip, taking place in January/February 2020, we went from a maximum of 78°F (25°C) in White Sands, to 14°F (-10°C) in Bryce Canyon at night. Make sure you pack enough for 4 seasons, including suitable footwear if you plan to hike in the snow!
Don't Forget Travel Insurance
This is America, and if something goes wrong health wise, you may be left with an extortionate medical bill.
Don't forget to arrange travel medical insurance before you leave for your trip! We recommend SafetyWing, especially aimed at long-term travellers and digital nomads. SafetyWing offers medical assistance all over the world, including your own country!
Keep an Eye on Gas
This road trip includes some very remote places, like the Navajo Nation or Southern New Mexico, where you'll be driving along secondary roads. Gas stations may be few and far between, so keep an eye on your fuel gauge and make sure your car is always nice and full – you don't want to run out in the middle of nowhere!
To give you an idea, we started looking for a gas station whenever we got less than half a tank left, and always filled up before it reached less than a quarter.
Always Have Water on You!
The same thing goes for water, especially in summer! The majority of this itinerary covers the desert, and in summer it gets very, very hot.
You must ALWAYS have water on you. If in doubt, grab an extra bottle – or bring plenty of refillable water bottles and make sure they're all full before you set off on a drive.
This is even more important to remember if you're planning to go hiking. NPS recommends a minimum of one gallon per person/per day for most hikes – you can get away with less if you are visiting in winter and only hiking for an hour or two, but remember to always bring extra just in case!