Welcome to White Sands, one of America's most unique (and most recent) national parks! Here we'll tell you about our recent visit, with 9 things to do in White Sands National Park, plus practical info to plan your visit.
The first time I saw pictures of White Sands National Park in New Mexico, I was like 'I've got to visit this'. Unlike places like Tucson and Saguaro National Park, where we ended up almost by chance, White Sands was right at the top of my US Southwest list.
Just have a look at these pictures, and you'll understand why. Imagine miles upon miles of dazzlingly white sand dunes, blinding under the midday sun, or taking in a blue hue with the setting sun.
How are the White Sands created?
White Sands National Park is the largest expanse of gypsum dunes in the world, measuring 275 square miles in the Tularosa Basin, part of the Chihuahuan Desert in southern New Mexico.
White Sands was established as a National Monument in 1933, and it was officially designated as a National Park on December 20th, 2019 – making it the most recent National Park in the US!
The gypsum dunes of White Sands were created millions of years ago, when the ancient Permian sea retreated, leaving gypsum layers behind.
The process continues to this day thanks to the elements – rain dissolves gypsum, returning it to the basin mixed with water. Wind and sun separate water from gypsum, forming crystals that are then broken down into tiny grains of sands, becoming dunes.
Steady southwesterly winds mean that the dunes of White Sands National Park are continuously shifting, with ever changing shapes and sizes.
Where is White Sands National Park?
White Sands is the perfect national park to visit if you want to be away from it all. Forget the tourist crowds you'll find in places like Yosemite and Grand Canyon – at White Sands, we only saw a dozen or so more visitors.
The park's remote location probably has something to do with visitor numbers. White Sands National Park is on New Mexico Highway 70 between mile marker 199 and 200, 52 miles from Las Cruces and 16 miles from Alamogordo (20 minutes drive).
We opted to stay in Las Cruces, even though it was a longer drive at 1 hour each way, because it made more sense coming from Tucson, and because it's a larger town with more dining and accommodation options.
However, Alamogordo is definitely a better option if you're planning to spend 2/3 days visiting White Sands National Park – it's only 20 minutes away from the visitor centre.
The park is about 3 and a half hours from Albuquerque, and 1 hour and a half from El Paso.
Looking for more US itineraries? Take your pick below!
Things to do at White Sands National Park
1) Stop at the Visitor Centre
Your first stop at White Sands National Park will more than likely be the visitor centre, located just off the highway.
The White Sands visitor centre is housed in historic adobe buildings, built during the Great Depression as a job-creation project.
Similarly to other US national parks, the visitor centre is where you can get information, maps, fill your water bottle and use the restroom before exploring the park. Make sure you watch the 17-minute documentary 'A Land in Motion', about the White Sands environment, plants and animals.
2) Hike the Dune Life Nature Trail
Hiking is definitely one of the best ways to explore White Sands National Park. There are five trails to choose from throughout the park, ranging in length from 0.5 to 5 miles – we recommend starting with the Dune Life Nature Trail, a mile-long loop.
This Nature Trail is found where the gypsum dunes and the desert scrub meet. You will find more plants and shrubs compared to the 'proper' white dunes on the far end of the park, as well as tracks or traces of animals like kit foxes, birds, coyotes, rodents, and reptiles.
The trail is marked with blue trail markers with a club symbol. Make sure you ALWAYS follow the markers. To cover the entire mile-long loop you'll need about an hour, as there is some moderate dune climbing throughout.
Dune Life Nature Trail is ideal for families – there are 14 educational signs along the trail, with Katie the Kit Fox inviting little ones to play quick games to learn about life in the desert.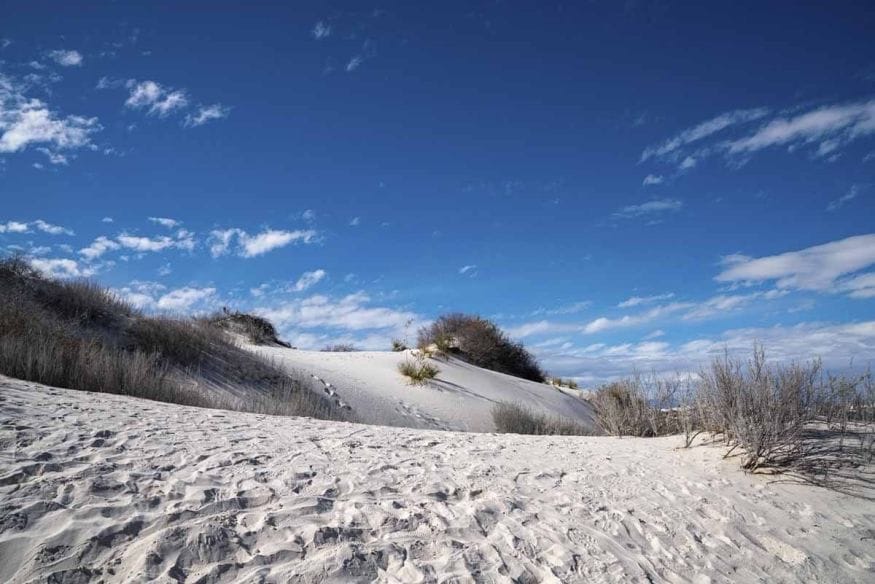 3) Walk the Interdune Boardwalk
If the Dune Life Nature Trail is too long for you, you may consider the Interdune Boardwalk instead, a quick 0.4 mile loop on a wheelchair-accessible elevated boardwalk.
The boardwalk takes visitors through the dunes, to a scenic view over the desert and nearby mountains. There are also 10 information signs, sharing info about the geology behind the creation of the white gypsum dunes.
4) Drive along Dunes Drive
All points of interest in White Sands National Park are situated along Dunes Drive, an 8-mile scenic road connecting the visitor centre and fee station to the furthest reach of the park, where you can access backcountry campsites and the 5-mile Alkali Flat Trail.
The entire 16-mile drive takes about an hour – the first five miles are paved, and the final three-mile loop is hard-packed gypsum, accessible to any vehicle.
However, make sure you allow more than an hour to covering Dunes Drive – it's full of scenic corners, and no doubt you'll keep stopping to take pictures!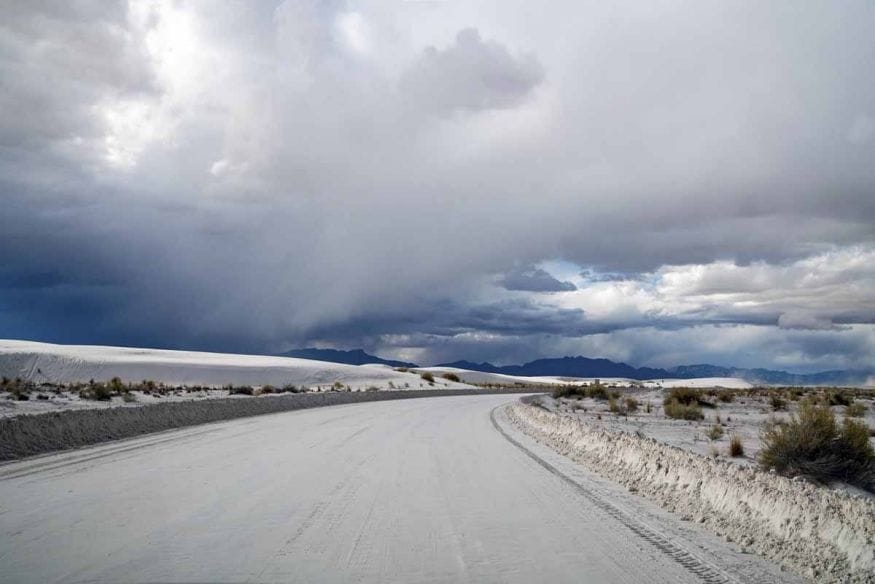 5) Climb the Dunes
This is probably on top of everyone's list of things to do in White Sands National Park! After all, the park is known for its dazzling white dunes, so soft and pure white they are often mistaken for snow.
You can climb the dunes pretty much anywhere at White Sands, there's no designated 'climbing area' as such. We recommend heading to the back of the park, along the 3-mile gypsum loop – just find a place that takes your fancy, park your car, and start walking.
However, don't forget that climbing dunes is pretty strenuous (we learned that the hard way during our overland trip across Namibia!), and it's quite easy to lose your bearings,
6) Go Dune Sledding
Another fun thing to do at White Sands National Park is dune sledding! Similarly to dune climbing, there is no 'designated sledding spot' – there are a few suitable places towards the back of the park, with moderately steep (but not too high) dunes that flatten out at the bottom, allowing you to stop easily.
You can't rent sleds, but you can bring your own or purchase plastic saucers at the visitor centre, together with wax to make them extra slippery. We even saw some people sliding down on pieces of cardboard. Whatever you choose to do, it's super fun!
7) Camp Between the Dunes
It is possible to go backcountry camping at White Sands National Park, with a designated area for this purpose at the back of the park.
Similarly to other US National Parks, you have to get a camping permit from the visitor centre, then head up to the 3.5 mile Backcountry Camping Loop Trail and pick a spot.
Tents are highly recommended, and there are specific rules regarding camping at White Sands National Park – we recommend visiting the park's official backcountry camping page for more info.
8) Have a Picnic
If you don't have enough time to go camping, or simply prefer sleeping with a roof over your head, why not have at least a picnic surrounded by the majestic dunes of White Sands National Park?
At the back of the park you'll find several designated picnic sites. We chose the Roadrunner Picnic Area because it was empty at the time of our visit – a great way to have a break before continuing your day around the park!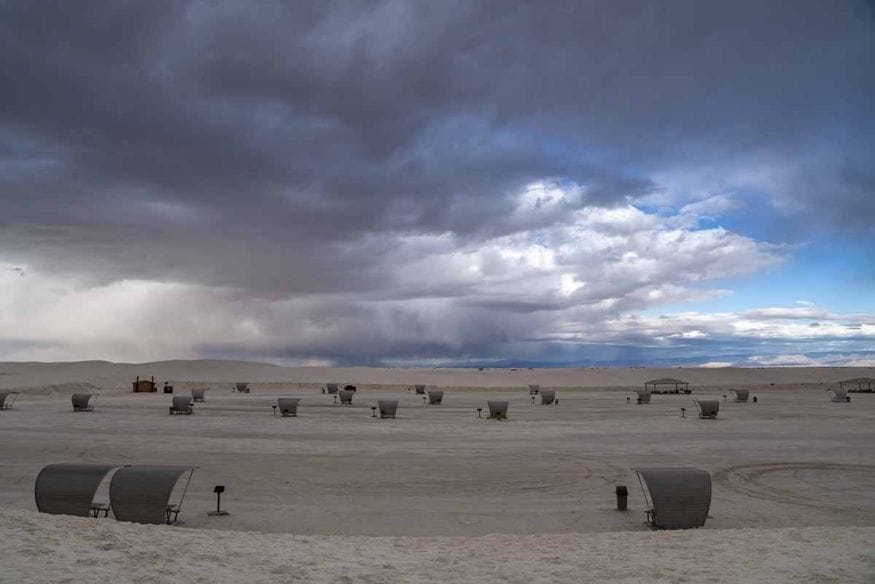 9) Hike with a Ranger
Did you know that White Sands, like most US national parks, offers a program of ranger-led hikes and activities – and they're often either free, or really reasonably priced.
You can find more info about ranger programs here – we especially like the sound of the Sunset Stroll, a free hour-long walk to a sunset viewpoint over the white dunes, and the Full Moon hike, taking place on full moon nights between April and October, for only $8!
10) Don't Miss Sunset!
Not seeing the sunset is my #1 regret, and it should definitely belong on your list of things to do in White Sands National Park!
Sadly, it started to rain heavily just as sunset came, so we decided to leave. Sadly, we only had one day to spend at White Sands, so we missed out on the sunset. After having seen the place, we can just imagine how beautiful it must have looked at sunset, with the white dunes slowly turning blue and purple with the setting sun.
So, please, don't do what we did and make sure to spend the sunset at White Sands! You can join the free ranger walks, or just make your way to the white dunes at the back of the park and pick your favourite. Crowds are not usually a problem!
Things to Know Before Visiting White Sands, NM
Check if it's open before you go
White Sands National Park is adjacent to the White Sands Missile Range, and roads are sometimes closed to allow for missile testing, preventing access into the national park.
Road closures are posted on the national park's website, so make sure you check before planning your trip – you don't want to drive all the way for nothing!
Be prepared for the heat
Remember that White Sands is a desert, and it does get HOT. Try not to visit in summer if possible – daytime temperatures exceed 40°C (100°F) in summer, way too hot to hike!
The best time to visit White Sands National Park is between October and April, when daytime temperature vary between 15-25°C (60-80°F) and hover around o°C (20-40°F) at night.
And also for rain!
We heard that White Sands is sunny over 330 days of the year, so I guess we were quite lucky to experience an afternoon rainstorm!
Afternoon storms are more frequent in the summer months, but can occur year round – our visit was in late January. So please be vigilant of the danger of storms at any time, and don't stray too far from your vehicle if you see dark clouds on the horizon. Storms hit very quickly, with heavy rain and strong winds.
Don't forget sunglasses (and sunscreen!)
If you've been skiing, you'll be familiar with how bright it gets when the sun reflects onto the snow. The white dunes do exactly the same, so don't forget to wear your sunglasses and apply sunscreen, even if the sun doesn't feel that strong. You'll thank me later!
Bring enough water
I can't stress this highly enough. White Sands is a stark, unforgiving place. There is no shade at all, and even hiking short distances (like the mile-long Dune Life Nature Trail described above) will leave you really dehydrated.
Don't forget to bring enough water, especially if you're hiking, and to stop regularly to have a sip. For a mile-long hike, a liter of water per person should be enough, while for longer expeditions we recommend at least one gallon per person, per day.
Beware of getting lost
The five hiking trails around White Sands National Park have colour-coded trail markers, each of them with a symbol.
On the longer trails (Dune Life, Alkali and Backcountry Camping) it's easy to get lost, since there is no clear path to follow – you MUST follow the trail markers, as it's easy to get lost and lose your bearings in the hypnotic white dune environment.
Accidents have happened in the past – in 2015, a French couple died while hiking in the national park, succumbing to the heat after having become disoriented.
Spend at least two days
White Sands is quite small compared to parks like Death Valley or Grand Canyon, which take days to cover. However, don't let its small size fool you – there are so many things to do in White Sands, and the views change so much from morning to midday to evening, that we recommend spending at least two days.
I would spend one day driving the Dune Drive, checking out viewpoints and the exhibition at the visitor centre, and the second day hiking one or more of the trails. Also, don't forget sunrise and sunset – and if you can, spend one night camping in the park.
Choose where to stay
When visiting White Sands National Park, you basically have three options on where to stay – you can camp, stay in Las Cruces, or stay in Alamogordo.
I'm sure camping would be amazing, and it's definitely the best way to immerse yourself in the white dunes environment, appreciating how it changes throughout the day and at night. However, there are no facilities at all – you have to pack everything in and out, including water.
Alamogordo and Las Cruces are two dusty frontier towns, with very little to offer in terms of sights. Alamogordo is the smaller of the two, located about 16 miles (20 minutes) north of Las Cruces – it's the closest town to the national park, recommended for those coming from northern New Mexico (Albuquerque, Santa Fe and beyond).
Those coming from Texas or Arizona may find it easier to stay in Las Cruces, a larger town with more accommodation and dining options about 54 miles (1 hour) south of the park.