Guess what – there's so much more than Cinque Terre in the Italian Riviera! Check out Rapallo, a stunning seaside town with the same narrow streets, pastel coloured houses and hiking opportunities, but far fewer tourists.
Imagine a town between mountains and sea, with pale pink, green and canary yellow-coloured houses, built close to one another on the sloping hillside. Think about strolling down the caruggi, twisty backstreets so narrow that the sun only shines over them for a few hours a day.
Complete the picture with a crescent-shaped beach, a small harbour, and a castle, built in the 16th century to protect inhabitants from pirate attacks.
Chances are that most of you will think that I'm describing the Cinque Terre, famous worldwide for their gravity-defying architecture and Insta-perfect pastel houses – to the extent that they've become one of the worst places in Italy for overtourism.
Yet, there's no need to head to Cinque Terre to experience the landscapes, cliffside architecture and hiking opportunities that visitors are looking for.
Introducing Rapallo, Italy
I've already told you about Levanto, but the description at the start of this post actually refers to Rapallo, one of my favourite towns in Liguria (the region also known internationally as Italian Riviera). Rapallo is located only half an hour away from Genoa, in the heart of the Gulf of Tigullio, an area known for at least two centuries for its mild climate and stunning nature.
In late October 2018, Rapallo was all over the news after being hit by a storm, severely damaging the harbour and many of the yachts that were moored at the time. The fury of 10 meter-high waves destroyed the break wall, sinking several boats and throwing some onto the seaside promenade.
When these seemingly-apocalyptic images hit the media, Rapallo hoteliers experienced a swathe of cancellations for the upcoming holiday season. Establishments that are normally booked solid dwindled to less than 20% occupancy.
After a brief visit just before Christmas, I can tell you from experience that Rapallo is very much open for business. Work is ongoing to remove the wrecked boats, but there are no dangers or inconveniences for visitors.
Now more than ever, it is a wonderful time to visit Rapallo, to support locals as they repair damages inflicted on their beloved town. Tourists are few and far between, and there are wonderful deals to be had.
There are plenty things to do in Rapallo, and the town is perfectly located to explore what the rest of Tigullio has to offer – let's have a look!
Things to do in Rapallo
1) Explore the Historic Centre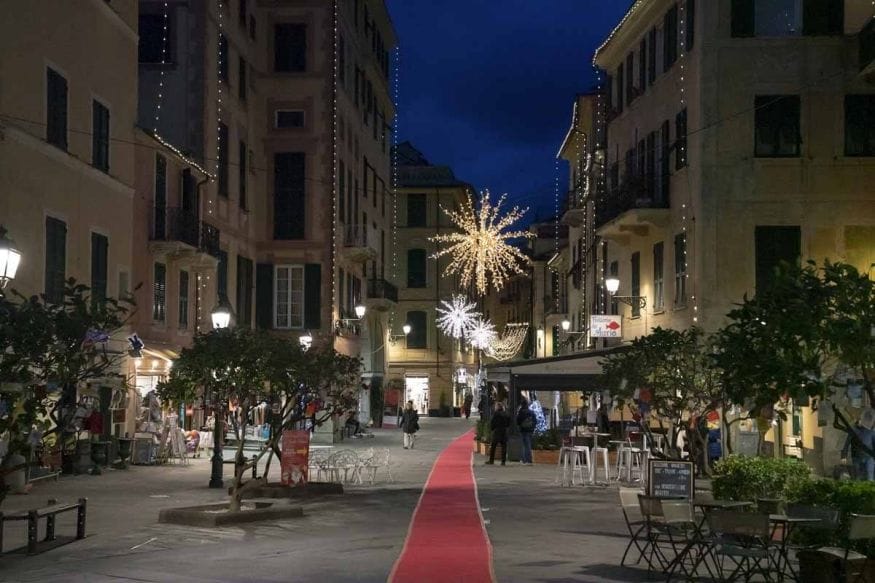 Our visit around Rapallo started with a walk around the historic centre, just after the sun went down and Christmas lights started twinkling, surrounded by locals doing their shopping and a couple of Santas handing out sweets to passer-bys.
Rapallo is a great place to visit to learn about Ligurian architecture. The narrow streets and crowded hillside houses had the double purpose of making the most of the available space, as well as fulfilling a defensive role.
In the 17th century, Rapallo appeared on documents as a 'walled town' – however, there has never been a full-blown city wall, leading historians to believe that the definition comes solely from the town's urban structure.
Another curious feature you'll see in Rapallo is the use of trompe l'oeil to decorate the façades of 18th century buildings, as the salt-laden breeze blowing from the sea would have damaged real stucco decorations in no time. There are also 'fake windows', painted to circumvent an 18th century building tax, which levied a charge depending on the number of windows.
Sights found in Rapallo's historic centre include the Porta delle Saline, the only surviving entrance portal to the town from outside, the neoclassical Basilica of Saints Gervasio and Protasio, and the Chiosco della Musica, a bandstand built by citizens of Rapallo who emigrated to South America in the early 20th century.
2) The Castle of Rapallo
Walking east following the seaside promenade, leaving the historic centre behind, you'll soon reach the best known landmark in Rapallo – the Castle, built on a rocky promontory right opposite the town.
The Castle was built after the 1549 attack by Turkish pirate Dragut, who looted the city and killed many residents. It was completed in just one year, and over time it housed a prison, the headquarters of financial police, and it is now an exhibition centre.
If you can, visit during Rapallo's main festival on July 3rd, when the castle is symbolically 'set on fire' using fireworks.
3) Beaches in Rapallo
Beaches are not Rapallo's main thing to do – lack of space means that the narrow strip of sand just below the seaside promenade in the centre of town is often full of umbrellas and sun loungers.
To make matters worse for beach goers, only a small percentage of beach in Rapallo (currently under 20%) can be accessed for free – to access the rest, you'll have to pay a daily fee that includes umbrella, beach chairs and a small cabin where you can get changed and store your gear.
If you want to spend a day on the beach in comfort, we recommend paying one of the bagni for the day. Otherwise, make your way to San Michele di Pagana, a hamlet located between Rapallo and nearby Santa Margherita, where free beaches are more spacious and convenient.
Things to do around Rapallo
4) Visit the Sanctuary of Montallegro
One of the most things to do near Rapallo is visiting the stunning Sanctuary of Montallegro, famous with locals but with few tourists in sight.
The sanctuary can be found on the hills just behind the city, at an altitude of 600 meters above sea level – it can be reached on foot on an hour-long path, or by cable car, with spectacular views over the town, the coast and the Promontory of Portofino along the way.
In the 16th century, the Virgin Mary appeared to a local farmer, asking for a sanctuary to be built in that exact location. After the apparition, water sprung from the soil and a Byzantine icon showing the Virgin was found on the spot. The citizens of Rapallo followed the Virgin's request, and built a church that still stands to this day.
Over the centuries, numerous locals and pilgrims have visited the sanctuary, giving thanks to the Virgin after surviving illnesses and accidents. The walls of the church are covered in ex voto from floor to ceiling – silver hearts and paintings depicting the accidents suffered by devotees.
The Byzantine icon is on display over the main altar. It has been stolen several times, but it seems to always find its way back to Montallegro by various means.
5) Explore Rapallo's Lacemaking Tradition
The highlight of our visit to Montallegro was meeting Michela, a former mathematician who fell in love with the history and craft of bobbin lacemaking, and became an excellent lacemaker and teacher.
The popularity of bobbin lacemaking in the Rapallo area dates back to the 16th century. Local women were proficient with thread and needle, but up until that point they used their skill just to mend the nets of their fishermen husbands, or to decorate bedsheets and tablecloths for their personal use.
Their skill became noticed, and soon commissions started pouring in, from noble Genoese families and beyond, contributing to the rise of 'pizzo Rapallo' (Rapallo lace).
Yet, most women donated their very best work to the Church, as a sign of devotion. In Montallegro there are dozens of religious habits and altar tablecloths decorated with bobbin lace, some of which are hundreds of years old – and priceless.
Bobbin lacemaking is very time consuming. It makes use of hundreds of threads, each of them bound to a wooden bobbin, which are all twisted and braided to one another following a pattern. Even the most proficient lacemakers can only produce a few centimetres each day, meaning that it takes several years to complete a large piece of lace for a tablecloth or tunic.
6) Learn About Silk Weaving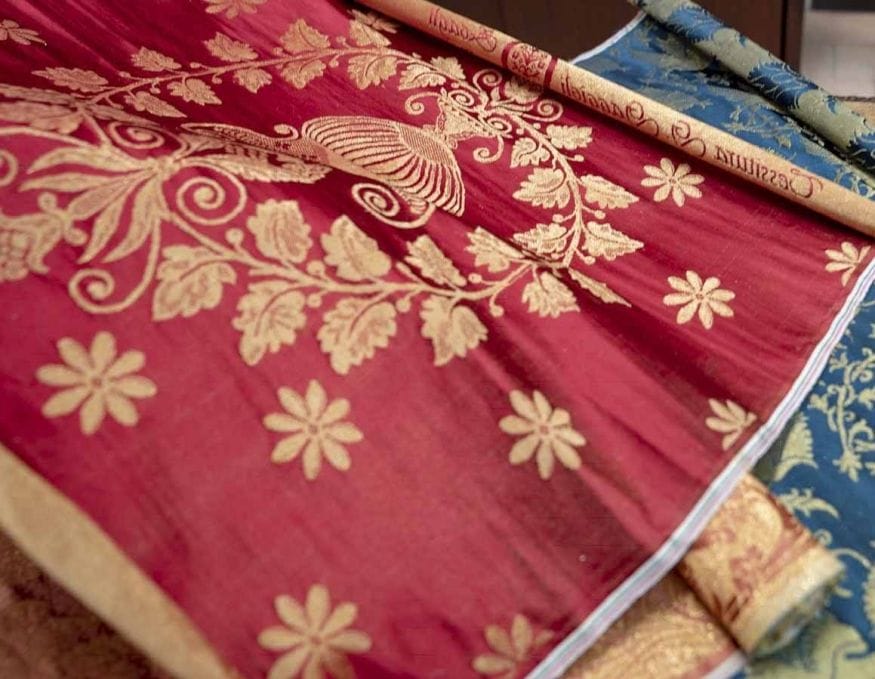 The village of Zoagli right next to Rapallo is home to Seterie Gaggioli, a working silk weaving and velvet-making workshop where hundred year old looms and machines are still used to produce exquisite fabrics.
Gaggioli is still very much a family based business, with mother and son working side by side in the workshop. Similarly to bobbin lacemaking, silk weaving is very time consuming and as a result, the fabric becomes very expensive.
Most of Gaggioli's silks and damasks are used to furnish castles and villas around the world, but some are kept to make exquisite purses and bags – a great way to take a piece of Rapallo tradition home with you, at affordable prices.
7) Visit Nearby Towns
Rapallo is perfectly located to visit other seaside towns, around the Gulf of Tigullio and beyond. Frequent trains run east and west, making it possible to go sightseeing without the need to use your car.
Santa Margherita Ligure is probably the easiest place to visit, being just three kilometres away. It's a great destination for shopping or aperitivo, with stylish seafront bars, and it also has a nice beach. Further west, the Promontory of Portofino is home to spectacular nature and some secluded beaches – I love Paraggi, with some of the cleanest waters in Liguria.
Further on, you can visit Portofino itself, a cute chocolate box of a town – just beware that it's also one of the most expensive places in Liguria! Nearby Camogli is just as picturesque, but far cheaper, and you can't miss Recco, to savour delicious cheese-filled focaccia.
8) Hike to Portofino from Rapallo
The Promontory of Portofino is a great hiking destination. By far, the most popular day hike is the recently-inaugurated 'Passeggiata dei Baci' (Trail of Kisses), 8.5 km from Rapallo to Portofino, passing stunning villas and rocky coves opening onto the turquoise sea, with Mediterranean vegetation all around you.
However, the trail has been damaged after the storm, and sections of it are currently closed. Please ask locally if you're interested in this hike, as maintenance work is ongoing. Otherwise, there are many other great hikes near Rapallo – from Camogli to the secluded beach of Punta Chiappa, and from Portofino to the Abbey of San Fruttuoso.
9) Visit Cinque Terre from Rapallo
If you want, you can also make it as far as Cinque Terre from Rapallo – it's a 45 minute train ride to Monterosso, the westernmost of the five villages, and about one hour to Riomaggiore, the furthest one.
Follow our advice and visit Cinque Terre by train, avoiding peak tourist season (June/Sept) to avoid contributing to over tourism. In winter, they're absolutely stunning – but once again, so is Rapallo and surrounds!
10) Relax at Venere Medi SPA in Chiavari
Chiavari is a town about the same size of Rapallo, about 15 km to the east. It's worth a visit for its nice historic centre, but the real draw (for me, at least) is Venere Medi SPA, a medical beauty centre and spa, where we spent an entire morning of pure bliss.
Venere is not your average spa offering just massages, facials and mani/pedi – although they do offer that, too. They also have a range of state of the art machinery and a surgeon on site, able to administer treatments like cryolipolisis (also known as coolsculpting) and radiofrequency facials.
We had a facial, a massage, a pressotherapy treatment and even tried the SAT, a kind of stationary bike surrounded by infrared lights that supposedly helps with weight loss.
Did it work? We went for a pizza and beer just after so I can't really tell, but we loved our relaxing morning at Venere!
Where to Stay in Rapallo, Italy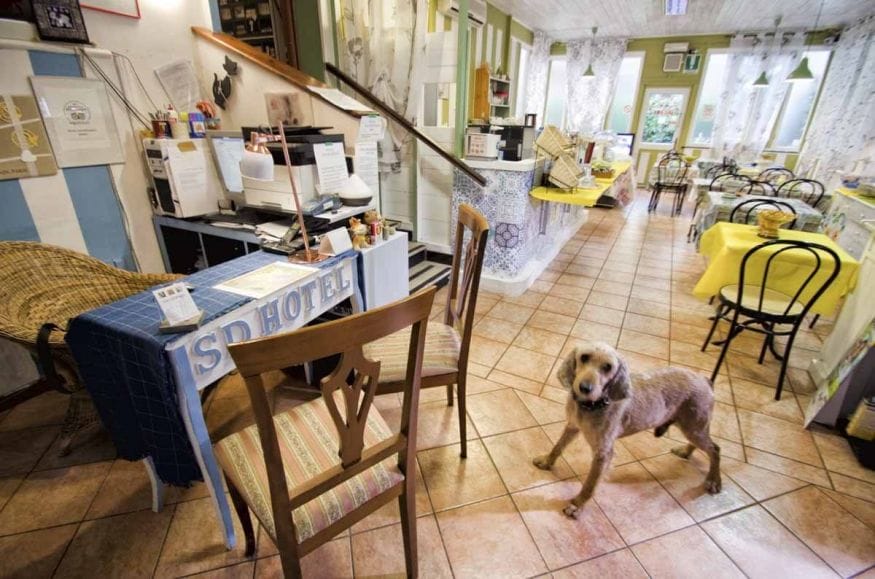 Our 'home' in Rapallo was Hotel San Desiderio, a boutique two-star property run by Filippo and Marco, with their friendly dog Idefix always ready to help.
Filippo and Marco have decades of experience working at five-star properties in Portofino and Milan, and have brought their skill and passion to Hotel San Desiderio, turning a nondescript hotel into a true gem.
There are eleven rooms, all individually decorated, and the excellent breakfast includes cakes, granola, fresh orange juice and even fresh pastries and focaccia – don't forget to try focaccia dipped in cappuccino, a true Ligurian delicacy!
They also have a quad rooms that doubles up as dorm – since there are no hostels in Rapallo or surrounds, this is a great way for backpackers to get affordable accommodation. The hotel also works in partnership with Venere Medi Spa offering 'wellness weeks', including accommodation and a full range of beauty treatments.
Where to Eat in Rapallo, Italy
Rapallo is a great place to try Ligurian cuisine, making use of lots of vegetables, fresh herbs and fish. The seaside promenade is full of bars and restaurants serving all sorts of meals and aperitivo, some with outdoor seating. Here are some of the places we tried during our three-day stay in Rapallo!
Ristorante Elite – a restaurant serving a wide range of seasonal dishes, both vegetarian and fish-based. I followed Filippo's advice and tried the seafood ravioli, which were absolutely fab!
Pizzeria Nettuno – creative pizzeria right in front of the sea, offering regular pizza as well as 'pinsa', smaller but fluffier, dating back to the times of Ancient Rome.
Panificio Tossini – the best place in Rapallo for traditional Ligurian focaccia. Try it plain, with onions and with cheese!
Gallo Nero – a small pub in the caruggi serving craft beer, focaccia sandwiches and panini. It's also a great aperitivo spot!
Bar Le Saline – another solid aperitivo option, serving a range of free snacks to make that spritz go down better!
How to Get to Rapallo, Italy
By Car – if you're roadtripping around Italy, you can easily include Rapallo in your itinerary. The town is close to the A12 motorway, about half an hour away from Genoa, two hours from Milan and two and a half from Florence.
Parking is scarce in Rapallo and nearby towns – if you're staying at Hotel San Desiderio, we recommend leaving the car in their garage and using the train to get to nearby towns.
By Train – it's super easy to reach Rapallo by train. The town is on the Genova-Pisa railway line with many regional and intercity trains stopping each day, some continuing as far as Milan.
Trains are a great and inexpensive way to travel around Italy – check our Italian Trains Guide to know more!
I would like to thank Filippo, Marco, Giulia, and Idefix for the kind welcome at Hotel San Desiderio!