Plitvice Lakes is Croatia's mountain paradise, postcard-pretty national park and one of Europe's most visited places. We very nearly didn't go there but then… we did. Here's how to get from Zadar to Plitvice Lakes – by bus, car, or booking a tour!
I remembered the first time I heard about Plitvice. I was a teenager. A friend of ours who owns a VW Kombi had spent the summer driving around the Balkans with his family, and mentioned Plitvice Lakes as his personal highlight.
When I saw the pics, I couldn't believe my eyes. One deep-blue lake after the other, surrounded by waterfalls, mountains and trees. The wooden walkways between one lake and another were completely empty – if there ever was a place that looked like heaven, that was it.
This was probably close to 20 years ago. The Balkans War was a recent memory, and tourist visits to Croatia had slumped. I visited the country for the first time in 1999, and since then, numbers have been increasing year after year.
Plitvice Lakes National Park is one of the most popular sights in the country, and it is visited by up to 1.2 million people every year. Several friends have been the park in more recent times – no one said they didn't like it, but every single person I asked (especially those who visited in summer) said Plitvice was incredibly crowded, with busloads of tourists arriving one after the other, spoiling the natural beauty of the place.
When we planned the Croatia section of our Eurail/Interrail trip, we thought of basing ourselves in Zadar and taking day trips from there. We considered visiting Plitvice Lakes from Zadar, but the idea of squeezing our way past mobs of tourists taking selfies in front of the lakes or waterfalls didn't really appeal to us.
Yet, we wanted to see the place. The idea of being so close to such an amazing, spellbinding place and not going to see it, was – you know – a shame.
Zadar to Plitvice Lakes by Car
By far and away, Plitvice is best visited with a car. The drive is supposed to take under two hours, but you might find yourself stuck in traffic – especially if you're visiting in summer! To avoid the crowds, it's recommended to get to the park entrance at 7am, when the gates open – which means leaving Zadar around 5 am!
If you don't have your own car, you'll find plenty of rental car agencies around Zadar, especially near the harbour and airport. Once you have your own vehicle, you would just simply head north along the E71, and then turn into the D1 to Plitvice Lakes National Park. The route is simple, and well signposted throughout.
There are two entrances to Plitvice Lakes National Park, so make sure you plan your route to head back to the same entrance where you've left your car!
Zadar to Plitvice Lakes by Bus
If you prefer to travel by bus from Zadar to Plitvice Lakes, there is a bus at 8.30 am from Zadar, getting to the park around 10.15 am, and another at 9 am reaching the park around 11. Bus tickets are between 90 and 100 kuna each way.
To return to Zadar, there are buses at 15.15, 17 and 17.23 pm, all taking approximately 2 hours to reach Zadar. Travelling from Zadar to Plitvice by bus is definitely a budget-friendly solution – the bus stops close to entrance 1, however please note that in summer there are long queues for the ticket office!
So, what happens if you don't drive (like us), and don't feel like taking the bus, but still want to see Plitvice Lakes from Zadar? Look for a good tour. Not all tours take 50+ people at a time, making you feel like you're on a high street.
There are some excellent small group tours, leading visitors on in-depth tours of the park, taking in all the best that Plitvice Lakes has to offer.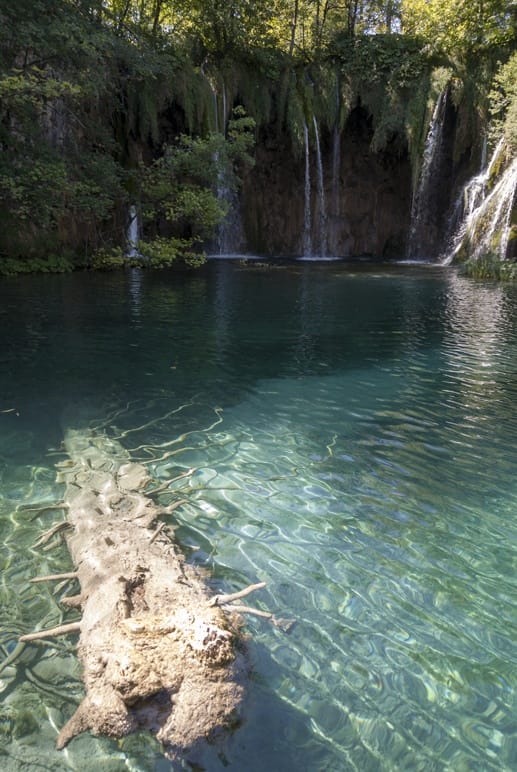 Tour from Zadar to Plitvice Lakes – Our Experience
Wanting to minimise the risk of crowds, we booked our trip for Monday August 31st – a great idea, as it turned out, because tourist numbers decrease dramatically after the last August weekend. We booked a full-day Plitvice Lakes tour from Zadar, which is by far the easiest way to reach the national park.
Our group was made up of only 12 people. Having left Zadar at 8 am, we were among the first to arrive at the park entrance, and within 15 minutes or so we had our tickets and were ready to explore the park.
Another advantage of going with a tour is that it allowed us to start our exploration from one entrance, and be collected at another, meaning no backtracking. We started at Entrance 2 and walked to Kozjak Lake, the largest of all the Plitvice Lakes, from where we hopped on an electrical boat that took us across the lake, at the start of our hike.
Plitvice Lakes National Park is made up of 16 lakes, linked by waterfalls. The park is divided in two sections – the 'upper' and 'lower' lakes. The water is very high in minerals, making the lakes change colour – from emerald green to aquamarine, from cobalt blue to azure, depending on the light and on mineral content.
Waterfalls surrounding the lakes and shining sun, turning spray into golden mist and painting the surface of the lakes golden completed the magical scene.
We followed hiking trail H, circling the 'upper' lakes from across Kozjak Lake, then resuming the tour of the 'lower' lakes after crossing the lake once again on a boat. The bus would pick us up at Entrance number 1 after approximately 5 hours.
The 'upper' section of the park was perhaps the most spectacular. We passed one lake after the other, walking on rickety wooden platforms. The sound of water rushing from the top of the rocks was soothing, and the scenery was so peaceful and tranquil that not even the dozens of other tourists sharing (and sometimes blocking) the path could spoil the atmosphere.
It was blue and green, green and blue everywhere. Swimming is forbidden, so the water is pristine and crystal clear. Schools of fish zip across the lakes, chased by placid-looking waterfowl. We walked up to Galovac and Veliko lake, both half green and half a blue that was so deep it almost hurt my eyes.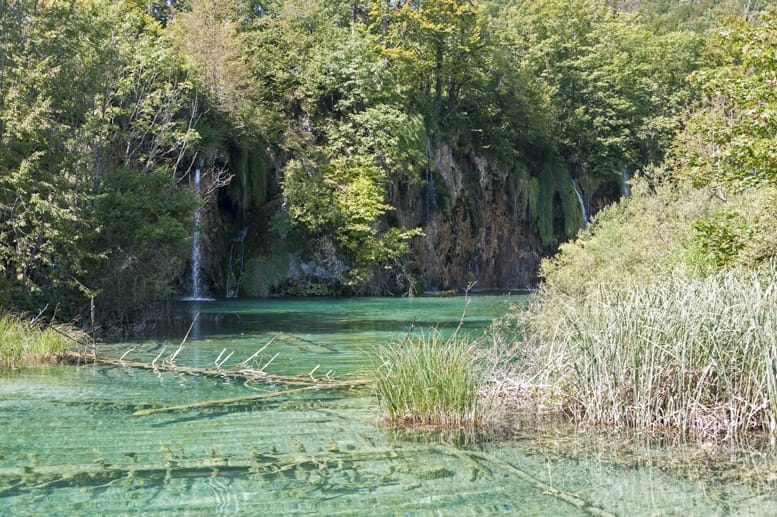 Ribbons of water fell from the rocks above – it had been a hot summer, and the waterfalls weren't at full capacity. Yet, the rivulets fell at full speed, shimmering silver, like a beautiful tiara.
The 'lower' lakes were perhaps less amazing in terms of waterfalls, but there were far fewer people. We walked past the cliffs of Gavanovac lake and its aquamarine waters, where we spotted a water snake slithering in the depths.
Between one lake and another we walked along rushing streams and spotted frogs hopping on the rocks. The last sight of the tour was Veliki Slap waterfall, the highest in Croatia with its 78 meter drop.
On the way back up to the bus, we learnt that not all of Plitvice can be visited by tourists. The park measures 300 square km in total, but only about 10% of that is open to visits. Beyond that lies a deep forest, where bears, lynxes and wild cats live, more rivers and waterfalls, all surrounded by mountains offering stunning views.
So stunning, in fact, that Tito himself had a villa built in a secluded section of the park. The villa is now in ruins, with trees and bushes creeping back onto roof beams and stone walls.
Zadar to Plitvice Lakes Tour – Advantages and Disadvantages
All in all, we were very satisfied with our full-day tour of Plitvice Lakes. The organization and logistics were spotless, the guide was excellent and everything went smoothly.
Having someone take care of transport and lead us around the park was also a good help – Plitvice Lakes National Park is BIG, the trails are not always well signposted and I'm pretty sure that if we had visited the park on a day trip from Zadar by public bus we would've ended up just rushing around.
However, you can't just take your own sweet time on a tour. Part of the guide's duty is making sure that the group moves along smoothly, especially in the upper lakes section where walkways are very narrow and the path gets crowded very quickly.
Also, if you want to photograph the waterfalls early in the morning or at sunset, perhaps a tour is not a good option for you, as you'd be in the park from 10.30 to 3.30 pm, when the light is not exactly at its best.
In that case, it's much better to book a private tour of Plitvice Lakes, allowing you to spend the whole day touring around without rushing.
In terms of crowds, they're to be expected if you're visiting in high season. During the June/Sept holiday period, you won't be alone for sure – most of the trails follow tiny walkways, which get crowded in no time.
But I must say, the day we visited wasn't too bad. We didn't have to stand in line and wait for the boat across Kozjak Lake for ages. That's probably because we visited on a Monday right at the end of August? I don't know. The place was amazing nonetheless.
Final verdict? Definitely visit Plitvice. Plan a trip in low season if you can, but even if you're there in summer, don't miss it. There's a reason why many people go, because it's stunning. And if you're looking of a hassle-free way to get from Zadar to Plitvice Lakes National Park, definitely book a tour.
You'll have a wonderful time, I'm sure!
Other Plitvice Lakes Tours
Where to stay in Plitvice
If you really want to have time to explore Plitvice and surrounds, why not plan to spend a night there? This will allow you to wake up early, beat the crowds and enjoy the best light!
Here are some of the best places to stay near Plitvice Lakes!
Pin it for later?