On our last article about the Hungarian capital, we told you about the history and food culture of Jewish Budapest. Today we'll explore the Jewish district at night, led by awesome Attila from Budapestflow!
During our Eurail/Interrail trip around Europe, we spent some time in Budapest, in late August. It was our third visit to the city, the second in less than a year. For this reason, we didn't really worry about checking out the Buda Castle, Margaret Island, Memento Park and the other usual touristy sights.
Instead, we spent pretty much all of our time around the 7th district, also known as the Jewish district, one of the most culturally vibrant parts of town.
Introducing Budapest 7th district
Budapest 7th district lies north of Deak Ferenc ter, and west of Blaha Luiza ter. It's the cradle of Jewish history and culture in Budapest – in the area, you'll find the Dohany Street synagogue, the Orthodox synagogue and loads of other sights connected with Judaism. Check out our article about Jewish Budapest if you want to know more – here, we'd like to tell you about the recent past and present of this neighbourhood.
During WW2, the area was the location of Budapest's ghetto – you can still see traces of the ghetto wall at the back of a courtyard on Kiraly utca n.15. When the war ended, most of the district's former inhabitants had either been murdered on the banks of the Danube, sent to concentration camps or had left the country. The place was in a sorry state, with dilapidated houses, ruined buildings and a general seedy feel, which characterised the area until the beginning of the 21st century.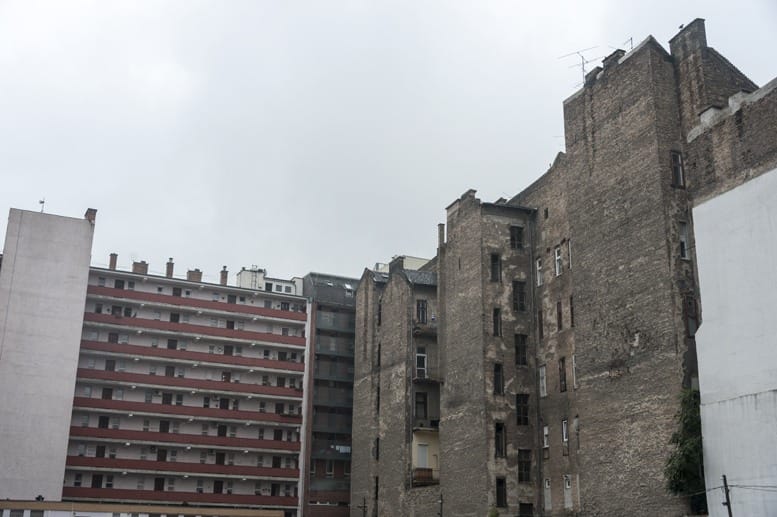 Then, Szimpla Kert opened in 2001, launching the 'ruin pubs' craze, and turning the former derelict district into the nightlife hotspot of the city. The idea of ruin pubs was simple – take a ruined building and open a bar in it. The whole area was made up of 19th century buildings, arranged around courtyards – perfect for people to gather.
The creators of Szimpla Kert found an abandoned building around a courtyard in Kazinczy utca, in the heart of the Jewish district, right next door to the still-functioning mikveh, the Jewish ritual bath. They created a bar on the ground floor and filled the 'garden' (kert means garden in Hungarian) with flea market furniture, Iron Curtain memorabilia (including a Trabant) and an array of weird knick-knacks, from creepy-looking clowns to birdcages.
Szimpla became an overnight success – and one after the other, year after year, the neglected courtyards were cleaned up, and dozens of ruin pubs opened all over the neighbourhood – in Kazinczy utca alone there are six or seven.
Ruin pubs put the 7th district back onto the radar of tourists and locals – and little by little, houses started to be restored, the streets cleaned up, and design shops and espresso bars opened on every other corner. Is this the usual tale of gentrification? Maybe. But even locals say that the 7th district is in a much better state now than twenty years ago – except late at night.
Fast-forward to 2015. Ruin pubs have definitely become mainstream. A 'ruin pub crawl' is 'the thing' to do around Budapest, and every single hostel proudly advertises one, complete with free shots of palinka to get the spirits going and welcome drinks at each ruin pub. At midnight, you won't find a single Hungarian around – instead, you'll find scores of drunk under-25 Euro backpackers pissing and vomiting.
So, am I saying that you should avoid ruin pubs all together? Far from it. Just avoid going at night – and if you can, get in touch with a local guide, someone that has seen the neighbourhood change with their own eyes, and can introduce you to the culture of the 7th district, how it was changed by the opening of ruin pubs – and yes, maybe he can also take you to a couple of pubs.
I have the guy for you – Attila, from Budapest Flow.
Attila is the creator of Ruinpubs.com, a great website about ruin pubs in the city – this site was our guide back in September, when we organised a weekend in the city with the aim of exploring the ruin pub scene.
If there's a person that knows all there is to know not only about ruin pubs, but also about the city in general, it's Attila. He's the prototype of the flaneur, a self-confessed wanderer – in his own words 'maybe you'll make fun of me, but wandering around cities is my favourite thing to do – especially at night'.
Budapest Flow is the natural progression of Attila's passion for wandering. 'Flow' means getting lost in the details of the city – be it a stunning art nouveau façade, a street art piece or a hidden garden. It means grasping the soul of the district, reading its past and present on the walls, and listening to the thousands of stories that make this district unique in the Budapest panorama.
Attila's tours are a dérive in the literary sense of the word. We met, and started wandering together. He stopped wherever it took his fancy, not necessarily following a chronological order or a set schedule – rather, he seemed to have an uncanny sixth sense, and knew exactly the places we would've liked best.
He led us to Café Analog, a store dedicated to lomography and the magical world of analogue photography, where we had a nice chat with the owner, while rain fell mercilessly outside drowning our chances of checking out Attila's favourite ruin pubs – most of them well away from the 7th district.
My own favourite was Massolit, a bookshop I immediately fell in love with because of the name – the same as the Moscow literary club featured in Bulgakov's Master and Margarita, my favourite book of all times. Massolit was the kind of bookshop where you can spend the whole day, browsing from the dusty shelves and sitting in the quaint back garden for a spot of relaxation.
We also visited some design shops; 'hipster paradise', as Attila called them. One of them, called Drum Drum, was selling art made by several local artists – even paintings by famous artist Zsolt Gyarmati, famous for his digital-looking monsters and monkeys.
I called Budapest Flow the anti-ruin pub crawl, because Attila's tours do include ruin pubs, but the aim is not on getting drunk, rather it's appreciating the vibe of these places before they get filled with drunken backpackers. This is why Attila runs tours starting at 4 or 5 pm during the week (usually lasting about 3 hours) or on Sunday morning, when there's a farmers market at Szimpla and the atmosphere around the 7th district is local and relaxing.
We stopped for a drink at Szimpla, and Attila showed us some details we had never noticed – like the open-air cinema at the back of the garden, some vintage toys and black and white TVs. In a way, I believe ruin pubs were one of the earliest forerunners of sharing economy – what started as the requalification of a single courtyard for people to enjoy almost single-handedly led the way for the spontaneous requalification of the neighbourhood.
And despite the 'mainstream' direction that Szimpla has taken nowadays – with branded merchandise for sale at the door and tourists outnumbering locals – the vibe (before the crowds come) is still alternative, with the Sunday farmers market and frequent cultural initiatives, like a photo exhibition organised by Attila himself a few years ago, about the history of the ruin pub scene.
It was fascinating to follow Attila as he got lost into the 'flow' of Budapest – he walked with a brisk pace, with his hands in his pockets, seemingly lost in the night – but in fact, the city itself was leading him, uncovering one secret after another. He showed us a piece of street art on the side of a building, commemorating Hungary's 6-3 victory against England; as Attila said, 'this is our World Cup!'
By then, night had fallen and we were well away from Kazinczy utca and the pub crawls. Attila showed us one cool place after another – a modern Israeli restaurant in a renewed courtyard, then the endearingly-named Liebling, another ruin pub type place with a stunning rooftop.
Then, Attila led us to the Corvin department store on Blaha Luiza ter – I thought he was going to take us to Corvin teto, the rooftop ruin bar that we had already visited last September. But he stopped on the third floor, and led us into Muszi, short for Művelődési Szint ('the cultural floor') in Hungarian.
It looked like a gigantic living room, with sofas, table tennis and table footballs. The furniture was wonderfully mismatched. Attila explained that Muszi is exactly what it looks like; everybody's living room, a place where anyone can do whatever they like – be it work, read, relax, have a cup of tea and/or meet friends. The sharing concept is emphasised by the fact that Muszi is also a co-working space, office for local NGOs, and often holds workshops on sustainability.
And there, I appreciated the concept of 'flow'. Budapest – and the 7th district, specifically – is changing. In less than a century, the 7th district has been the centre of Jewish life, the ghetto, a dilapidated district, and hipster and nightlife central – still with a strong Jewish presence. Szimpla is a dynamic entity – one day abode of drunk backpakers, then cultural centre, then Sunday market venue. Other ruin pubs open up, close down, some become mainstream, and are in turn replaced by new underground places like Muszi.
I'm sure than next time I'll visit the Hungarian capital, the city will have morphed once more. And Attila will lead us again, uncovering Budapest's night and its secrets.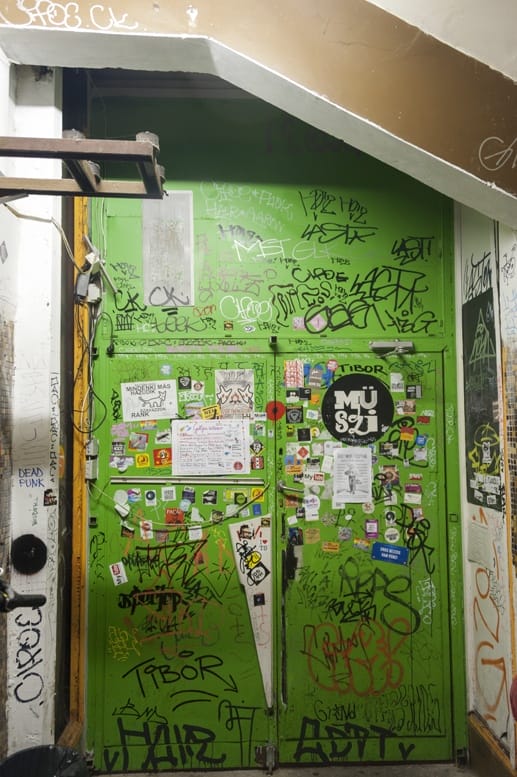 Where to stay in Budapest 7th district
We loved the 7th district so much, we really wanted to be based there during our time in Budapest. We loved staying at Maverick City Lodge, a luxury hostel right next door to Szimpla Kert. If you have been following us, you'll know we love luxury hostels – or read our Prague post to find out why!
Maverick Lodge was the kind of place we love staying at these days. The room was super comfortable, complete with aircon & fluffy blankets – and trust me, we used both because the weather took a turn for the worse during our time in Budapest. The wifi at Maverick was perhaps the best of our whole Europe trip.
Common spaces were also excellent – there's huge kitchen with free tea and coffee, a great option for people that don't really like waking up for breakfast, and a comfortable lounge space next to reception, with free water and apples. Maverick also organises free events, including walking tours and wine tasting nights. Construction of a new restaurant is also underway – and for the time being, you've got the whole 7th district on your doorstep!
Pin it for later?