Are you planning to visit Los Angeles for the first time? Then, make sure you save this Venice Beach itinerary from Dayna from Happily Ever Travels, with all the must-see sights, practical tips and even her secret local lunch spot!
Venice Beach is an absolute must-visit when coming to Southern California. Although there is a ton to see and your senses will definitely be overwhelmed while walking down the Boardwalk, you can definitely visit everything in one day.
This 1 Day Venice Beach Itinerary will make sure you don't miss anything!
According to the LA Parks Service, Venice Beach is the second most visited destination in all of Southern California. It gets about 10 million visitors per year, or about 30,000 per day.
It's also the busiest area run by the Parks and Recreation department of California. It also happens to be the home of famous YouTuber Cody Ko and actress Julia Roberts!
Are you in LA only for a short time? Check out our 1 Day in Los Angeles post!
Where to Stay in Venice Beach
Venice Beach is probably the best budget option in all of LA, although it is still quite expensive compared to travel outside of the USA.
If you are looking for a great budget accommodation that is also in the perfect location, stay at AIR Venice. It's literally right on the Venice Boardwalk and some of the more expensive rooms have views of the ocean.
For a more luxurious option, upgrade to a room with an ocean view at AIR Venice, or head to Venice Breeze Suites. It's another beachfront property that includes a full kitchen as well as a rooftop deck with a barbecue.
How to Get Around Venice Beach
Unfortunately for us budget travellers, the USA is incredibly lacking in good public transportation and the Los Angeles Area is no different. (This is a huge reason why you should consider moving abroad at least once!)
Luckily, Venice Beach is actually very walkable and you don't need a car at all to get around. However, getting to Venice Beach itself is still quite difficult without a car. If you are coming from LAX, there is no direct bus to Venice Beach.
The cheapest way to get there is most likely Uber, followed by renting a car.
The best way to do this would be to try to rent a car for one day from a company that allows you to drop the car off in Venice Beach. That way, you will only have to rent the car for one day since you don't need one to see Venice Beach.
Also, keep in mind that if you choose to keep your car even while in Venice Beach, you'll most likely need to pay for parking on top of your hotel stay. It usually is not included and may even be a few blocks away from your accommodation.
Planning to get out of the city? Here are the best road trips from Los Angeles!
Venice Beach Itinerary
1) The Boardwalk
Almost all of the attractions or things to do in Venice are conveniently located along the Venice Boardwalk.
From the second you step onto the Boardwalk, life is abundant absolutely everywhere. It's an incredibly lively scene and you'll immediately be sucked into the action – that's why we recommend it as the best place to start your Venice Beach itinerary!
You'll see people singing or rapping, old men talking about the end of the world, artists showcasing their work, and of course, the typical characters dressing up for money.
The whole Boardwalk is an experience in itself and showcases the incredible people who live in this area. You definitely won't be bored while walking over 2 miles of pathway.
Plus, there are tons of street vendors and tattoo shops that line the Boardwalk. There are tons of LA and Venice Beach souvenirs and some of the best street food in the area.
2) Venice Beach
Of course, you have to spend some time chilling out on Venice Beach itself! The beach is especially beautiful to walk down during sunset and you can even spot Santa Monica off in the distance.
During the day, you can watch surfers and get a tan while laying out on the beach.
3) Venice Pride Flag Lifeguard Tower
One of the most Instagrammable spots in Venice is the Pride Flag Lifeguard Tower, which you've surely seen before. It's a beautiful symbol of Venice and how welcoming and open this town is to everyone.
The rainbow lifeguard tower is quite easy to spot, so you won't need to worry about missing it!
4) Public Art & Graffiti Walls in Venice Beach
There is a huge art scene in Venice, and as you walk through the area, you should definitely keep an eye out for big murals and beautiful graffiti art.
There are multiple famous murals and street art in the area, like the crazy Ballerina Clown and the wall of "Luminaries of Pantheism."
But even more fun is spotting the murals and street art yourself! Wander the area around the Boardwalk and see what you can find.
Once you find something, you can check your location on your phone and see if it is marked. Sometimes it will tell you what piece you're looking at.
5) Venice Skate Park
Next stop on your Venice Beach itinerary is the Venice Skate Park, located just off the Boardwalk, and usually surrounded by spectators watching the skateboarders and scooter-riders do some tricks.
Like everywhere in Venice, the lively community makes you feel like you are a part of the action. Plus, this is a great place to people-watch! You might spot skaters getting filmed or even wearing crazy outfits to stand out from the crowd.
6) Venice Sign
The iconic Venice Sign is a great place to visit during the day or at night.
During the day, you can capture the bright colours and the Boardwalk behind the sign, and at night the sign and the area behind it lights up.
Just be careful when crossing the street and taking pictures at the same time!
7) Muscle Beach Venice
Although this isn't the original Muscle Beach (which was in Santa Monica), Muscle Beach Venice where all the action is today.
Muscle Beach Venice has a gated area with weightlifting equipment as well as a sandbox area with gymnastic bars.
It's known for famous names like Arnold Schwarzenegger and Chet Yorton, who used to be regulars.
8) Venice Canals
In an effort by the founder of Venice Beach, Abbot Kinney, to make this city into the 'Venice of America', he built canals that went through multiple neighbourhoods in the area.
Unfortunately, most have been filled in, but there are some that remain for you to visit.
Since the canals aren't directly on the Boardwalk, many visitors either don't know about them or skip them altogether. But they are quite beautiful and definitely worth a visit!
9) Tacos Por Favor & Blue Star Donuts
If you're looking for an affordable lunch that has amazing food, try Tacos Por Favor. Although they of course have tacos, you should definitely opt for the carne asada burrito which is one of the best items on their menu.
For a sweet snack, head over to Blue Star Donuts which has a ton of crazy flavours and types of donuts that you'll love.
Both of these are a bit of a walk from the Boardwalk, but there are tons of options right along the Boardwalk as well if you'd rather eat there! Grab a slice of pizza or a hot dog from street vendors.
10) Rent a Bike or Scooter & Head to Santa Monica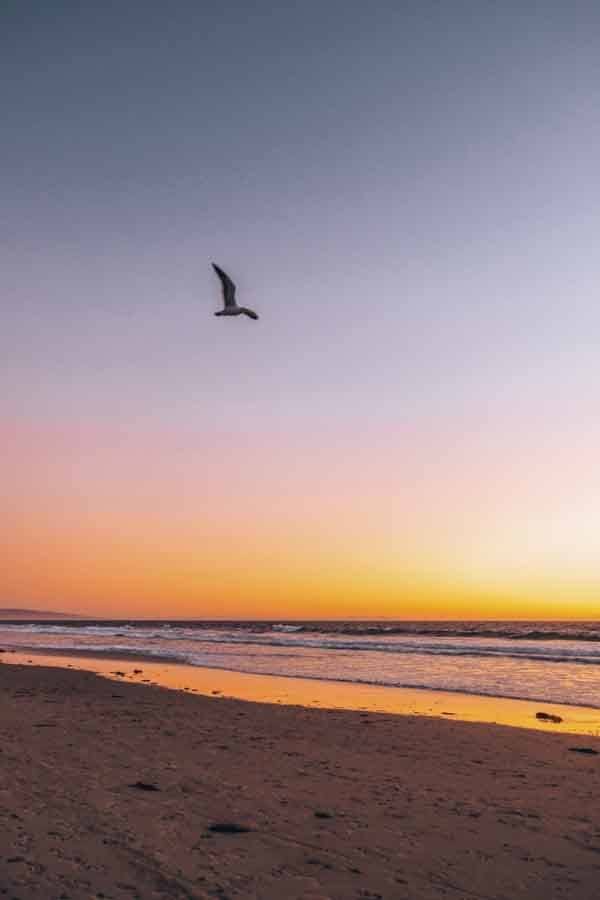 Once you've gone down the Boardwalk walking, which you definitely need to do at least once to get a real feel of the area, you could try renting a bike or scooter.
The Venice Boardwalk actually connects to the Santa Monica Boardwalk, so you can get two trips in one!
It's only a 1.7 mile bike or scooter ride to the Santa Monica Pier from Venice Beach, which would take around 15 minutes depending on how fast you're going.
Obviously since the Boardwalk is such a crazy place, you will probably be going a bit slower as you dodge people and other bikers along the way.
In Santa Monica, you can spot the famous pier which has an amusement park on it. If you're a Hannah Montana fan, you'll recognize this pier from the Hannah Montana movie where they had Lily's birthday party.
You can also stop by the location where the original Muscle Beach was located.
Whether you visit just Venice Beach or wander over to the slightly fancier Santa Monica as well, this area is definitely the best place to be in LA.
Enjoy your trip with this Venice Beach itinerary!