Have you ever considered running a marathon? If the answer is no, you should – and why not run Lake Garda 42, possibly the most scenic marathon in the world? Here are 8 reasons for you to do it!
Photo Copyright Lake Garda 42 – Nunatak Film
If you know us personally, you'll also know that we are both keen runners. Our passion for running is something we've developed alongside travelling for a few years, going for runs in amazing places like the Grand Canyon, Venice Beach and Matera.
It all started a few years ago in South Africa, when I (Margherita) decided to follow our friend Nicholas and joined a swim-run competition on a whim – the Walker Bay Xtreme, including a 1.3 km swim, a 2.5 km run, and two thrilling jumps from the Hermanus cliffs into the icy Atlantic Ocean.
Since that day, I fell in love with running more and more, and in November 2019 I ran the Great Ethiopian Run with my friend Claudia. After some convincing, I managed to get Nick to put on a pair of running shoes (spoiler alert – he's a VERY GOOD runner now) – and we decided to run a marathon.
Then, 2020 came. Our chosen marathon was cancelled. We opted for another one, and it got cancelled as well.
So we kept training, thinking that one day, the chance to run a marathon would come. And guess what – IT DID!
Introducing Lake Garda 42 – Edition Zero
In February 2021, I found an Instagram post promoting the Edition Zero of Lake Garda 42, a marathon around the northern part of Lake Garda.
Over the years, we visited North Lake Garda countless times, hiking along the GardaTrek loop paths, going mountain biking, climbing, and even scuba diving. Running my first marathon in one of my favourite places in the world felt like a dream come true.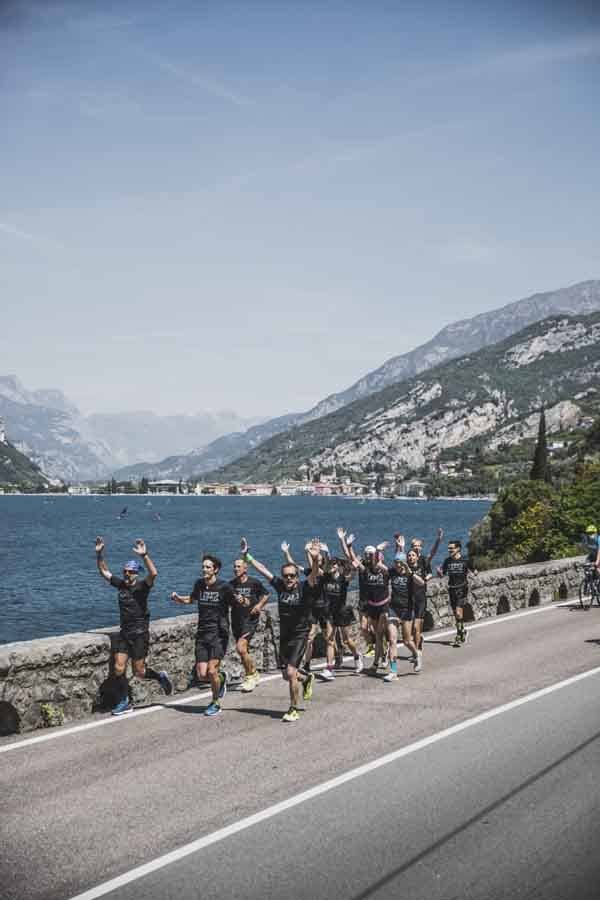 'Edition Zero' meant that the run wasn't actually open to public sign-ups. Basically, holding the 'proper' 2021 edition of the marathon was impossible because of health regulations.
For this reason, the organizers decided to have only a group of 12 runners, to test the route and iron out any kinks in time for Edition 1, due to take place on April 2nd and 3rd, 2022.
My Experience Running the Lake Garda 42 Marathon
That's how we found ourselves at the starting line in Limone Sul Garda, in the early morning of May 9th, 2021. The northern tip of the lake stretched out before us, sparkling under the morning sun.
We could clearly see Riva del Garda and Torbole, divided by wedge-shaped Monte Brione; Arco was just visible in the distance, and on the opposite bank of the lake there was Malcesine Castle, where the marathon ended.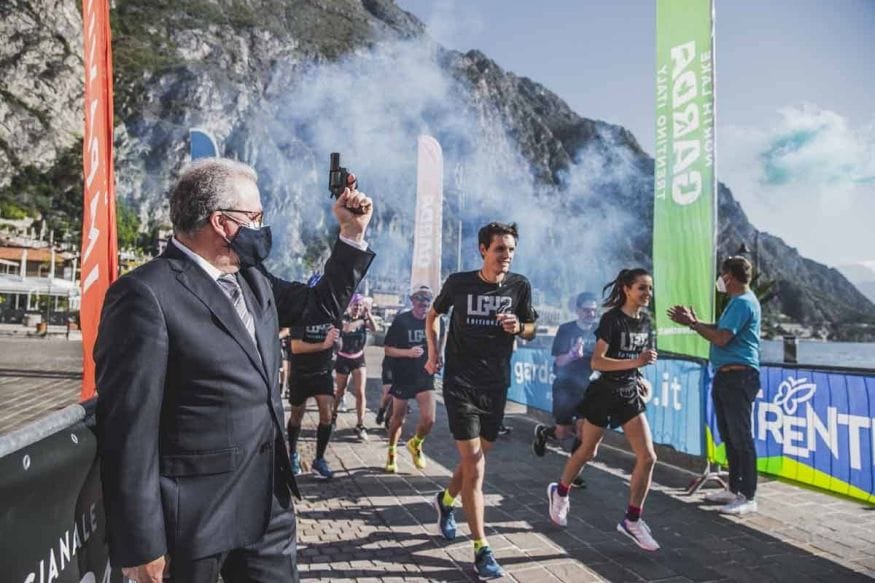 A blank shot marked the start of the Edition Zero of Lake Garda 42, and soon we were all running under the morning sun. The roads were open to the traffic, but we had a police escort making way for us. We ran down what's been called the world's most beautiful cycle path, connecting Limone to Riva del Garda, so close to the lake we could almost touch it.
Then, we reached Riva del Garda, cheered on by the first tourists of the season as they enjoyed their morning cappuccino. We ran through the cobbled streets of Riva and up to Arco, traversing vineyards and olive groves en route.
We were lucky to be running on a truly stunning day, knowing that rainstorms are not unheard of in early May, but it did get very hot. After passing the half marathon mark in Arco, the heat started getting hard to bear. We ran down the Sarca cycle path to Torbole, surrounded by local families on their Sunday bike ride. Most cheered us on, a few probably wondered what the hell we were doing.
In Torbole, the Ora afternoon wind started blowing, provided some much-needed respite from the heat. We crossed some tunnels on the way to Malcesine (yay, shade!), then, finally, the silhouette of the castle came into view – so we gave it all we had, and crossed the finish line in 4 hours 23 minutes total time.
Now, you may notice I didn't narrate this marathon as a sort of inner struggle and challenge against myself. I didn't experience 'hitting the wall', had no metaphysical visions, and never really wanted to give up. I only got tired around km 38, and when I crossed the finish line, I felt really well.
As far as first marathon experiences go, it was much better than even my most optimistic expectations. This is mainly due to two reasons – because I ran quite slowly (6:10/km average), and most importantly, because I trained really, really well, with the help of Francesco Aluigi, my triathlon coach.
Are you also planning to run your first marathon? If the answer is yes, I highly recommend considering Lake Garda 42.
Edition 1 will take place on April 2nd and 3rd, 2022 – sign-ups will open soon on the official website!
8 Great Reasons to Run Lake Garda 42 in 2022
So, has my personal account not convinced you? Here are 8 reasons to run the Lake Garda marathon next April!
1) Stunning Lake Garda Scenery
Now, the first reason is pretty straightforward, and if you've paid attention to the pics illustrating the post thus far, you'll know what I mean.
The scenery of North Lake Garda is spectacular, with high mountain peaks surrounding the lake, colourful villages with castles, and hillsides covered with lemon and olive groves.
Running Lake Garda 42 means being surrounded by wonderful views for 42.195 km – and guess what, even if the run does get tough at times, looking at the beauty all around you will make you feel better. I can promise that!
2) Support from Locals
North Lake Garda is a paradise for sports lovers, with chances to practice a whole bunch of sports – from trail running to mountain biking, wind and kitesurf, sailing and many more.
Locals are often into sports, ready to offer help and advice and to cheer you on when race day comes. We could appreciate the support of locals first hand during Edition Zero, and I'm sure it will be even stronger during the 2022 race, when thousands of runners will be participating from all over the world!
3) Perfect First Marathon Experience
If you're looking for the perfect place for your first marathon, stop here – you found it!
In my experience, Lake Garda 42 was great as a first marathon experience. It wasn't too hectic – true, there were only 15 runners during Edition Zero, and there will be many more in 2022, but it will still be a lot less crazy compared to 'big name' marathons out there.
On top of that, the course was pretty easy, with no steep climbs and little elevation difference. Ah, and the scenery… but I've already mentioned that, right?
4) Excellent Food
You're in Italy, it goes without saying! If you are planning to carb load before your race, you're in pizza and pasta heaven. Are you on a keto diet? There are plenty of excellent restaurants if you prefer some grilled freshwater fish or meat, served alongside seasonal vegetables.
Here is a guide to the best restaurants in Riva del Garda and its surrounds – including Officina Verde, a 100% vegan restaurant!
5) Run in 3 Different Italian Regions
Did you know that Lake Garda 42 covers 3 different Italian regions?
The race starts in Limone sul Garda, in the territory of Lombardy, then enters Trentino, crossing the municipalities of Riva del Garda, Arco, and Nago-Torbole. The finish line is in Malcesine, which is in Veneto.
Are there any marathons in the world crossing several regions in a single race? There probably are, but it's still pretty cool!
6) Jump in the Lake at the End
The finish line in Malcesine is just steps away from the lake, meaning you can just jump in and have a refreshing swim to cool off!
In May 2021, the water was a nippy 13°C, so in April it will probably be even cooler, but who cares – you've just run a marathon, right? Alternatively, you can just soak your feet like we did after Edition Zero!
7) Recover with an Easy Hike or Bike Ride
Are you coming from far away to run Lake Garda 42? Then, we highly recommend spending a few extra days after the marathon to relax and explore the area!
There are plenty of easy hikes and bike rides for some active recovery – on the day following the marathon, we cycled along the stunning Sentiero del Ponale up until Lake Ledro, or you could follow the cycle path along the Sarca River, or even hop on an e-bike to explore further afield.
If you prefer hiking, we recommend heading to Rifugio San Pietro from Canale di Tenno, or to the ever-so-stunning Punta Larici viewpoint!
8) Or Just Explore Lake Garda!
Ok, so the option of hiking or biking after a marathon doesn't appeal to you. I get it. Well, fear not – there are plenty of things to do in Lake Garda that don't involve working out!
For instance, you could head to Agritur Comai for a wine and olive oil tasting, go to Hotel Luise for a 'psicoaperitivo', visit the stunning painting collection at Museo Alto Garda, or climb Torre Apponale for scenic lake views.
Ok, the last one involves walking up steps, but I'm sure you can manage that!
Check out our Riva del Garda guide here with plenty of fun things to do for more ideas!