Are you wondering how to spend 3 days in Florence? Check out this itinerary, including all the must-sees in Florence in 3 days plus lots of practical info!
If you have only 2 days, here's our 2 days in Florence itinerary for first-timers!
Have you decided to spend 3 days in Florence? That's great, 3 days is the right amount of time to visit Florence's main sights, and get an idea of what the city is all about without having to rush around.
Just remember that Florence is busy year-round, and there's no such thing as low season anymore. It's important to plan what you want to see and do and secure tickets for the main attractions ahead of time, or else you'll end up spending your 3 days in Florence stuck in endless lines.
Here you can get tickets easily – check out the links below!
Having said that, longer in Florence is always better – besides the well-known Uffizi and Accademia Galleries, the Duomo with the stunning Brunelleschi Dome, Ponte Vecchio and so on, in Florence there's a wealth of small museums, offbeat churches, local neighbourhoods all with their own unique vibe.
A couple of extra days will give you the chance to discover some of these places – you can read our Oltrarno artisans guide or check out our Florence in 5 Insider Tips post.
Florence is also perfectly located to visit Tuscany, being within day-trip distance from many Tuscan cities like Pisa, Siena and Lucca. Here is our best day trips from Florence post to get some idea!
Let's have a look at how to spend 3 days in Florence, followed by some practical info!
3 Days in Florence – Day 1
Santa Maria del Fiore – Duomo
Let's start with the Church of Santa Maria del Fiore, also known as the Florence Duomo, is one of the largest cathedrals in the world and the most prominent landmark in Florence that you can see towering above the terracotta rooftops from any viewpoint in the city.
It was built on the same spot as a 7th century church whose remains can be seen in the crypt. The structure was finished in 1434, and is an elegant fusion of Gothic and early Renaissance architecture.
Inside, you will get wowed by the giant colored marble columns, the vast marble floors, and the colorful frescoes. Outside the cathedral, the statues of Arnolfo di Cambio and Filippo Brunelleschi, who were the main designers, stand to admire their masterpiece.
Brunelleschi Dome
The Duomo's dome was designed by Filippo Brunelleschi and can be visited with a separate ticket. The dome's interior is covered in detailed frescoes, a famous piece of art depicting "The Last Judgement". It was finished in 1579 by Federico Zuccari, a student of Giorgio Vasari who designed it and started the masterpiece until his passing in 1574.
Getting a ticket for the dome will surely make you sweat as you climb the 463 steps to the top of the dome for sweeping views of Florence. This is also the best way to get a closer look at the masterpiece covering the dome ceiling, before stepping outside.
Don't forget to book your entrance to the Brunelleschi Dome in advance and respect the allotted time for the visit.
Palazzo Pitti
As one of Florence's lavish palazzos, the Pitti Palace was built as a residence for the Pitti family back in 1446. They wanted to show the same wealth as the Medici Family. But, unfortunately, they did go far overboard and went bankrupt. As a result, the Medici Family bought the palace and kept expanding it, filling it with impressive art pieces, and ordering spectacular frescoes to decorate the ceilings.
The palace became a King and Queen worthy, and in fact, it served as a residence for the Italian Kings between 1865 and 1871. While the royalties moved out, the art stayed, and to this day, you can admire the pieces that have been given the same credit as the art in the Uffizi Museum.
You can also see the Medici Treasury, the Royal apartments, and a modern art gallery among other things when visiting the palace. Book your entrance ticket to Pitti Palace here!
Giardino di Boboli
Palazzo Pitti's gardens, Giardino di Boboli is the largest in Florence and has been enhanced over hundreds of years by both the Medici and the Lorrain families. It was first designed in 1457 by the same man who designed the dome of the cathedral, Filippo Brunelleschi.
Now, the public can enjoy the wonderful green space where colorful flowers soak in the sun and detailed fountains give life to the sound of trickling water. Rose lovers will be enchanted by over 400 roses in the rose garden. Take special note of Neptune's Fountain designed by Stoldo Lorenzi.
Old oak trees provide shade to the paths making them perfect for wandering between affluent attractions like an obelisk from Egypt, ancient Roman statues at an ancient amphitheater, and the Rococo Kaffeehouse. You will also find Bathing Venus by Giambologna in one of the sections of Buontalenti Grotto, or Grotta Grande.
In the gardens, there are different museums like the Porcelain Museum and the Museum of Costume and Fashion.
The Boboli Gardens are VERY BUSY, especially on hot summer days. Make sure you book your entrance tickets ahead of time – find out how to do so here!
Piazzale Michelangelo
For the best views of Florence, there is no better place than Piazzale Michelangelo. Located in the Oltrarno neighborhood on top of a hill, it overlooks the Arno River with its bridges, among them you can see Ponte Vecchio and the entire historic center dominated by the Duomo.
The popular square was built to commemorate Michelangelo in the 19th century. The designer's goal was to make it a museum with replicas of all of Michelangelo's work. However, it was never finished and only a copy of David and a few other of the artist's sculptures are there. A loggia was built but never filled with the art that was intended, so now it houses a restaurant where you can admire the viewpoint over a glass of wine.
Besides a few restaurants, there are kiosks selling ice cream and cold drinks by the square if you would rather sit down with that and soak in the views. If you manage to time your visit for sunset, you will be rewarded with the most impressive views as the Arno River soaks up the pink and orange and the golden light reflects on the rooftops.
3 Days in Florence – Day 2
Galleria dell'Accademia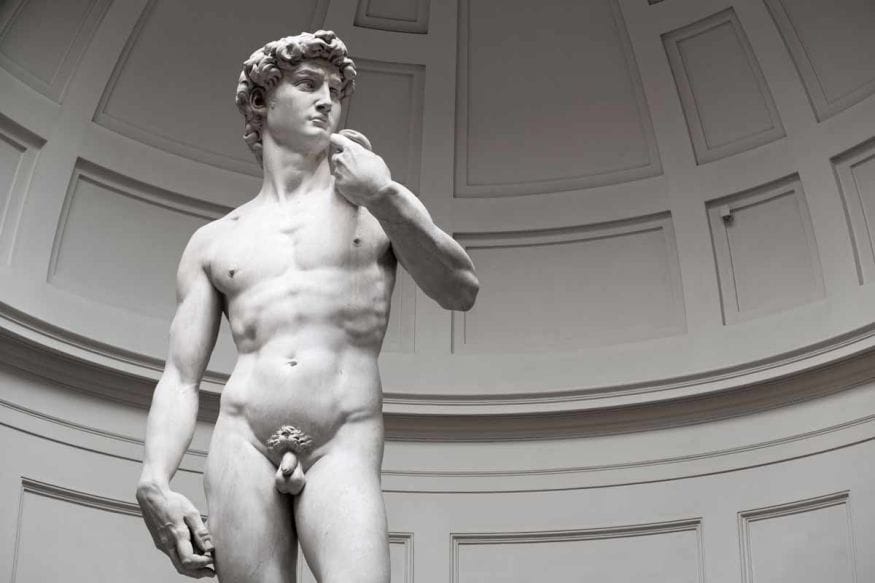 Start the second of this 3 days in Florence itinerary by visiting the Galleria dell'Accademia, where you will be met by one of Michelangelo's most famous masterpieces, David.
It was originally supposed to be placed on the roof of the Duomo but turned out too heavy to hoist. The 14 feet tall statue was finished in the early 1500s and is by far the main draw to the gallery. But there are a lot more reasons to visit Galleria dell'Accademia.
Besides a number of other pieces by Michelangelo, like Slaves, you can admire hundreds of exceptional pieces of art by numerous other artists. Particularly worth noting is the Rape of the Sabines by Giambologna. This masterpiece was carved from a single piece of marble and inspired by Michelangelo.
Jacopo di Cione's Coronation of the Virgin glows with gold and religious impressions as does the Tree of Life by Pacino di Bonaguida which depicts scenes from Christ's life. Cassone Adimari by Lo Scheggia is another masterpiece. The detailed painting of a wedding parade in Florence's streets is carefully painted on a typical chest that the brides would carry their belongings to their new home.
Besides statues and paintings, you might be interested in the Museum of Musical Instruments where over 50 instruments are exhibited. These were typical instruments used in the Medici Court. You can see different string instruments and even learn about the inspiration for the first piano. In fact, you can hear the sound of this first piano in the museum.
Have a look at our full Accademia Gallery guide and book your entrance ticket here!
Basilica of Santa Maria Novella
Basilica of Santa Maria Novella is one of Tuscany's most important Gothic churches and holds a selection of art by significant artists inside. The building of the church started in the 13th century, together with the convent, but was not finished before two centuries later.
Inside, you can see Giotto's masterpiece, Crucifix from 1290, which became the apex of Renaissance art as it was the first time he experimented with perspective, and the Holy Trinity by Masaccio which he painted in 1424. There are also exquisite frescoes in the church by Filippino Lippi, Domenico Ghirlandaio, and his students (possibly also Michelangelo) and a number of other art pieces by Sandro Botticelli and Filippo Brunelleschi among others.
Besides all this, the Basilica is beautifully decorated in colourful marble and the stained glass windows let in a spiritual light.
Basilica of Santa Croce
The Basilica of Santa Croce (Basilica of the Holy Cross) is a minor basilica and the world's largest Franciscan church. It was completed in the 15th century 200 years after the building began. The basilica is also recognized as the Temple of the Italian Glories because of the number of monumental tombs of significant people that lay there. Among them, are the ones of Michelangelo, Galileo, Rossini, and Foscolo.
But there is also a wealth of religious art in the basilica from the period between the 13th and the 20th centuries, like the spectacular fresco, Stories of Saint Francis, by Giotto. Also the frescoes by Agnolo Gaddi are worth your time, covering the high altar, they illustrate the Legend of the True Cross. But there are also exquisite pieces of art by artists like Filippo Brunelleschi, Bronzino, and Donatello.
Oltrarno
To reach Oltrarno, you can cross the iconic Ponte Vecchio which looks like a house bridge from the outside, with its charming windows on the pastel-colored wall, but is home to jewelry stores and art shops between those selling souvenirs. This is truly an area to soak in Florence at a slower pace after a long day of sightseeing.
The energetic neighborhood of Oltrarno is a great place to end your day. Located on the other side of the Arno River, it has turned into the hippest neighborhood in Florence with a wealth of trendy restaurants and bars as well as some of the top modern art galleries and boutique shops in the city.
Though you find some of Florence's top attractions like the Pitti Palace, Boboli Gardens, and Piazzale Michelangelo, it is still a less crowded area of the city where you can take in the Renaissance buildings and spectacular fountains in the cobbled streets, vibrant squares, and lush green spaces.
Piazza della Passera is a nice place for dinner and
3 Days in Florence – Day 3
Uffizi Gallery
On the last day of this 3 day Florence itinerary, it is finally time to visit the world-famous Uffizi Gallery. This is the oldest gallery in Florence, dating back to 1581, and has been home to some of the world's most important art ever since. With over 2200 pieces of art across 100 rooms, it will take a lifetime to get through it all, but here are some of the highlights.
First of all, the Birth of Venus by Sandro Botticelli stands out as the most famous work in the Uffizi Gallery, and the artist's grand masterpiece. The Annunciation by Leonardo da Vinci and Andrea del Verrocchio is another unique painting found in the Uffizi, making the museum one of the few that owns a Da Vinci piece of art. Further, the grotesque Medusa by Caravaggio is worth seeing. The artist aimed to shock through his somewhat twisted style of art and this is a great example of it.
You can also see the only surviving panel painting by Michelangelo, Tondo Doni, which is also known as The Holy Family, and Venus of Urbino by Titian which has been a controversial painting receiving criticism for being too erotic back in its times. Other impressive works exhibited in the Uffizi Gallery are Portrait of Pope Leo X with Two Cardinals by Raphael and Madonna with the Long Neck by Parmigianino.
To make the most of your Uffizi visit, it's a good idea to join a small-group guided tour, or just book your entrance tickets ahead of time!
Afternoon in Fiesole
After lunch, it is time for a trip outside Florence to the hilltop town of Fiesole. From there, you will have sweeping views of Florence and the surrounding countryside. Explore the Roman Theater, bathhouse, and temple overlooking the vast countryside and walk along the Etruscan Walls.
It is also worth climbing up the hill to the 13th-century Church of San Francesco and monastery where you will be rewarded with breathtaking views of the countryside in beautiful surroundings.
If you want to see more art, make sure you visit the Bandini Museum where you can see works by artists like Bernardo Daddi, Lorenzo Monaco, and Della Robbia among others.
The charming little town is perfect for strolling around the streets and enjoying a delectable Tuscan meal to round off your 3 days in Florence – Le Cave di Maiano is a wonderful restaurant.
Florence Practical Info
How Many Days in Florence?
In our opinion, 3 days in Florence are the right amount for those visiting for the first time. As we highlighted in this itinerary, you can easily spend 2 or 2 and a half days checking our historic and artistic sights around Florence, and the last afternoon or the last day on a day trip – we recommend Fiesole here, but you could also head to Pisa or Lucca, both about an hour away by train.
One day in Florence could be an option if you're on a really tight schedule – if that's all you've got, try not to make your life difficult by having a super packed itinerary, and ALWAYS book your tickets ahead of time!
4 to 5 days in Florence are an even better time to enjoy the city. If you can squeeze a few extra days into your itinerary, we recommend following this itinerary for the first 3 days, and spending the remainder of your time wandering around Florence, revisiting places you particularly liked, or heading out of the city on a day trip. You could even squeeze a visit to Florence's best-kept secret!
Best Time to Visit Florence
Oh, that's a really difficult question! Gone are the days when you could visit Florence in November or February and find the city virtually empty. Nowadays, Florence is busy year-round, but there are certainly some times when it's more pleasant to visit.
Summer is the only month that should definitely be avoided – the city is packed, prices are through the roof and it's often very hot. Spring is slightly better, still busy but at least the weather is more bearable. From October onwards, the crowds start decreasing, and the quietest months are November, January, and February – the weather might be unstable, cold and dark, but it won't be a problem with so many museums and indoor sights to visit.
So, if you ask me about the best time to visit Florence, I recommend winter – February is probably my favourite month!
How to Get to Florence
Unless you're flying into Florence airport, the train is definitely the best way to reach Florence. The city is located along Italy's high-speed rail route, as one of the intermediate stops on the Milan-Rome and Venice-Rome lines, continuing all the way to Naples and Southern Italy.
Thanks to high-speed trains, travelling around Italy by rail is really easy and convenient. There are two train companies operating high-speed trains – Trenitalia and Italo, both about equally as good. You can buy tickets directly on the websites (no need to use resellers, please), just remember to reserve your tickets in advance. Tickets go for sale 4 months before the date of travel.
Here are travel times between Florence and main cities around Italy:
Milan: 2 hours
Venice: 2.30 hours
Bologna: 1 hour
Rome: 2/2.30 hours
Many Tuscan cities like Lucca, Pisa and Siena can be reached by regional train from Florence.
How to Get Around Florence
Most of this 3 days in Florence itinerary is entirely walkable. All sights in the city centre are maximum 15 minutes walk from one another.
The only exceptions are Piazzale Michelangelo and Fiesole. The former is about 20 minutes to walk there from Oltrarno, or else you can opt for a bus or taxi. Fiesole can also be reached by bus – number 7 from Santa Maria Novella station will get you there in about 30 minutes.
In any case, don't try to take your car into Florence, especially if you're staying in the centre where parking is non-existent. If you're on a road trip and stopping in Florence, choose a hotel away from the centre or leave your car in one of the large parking lots located near Santa Maria Novella station.