Are you planning to spend one day in Florence? I mean, 2 or even 3 days in Florence would be better, but if one day is all you've got, follow this itinerary to make the most of it!
We are usually advocates for spending longer time getting to know cities, especially places like Florence, where day trips and short stays add to the over-tourism problem that's plagued the city for years.
However, we also understand that not everyone has unlimited time, and sometimes, one day in Florence is all you can spare. Maybe you come from the US or Australia, only have one week or two to travel all over Italy, and want to see all the best sights in Florence in one day – the David, the Duomo, the Uffizi, Ponte Vecchio, and the view from Piazzale Michelangelo.
If that sounds like you, let us give you a piece of advice – plan and book ahead! There's no such thing as low season in Florence anymore, the city is packed full pretty much year-round, so booking tickets in advance is the only way to skip the endless lines.
This itinerary for one day in Florence is fast-paced, but doable, covering all the main sights and including a couple of lunch and dinner options. Beware of itineraries including 12+ stops in a single day, unless you want to spend your day rushing around.
Before our itinerary for one day in Florence, let's have a look at some practical info!
Meanwhile, here's our 2 days in Florence itinerary!
One Day in Florence – Practical Info
Best Time to Visit Florence
Besides summer, any time of the year is a good time to visit Florence. Spring is great for mild temperatures and flower displays in the city's parks and gardens, but it can be busy. Autumn is cool and comfortable to get around, and winter is the quietest time of the year, and the best time to get good deals on transport and accommodation (provided you avoid the busy Christmas and New Year period).
The city centre is never empty, you'll never be alone with locals, unless you go out for a walk at 5 AM (and even then, photographers and Instagrammers will probably be about). Having said that, months like November, January and February are probably good times to visit to avoid the crowds – but the days will be short, and the weather might get miserable.
Summer is the only time of the year I would personally avoid. Florence is PACKED, basically turning into an American colony. All the locals I know avoid the city centre during this time, and just stick to their own neighbourhoods. Summer also gets very hot, with daytime temperatures routinely reaching 35°C. Trust me, it's no fun!
How to Get to Florence
Florence is well connected to the rest of Italy by the country's excellent high-speed railway system. The city is well-placed on the Milan-Rome and Venice-Rome lines continuing all the way to Naples and Southern Italy, making train travel within the country easy and hassle-free. Here are travel times between Florence and main cities around Italy:
Milan: 2 hour
Venice: 2.30 hours
Bologna: 1 hour
Rome: 2/2.30 hours
If you want to travel further around Tuscany, you can either organize join some organized day trips from Florence or just hop on a regional train – many Tuscan cities like Lucca, Pisa and Siena can be reached by train from Florence.
How to Get Around Florence
This entire 24 hours in Florence itinerary is walkable, and we've included walking time between one attraction and another at the end of each paragraph.
The only exception is getting to and from Piazzale Michelangelo, which includes an uphill stretch – it's totally doable if you are in reasonable physical conditions, otherwise you could opt for a taxi or bus.
Half Day in Florence
Do you only have half a day in Florence? Maybe you're on a layover, or in between trains and have just a few hours to explore the city? If that's the case, I would recommend following either the morning or afternoon part of the Florence in one day itinerary described below – visiting either the Accademia and Duomo, or the Uffizi, Ponte Vecchio and Oltrarno.
In any case, you should definitely book tickets ahead of time – check out the links below!
One day in Florence – Morning
1) Galleria dell'Accademia
Let's start your 24 hours in Florence with one of the city's must-see sights! The Galleria dell'Accademia in Florence is mostly famous for the sculpture of David, one of Michelangelo's masterpieces.
However, there are many other important art pieces worth seeing in the museum. Among the most noteworthy are Slaves by Michelangelo. The statues of four naked men are believed to have been left incomplete by the artist to showcase the slaves' struggle to free themselves.
Other works of interest are the Rape of the Sabines by Jean de Boulogne, cut out of a single marble block, the golden painting Coronation of the Virgin by Jacopo Di Cione, and the Tree of Life by Pacino di Buonaguida which shows Jesus on the cross symbolizing the tree of life with "ornaments" depicting different happenings from the bible.
There is also a dedicated exhibition to the work by Giottesque painters and Orcagna and his brothers from the 13th century and early 14th century, the followers of Giotto, and several other artists. Another hall exhibits work from the late 14th century including Gothic altarpieces.
You also find the Museum of Musical Instruments in Galleria dell'Accademia, where you can see over 40 instruments that were typically used in the Medicean court's day to day. You can easily spend 2 hours seeing all the exhibitions – then, it will be time to move on to the second stop for the day, the Duomo!
Check out our full Accademia Gallery guide and book your entrance ticket here!
Walking time from Santa Maria Novella station: 15 minutes
2) The Duomo and Brunelleschi Dome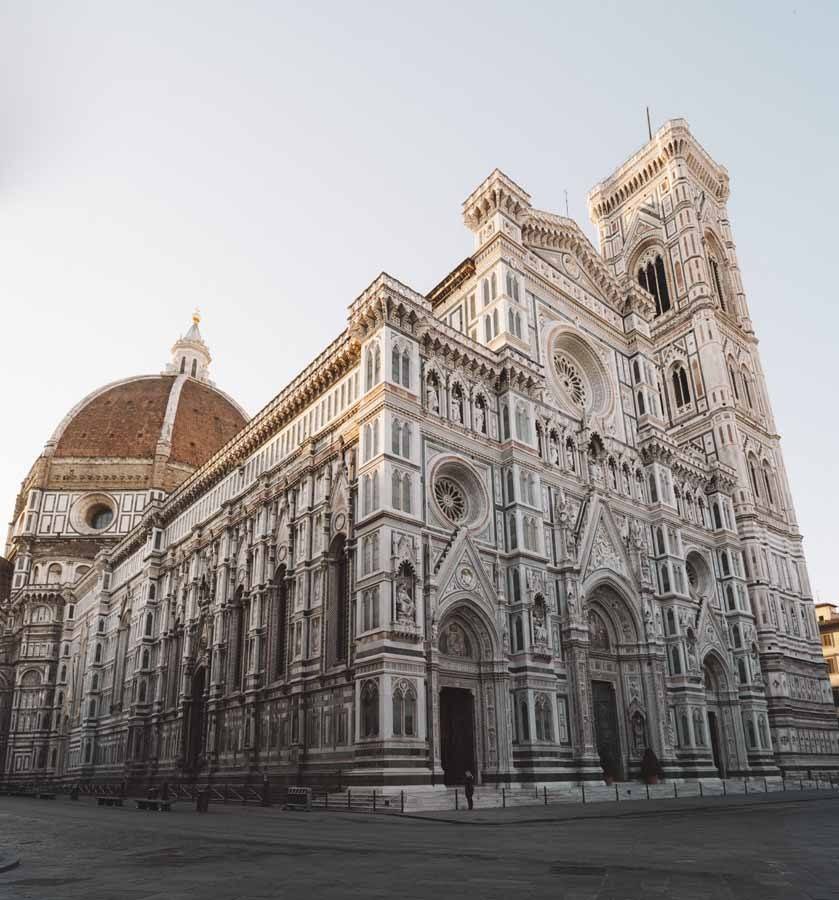 Florence's majestic Duomo, Santa Maria del Fiore, is one of the world's largest at 153 meters long and 90 meters in width and height, and among the most prominent landmarks in Florence. The building of the basilica started in the late 1200s but was not fully finished before 1463, when the famous dome was added by architect Brunelleschi.
The façade was restored to its current Neo-Gothic look in the 19th century, with a striking pink, green, and white marble exterior, and detailed rose windows.
Inside, you will be met by large stained glass windows, tall columns, marble floors with mosaics, and a variety of frescoes and portraits on the walls. In the crypt, you can see the remains of the church of Santa Reparata, which was a 7th-century church that the Duomo was built on top of.
Make sure you can also climb the 463 steps alongside colorful frescoes up to the top of the Brunelleschi dome, for sweeping views of the city. The cupola is said to have been the world's highest when it was built in the 1400s, and one of the largest masonry domes ever to be built without the use of wooden supports.
The climb to the top is absolutely stunning and takes you close to the frescoes decorating the inside of the dome, but it does get tight in the final stretch – make sure you're aware of this, if you're afraid of heights.
The Santa Maria del Fiore architectural complex also includes the imposing 85-meter belltower planned by Giotto, and the Baptistry of San Giovanni, whose doors were designed by Botticelli.
Don't forget to book your entrance to the Brunelleschi Dome in advance and respect the allotted time for the visit.
Walking time from the Accademia Gallery: 8 minutes
One day in Florence – Afternoon
3) Lunch at I Fratellini
You only have 24 hours to explore Florence, so there's no time for a sit-down lunch, let's opt instead to try Florence's famous panini! Skip the uber-famous Antico Vinaio for I Fratellini just across the road, serving up delicious panini since 1875.
I Fratellini is also a busy spot, but lines move fast – I never had to wait more than 15 minutes for my order.
Walking time from the Duomo: 5 minutes
4) The Uffizi Gallery
The Uffizi Gallery is one of the most famous museums in Italy, if not in the world. This lavish Renaissance building is home to an art collection unlike any other, with thousands of important pieces from artists like Leonardo da Vinci, Raphael, Caravaggio, and of course Michelangelo, to mention a few.
Originally, it was built by the Medici Family as an office building, and as they filled the walls with extravagant art, it started to gain interest among the public already in the 16th century. As you can tell, there is more art in the Uffizi Gallery than you can possibly see on a day trip to Florence, but you can surely see the highlights.
Some of the paintings not to miss are The Ognissanti Madonna by Giotto di Bondone, one of the leading artists going towards the Renaissance period, Madonna Del Cardellino (Madonna of the Goldfinch) by Raphael, The Primavera and Birth Of Venice By Sandro Botticelli, two of the most famous Renaissance paintings, Venus Of Urbino by Titian, representing marriage, and Medusa by Caravaggio, known for his dramatic paintings crossing towards the grotesque.
There is also a restaurant and café on the rooftop where you can take a break and watch the city views.
Make sure you book your Uffizi Gallery entrance ticket ahead of time, or better still, book a small-group tour of the Uffizi to see the masterpieces with an expert.
Walking time from I Fratellini: 5 minutes
5) Ponte Vecchio
It's time to cross the Arno River to continue your one day in Florence itinerary. Coming from the Uffizi, just walk straight to cross along the famous Ponte Vecchio (meaning 'old bridge'), probably Florence's best-known sight.
This bridge dates back to medieval times, and it's famous for its shops built onto the structure of the bridge itself. Originally, they used to house butchers and tanneries, but in Renaissance times, goldsmiths and jewellers took their place, and still occupy the bridge shophouses to this day.
If you want to take pictures of Ponte Vecchio, I recommend crossing the Arno instead at Ponte Santa Trinità, offering scenic views over the famous bridge – especially in the afternoon.
Walking time from the Uffizi: 5 minutes
6) Oltrarno
After crossing the river, you'll be in the Oltrarno (meaning The Other Side of The Arno) neighborhood, which is one of the hippest in Florence. Situated across the river Arno from the Duomo and historical center, it is a vibrant area, yet less crowded than the area around the cathedral. Jam-packed with restaurants and bars, it is a great place to spend the evening walking around the narrow, cobbled streets.
You can admire exquisite architecture wherever you go, and will soon notice how the old is elegantly blended with modern art galleries and boutique shops. Explore the different squares, notice small fountains on the street corners, and take a peek inside one of the shops to buy handicrafts and art as souvenirs – we have an Oltrarno artisan guide mentioning some really unique shops.
Oltrarno is a nice neighborhood to grab an artisan ice cream and people-watch in one of the green spaces. One of our favourite hangout spots is Piazza della Passera, with a couple of nice bars, an amazing restaurant (more on this later!) and Gelateria della Passera, a good ice cream shop.
Walking time from Ponte Vecchio to Piazza della Passera: 5 minutes
One day in Florence – Evening
7) Piazzale Michelangelo
Piazzale Michelangelo is one of the best viewpoints in Florence, with panoramic views of the city and the army of medieval bridges crossing the Arno River. Among them, the iconic Ponte Vecchio. Before you, the Duomo and the Palazzo Vecchio Tower dominate the skyline alongside other famous structures.
It is a popular spot for sunset and gives you a lot of photography opportunities. Besides the views, you can see a bronze replica of Michelangelo's famous statue David and other pieces of the artist's work.
The square was built by Guiseppe Poggi in 1869 during the brief period Florence was Italy's capital city. It was dedicated to the important Renaissance artist Michelangelo, which explains the replicas of his work found on the square. Originally, Poggi wanted to place a replica of all the artist's sculptures, but this never happened.
There are a few restaurants and cafés on the square where you can get something to eat or a drink with a view. Ice cream stalls are also available in the summer.
Walking time from Piazza della Passera: 23 minutes, or take bus number 12 from Pescaia di Santa Rosa stop.
8) Dinner at I'Brindellone or 4 Leoni
After admiring the sunset from Piazzale Michelangelo, it will probably be time for dinner, or to head back if you're on a day trip.
If you can squeeze in one dinner in Florence, I have two recommendations – I'Brindellone, a lively Tuscan trattoria in the Santo Spirito neighbourhood, with Calcio Fiorentino-inspired decor and amazing bistecca alla fiorentina; or 4 Leoni in Piazza della Passera, also focusing on Tuscan classics with a twist like ribollita (a vegetable soup with dry bread), fresh pasta, and grilled meat and seafood specialties.
Make sure you book ahead at both places, especially if you want to sit outside at 4 Leoni!
Walking time from Piazzale Michelangelo to 4 Leoni: 23 minutes, or take bus number 12 from Pescaia di Santa Rosa stop.
Walking time from Piazzale Michelangelo to I'Brindellone: 29 minutes, or take bus number 13 to Piazza Tasso.