Planning to visit Florence? Then make sure you get Boboli Gardens tickets ahead of your visit to skip the lines! Keep reading to learn how and get ready to visit this enchanting historic garden!
The Boboli Gardens is one of the most beautiful green spaces Florence, and a natural addition to your itinerary when visiting the city. But you do need tickets for the Boboli Gardens. Adjacent to the majestic Pitti Palace, they can be visited separately or together.
The massive Renaissance garden oozes history with its marble sculptures, fountains, pergolas, colorful flowers, and cypress trees. There is also an idyllic lake in the gardens with ducks swimming around.
The Boboli Gardens, built for the Medici by the architect and sculptor Bernardo Buontalenti, are more like an open-air art gallery than a regular garden and most visitors spend as much as 3-4 hours there. Not only is it a feast to the eye, but it is also recognized as a UNESCO World Heritage Site.
In this post, we will go through everything you need to know to purchase Boboli Gardens tickets so that you can explore this beautiful corner of Florence on your next visit.
Don't have time to read? Book your Boboli Garden tickets in no time here!
Why You Need to Book Tickets for the Boboli Gardens
If you have a tight schedule on your Florence itinerary, you must book tickets in advance to make sure you do not find it fully booked when you arrive. Especially in summer, tickets to the Boboli Gardens sell out like wildfire and it is very likely that you will not get inside unless you purchase tickets upfront.
Many ticket options include the Pitti Palace. Since the gardens are adjacent to the palace, it is natural to see both places on your visit. Seeing the Pitti Palace before entering the gardens will surely offer a lot more context to the Boboli Gardens, but it is of course not necessary if you only want to see the gardens.
While you might be able to purchase Boboli Gardens tickets at the entrance in the low season, we highly recommend getting them upfront to avoid any disappointments.
Besides, there are millions of people visiting Florence every year, and around 800,000 of them visit the Boboli Gardens. It is easy to imagine how many people want to enter in the peak season and we are sure you do not want to spend unnecessary time in a queue during your short visit to Florence. Especially if you are not even guaranteed to get tickets.
Make sure you check out our post on how to book Accademia Gallery tickets to see Michelangelo's David, and how to book Uffizi Gallery tickets and skip the line!
Boboli Gardens Tickets Prices
The Boboli Gardens ticket prices vary depending on where you purchase them and what type of tickets you get. We will get into the different ticket types below, but here is a breakdown of the official prices. You can basically get tickets for a regular fare, reduced fare, and for free.
Full price:

A single entrance to Boboli Gardens for €11 and a joint ticket for the gardens and the Pitti Palace for €23. Pregnant women get priority entry.

Free entrance: There are some days when everyone can get free entry to the Boboli Gardens, but we will cover this later. However, some people are always eligible for free entry to Boboli Gardens. Children under 18 years of age with a valid photo ID or passport (kids under 12 years must be accompanied by an adult) enter for free. People with disabilities with an official, valid certificate stating their disability get free tickets and priority entry. Other groups of people that can enter for free are university students and teachers, school groups and teachers, Italian journalists, tour guides and interpreters of the EU, Italian citizens living abroad, employees of the Italian Ministry of Culture, and members of the International Council of Museums. Holders of the Firenze Card also get free admission, more about that later.
Reduced price:

Citizens of the European Union between 18 and 24 years old can enter for €2. This also includes citizens of Switzerland, Norway, Liechtenstein, and Uruguay. Anyone from the Emilia-Romagna region will be charged an extra €1 between 15 June and 15 September. Note, that it is necessary to show a valid ID card or passport for a reduced price.
Note that there is a €3 online booking fee on top of the above prices, which means that if you book a free ticket online, it will cost you €3.
How to Book Your Boboli Gardens Tickets
Now that you know why you should book your Boboli Gardens tickets in advance and the official admissions, it is time to look at the different ways you can book your tickets.
There are also guided tours of Boboli Gardens for those who want to learn more about the artwork and history behind it, which we will go through below.
Please note that tickets to the Boboli Gardens also include entrance to Bardini Gardens, stunning terraced gardens with beautiful views over Ponte Vecchio and the Florence skyline. Don't miss this hidden gem in Florence!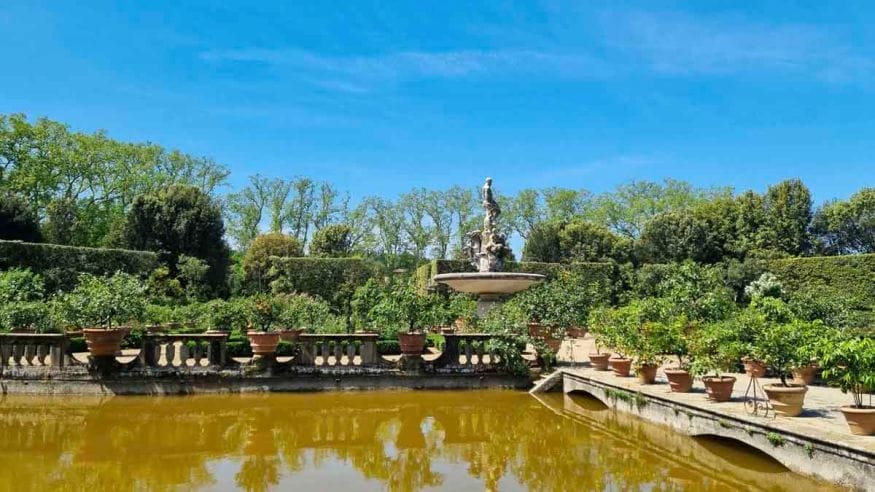 1) Buy Boboli Gardens Tickets Online
Purchasing your Boboli Gardens tickets online is easy. You can do it through the official website or any other third-party website that sells them, like Get Your Guide. Once you have chosen the date and timeslot that suits you the most, you pay and receive a confirmation and voucher by email.
You need to show your voucher printed or on your phone or tablet at the entrance of the gardens. If you purchase a reduced or free ticket you also need to bring a valid photo ID or passport and proof of eligibility to guarantee your entry. An EU Identity card is accepted as a photo ID, but if you are not sure about other ID cards, we suggest bringing your passport.
When booking through a third party, operators often a few euros above the official prices – however, when booking Boboli Gardens tickets on the GetYourGuide website, the price will be the same.
But in turn, you get the flexibility of free cancellation up to 24 hours before your visit. Sites like Get Your Guide also have their own app where you can see all your tours and find your electronic tickets in one place. They will also send you a notification with a reminder about the booked tour or ticket so that you easily can keep control during your trip.
It is important that you show up 15 minutes before your allotted time slot. If you come any later, you might be denied entry.
Note that there is a €3 online booking fee (except for school groups) on top of regular prices, which means that if you book a free ticket online, it will cost you €3.
2) Book a Guided Tour of the Boboli Gardens
Booking a guided tour of Boboli Gardens is a great option for anyone who wants to immerse themselves in the art and history of the place by learning from a local guide. Besides, a guide will ensure that you get to see all the best spots in the gardens, like the Grotta Grande and Neptune's fountain. After all, there are 45,000 square meters of groomed gardens to cover.
Third-party booking sites like Get Your Guide have reasonably priced guided tours lasting from 1.5 hours to a few hours. They also offer skip-the-line tickets saving you considerable time. Other perches by booking a guided tour through a third-party site is that you get free cancellation up to 24 hours in advance and you can read reviews to know what other travelers think of the tour, both the highlights and the downsides.
Finally, a private tour will give you more freedom to see what you want, change things up, and a unique opportunity to get all your questions answered by the guide as you do not have to share his or her attention. It is also easier to explore hidden gems in the gardens without a set itinerary for the tour.
Here are some amazing guided tours of the Boboli Gardens and other Florence attractions!
3) Buy a Combined Ticket
Another option is to purchase a combined ticket for the Boboli Gardens and the Pitti Palace, at a cost of €23 between March and October, and €14 between November and February. This allows you to tour the palace and the gardens. and gives you a more complex understanding of the gardens and their history.
There are also combined tickets for the Pitti Palace, Boboli Gardens, and the Uffizi Gallery. This is a great purchase if you plan on seeing all these attractions during your visit to Florence. It also helps you plan your itinerary as you have organized your time slots for the given attractions.
There are also combined tickets for the Boboli Gardens and the following attractions:
Galleria dell'Accademia

Palatine Gallery

Bardini Gardens

Leonardo Interactive Museum

Bargello Museum

Palazzo Vecchio

Galileo Museum
There are plenty of options which make it perfect even if you have visited Florence earlier but have not visited the Boboli Gardens, yet been to the Pitti Palace and the Uffizi before.
4) Book Boboli Gardens Tickets in Person
If you are already in Florence and prefer to book your tickets in person, there are several ticket offices where you can purchase Boboli Gardens tickets in advance. We have listed them below.
Pitti Palace ticket office

Uffizi Gallery ticket office

National Archaeological Museum of Florence ticket office

Orsanmichele Museum ticket office

Any of the ticket offices of State museums in Florence
In the ticket office, you will choose between the available dates and time slots for your visit, pay by card or cash, and receive your tickets.
5) Book Boboli Gardens Tickets on the Phone
It is also possible to book Boboli Gardens tickets on the phone by calling this number: +39 055294883. Their operators speak English.
On the phone, you choose a date and entry time of the available slots presented. You will then receive a booking code that you must take to the Museum Ticket Office where you pay and receive your tickets.
The phone lines are open at the following times:
Monday-Friday: 08:30 AM to 06:30 PM
Saturday: 08:30 AM to 12:30 PM
6) Get the Firenze Card
Finally, you have the option to purchase the Firenze Card which includes admission to several of the city's attractions. The Firenze Card is valid for 72 hours from the first use and includes free public transport in the same timeframe making it easy to get around. This is a good alternative for you if you plan to stay in Florence for 3 days and see as many attractions as possible.
Note that you must book a time slot in advance for several of the attractions included in the card, including the Boboli Gardens. So even with the Firenze Card, you must organize your itinerary carefully.
Here are the attractions that are included in the Firenze Card:
Uffizi Gallery

Galleria dell'Accademia

Palazzo Vecchio

Basilica di Santa Maria Novella

Museo Nazionale del Bargello

Museo Galileo

Boboli Gardens
If you have more time in Florence and do not get the time to see all these attractions in 3 days, you can extend your Firenze Card for another 48 hours by purchasing the Firenze Card Restart.
You can purchase the Firenze Card online in advance or at any of the following tourist attractions.
Palazzo Pitti

Uffizi Gallery

Museo di Santa Maria Novella

Museo di Palazzo Vecchio

Museo Stefano Bardini

Cappella Brancacci

Museo Nazionale del Bargello

Palazzo Strozzi

Tourist information office in Piazza Stazzione

Tourist information office in Via Cavour
The price of the Firenze Card is €85 and the Firenze Card Restart costs €28. If you purchase the ticket online on their official website you will get a voucher that you can either print out or use directly from your smartphone or tablet.
How to Visit the Boboli Gardens for Free
The Boboli Gardens can be visited for free on some specific days of the year, so if you are on a budget, it is worth considering when you visit Florence to save money on admission tickets.
The #DomenicalMuseo initiative is a national campaign giving free admission on the first Sunday of each month in several museums across the country. All the Uffizi museums are included which encompass the Boboli Gardens too.
Besides free admission on the first Sunday of the month, there are a few national Holidays when Boboli Gardens tickets are free of charge. These are:
Liberation Day

on the 25th of April
Republic Day

on the 2nd of June
National Unity and Armed Forces Day

on the 4th of November
Looking for more Florence posts? Here you are!