Up until last year, I never paid attention to spontaneous plants. They looked all the same to me – except clovers, dandelion and a half a dozen flowers, the rest was an indistinguishable mass of greenery. Then, last September during our stay at Borghetto di Brola, we went for a foraging walk with a lady called Luciana, and I started exploring the wonderful world of plants and flowers.
In Italy, the tradition of herbalism is not very widespread – everyone's grandmother knows about a medicinal plant or two, and herbs are used for cooking, but that's it. However, in other countries like Germany, Austria and Slovenia, herbs, plants and flowers are precious. The tradition of collecting wild herbs, drying them and using them to make tea, ointments and creams goes back hundreds of years.
During our visit to Jezersko we met Matej, who turned his passion for wild herbs into a profession. He catalogued over 1000 herbs from his valley for his university dissertation. Unable to find a job after graduation, he created his own job, and has now been a full-time herbalist for three years.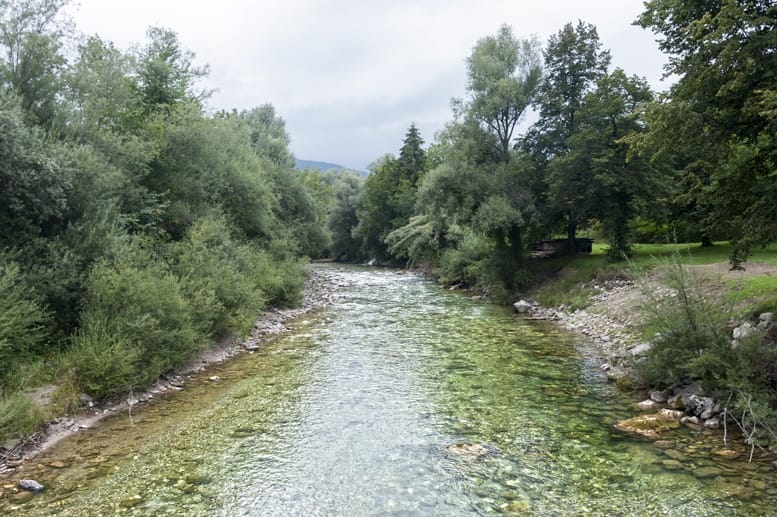 Matej is on a mission to 'cure plant blindness' – besides making teas and syrups with handpicked herbs, he also runs tours of the valley to introduce locals and tourists to the world of wild herbs.
Not far from Jezersko, near the lovely mountain village of Ljubno, we visited Charming Slovenia, a newly-opened glamping resort dedicated to the herbal tradition of Slovenia. The distance between Jezersko and Ljubno was only 50 km, but it took over an hour, climbing stunning mountain passes and driving along twisty roads, with nothing but mountains and woods all around us.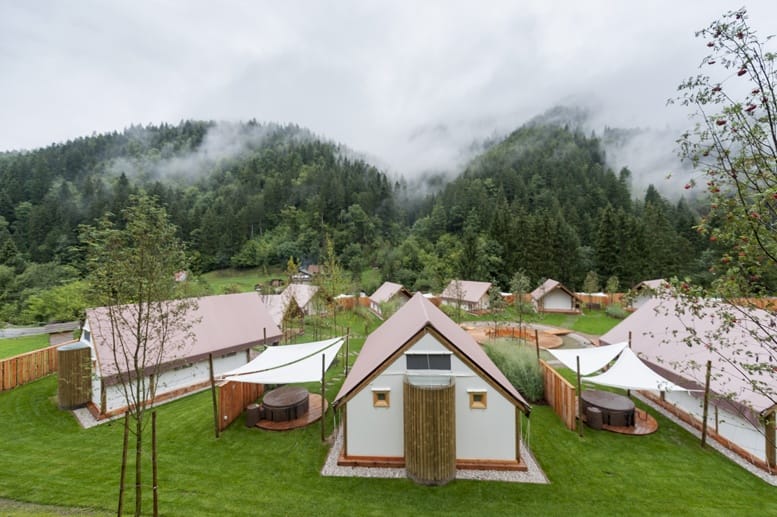 We were both very excited to go glamping for the first time. We both love camping, because we feel it's the type of accommodation that makes us feel most connected to nature. But, you know, sometimes it's not that comfortable.
Imagine being wrapped snugly in your sleeping bag, nice and cosy, while the wind blows outside. And all of a sudden, you need to go to the toilet. What to do? That's what I mean – I do love nature, but in moments like this I dream of a hotel room.
Rooms & Facilities
Glamping takes the 'uncomfortable' element away from camping. Im sure you all know that glamping stands for 'glamorous camping' – accommodation is in the same natural secluded location where you usually find (good) campsites, or where you'd go wild camping yourself, but you get quality tents with beds and toilets, and facilities comparable to those of a hotel.  
Charming Slovenia is the kind of place you imagine when you think of a peaceful retreat, a place to indulge in the pleasures of good food, wellness and relax. The resort has 18 luxury safari tents, each of them accommodating up to 6 people – we think they're ideal for 2-4 people, 6 would probably make it cramped and spoil the luxury feel
Inside, the tents are pure luxury. Think soft cotton sheets and a fluffy bed with dozens of pillows – the perfect place to relax with a cup of tea and a movie.
Considering that it started raining as soon as we arrived, and didn't stop for the next couple of days, the idea of spending time inside relaxing and listening to the rain was very appealing.
The back of the glamping tents contains something that I've wanted to try ever since watching the TV series The Affair – an outdoor shower. You can open and close the roof, and if the weather assist you, you can shower under the stars.
Every single tent also has a private jacuzzi, that staff will have ready for you when you arrive. You just need to change into your swimmers, grab one of the mega-fluffy bathrobes provided and jump in – with a bottle of wine, if you like it.
You can't go camping without a bonfire, right? Tents are arranged in a circle around a fire pit, where staff lit a fire for us each night. We were the only guests, but we can imagine that it would be the ideal place to socialize with other people, while looking at the stars and enjoying the silence of the night.
Right next to the fire pit there's a swimming pool with plants providing a natural filtration system – the luxury version of a mountain lake. I'm sure it would've been amazing to go for a swim, but sadly it was too chilly, so I preferred to sit inside wrapped in blankets.
The Herbal connection
The herbal theme is present all around the resort. The glamping tents are full of scented herbal pillows and the bathrooms contain herbal body lotions and shampoos. There's a garden running along one side of the property, with labels illustrating the names of herbs and vegetables – and the same products are used in the resort's kitchen.
In the SPA, herbs really come alive. As soon as you walk in, the scent of herbs envelops you. Herb-based creams and oils are used for massages and in the herbal sauna, less hot but more humid than regular Sauna, with a pot of herbal oils suspended over the rocks creating herb-scented steam.
A herbal room is currently being completed. From next year, guests will have the chance to attend herbal workshops and learn to make their own cream and ointments – and, of course, mix their own tea.
The management of Charming Slovenia offers a free head, face and shoulders massage to all female guests. I had mine on my second day and it was truly one of the best massages I've ever had. Sabina, the resident masseuse, has a warm, soft but firm touch, and after nearly one hour lying on the massage bed I wished I could have stayed there for the rest of the day. 
Food at Charming Slovenia
We had most of our meals at the resort. Breakfast was a massive spread of pretty much any breakfast food you can think of – from muesli to fresh-squeezed juices, preserved vegetables, cured meats and cheeses, organic eggs, homemade bread and jams, fresh coffee and a pot of herbal tea.
We sat for over an hour every morning working our way through the delicious spread of produce – and we were full of energy for the rest of the day. The first night we also had a three course dinner, including a delicious courgette soup, roast pork with young cheese and mushrooms and a mousse of yogurt and apricots for dessert.
Everything was freshly made and a steal at only 25 euro for the whole menu.
What to do around Ljubno
As I said before, the glamping resort lies in a very remote location, at the end of a mountain valley near the village of Ljubno. By car it's about 90 minutes from Ljubljana. We warmly recommend driving if you want to get around, as there is plenty to see and do in the area. For instance, the picturesque Logar valley is about 15 km away, a beautiful place to go trekking. The resort can also arrange activities like paragliding, canyoning and horse-riding on request. 
And if – like us – you have no car? No worries, just catch the bus from Ljubljana to Gornj Grad and let the resort arrange a transfer for you. Once at the resort, take the chance to relax and enjoy the wonderful nature.
If you fancy doing something active, the resort offers bike hire. Just grab a mountain bike and cycle 5 km down to Ljubno, a pretty village and one of the best places for fishing in the Alps.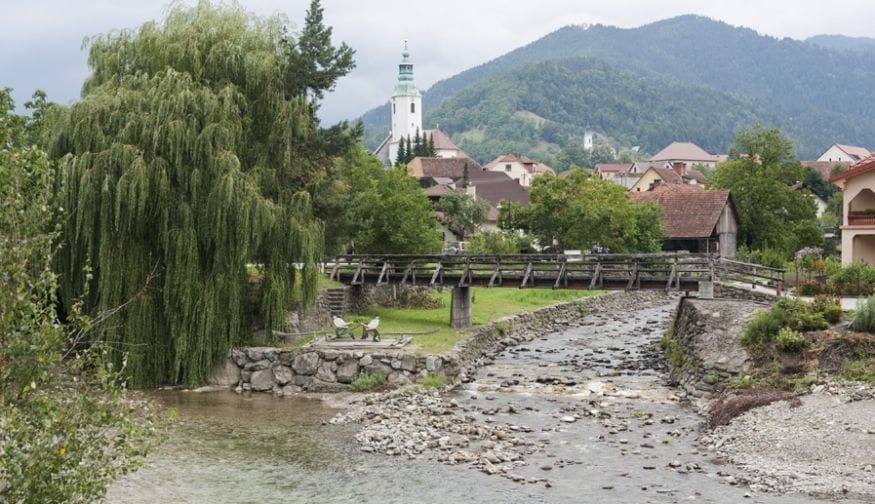 I think fishing is the most boring activity on earth, but I do love fish, so we followed the advice of Dejan, a member of staff, and went to the the 'Fishermen's association' in Ljubno. We spent 13 euro each for two freshly caught grilled trout, accompanied by a mountain of chips and a fresh salad. Not bad!
Charming Slovenia Herbal is the first of three new glamping resorts, due to open in the next couple of years all around the Slovenian Alps. One will be dedicated to the world of wine, and the other will have a large in-house spa offering a variety of beauty treatments.
Maja, the manager and one of Slovenia's glamping experts, said that every year more and more glamping resorts open in Slovenia. The country aims to become one of Europe's prime destinations for nature travel, and glamping resorts are a more eco-friendly and sustainable way to provide luxury accommodation, compared to building brand-new hotels. Plus, they're a must for nature lovers.
And after our first experience, we couldn't agree more.
We were invited by Charming Slovenia to spend two nights in the resort. All opinions are our own – we would never recommend the experience if we didn't love it.
Pin it for later?