If you follow us on Snapchat or Facebook, you'll be familiar with our quest to find the best Milan street food. We decided to name our quest the Milan Street Food Challenge. In this post, we want to share with you the results of our challenge – so what's the best street food in Milan?
Best Milan Street Food – Why?
Nick and I are massive fans of street food. We've discovered it in the early days of our travels, and since then, the sight of any kind of street food place – whether it's a noodle stall in Bangkok, a food court in Penang or a food truck in Berlin – is enough to get us excited.
When we moved to Milan in 2010 and told people that in South East Asia and India we ate pretty much only street food, the answer was generally 'bleah' and 'is that clean?' – six years later, and Milan has been swept away by the street food craze taking Europe by storm.
So, we've decided to research the street food scene of our city and compile a list of the best Milan street food places. To make our research a little more fun, we've come up with the idea of the Milan Street Food Challenge, and spent 30 days wandering around the city in search of the best street food, and produced a video every day.
The Milan Street Food Challenge Rules
First things first – how did we choose the places we featured? What's the definition of 'street food' we used? The Milan street food scene is quite varied, including food trucks, kiosks, cafés, delis and even some full-fledged restaurants that just slapped on the 'street food' label because it's oh-so-hip these days.
First rule – we decided to define as street food anything that could be eaten on the go. Most of the times, we ordered take away – other times, we sat down (especially if the weather was bad), but we always ordered food that could easily be had in a street food format. For instance, we didn't go to those 'gourmet burger' places that serve gigantic burgers laden with all kinds of sauces, because that's not the kind of food you'd have on the go.
Second rule – we never let places know we were coming in advance, we didn't ask for payment in exchange for inclusion in this list, and paid for most meals ourselves. You'll probably notice that in some videos we interviewed people and asked them to talk about their products. Sometimes we were offered samples to try, and in other cases the owners or managers forfeited our bill – we gladly accepted, but this didn't influence our decision to include the establishment on this list.
Third rule – we only featured places located in Milan, or street food trucks mostly operating around Milan. We crossed the city borders only once, to go to Sesto San Giovanni, Milan's largest borough – we were about 200 m away from the border between Milan and Sesto so we decided that was ok.
So, here are the places we featured. First, you'll find out top 10. Then, the remaining twenty – plus a bonus. Because when in Italy, you NEED to have gelato.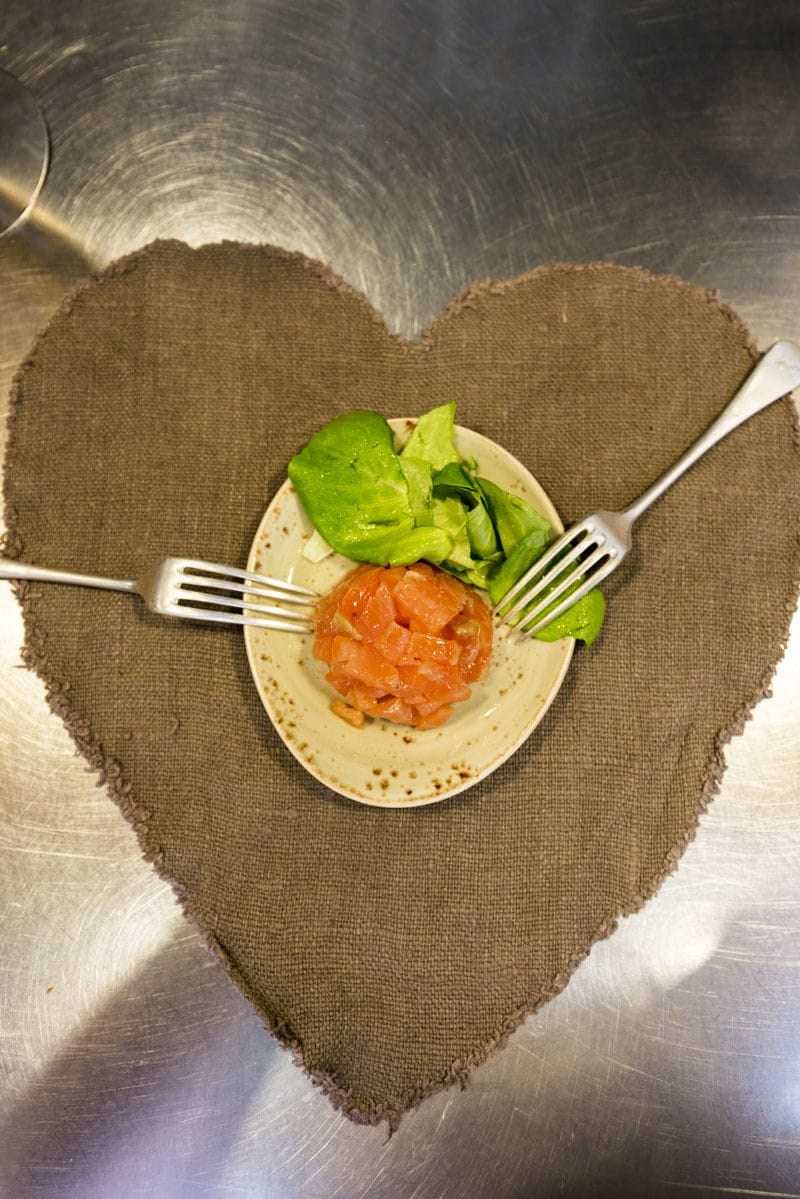 Best Milan Street Food – Our Top 10 (in no particular order)
Via Paolo Sarpi is the main drag of Milan's Chinatown. Half way down the street there's a hole-in-the-wall, with a queue out the front at all times. Behind a glass window, Chinese and Italian workers roll dough, mix stuffing, fill dumplings and dish out delicious Chinese crepes.
We tried two varieties of dumplings – the pork and cabbage ones were absolutely excellent, the beef and leek ones were also very nice, but if we were to go back, we'd go for pork dumplings. We also had a Chinese crepe with meat – a fried egg is mixed with the batter, and the inside is stuffed with leeks, coriander, a kind of fried savoury donut, beef and some barbecue and spicy sauce.
How much? €4.50 for a non-veg crepe, €3 for 4 dumplings. A steal!
Just off fancy Corso Como you'll find Sciatt à Porter, a restaurant dedicated to the culinary tradition of Valtellina. The signature dish are sciatt, buckwheat fritters filled with casera cheese and served in a paper cone. Just amazing. I have visited Valtellina dozens of times, but these were the best sciatt by far – perfectly crispy and with rich, molten cheese within.
We also tried a few other specialties from the menu, including a delicate trout tartare, some bresaola and slinzega (traditional cured meats), a tasting of polenta and taroz (mashed potatoes and beans with cheese and butter) and some truly delicious croutons with lardo. Sciatt à Porter is perfect for an aperitivo, to sample the great Valtellina produce and enjoy the atmosphere of the restaurant, or just to grab a cone of sciatt to go. Either way, you won't be disappointed!
How much? €5 for sciatt.
Pretesto is dedicated to the culinary tradition of Umbria. Despite having visited Umbria multiple times, I didn't know much about its food – for instance, I had never heard of torta al testo, Pretesto's signature dish. Carlo, the friendly chef, explained that torta al testo is a kind of unleavened bread that dates back to centuries ago, when it was prepared as an alternative to ordinary bread.
Torta al testo is cooked on a specific griddle, called 'testo', and served hot, cut into wedges and stuffed with Umbrian cured meats – we opted for ciauscolo, a soft salami flavoured with garlic and pepper. We also enjoyed some 'frittini', a basket containing arvoltolo (fried dough), supplì (rice fritters flavoured with saffron or truffle), panzerotti with herbs and sausage and fried mozzarella.
Pretesto is also a great choice for aperitivo – there's a buffet with lots of Umbrian specialties, and a drink and food from the buffet is €10.
How much? €6 for filled torta al testo, €8 for frittini.
4) I Baccalà – Food truck (check their Facebook page for weekly locations)
Fish and chip lovers from all over the world, do yourselves a favour and chase down I Baccalà – one of the best fish and chips I've head in my whole life, even though I wasn't on the beach in Australia, but in sunny via Tortona with an injured ankle.
This bright blue truck serves fish and chips, made with fried chunks of crispy and piping hot baccalà, calamari and chips, and spring rolls. We opted for baccalà and chips with wasabi mayo, served with beer from a local microbrewery, and it was truly a delicious lunch. After all, if there's a queue, it's got to be good!
How much? €5 for baccalà and chips.
The Meatball Family (TMF for short) is a restaurant in via Vigevano, and a food truck wandering around the city, both dedicated to delicious world of meatballs – as well as fish balls, and veg balls. We've seen the truck at several weekend markets and events, but ended up trying their meatballs at their via Vigevano restaurant.
With meatballs starting from €12 (around €7.50 from the food truck, if I remember correctly) this was one of the priciest places that we've visited, but quality was awesome. Nick opted for their TMF Original meatballs, with a beef and mortadella mix served with marinara sauce, and I went for the vegan option named Amnésia, made with potatoes, mushrooms and a truffle-scented sauce.
How much? €13 for TMF Original meatballs, €9.50 for the daily special
6) El Caminante – Food truck (check their Facebook page for weekly locations)
This is my mum's favourite food truck, and after having tried it, it's one of my favourites too! They serve arepas, Venezuelan maize flatbreads with a variety of fillings – I opted for the 'traditional' one named Caracas, containing chicken and avocado with honey mustard sauce, and my dad opted for Valencia, filled with a beef, onion and pepper stew and topped with cheese. Excellent, but messy!
How much? €7 for arepas
I bet you've all heard of sushi, but what about gimbab (bab for short), or Korean rolls? They're similar to sushi in the sense that they also contain rice and they're wrapped in seaweed, but instead of raw fish they contain cooked vegetables, meat and fish. Jin and his wife, the owners, make all rolls by hand in their cute restaurant near Brera. Get there early, as they tend to sell out quick!
How much? €9 for 8 rolls
Mariù serves gourmet kebabs with a variety of ingredients, allowing you to 'build your own'. Flavours are Mediterranean-inspired – the meat is marinated with ingredients like thyme and rosemary, and available ingredients include nduja, a Calabrian pork and chilli spread, burrata, friarielli (a bitter green from Naples), grilled aubergines and sundried tomatoes.
You can choose between two kinds of bread, piadina and puccia (a bread made with pizza dough), chicken or veal kebab, and lots of vegetables and sauces. My choice? Chicken kebab with sundried tomatoes, friarielli, nduja and yogurt sauce. Yum!
How much? €6.90 for a chicken kebab with 4 ingredients from the menu
9) Biroccio – Food truck (check their Facebook page for weekly locations)
I couldn't miss the chance of having risotto alla milanese from a food truck! I was skeptical at first, but all my doubts dissipated when I saw that every serving of risotto is made fresh by order! I do make a mean risotto, but Biroccio risotto was way way better than mine.
Their signature dish is risotto alla milanese with saffron, but sometimes they offer other flavours like seafood risotto, and mondeghili, Milan's traditional meatballs.
How much? €7 for risotto alla Milanese.
10) The Rolling Filipino Fast Food – Piazza Vesuvio (Mon-Fri lunchtime)
We also followed a reader's recommendation and tried this bright pink food truck dishing out Filipino favourites every weekday lunchtime. There are lots of dishes on offer – we opted for pancit (stir-fried noodles) and adobo, perhaps the Philippines' most beloved dish, made with chicken and pork marinated in vinegar, soy, garlic and bay leaves. Owner Karen also serves amazing banana caramel skewers and halo-halo, a crazy Filipino dessert made with crushed ice, coconut milk, sweet beans, tapioca balls, and a bunch of other ingredients.
How much? €5 for pancit and adobo, €1 for banana skewers
Watch all our Milan Street Food Videos on our Youtube channel – click on image below
Best Milan Street Food – Navigli
As you can see, the Navigli area is the hotspot of Milan's street food scene. Just grab a map and design your own street food tour looking at our recommendations below!
Have you ever heard of piadina, the flatbreads popular in the Romagna region? Striatelle are basically the same thing, but they're made with natural yeast, making them taste lighter and fluffier than regular piadine. This shop in via Vigevano offers a variety of fillings – there are literally pages and pages. We chose the 'Terun' with Parma ham, gorgonzola, orange peel and cime di rapa. A great alternative to regular panini and piadine!
How much? €5-7 for a striatella
12) Bagels – Piazza XXIV Maggio, 1/8
Milan really needed a bagel place – and now we've got it! Bagels sells (yes, you guessed it) homemade bagels, either as they are, or filled. There are dozens of fillings to choose from, from typically American ones like pastrami and kosher turkey to Mediterranean ones like tomatoes and mozzarella or Parma ham. We thought prices were a tad on the high side – we opted for the NY Pastrami and Swiss which cost €9.25, but the quality couldn't be faulted, and the filling was generous.
How much? From €2 to €10, depending on filling, or €1.50 for bagels alone.
13) Squisini – Via Col di Lana, 12 ***2019 UPDATE – CLOSED***
First of all, do not be intimidated if you reach this address and you see no shop. Just press the buzzer marked 'SQUISINI' and cross the courtyard to find a staircase leading to a basement – that's where you'll find Squisini! Sergio, one of the owners, explained that Squisini are small rolls filled with ingredients inspired by Italian regions, then baked.
We sampled three different ones – Piemonte, with leeks, butter and cheese, Alto Adige with speck and asiago cheese, and Calabria with broccoli, sausage and hot chillies. A great way to travel around the flavours of Italy!
How much? €3 for one – cheaper if you buy several
14) Burgez – Via Savona, 15
This is the only burger place we featured, because it's the only one we've found that remains faithful to the idea of burgers as affordable fast food – even though the quality is far higher than your every day high-street fast food chain. If you check their site, you'll see that all ingredients are sourced with a special eye to quality, resulting in a burger that is excellent, unpretentious and can be had on the go. And they also have cheesy chips. Winning!
How much? Around €10 for a menu with burger, chips and a drink.
15) Rost'Eat – Via Vigevano, 14
The specialty of Rost'Eat are arrosticini, small grilled lamb skewers from Abruzzo, served with slices of bread with olive oil. They're quite small, so you'll need at least 5 to fill up – or you can opt for a sisa, a round bread roll filled with arrosticini or a variety of cured meats and pecorino cheese. Rost'Eat is very small and popular, so grab some food and head to nearby Naviglio Grande for a stroll!
How much? €5 for 5 arrosticini, around €6 for a sisa
16) Kiosko – Piazza XXIV Maggio
A fisherman kiosk selling fresh fish during the day, and cones of fried calamari, squid, prawns, whitebait and others at night. They have a few tables where you can sit and enjoy a drink, or just eat while you stroll down Naviglio Grande nearby!
How much? €5 for fried squid and calamari
17) Ambasciata Tarantina – Via Borsi 1
A tiny shop just off Naviglio Grande serving up puccia, a kind of roll typical of Taranto and Salento made with made with pizza dough. There are dozens of fillings on offer – we opted for traditional uccelletti, chunks of smoked scamorza cheese wrapped in pancetta then grilled, served with either chips or rucola. Make sure you also order a Raffo, Taranto's very own beer.
How much? €5 for a puccia with uccelletti
This is your friendly noodle place, offering takeaway in cardboard boxes like those you see in American movies. There are all kinds of noodles on offer – from China, Japan, Thailand and elsewhere in Asia, as well as some interesting fusion combinations and Italian spaghetti. We opted for a very nice Pad Thai, and the portion was huge.
How much? Between €7 and 10
19) Mama Streat – Corso di Porta Ticinese, 77
Milan also needed a Mexican takeaway place, and now we've got it! Just off Porta Ticinese you can get tacos, burritos and empanadas to go from Mama Streat. We had a taco and burrito with carnitas (slow-cooked pork) – the meat was tasty but the salads and beans tasted a bit bland, and the advertised guacamole was in fact salad cream. Not bad, but could be improved!
How much? €2.50 for taco, €5 for burrito
20) Maido – Via Savona, 15
The only reason why I didn't include Maido in the top 10 is because out of all the places we visited, this is probably the most restaurant-y of them all. It's a Japanese street food place, serving excellent okonomiyaki (Japanese pancakes topped with seaweed and bonito flakes), rice burgers and soba noodles. Eighties kids will recognise the decoration inspired by popular cartoon Kiss Me Licia and other anime characters.
How much? Around €9 for okonomiyaki and rice burger
21) Panzerotti da Bis – Corso Cristoforo Colombo 6
There's a very popular panzerotti shop just off the Duomo, but take my advice – hop on tram number 2 and head to Panzerotti da Bis instead. Panzerotti are fried pastries filled with tomato and mozzarella – the ones we had at da Bis weren't oily at all, and the filling was perfectly melted. Leave room for a slice of Bari focaccia, topped with cherry tomatoes, olives and a generous helping of olive oil.
How much? €2.50 for two panzerotti, €2 for Bari focaccia
Best Milan Street Food – Porta Romana
Another street food hotspot! There are lots of street food places between Crocetta and Viale Bligny and several more around Via Muratori – shall we visit them for season 2 of the Milan Street Food Challenge?
22) Sorry Mama – Corso di Porta Romana, 79
When thinking lasagna, I normally imagine family dinners – but Sorry Mama shows that you can also have lasagna street food style! You can choose between various kinds of lasagna – traditional Emilia with bolognese and white sauce, vegan lasagna, pesto lasagna and lasagna with scamorza, bacon and pistachio. Lasagna is served in takeaway containers, you can either eat in or take out.
How much? Between €5 and €7.
How about pizza street food style? I'm not talking about pizza slices – Johnny serves pizza a portafoglio, meaning a whole pizza folded into fours ready to be eaten on the go. Pizza a portafoglio is smaller than a regular pizza but it's still a delicious lunch or snack, and you can choose between various toppings. Just one word of warning – it's messy!
How much? Between €4 and €7.
24) Al Pizzetta – Viale Montenero, 73
If the portafoglio style is too messy for you, head to Al Pizzetta, serving small pizzas Pescara style, about 15 cm in diameter, made with a crispier kind of dough, perfect to be enjoyed on the street as a snack. Toppings include anchovies (my fave), sausages and potatoes or friarielli (a kind of broccoli), or speck and brie (Nick's fave).
How much? Between €2 and €4.
Best Milan Street Food elsewhere
Back in Chinatown, lovers of Southern flavour shouldn't miss this place, serving up delicious fried chicken tenders and wings. Each serving of chicken can be enjoyed with a side dish – we tried stewed beans and homemade potato salad, both very tasty.
How much? Around €7 for chicken and a side dish.
26) La Siciliana – Via Teodosio, 85
Quite simply the best cannoli this side of Sicily. This place has been making amazing Sicilian sweets and savoury pastries since 1956 and it's the only place (in my opinion) that makes cannoli comparable to the ones you have in Sicily. Almond biscuits and granite are also to die for, as are cartocciate, savoury pastries typically containing tomato, mozzarella, ham and other fillings.
How much? Around €3 for cannoli, granite and cartocciate
27) Toasteria Mi Casa – Piazza Governo Provvisorio, 5
Panini are boring, let's go for toasties! This cute café serves toasties with homemade bread and a variety of inventive filling – for instance, signature 'Mi Casa' contains pancetta, saffron cream, parmesan, sundried tomatoes and almonds. We visited for aperitivo and enjoyed a craft beer with six mini toasties with inventive toppings like ham and mango or tuna and peanuts!
How much? €5 for a toastie, €6 for aperitivo
28) Cose Nostre – Via Chiesa Rossa, 71
Another Sicilian place! Cose Nostre brings up the best of Palermo food to their shop on the southern outskirts of Milan, close to the Naviglio but away from the mess! Some of their best offers include sformato di anelletti, a baked pasta dish and Torta Sette Veli, a chocolate cake that is one of my favourites ever. I wish my next birthday would come soon so I can get my very own Sette Veli! Special mention for the friendliness of the staff.
We also enjoyed two very nice savoury pastries – one with ham and bolognese sauce and one with anchovies and cacio cavallo, a hard cheese.
How much? Around €3 for pastries, the rest according to weight.
Best Milan Food Trucks
One of my favourite food trucks, especially because of their delicious grilled octopus sandwiches with potatoes and parsley. Their bread, baked in a wood-fired oven, is what truly makes Pantura's sandwiches and bruschette sing. Also try their bruschette with tomatoes and burrata for a quick snack.
How much? Around €3 for bruschette, €6 for grilled octopus sandwich.
30) Friselleria
This food truck wins the price for friendliest ever! It's a small Ape car wandering around Milan, selling 'Friselle Kits' to take away or eat on the spot. Friselle are crisp breads served topped with tomatoes, olive oil and a variety of other ingredients, including capers, olive pate and artichoke cream. Owner Rocco is super nice and will be happy to help you create your very own frisella. This was also our most popular video!
How much? Around €3 for a 'Frisella Kit'
BONUS! Best Gelato in Milan
When in Italy, you just HAVE TO have gelato! Plus, gelato is street food, isn't it? So, we've decided to conclude our Milan Street Food Challenge featuring Gelateria della Musica, our favourite gelateria in town. It's really hard to choose between the various flavours that change daily, but my very own favourites and peanut butter, salted pistachio and 'pane e marmellata', meaning bread and butter! Sorbets are the best I've had by far. They've started expanding and own a few shops in town besides their 'headquarters' in Via Pestalozzi – let's just hope quality remains high!
How much? €2.80 for 2 scoops
Do you know any other awesome Milan Street Food places? Let us know, we are already planning season 2 of the Milan Street Food Challenge!
Click on the image to subscribe to our Youtube channel to watch ALL OUR MILAN STREET FOOD VIDEOS!
Pin it for later?