Bryce Canyon in winter is a true wonderland! If you like silence and nature, it's the place for you. Find out what to do in our Bryce Canyon in winter guide!
We all know that snow makes everything more beautiful. Do you know what else makes a wonderful place truly unforgettable? Silence and peace – and for that, there's no better place in the US Southwest than Bryce Canyon National Park in winter.
Bryce Canyon is not technically a canyon, but a complex of wide red rock amphitheatres, filled with hoodoos, arches and other rock formations. It is a favourite of photographers and hikers, and one of the most iconic US national parks.
Bryce Canyon is worth visiting year round. Views and experiences are never the same – in the warm season, you can enjoy adventurous hikes into the canyon, and witness the hoodoos and spires change colour as the sun journeys across the sky.
Trouble is, you'll have to share the views with thousands of others. The solution? Visit Bryce Canyon in winter. Yes, it's cold, and the weather might alter your hiking plans – but you'll gain silence, peace, and the magic of a snow-dusted landscape.
There are many advantages to visiting Bryce Canyon in winter, but the main one is probably the fact that you'll have the entire place (almost) to yourself. On the day we visited in February 2020, there were only four other cars in the entire park.
However, visiting Bryce Canyon in winter also mean you'll have to plan what to do, and be prepared for the weather. Here we'll tell you everything you need to know – from driving and hiking info, to practical things to know to make your Bryce Canyon visit in December, January and February truly one to remember!
Where is Bryce Canyon National Park?
Bryce Canyon National Park is located in southern Utah, along State Route 63, not far from Bryce Canyon City, where you'll find hotels, a few stores and gas stations.
The closest actual town is Panguitch, about 27 miles away, offering a wider choice of food and accommodation options. For visitors flying in, the best airports to head to are Las Vegas and Salt Lake City, both about 270 miles away.
Bryce Canyon is 72 miles away from Zion National Park, which is also wonderful in winter. Driving time between the two parks is only 1 hour 20 – in theory, you could visit them both in one day, but we definitely recommend dedicating at least one day to each!
Things to Know About Bryce Canyon in Winter
Bryce Canyon Altitude
Bryce Canyon is located at considerable altitude – between 8000 and 9000 ft (2400-2700 meters).
Altitude does affect the weather, especially in winter – just keep reading the 'Weather' section below for more info.
It's also important to be aware of the dangers of altitude sickness. Between 8000 and 9000 ft, you may feel tired and short of breath, and experience nausea, headaches, insomnia, and a general sense of dizziness. Remember that altitude sickness can hit at any time, so even if you've been fine in the past, you may experience it during your visit to Bryce Canyon.
The best way to prevent and deal with altitude sickness is to stay hydrated, avoid caffeine and alcohol, and get plenty of rest. If symptoms don't improve, leave Bryce Canyon and get to a lower altitude – you'll certainly feel better as soon as you descend.
Bryce Canyon Winter Weather
Given that Bryce Canyon is located at high altitude, it comes as no surprise that it's generally colder than other parks in southern Utah, like Zion. This is certainly a blessing in summer – in winter, you'll need to keep an eye on the weather.
In December, January and February, average highs are between 36 and 38°F (just above 0°C) dropping to 15-17°F (approx -10°C) at night. Nighttime temperatures drop below freezing between October and May, so even if you are not visiting Bryce Canyon in winter, you may still want to pack a warm jacket!
Snowfall starts as early as late October, and generally you'll find snow until April. Most snow falls between December and February, so keep your eyes open for weather alerts – you most definitely don't want to be driving through a winter storm, so keep your plans flexible just in case.
Most of the time, the weather at Bryce Canyon in winter is bright and sunny, with clear blue skies that make the snow and red rocks stand out even more. This was the case when we visited in early February, and we hope it will be the same for you!
Driving to Bryce Canyon in Winter
Bryce Canyon is in a remote location, away from major cities. As we said before, we recommend keeping your plans open when visiting in winter, because driving in a snowstorm can be dangerous, as it gets icy and slippery.
After a snowstorm, roads are ploughed and cleaned quickly – this is definitely the case in the park itself. We visited on a sunny day and the roads were perfectly clean.
However, minor roads you may end up driving on to get to the park may not be as clean, so be aware and carry snow chains, especially after a snowstorm.
People at Bryce Canyon in Winter
The vast majority of the two million people that visit Bryce Canyon every year do so between May and October.
In winter, you'll find very few people around – we visited midweek in February, and only saw about 10 other people the entire day. During the weekend, or during public holidays such as President's Day when the Bryce Canyon Winter Festival takes place, you'll certainly find more – but still way fewer than in summer!
Prices at Bryce Canyon in Winter
Entrance fees at Bryce Canyon are the same year round – it costs $35 per vehicle to access, valid for 7 consecutive days. If you're also planning to visit Zion or other national parks, we recommend buying the America the Beautiful pass – it costs $80, and allows access to all US national parks for one year.
Visiting Bryce Canyon in winter, fewer people also means you can get great deals on accommodation. Ruby's Inn and the Bryce Canyon Grand, the closest hotel to the national park, were both offering great winter rates when we visited.
Things to Do at Bryce Canyon in Winter
Scenic Drive
The easiest way to enjoy Bryce Canyon National Park in winter is driving along the main 18-mile road, offering a series of stops in scenic locations on the rim of the amphitheater.
Between Mile 1 and 3 (Bryce Amphitheater), the road is ploughed immediately after storms, so it will be safe to drive even if you visit in the midst of winter. From Mile 3 to 18, the road may be closed for up to 3 days following winter storms.
Rangers at the Visitor Center recommended to drive to the end of the scenic road first, and then stop at the viewpoints as you make our way back, so that parking spots are on the same side you're driving on.
The scenic spots are marked and easy to find. On top of that, we were given a useful map at the Visitor Center, complete with a list of viewpoints and their corresponding mile marker.
The first viewpoints, at the end of the scenic road, are Yovimpa and Rainbow Point (Mile 18 and 17 respectively), also coinciding with the park's highest location. At Yovimpa Point you'll also find various trailheads leading to campsites, while Rainbow Point the famous Under-the-Rim trail to Bryce point begins.
However, campsites are closed in winter, and most hiking trails (save for some in Bryce Amphitheater) are impassable due to heavy snowfall.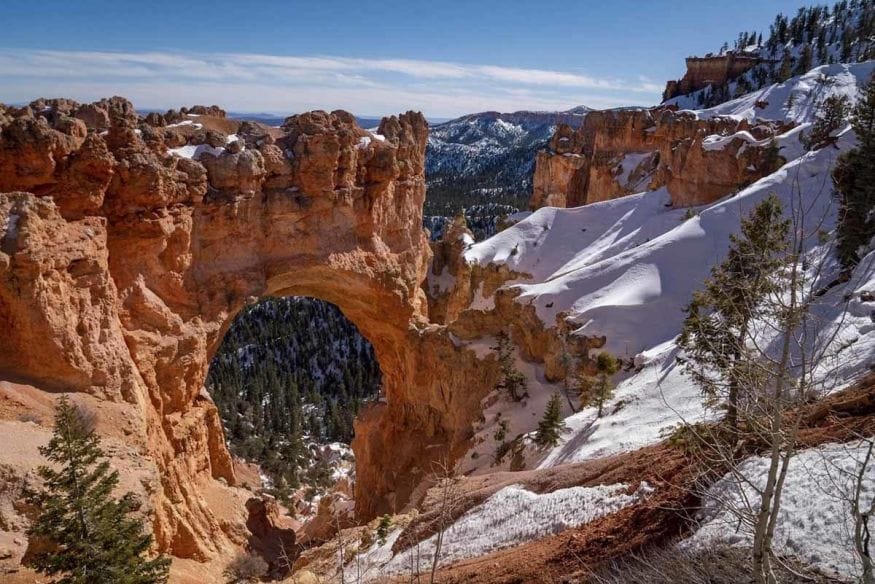 Moving on along the scenic drive, you'll encounter two other scenic locations it's worth stopping at – Natural Bridge (Mile 12) and Swamp Canyon (Mile 6). If you have time, there are lots more viewpoints to stop at – make sure you allow at least half a day for this scenic drive, as there's a lot to see!
Between Mile 3 and Mile 1, you'll find Bryce Amphiteather, the park's 'big ticket' attraction. There are four viewpoints – Bryce, Inspiration, Sunrise, and Sunset Points, all offering spectacular views.
The Rim Trail runs between these four locations on the edge of the amphitheater, and the section between Inspiration and Sunrise point is also open in winter. Make sure you pay attention though, as the trail is covered in snow!
Winter Hiking
If you love winter hiking, Bryce Canyon is the place for you. You are pretty much guaranteed you'll find snow – meaning that winter boots, traction devices such as spikes or crampons, and hiking sticks are a MUST.
You can buy traction devices at the Visitor Center, in case you need them, or rent them from outfitters in Panguitch and Bryce Canyon City. You can also rent snowshoes.
Some trails at Bryce Canyon National Park are closed in winter – here is a list of those that stay open, and are usually safe to hike. Make sure you check trail conditions at the Visitor Center before going on a winter hike!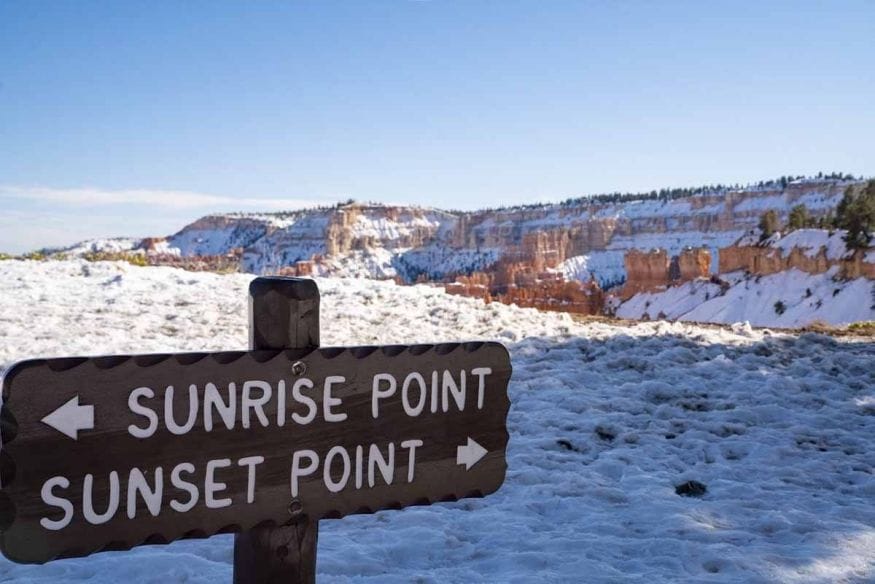 -Rim Trail (1 to 9 miles – from 30 minutes to 3 hours) – this is probably the easiest winter hike in Bryce Canyon, since it's flat and well beaten. The easiest (and most popular) section to hike is the half-mile between Sunset and Sunrise Points, running along the rim of the amphitheater, but if you want to hike more you can continue for up to 9 miles all the way to Fairyland Point.
-Queens Garden Trail (1.8 miles – 1.5 hours) – the easiest trail descending into Bryce Amphitheater, perfect if you want to get close to the hoodoos and rock formations. It descends about 300 feet from Sunrise Point, ending at Queen's Garden, where you can see a rock shaped like Queen Victoria.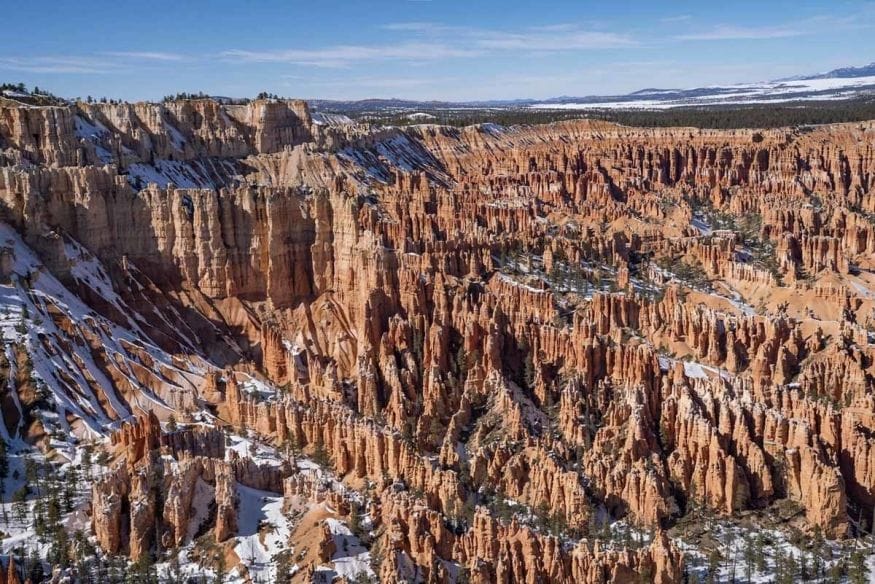 -Navajo Loop Trail (1.3 miles – 1.5 hours) – another easy option to get down to the canyon, this time starting from Sunset Point. It can be combined with Queen's Garden to create a loop trail in winter, taking about 3 hours from start to end.
**UPDATE** Following a rock slide in March 2020, the Navajo Loop is partially closed.
-Peekaboo Loop (5.5 miles – 3/4 hours) – this is a steep loop trail through the hoodoos, starting from Bryce Point, all the way to the Wall of Windows, one of the most beautiful rock formations in Bryce Canyon. It's only recommended in winter for very experienced hikers, and proper traction devices are absolutely essential!
-Fairyland Loop (8 miles – 4/5 hours) – this trail combines hiking along the rim and into the amphitheater, close to spectacular rock formations. It's fairly long and encompasses a section of the park that's rarely visited, especially in winter, so make sure you take all necessary precautions.
This is definitely the most remote hike in Bryce. If you want to know more about hiking in the US away from the crowds, check our best US offbeat hikes post!
Snowshoeing
Similarly to many other US national parks, Bryce Canyon also offers a series of FREE ranger-led programs – in winter, the most popular are definitely snowshoe hikes.
Snowshoeing takes place daily when snow conditions allow it at 1 pm, and usually last about 2 hours, introducing visitors to the geological wonders of Bryce Canyon and to the ecosystem in winter.
Advance sign-up is required at the Visitor Center from 8 am onwards on the day, and snowshoes and poles are provided for no extra charge. It's the perfect winter activity in Bryce Canyon for those who wish to hike and learn about the environment at the same time!
Full moon snowshoe hikes are also on offer sometimes between November and March, about once or twice a month when snow allows. These are very popular, and tickets are distributed with a lottery system.
Bryce Canyon Winter Festival
For the past 35 years, Bryce Canyon National Park and the historic Ruby's Inn Hotel have been hosting the Bryce Canyon Winter Festival, taking place on President's Day weekend (mid-February).
The aim of the festival is showcasing the best of Bryce Canyon in winter. The program includes a vast range of events for everyone. You'll find adventures like canoeing and snowshoe hikes, activities for kids like watercolour painting, storytelling, cookie decoration and crafts, and educational talks about geology, nutrition, nature and more.
Bryce Canyon does get busy during winter festival, so if your priority is getting away from it all, maybe opt to visit at a different time. Otherwise, it's a great event to sample all that Bryce Canyon has to offer, surrounded by spectacular winter scenery.