Winter is a wonderful time to visit US National Parks! Here we tell you all about visiting Zion National Park in winter, one of our favourites!
When we started planning our big US Southwest road trip, we hadn't planned to visit Zion National Park. We had other places on our list – Grand Canyon, of course, but also Monument Valley, Antelope Canyon, and lesser-known places like White Sands National Park.
We did plan to stay in Kanab, along the Utah/Arizona border, for two reasons – first because we wanted to visit Bryce Canyon in winter, and also because we wanted to try our luck at the Wave lottery (unfortunately, we were unsuccessful).
Zion National Park is less than an hour away from Kanab, and so we thought, why not visit? And guess what – we are so glad we did. Not only did Zion end up being one of our favourite US national parks, it was also absolutely amazing to visit in winter!
So, if you are heading to the US Southwest in December, January or February, make sure you add Zion National Park to your itinerary.
Zion is a hiking paradise, a place where you can spend a week or more covering a wide variety of paths – from river trekking adventures, to scenic hikes to dizzying lookouts, to easy, flat paths perfect for the whole family.
Here we'll tell you everything about Zion National Park in winter – including the best hikes, weather, driving info, and how to plan your stay!
Where is Zion National Park?
Zion National Park is located along State Route 9 in southwest Utah, not far from the town of Springdale.
The main feature in the park is Zion Canyon, 15 miles long and up to 2600 ft deep – the canyon was created by the Virgin River, a tributary of the larger Colorado River.
The closest major airport to Zion National Park is Las Vegas, 170 miles away. Distance to the park is 118 miles from Page, and only 45 miles from Kanab.
Bryce Canyon National Park is 72 miles away – driving time between the two parks is approx 1 hour 20 minutes. In theory, you could visit Bryce Canyon and Zion in one day, but you'll be able to barely scratch the surface of these two amazing National Parks!
Things to Know About Zion National Park in Winter
Zion National Park Winter Weather
Most of Zion National Park is around 4000 ft (1300 meters) above sea level, much lower than nearby Bryce Canyon, which reaches 9000 ft (2775 meters).
As a result, during the winter months (December, January, February) in Zion National Park you may indeed experience snow, but most of the times snow disappears rapidly at lower elevations, accumulating only on the peaks and higher paths.
In winter, daytime temperatures hover around 50°F (10°C), dropping below freezing at night. December, January, February are also the rainiest months of the year in Zion National Park, but average monthly rainfall is only 1.5 inches.
Driving in Winter at Zion National Park
Winter storms do occur in Zion National Park, but access roads and roads within the park are ploughed regularly, so driving to and around the park is not usually a problem.
Just keep an eye on the weather forecast and avoid heading to Zion National Park if a storm is forecast, but as we mentioned before, snowfall melts quickly, so you are usually ok to visit one day after the storm has passed.
When planning your time in the park, bear in mind that access to Kolob Canyons is closed in case of bad weather, and the upper part of the Kolob Terrace Road is closed all winter.
Getting Around Zion National Park in Winter
From spring to autumn, shuttle buses are the only way to get around Zion National Park, since access to private vehicles is closed to prevent congestion. Shuttle buses ran all through the park, and from the park to Springdale, allowing visitors to park their car there, too.
In winter, shuttle buses do not operate, with the exception of the holiday period between Christmas and the New Year, and President's Day weekend. At all other times you'll need your car to get around Zion National Park – meaning you can move around at leisure, with no need to stand on a packed bus!
Crowds at Zion National Park in Winter
In winter, you'll find far fewer tourists at Zion National Park compared to summer. However, since the park is at a lower elevation compared to Bryce and hiking is possible (and pleasant) year round, Zion is a popular winter hiking destination, often mentioned as an alternative to Bryce – so it's unlikely you'll be alone.
If you're visiting Zion during the weekends or on a sunny day, parking at the trailheads is likely to get full. To prevent that, try to start early, and be prepared to wait or have a 'plan B' if parking at your chosen trailhead is all taken.
Best Winter Hikes in Zion
The Narrows
Distance 9.4 miles / Elevation 330 ft / Time 8 hours
The Narrows is the section where Zion Canyon is at its narrowest – only 20 to 30 feet apart, and over a thousand feet tall.
It's one of the best known and most fun hikes in Zion National Park, because it requires you to wade through stretches of the Virgin River. It's very popular in summer, when dozens and dozens of visitors hike it daily – in winter, you'll find very few others.
The jump-off point for the Narrows hike is Temple di Sinawava, the last parking lot at the end of the road running along Zion Canyon. The first mile of the hike follows the Riverside Walk, a flat, paved and wheelchair-accessible trail following the river.
As soon as you get to the end of Riverside Walk, it's time to don your drysuit – yes, you still need to hike through the river, even in winter! Drysuits and canyoneering boots can be rented in Springdale, at a cost of about $45 per person.
Then, it's a further 4 mile to the Narrows, most of which is through the river! Water level varies throughout the winter, depending on rainfall – but the temperature is always icy cold. Always watch your step, use the stick included with your gear rental, and have fun!
This is one of the best offbeat hikes in the American Southwest – to know more, here's a post about the 9 best off the beaten path hikes in the US!
Kayenta Trail + Upper Emerald Pool Trail
Distance 3 miles / Elevation 350 ft / Time 3 hours
The Narrows is a full day effort, so if you prefer something shorter and easier, but no less scenic, hiking the Kayenta and Upper Emerald Pool Trails could be a good choice.
Hiking these two trails takes between two and three hours round trip, leaving you enough time for more hikes or to drive around scenic spots in the park.
You'll start hiking the Kayenta Trail, starting across the footbridge from the Grotto parking lot. The Kayenta Trail is more of an access trail to Upper Emerald Pools rather than a hike in its own right, but it still offers wonderful views over Zion Canyon as you make your way up.
After 45 minutes or so, depending on how fast you hike and how many photo stops you do, you'll be reaching the start of Upper Emerald Pool Trail. At that stage, you'll be leaving the edge of the canyon and turn inland, along a rocky, sandy trail.
You also have the opportunity to hike to Lower Emerald Pools, and make your way back up, but at the time of our visit in February 2020 the trail was closed due to maintenance.
We did get to see Middle Emerald Pools, reflecting the opposite walls of Zion Canyon like a giant mirror, and then continued a short distance to Upper Emerald Pools, where the trail ends, hemmed against the towering red canyon walls.
Canyon Overlook Trail
Distance 1 mile / Elevation 160 ft / Time 1 hour
Canyon Overlook Trail is one of the most popular in Zion National Park, leading you to a scenic spot overlooking Zion Canyon in just half an hour each way, hiking along a comfortable path.
The trailhead is at the parking lot on the other side of the Zion-Mount Carmel tunnel. Make sure you park at the lot on the right just after the tunnel – don't miss it, because if you do, you'll have to reverse, drive all the way through the tunnel, reverse, drive all the way through the tunnel again, to finally make it back! Speaking from experience here.
The trail is very well maintained and fenced in places with high drop offs – just don't look down if you don't like heights! Some sections of the path are carved out of the sandstone, and another crosses a small cave, making this easy trail even more fun!
As you get close to the end, you may see some bighorn sheep and mountain goats grazing along the path – PLEASE remember not to feed them!
The trail ends at a spectacular viewpoint, with Zion Canyon stretching all before you. If you look closely, you may see the road climbing up to the Zion-Mount Carmel tunnel, and the sandstone formations of the canyon standing out against the sky.
Angels Landing
Distance 5.4 miles / Elevation 1500 ft / Time 4 hours
Angels Landing is the most beautiful and most iconic hike in Zion National Park, and one of the most popular at par with the Narrows. It's a half-day effort, climbing up to a spectacular viewpoint along a chain-assisted narrow ridge, requiring a bit of scrambling and definitely a head for heights.
In winter, the trail to Angels Landing is often closed because of ice or strong winds – this was sadly the case at the time of our visit. However, you may indeed find it open, and if that's the case, don't miss experiencing this hike. In summer, the trail is packed with hundreds of hikers, but in winter this is most definitely not the case.
The Angels Landing trail starts at the Grotto parking lot, the same as the Kayenta and Upper Emerald Pools hike. Cross the river, and start hiking from there – soon, the trail will veer off from Kayenta, and continues following the West Rim Trail.
The first section is bright and open, then you'll be entering a canyon known as 'Refrigerator Canyon', the only part of the hike in the shade – which is said to be very pleasant in summer, but doesn't make such a big difference if you're visiting Zion National Park in winter.
You'll start climbing seriously once you get to Walter's Wiggles, 21 switchbacks taking you to Scout's Lookout, the first lookout along the trail. If you realise the height is already too much for you, now it's a good time to turn back – otherwise, keep going!
After Scout's Lookout, the 'real Angel's Landing experience' begins, climbing with the aid of chains. You have to scramble up in some sections, and you get to points where the ridge is really narrow with a drop on either side – if you find yourself unsettled, hold onto the chain and proceed at a slow and steady pace, breathing long, deep breaths.
The view from the top will be worth the effort – and if you are hiking Angel's Landing in winter, you may very well be alone up there!
Other Things to Do in Winter at Zion
Scenic Drives
If you don't like hiking, no problem! One of the best things about visiting Zion National Park in winter is having the opportunity to drive around at your own leisure, since the shuttle bus doesn't run. Also, low visitor numbers mean there's little traffic and you can usually find parking space.
You can start with the Zion Canyon Scenic Drive, running from the main visitor centre, along the Virgin River all the way to the Temple of Sinawava, where you can go for an easy stroll along the Riverside Walk.
Along the Zion Canyon Scenic Drive, you can stop and park your car at all the shuttle bus stops, provided the bus is not running. At each stop you'll find scenic spots and picture opportunities – out favourites were #4, the Court of the Patriarchs, and #8, Big Bend.
Make sure you also take the Zion-Mount Carmel highway, with views along the way on rock formations such as the Big Arch and Checkerboard Mesa.
Snowshoeing
Remember that Zion is at a lower elevation compared to Bryce Canyon National Park, and snowfall is not guaranteed in winter. If you're set on snowshoeing, we recommend heading to Bryce instead to be sure.
If you do find yourself in Zion after a snowfall, the East Rim Trail is the best place for snowshoeing and ski touring. Make sure you stop at the Visitor Center to ask the rangers for tips on where to go, as trail openings may change due to weather conditions.
Wildlife Viewing
Lower visitor numbers at Zion National Park in winter also mean that you're more likely to see wildlife!
We saw some mountain goats and bighorn sheep along the trail to Canyon Overlook, and we were told that the Grotto trail is also a great place for wildlife viewing, with deer, elk and wild turkeys regularly spotted, especially around sunset!
How Many Days in Zion National Park?
The itinerary described below is the one we followed during our winter visit to Zion National Park. One day is enough to see the main sights, do a couple of short hikes and generally speaking get an idea of what Zion has to offer.
Zion National Park in 1 Day
Morning – Drive into the park and enter through the East entrance. Drive the Zion-Mount Carmel Highway and stop along the way for picture opportunities.
Head to the visitor center, see the exhibits and chat to the rangers to double check trail conditions. Drive the Zion Canyon Scenic Drive all the way to the end, and do the mile-long Riverside Walk to the start of the Narrows.
Afternoon – spend the rest of the day exploring viewpoints along the Zion Canyon Scenic Drive, stopping wherever you like along the way. Choose one or two short hikes to do – we hiked the Kayenta and Upper Emerald Pool Trails, described above.
On the way out of the park, if you are leaving via the East entrance, don't miss hiking the Canyon Overlook Trail for views and wildlife viewing opportunities.
Zion National Park in 2 Days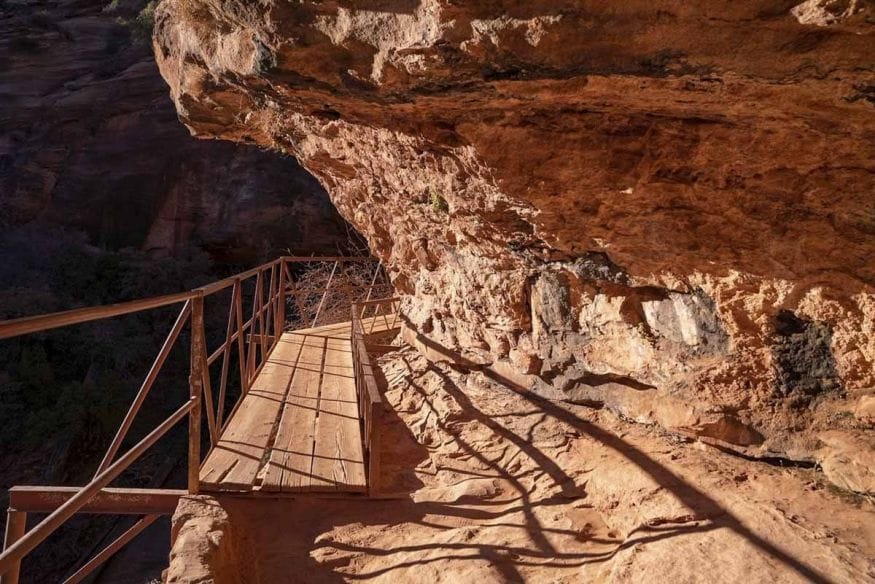 To dig a bit deeper and do one of the big Zion hikes like Angels Landing or the Narrows, we recommend spending at least two days exploring Zion National Park.
Day 1 – Drive into the park via the East Entrance and follow the Zion-Mount Carmel Highway. Stop at the Visitor Center to double check trail conditions, and spend the rest of the day hiking to Angels Landing (if possible), otherwise opt for the Kayenta and Upper Emerald Pool Trails.
Day 2 – Dedicate the whole day to hiking to The Narrows. Don't forget to arrange boots and drysuit rental, especially if you're visiting in winter! If you have any time left, hike the Canyon Overlook Trail on your way out of the park.