We're back in Milan and for the next three weeks we'll showcase the beauty of an underrated part of our region Lombardia – the Sondrio province. The first stop is Chiavenna, one of the locations we visited last weekend as part of the #InLombardia365 project. Follow this hashtag to learn more about our region, or come and visit to see for yourself!
I doubt many people would get the reference in the title of this post. It was inspired by Trieste and the Meaning of Nowhere, a book written by British author Jan Morris. Jan (then James) first visited Trieste during WW2, as a British soldier, then again fifty years later, as an elderly woman.
As a frontier land, Trieste possesses an allure of 'nowhereness' – in her book, Jan takes readers through the history of the town, now on the easternmost border of Italy, through Illyrian, Habsburg, British and German Trieste, through a a city that changed nationality 'with a stroke of the bureaucrat's pen', through its soul, that is at once whimsical, Kafkaesque and international, or perhaps supernational.
What does this have to do with Chiavenna, a mountain town in Lombardia, giving the name to a valley that is surrounded by Switzerland on three sides?
Well, Chiavenna is also a frontier land. It lies on the foot of Maloja Pass, connecting Italy with Switzerland, Germany and beyond. The valley has changed hands multiple times – throughout its history it has been Byzantine, part of the Duchy of Milan, of Graubunden, and then part of Napoleon's Cisalpine Republic, and of the Habsburg Empire.
Not far from Chiavenna you'll find Pizzo dei Tre Signori, a mountain that marked the historic boundaries between Milan, Graubunden and the Republic of Venice.
Planning to visit Italy in Spring? Check this article for the best places to visit in Italy in March!
Palazzo Vertemate Franchi
Being located on the road that connected Milan to Engadina and Munich, the valley also became a very important centre for trade. Piuro, just north of Chiavenna, was one of the wealthiest and busiest towns in the area. Merchants laden with silks from Como and earthenware from Valchiavenna transported their wares north, returning with goods from the Holy Roman Empire and beyond.
The profits of trade were reinvested into the arts and culture – the Vertemate Franchi family was the wealthiest in the area, and possessed eight beautiful Renaissance style villas, with Italian gardens, vineyards and frescoed interiors.
Everything came to an end on August 25th, 1618. The whole of Piuro was destroyed by one of the worst landslides in history, killing over a thousand people including many members of the Vertemate Franchi family.
Of all this wealth and history, only one building survived the landslide – the summer villa on the other side of the valley, now Palazzo Vertemate Franchi.
The palazzo looked unassuming from the outside – a plain, grey stone construction, larger but not dissimilar from the nearby houses. The scenery was what caught my attention. The mountains were all around, still topped with the last of the winter snows, and the midday sun shone in the sapphire sky, a blue so deep you only see in the mountains on those rare days with no haze.
We walked through the Palazzo walls to find a garden with the geometric hedges and symmetries typical of Italian Renaissance gardens, and a vineyard completely enclosed within the walls of the property – the only clos (walled) vineyard in the whole of the Alps.
As we walked into the Palazzo itself, I felt something brush past my leg. It was Lilli, the resident cat. She looked very similar to my Tappo and I was unable to resist giving her a cuddle, as she stretched and lazed on a stone step in the sun. The custodian explained that the Palazzo has always had a resident cat – Lilli is the real owner, he said, as she got up and sashayed across the vineyard.
When we walked into the first room, we were blown off our feet by the magnificent frescoes covering every inch of wall and ceiling. The frescos portray stories from Ovid's Metamorphosis, and are incredibly well-preserved – perhaps because of the weather, or because the Palazzo sees a relatively small number of tourists.
Some rooms were entirely covered with intricately carved wood panelling, concealing small studies where a clerk would hide to take notes on trade negotiations taking place in the room.
The Palazzo is full of secrets, the custodian said – right above the bed in the so-called Bishop's Room there's a trap door, and the saying goes that the bishop was very fond of maidens, and they were delivered to him each night through the trap door.
Like all old mansions and manors, Palazzo Vertemate Franchi also has its resident ghost, Nicolò, also known to be fond of young ladies. So, if you find yourself wandering the halls of the palazzo at night and feel something brushing past you, it may be Nicolò. Or maybe it will just be Lilli the cat.
The genius loci of Chiavenna
From Palazzo Vertemate Franchi, Chiavenna is a short drive away. Just five minutes and we jumped off our minibus in front of Chiavenna's station, where a lone railway line stretches towards Switzerland.
It was the beginning of spring. Cherry, plum and magnolia blossoms were in burst on tree branches in the pretty gardens and flowerbeds around the city centre. Children ran out of school into the sun-drenched afternoon, and group of teenagers sat on the steps on the Collegiata di San Lorenzo, chatting and doing wheelies on their mountain bikes.
An elderly couple talked between themselves. I think they're tourists, they must be from Milano, they said, after having noticed us toting cameras and matching t-shirts. Milano – the City par excellence in this remote valley, close yet so far away in the mids of locals.
We walked through the historic centre – and the time we finished, shadows were getting longer, and the blades of sunlight between buildings were turning golden.
We stopped for a few snaps on the bridge over the river Mera. In the distance, the mountain peaks shone in the sunset, and the river murmured among the rocks.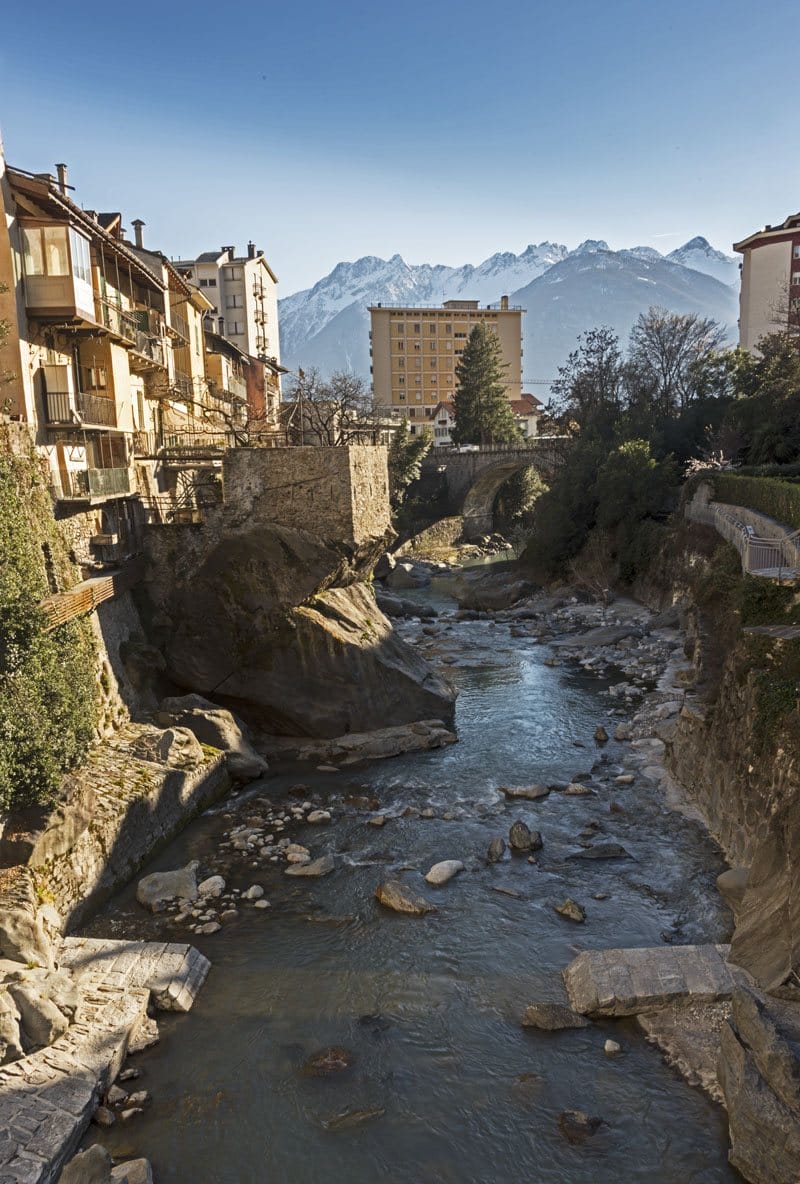 I remembered my first visit to Chiavenna, about seven years ago. It was late May, and we had come to Chiavenna for dinner from Milan. This is a happy place, we thought when we arrived. A place where community still matters, the streets are safe and nature is just there, not drowned and squashed beneath tons of concrete like in our City.
And that's where the Trieste analogy comes back. In her book, Jan Morris mentions the realm of the spiritual and unseen. Sometimes she feels herself transported back to Trieste – and these moments 'are popularly supposed to happen at ten minutes before the hour, and it is odd how frequently they do'.
Since my first visit, I have been to Chiavenna about twenty times. I've been there in the snow, in the rain and in beautiful sunny days like that last one. I've spent as little as ten minutes and as long as the whole day – but somehow, I find myself drawn to the place over and over again. I do not have any friends or family in Chiavenna, no childhood memories, no significant ties.
The only explanation I can give is that there must be something about the spirit of the place. The Romans called it genius loci, a numinous spirit that protected a home or a place. In modern times, the term has come to signify the atmosphere, what makes one place distinctive and different from another.
I believe that we see genius loci differently. Sometimes – like when we were in Montreux – we feel that our emotions are shared by many. A place that signifies happiness to me, to us, suddenly evokes happiness in our readers, in our family and friends. Other times it doesn't.
Whatever the meaning of this is, Chiavenna is indeed unique.
Crotti and Merenda in Chiavenna
Crotti are one of Chiavenna's specificities. The Valchiavenna mountains, hemming the city in on two sides, are not the solid rocks we may expect. They're hollow and brittle, concealing small, subterranean caves.
These caves are known as 'crotti'. They are the result of ancient landslides, created by boulders stacked on top of one another, and a constant breeze – called sorel in local dialect – blows constantly through the caves, keeping temperatures stable.
Chiavenna's crotti have been used for centuries to store cheeses and cured meats – like brisaola, cured and lightly smoked beef, and violino, a local specialty of cured goat. Local cheeses are also worth a mention – Bitto is the king of them all, a mountain cheese made in alpeggi, the summer shelters typical of transhumant shepherding.
While aperitivo reigns supreme in Milan, Chiavenna is one of the few places in Italy that has maintained the tradition of merenda, the 'fourth meal of the day', a snack traditionally consumed between four and six in the afternoon.
Merenda can take various forms – it can be a panino, a piece of fruit or a chocolate bar that parents and grandparents give to their children after they return from school, it can be the huge merenda sinoira of Piemonte and Valle d'Aosta, that more than replaces dinner, and many others.
Every Italian has a childhood memory of merenda – for me it was bread and chocolate, that my grandfather Luciano brought me wrapped in a cloth napkin as he collected me from school. Even just the word merenda was enough to bring me back to that time, and I remember the long hands of my grandfather, his pale skin, and how I always tried to hide the bread and just eat the chocolate.
A pang of nostalgia hit me for a moment, before bringing me back to the table of Crotto Ombra, laden with all sorts of deliciousness.
In Chiavenna, merenda means the best of crotti produce, but not quite as much as you'd have at dinner. There are meats, cheeses, sweet and my very own favourite – schisciatt, a local rendition of sciatt from nearby Valtellina, buckwheat fritters stuffed with melted cheese.
All of it was washed down with a local red and followed with biscotti di Prosto, a buttery biscuit with lots more butter than biscuit, and torta Fioretto, a focaccia-like cake topped with melted butter (yes, butter is a thing around here), sugar and fennel seeds.
Shortly afterwards, we jumped into our van and headed out of Chiavenna bound for Valgerola. We drove past Samolaco, the northernmost reach of Lake Como, and saw the peaks mirrored in the blue, still lake. The full moon slowly rose. That night we wouldn't see darkness.
But that's another story.
Chiavenna Practical Information
How to reach Chiavenna from Milan
By Car: it's a scenic 120 km drive, following the eastern shore of Lake Como, taking about 2 hours.
By Train: it takes about 2 hours and you need to change trains at Colico. Only regional trains reach Chiavenna so bookings are not needed.
By Taxi: regular Milan taxis won't drive you all the way to Chiavenna. The price of a private transfer would be about 300 euro.
Where to Stay
In Chiavenna you'll mostly find family run hotels and B&B. The B&B Veneziana inside Palazzo Salis looks truly special – the Palazzo itself is closed to the public but a wing has been refurbished into a B&B with period furniture. I haven't stayed there myself but if I decided to spend the night in Chiavenna that would definitely be my choice!
Where to Eat
Crotti, crotti, crotti! Where else? You can opt for merenda like we did, or go for the full monty lunch/dinner, including pizzoccheri chiavennaschi and mixed grill cooked on stone as a main course.
Most crotti offer a similar menu – in Chiavenna I've been to Crotto Ombra and Crotto Al Prato, and in Prosto (close to Palazzo Vertemate Franchi) I have eaten at Crotto Belvedere and Crotto Quartino. A meal is about €25 per person.
If you want to read more about Lombardia, here are three more posts:
This post was brought to you as part of the #InLombardia365 campaign, in collaboration with In Lombardia and iambassador.
Pin it for later?
Snap the Photo to add us!