Have you ever considered cycling in Venice? I know, it sounds kind of hard with all those bridges – but luckily, the Venice Lagoon and islands offer plenty of fun bike rides. Let's discover the best 5!
First things first – you can't cycle in Venice itself. The calli are too narrow, too crowded, and bikes would present a hazard. You can't take your bike into the historic centre, and you also can't take scooters and skateboards. Those travelling with their own bike will have to leave it in storage before entering the Venice historic centre – I'll provide more info below.
So, why the hell am I even talking about cycling in Venice? Because there's much more to explore in the Venetian Lagoon beyond the city itself. The Venetian Lagoon is the enclosed bay surrounding the city of Venice, made up of several low-lying islands and strips of land, many of which are connected by bridges, ferries or water buses, making it easy to combine several islands in one single bike ride.
The entire territory of the Venetian Lagoon is flat, with no climbs save for a few bridges or overpasses. The itineraries described below follow a mix of cycleways, unpaved paths, and secondary roads. Save for high season, there's very little traffic – making these bike rides near Venice ideal for families and beginner cyclists.
Let's have a look at these 5 best bike rides near Venice, showing you an offbeat, nature-focused experience in the Venetian Lagoon, away from the tourist crowds of the historic centre!
Best Bike Rides Near Venice
1) Giro Laguna
Length: 40 km
80% paved, 20% unpaved
If you have little time to go cycling in Venice and can only fit one bike ride, the Giro Laguna itinerary should be it. In just 40 km, this itinerary covers a lot of what makes the Venetian Lagoon a unique place – the stunning scenery suspended between water and land, offbeat villages where only a few souls reside, and the interplay between nature and mankind that dates back centuries.
The Giro Laguna 40 km loop starts and ends from Jesolo Lido, a great base for everyone looking to explore the Venice Lagoon on two wheels. Jesolo Lido is a seaside resort, busy in summertime, and very quiet from October to April.
The itinerary heads west from Jesolo Lido. and follows the cycleway along the bank of the River Sile, before reaching Cavallino, a tiny village with Venetian-style buildings
From Cavallino, the itinerary continues west following a protected cycle path hanging over the lagoon, with scenic views especially at sunset. This is also a great birdwatching site – watch egrets and herons swoop down between the reeds before taking a turn north heading towards Lio Piccolo, an almost-abandoned village with only 22 residents, set on a collection of islands.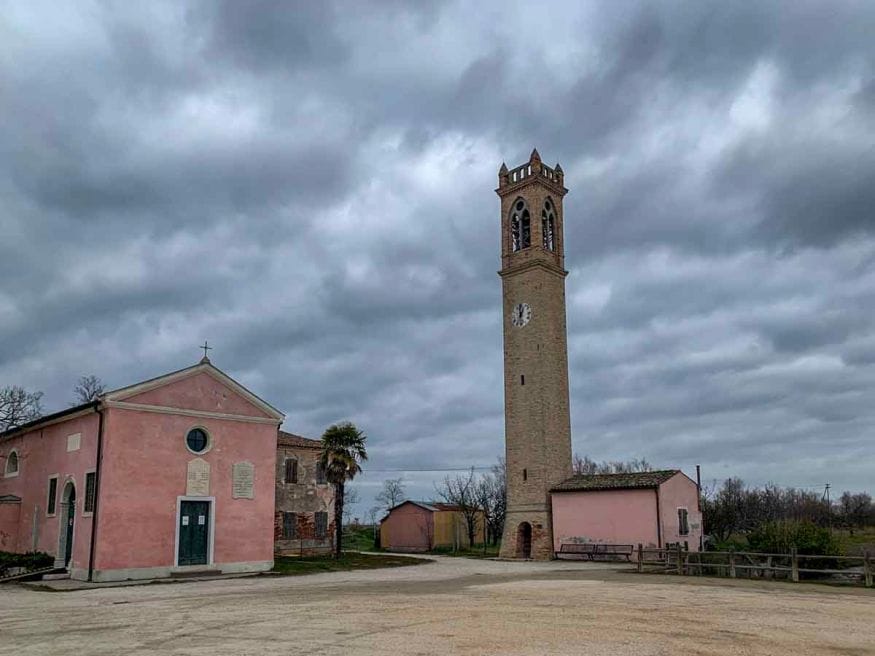 This part of the bike ride is very scenic – you'll be cycling down a road surrounded by the lagoon on both sides, with barene (intertidal flatlands) covered with grasses and wildflowers, as well as valli di pesca, areas within the lagoon where fish have been farmed ever since the 11th century.
After Lio Piccolo, it's possible to take a ferry across to Lio Maggiore, ride 6 km on unpaved roads back to the mainland, and then close the loop heading back to Jesolo. If you want to ride the full loop, be sure to book your ferry passage ahead of time on Blue Dream Cavallino (April-October only, Wed-Sun).
You can find more info about this itinerary (and many other Venice bike rides) on the Venezia e Lagune Bike website, collecting information to go cycling in Venice and bike-friendly hotels.
2) Lido-Pellestrina-Chioggia
Length: 25 km
90% paved, 10% unpaved
Don't let the brevity of this bike ride fool you – it will still take you most of the day to cycle from Venice Lido, to Pellestrina and finally to Chioggia, discovering two diverse islands and the southernmost town in the Lagoon, a kind of smaller and more chilled version of Venice.
This itinerary starts at the main Lido vaporetto (ferry/water bus) stop, Santa Maria Elisabetta (SME on Google Maps) in the northern part of the island. From there, ride south following Via Sandro Gallo all the way to Malamocco, or alternatively cycle along the Lungomare, past all the fancy hotels and the Palazzo del Cinema where the yearly Venice Cinema Festival is held every September.
If you opted to ride along the Lungomare, you can follow the Murazzi, a narrow lane on top of giant stones placed over 200 years ago to protect the shore from erosion. The Murazzi are for pedestrians only, but if you're there in the off-season and there are no people around, there will be no one to stop you 🙂
The hamlet of Malamocco is one of the oldest in the Venetian Lagoon, dating back to Roman times. Cycle through all the way to Alberoni, on the southern tip of Lido island, where every half an hour you can catch vaporetto n. 11 to Pellestrina.
Ride 8 km down the length of Pellestrina island, passing all the villages – Santa Maria del Mare, San Pietro in Volta, and finally namesake Pellestrina, where you catch water bus n.11 to Chioggia. It's an absolute delight to cycle around Pellestrina – the island is really offbeat and really narrow at points, giving you the feeling of truly being on an island.
In Chioggia, spend some time cycling around, or maybe even heading across the bridge to Sottomarina. Then, it's time to retrace your steps to head back to the starting point!
3)
Grande Guerra – Blue Itinerary
Length: 25 km
70% paved, 30% unpaved
The Grande Guerra – Blue Itinerary is a ring-shaped route extending from Jesolo to the banks of the River Piave in Cortellazzo, and back to Jesolo following the course of a canal. This area was where the Italian army retreated after the defeat in Caporetto in 1917, before overcoming the Austro-Hungarian troops a year later in the battle that ended World War I on the Italian front.
The loop starts in Jesolo, right opposite the church of San Giovanni Battista. The Neo-Romanesque church you see today dates back to the early 20th century, but there has been a church in this location ever since the 12th century. Before heading off on your ride, take a minute to look at the two World War I memorials opposite one another – one dedicated to fallen soldiers, in front of the church, and a second one to remember fallen sailors.
Then, cycle following the course of the River Sile as it bends to the left. Keep following the cycle path for approximately 2 km – you'll be on the outskirts of Jesolo by now, with farmland on your right, shops and restaurants on your left. Soon you'll be leaving traffic behind and crossing a quiet residential neighbourhood, before heading towards the banks of the Piave.
Here you have two choices – if you are on a road bike, keep following Via Massaua for about 4 km, until you reach the boat bridge across the Piave. Alternatively, if you have a mountain or gravel bike you can follow the unpaved path running on the right bank of the Piave, all the way to the boat bridge.
The itinerary continues along Via Massaua towards Cortellazzo, where you'll find a small fishing harbour and the quietest beaches in Jesolo. Ride over the bridge spanning the Cavetta canal, then continue along the canal all the way back to Jesolo – in the distance, you'll see the belltower of the San Giovanni Battista Church, getting closer and closer as you ride on.
4) Sant'Erasmo
Length: 12 km
90% paved, 10% unpaved
Are you looking for a really quick and easy bike ride in one of Venice's most offbeat and unknown islands? Then, head to Sant'Erasmo, an island in the northern part of the Lagoon known for centuries as 'Venice's vegetable garden'.
If you are staying in Venice, you can catch vaporetto n.13 to Sant'Erasmo – you can take bikes on the boat in summer, or alternatively you can rent a bike in Sant'Erasmo at B&B Il Lato Azzurro. If you are staying in Jesolo, you can ride to Treporti following the 'Giro Laguna' itinerary described above, then book a ferry at Albatros Tour – check schedule in advance.
The loop around Sant'Erasmo is simple and pleasant – basically, just follow the road circling around the perimeter of the island, stopping at leisure to admire the vegetable gardens. There, unique products are grown, including cardi, asparagus, and purple artichokes known as castraure, sold at Rialto Market and at fancy restaurants all over Venice.
5) Greenway Treviso-Jesolo
Length: 52 km
60% paved, 40% unpaved
After a quick and easy ride, it's time for a longer cycling adventure from Jesolo to Treviso, following the banks of the River Sile.
From Jesolo, you'll have to cycle for approximately 4 km to Torre del Caigo, a medieval tower located on the banks of the Sile. Then, follow the unpaved road on the left hand side of the bridge for 6 km to Caposile, then cross the scenic boat bridge and head west. After about 4 km, you'll have the Sile on one side, and the lagoon on the other, giving you the feeling of cycling in a liminal land where the distinction of where the water ends is not so clear.
Keep following the twists and turns of the river all the way to Oasi di Trepalade, a nature reserve where waterbirds nest between reeds and hedges. Take a break in this peaceful oasis and then continue along the riverbank to Musestre, where the ruins of a Longobard tower survive on the edge of the river.
Trepalade also marks the halfway point of this route. There are plenty of other places to stop at, depending on your tastes and preferences – like the church at Casale sul Sile with frescoes by Tiepolo, the little harbour in Casier with a unique water clock, or the Cimitero dei Burci, where ancient boats used to sail down the river have been abandoned.
From there, it's only a further 8 km to Treviso, a pleasant medium-sized town also known for being the birthplace of tiramisu. By now, you'll definitely deserve one!
Cycling in Venice – Practical Info
Best Time to Go Cycling in Venice
It's possible to go cycling in Venice year-round, but the best times are definitely late summer, early autumn, and spring, when the temperature is ideal and the crowds on ferries and water buses are less of an issue. These cycling itineraries cover offbeat areas and islands, visited by few people even in high season, but the seaside around Jesolo is very busy during the summer holiday season.
Winter is another good time to cycle near Venice – it never gets really cold, and you're sure to have the place to yourself. The only times I would avoid are the busy summer months (June/July/August) when it's too hot to cycle with ease.
Where to Rent a Bike Near Venice
If you don't have your own bike, I recommend consulting the Venezia & Lagune Bike website and choosing a bike-friendly hotel, which will also sort out bike rental for you. Depending on your preferences, budget, and chosen itinerary, you can choose between mountain bikes, electric bikes, city or road bikes.
All of these itineraries include unpaved sections, so hybrid or mountain bikes are probably the best options.
Best Bike Hotel Near Venice
Hotel Germania is located in Jesolo Lido, and it's one of the few hotels in the area to open year-round. They close for a few weeks between December and January, but open again in time for Venice Carnival in February.
The hotel offers comfortable rooms, all individually decorated, in two renovated buildings steps away from the beach. There's also a restaurant on site, serving traditional specialties for hotel guests opting for half or full board.
Visiting cyclists can take advantage of a bike room, offering secure storage and a work table for small repairs. In high season, the hotel also regularly organizes bike excursions for guests, including bike rental, a packed lunch, helmets and even bike shorts.
Get in touch with Tania, the friendly owner, via the hotel website – she's one of the most passionate hoteliers I've ever met in my life, and her mission is organizing unforgettable experiences for her guests.
Bike Storage in Venice
Are you on a cycling trip around Venice with your own bike, and want to visit Venice for a few days? As mentioned at the start of this article, you can't take bikes at all into Venice, not even if you walk them.
The easiest solution is leaving your bike in one of the secure boxes at level -1 of the big car park in Piazzale Roma. The cost is €10 per day, and you can also charge your bike if it's electric or have electronic shifting. You can find more info here!
Looking for more cycling itineraries around Northern Italy? Here are our guides about two itineraries in Emilia-Romagna, the Ciclovia del Sole and Dante's Way!