Is there anything better than a Finnish sauna after a long, sweaty hike? After hiking the Finnish Archipelago and hiking in the Åland Islands, we'd love to share with you our favourite Finnish sauna experiences, plus some notes on the different types of sauna and how to enjoy sauna and relax like a Finn!
There's a Finnish word all of you know – it's sauna, Finland's most famous export. Part relaxing, part social experience, every Finn I know enjoys sauna at least once a week – sometimes alone, most of the times with friends, accompanied by a drink or two.
No Finnish experience is complete without a sauna, and during our 5 trips to the country we've had the chance to enjoy Finnish sauna several times, in some truly amazing places. Finland is a country that changes completely between summer and winter – yet the Finnish sauna experience transcends seasons, and can be enjoyed both in the darkness of winter, under the northern lights or the midnight sun in June.
In this post, we've decided to list our favourite Finnish sauna experiences – or at least, the best we've experienced during our trips to the country. Before getting into details, though, we'll introduce you to Finnish sauna – what it is, how to do it, and how to behave.
Introducing Types of Finnish sauna
Before traveling to Finland for the first time, I read somewhere that every Finnish house had a sauna – there are apparently two million saunas in Finland, and the population is about 5 million, so it may as well be. It seemed crazy to me – in Italy, sauna is something really extravagant and decadent. Indeed, most people I met in Finland have a sauna either in their own home or in their apartment buildings, and for those who don't there's usually a public sauna nearby. Even people who do have a sauna in their apartment may visit public sauna sometimes, to enjoy a different kind of sauna experience. Yes, you heard that right – not all sauna were created equal!
Electric sauna are the easiest to find – there's usually an electric stove that heats up a small wood-panelled space. Sometimes you'll be able to select the temperature you want – 60-80 max is recommended for sauna virgins. Most hotels and apartments will have an electric sauna that can be booked for private sessions, or different access times for males and females.
Wood sauna are heated by a wood stove, burning birch wood, with stones placed over its top. You will usually find them in the countryside, attached to a cabin or cottage, or in a separate building. Compared to electric sauna, wood sauna feels a lot cosier – the wood crackles as it burns and releases its earthy aroma. If you're staying in a place with a wood sauna you'll usually be asked to reserve in advance, as it takes a longer time to heat and it's hard to maintain the right temperature.
Smoke sauna (savusauna) are the most authentic and unique. Basically, when heating a smoke sauna, the smoke from the fire is trapped inside the sauna room, turning the walls black with soot but releasing a lovely resin-y scent. The smoke is released before people access the room, leaving only the soot behind. Smoke sauna tend to be hotter, and can be a bit overwhelming for sauna first timers – not to mention expensive, as several hours are needed to heat the sauna and achieve the desired effect.
Finns are crazy sauna artists, and they are able to turn pretty much anything into a sauna. I have heard of tent sauna and igloo sauna, sauna boats and there's even a sauna pod on Helsinki's sky wheel!
How to relax in a Finnish sauna
1) Get Naked!
Whether you've chosen to enjoy an electric, wood or smoke sauna, the basic rule is… you have to get naked! This is very hard to grasp as a non-Finn – Finnish people are generally shy and reserved, yet have no problem whatsoever getting naked in public. Go figure! If you – like me – feel uncomfortable getting naked in public, fear not – most hotels and public sauna will allow you to wear a bathing suit, alternatively you can wrap your towel around yourself. Don't expect everyone to do the same, though!
2) Have a Shower
Make sure you shower before you enter the sauna. All sauna, even the smallest ones, will have an entrance room with showers or at least buckets of water to wash up before entering.
3) Find the Best Place to Sit
When you enter the sauna you'll find some squares of thick tissue paper or small towels, called perfletti. These are used to sit on – you're supposed to be naked, remember? Once you enter, choose where you want to sit – as a rule of thumb, the higher up the bench, the hotter it will be.
4) Learn how to loyly
Into the sauna you'll find a basket with some rocks. Don't touch them – they're hot. There's also a ladle with water that can be used to throw on the rocks, raise the temperature and create steam. The Finnish word for this is 'loyly'. The more you throw water on the rocks, the hotter the sauna will get!
5) Wear a Sauna Hat
You may see some people wearing hats into the sauna – usually felt, cone-shaped hats, specially made to be used in the sauna. Felt is a very good insulating material and wearing a felt hat into the sauna means you won't feel as hot, as your core temperature will rise slower.
6) Stay in the sauna for 10-15 minutes
You might also find a hourglass on the wall of the sauna, usually lasting 10-15 minutes – this can be used to measure your time in the sauna. Spin it when you get in and when the sand runs out, get out. Naturally, you should leave as soon as the temperature gets uncomfortable for you.
7) Use a vihta
Some sauna places, especially in the countryside, will provide you with a vihta, a sauna whisk made of young birch branches. You're supposed to use the vihta to gently whisk the back of your sauna companions, stimulating toxin release.
8) Freshen Up!
When you leave the sauna, you can jump into the river, sea or a lake (if there is one nearby), take a nice refreshing shower, or just sit outside and enjoy a drink. Get back into the sauna and repeat as many times as you like!
9) Stay Hydrated
Don't forget to drink lots of liquids – water, juice, sahti (Finland's ancient beer), or even regular beer or cider – however, make sure alcohol is consumed in moderation. You'll sweat a lot, so don't forget to replenish those liquids, even if you don't feel you need to drink.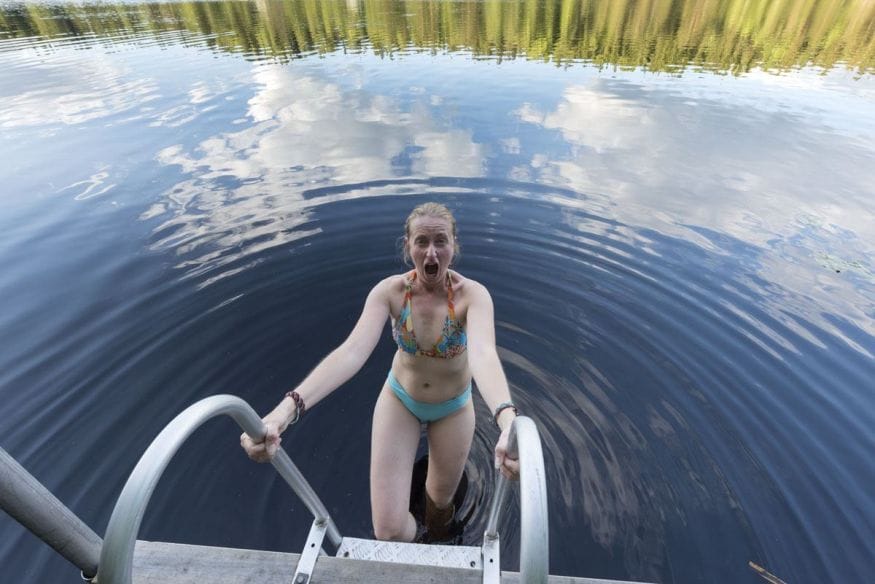 10) Take Extra Care if you're Alone
Sauna is usually a social experience, but no one forbids you from enjoying a sauna on your own. If that's the case, take extra care and leave as soon as you feel faint or 'too relaxed'.
Our Top Sauna Experiences in Finland
Here are the 9 most memorable sauna experiences from our 5 Finland trips – naturally, I hope to keep adding to this list as we visit the country over and over again!
Smoke Sauna near Liminka
During our first trip to Finland in 2014 we traveled along the western coast from Vaasa to Oulu, visiting unforgettable places like the Kvarken Archipelago and Maakalla Island. On our last day, we visited an amazing farm dating back to the 19th century where we had our first smoke sauna experience. It was a bit like going to Sorrento and trying pizza, or going to Tokyo and trying tempura – you understand that everything you've had up until that point is a shadow of the real experience, and end up being spoiled for life. A Finnish friend who was there with us explained it like this – electric sauna is just a hot room. Smoke sauna is an art.
Lauttasaari Sauna Society
When we visited Helsinki in winter we were lucky to be invited to spend a night at Saunaseura or Sauna Society in Lauttasaari, which is basically a club for sauna lovers. People are allowed to visit the sauna society only when accompanied by a member – if you are lucky to receive an invitation, make sure you jump at the chance! There are five sauna rooms, including wood and smoke sauna, ranging in temperature from 60 (positively chilly!) to 140, which is basically an oven. If you're visiting in winter you can try ice swimming – a hole is cut into the frozen Baltic Sea allowing you to have a very very quick dip, if you're brave enough!
Porvoo Pop-up Sauna
Last summer we visited Porvoo – it was the first step of our 400 km hike across Finland. Remember when I said Finns can turn anything into a sauna? In a Porvoo, we got to visit a pop-up sauna, a small wooden hut on the riverbank containing a sauna, free for everyone to enjoy every afternoon and evening from June to September. We visited in the afternoon and were the only ones there, but we can imagine how nice it would be with some friends and beers in the evening!
Löyly in Helsinki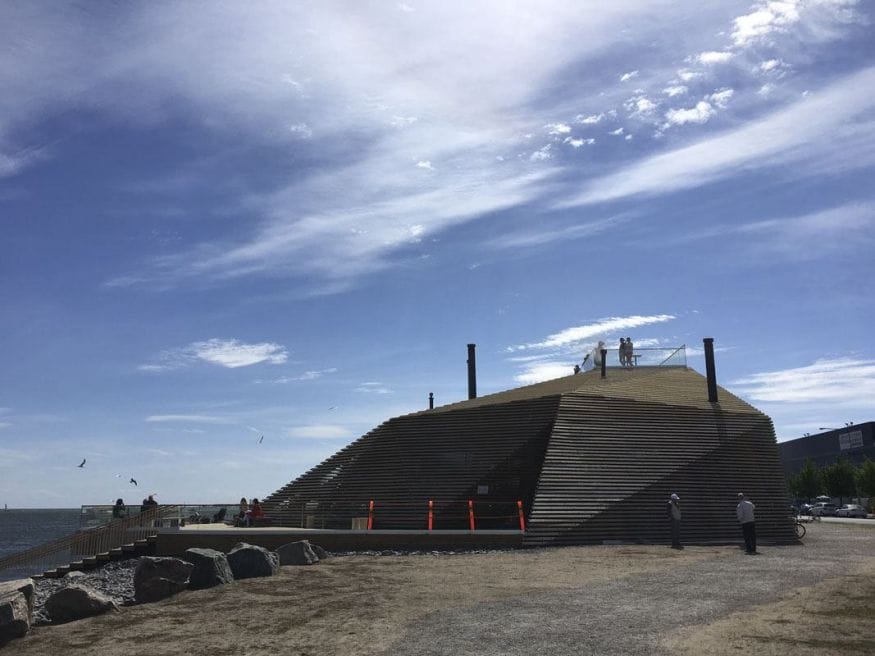 This is Helsinki's newest and fanciest eco-friendly public sauna, opened in June 2016 in Hernesaari, not far from the centre of Helsinki. The striking buildings is meant to resemble a tunturi, Finland's flat-topped mountains. Inside, Löyly contains a smoke sauna, a wood sauna and easy access to the Baltic Sea, for a chilly dip in summer as well as winter! Yes, I'm not kidding. The word Löyly refers to the steam raising from the sauna rocks after water has been thrown onto them, but in Old Finnish the word also means 'spirit' or 'life'.
Hawkhill Nature Sauna near Nuuksio National Park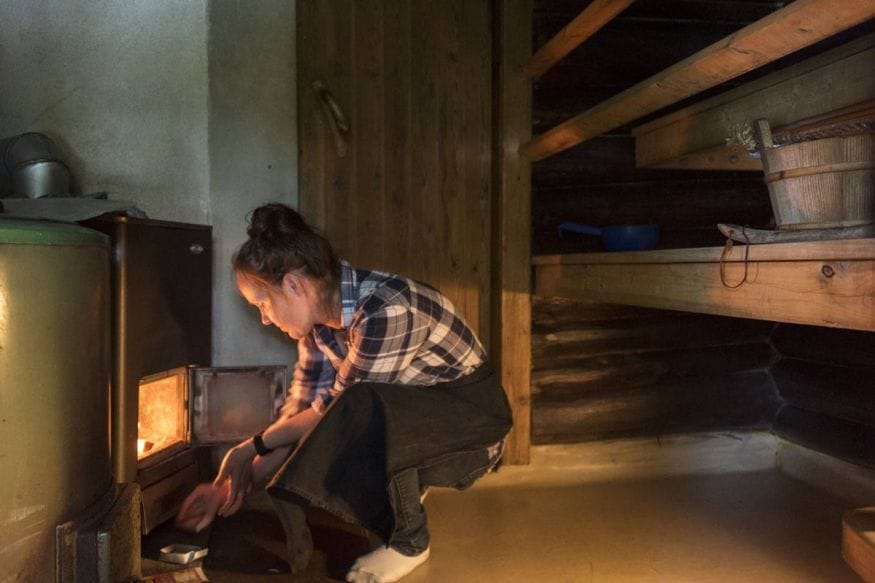 During our summer hike across Finland we spent two days in Nuuksio National Park, and the second night was spent in lovely Hawkhill Cottages, offering beautiful lakeside cabins where for the very first time we could enjoy our very own private sauna! Funnily enough, we didn't have an ensuite toilet, only an outhouse, but we did have a very spacious wood sauna adjacent to our cabin. So Finnish! The owner took us on a guided hike just before the sauna, and we picked branches and twigs to make our own vihta, the sauna whisk. A midnight dip in the lake completed this great Finnish sauna experience!
Bengtskär Lighthouse Sauna
The most unforgettable night in Finland is definitely the one when we slept in a lighthouse on Bengtskär, a tiny islet south of Hanko. Only about eight or ten people can sleep in the lighthouse each night, and a small wood sauna is available for guests to use. I booked the sauna for an hour-long session and as soon as I stepped in, it started raining – the feeling of being in a tiny cabin in the middle of the Baltic sea, with the rain falling and the wind blowing all around me was just magical. Then the storm passed, the sky cleared and we enjoyed a beautiful sunset.
Pensar Syd Sauna
Pensar Syd is the only guesthouse on the tiny island of Pensar, in the Finnish archipelago. We spent Midsummer on Pensar and just before the night time revelry (well, sort of…) I enjoyed an hour of pampering in their 'pikku sauna', right on the edge of the beach. You notice how I always say 'I' and not 'we' when talking about sauna? Nick is not a fan, so sauna time is my very own 'me time' when we are in Finland – which also explains why we don't have so many pictures of sauna in Finland!
Floating Sauna at Sandösund Camping, Åland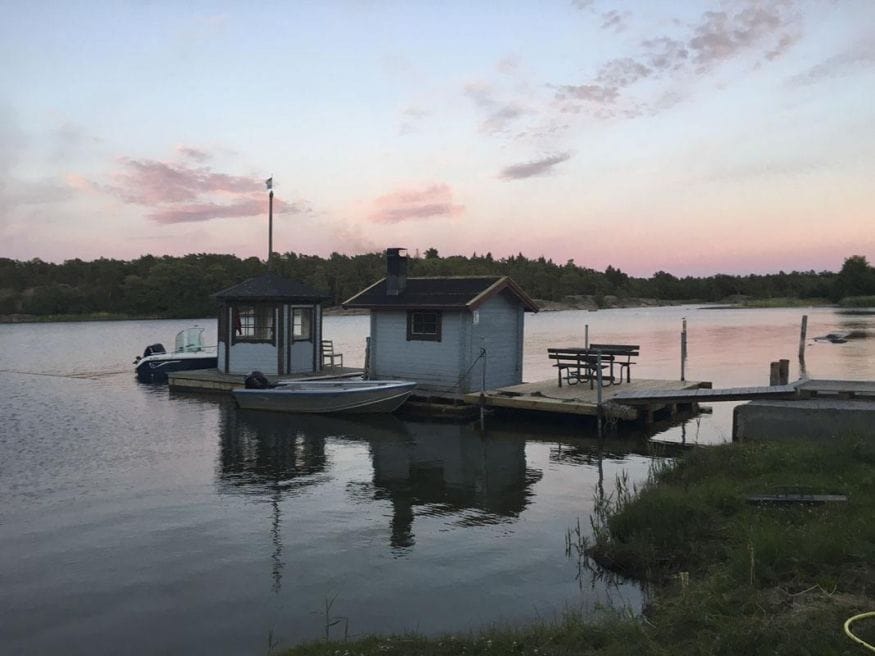 Thinking back to my favourite sauna experiences in Finland, all the places I enjoyed best were close to some kind of body of water – be it the Baltic, a river or one of Finland's many many lakes. When I say 'close', sometimes I mean right on the edge, while in other cases you might need to walk a short distance – usually less than 100 meters, but it's really not that pleasant, especially in winter! In Åland, I got to try a floating sauna, built on a wooden platform – it doesn't get closer to the water than that! Add a spectacular midnight sunset, and you've got the perfect Finnish sauna experience. 
Pyhapiilo Sacred Hide Sauna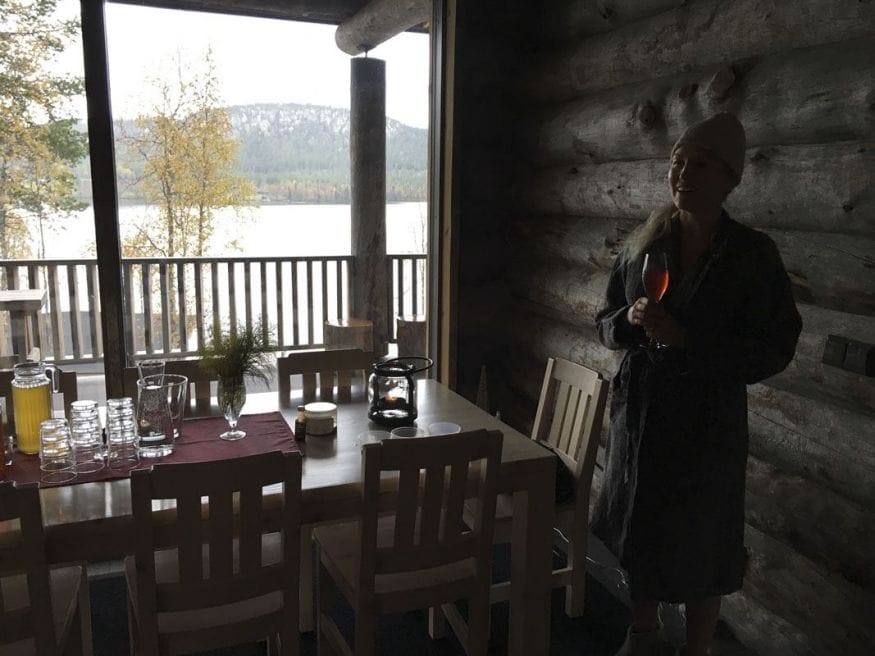 Reasons to visit Kuusamo? Well, first of all you can go bear watching, and you can also take the most Finnish tour of all – a Sauna Tour, including 9 different sauna experiences! We haven't (yet) had the chance to do the Sauna Tour, but during our visit to Kuusamo we visited one of the establishments included – Pyhäpiilo, or the Sacred Hide Sauna Spa. This sauna specialises on wellness treatments – we started out with a cleansing drink and we were given a cleansing rub containing honey, salt and herbs to rub while in the sauna. I've never had such soft skin!
What about your Finnish sauna experience? Would you like to help me find #10?
This post contains affiliate links, which means that if you book your accommodation through these links I'll receive a small commission at no extra cost to you, which will help me maintain the site!
Pin it for later?