This summer, we spent 6 weeks travelling around Europe by train with our Eurail/Interrail pass, and saw the effects of mass-tourism first hand. Scores of Segway tours in Prague. Dozens of backpacker groups drinking themselves to oblivion in the ruin pubs of Budapest.
I used to think that nowadays, there's no place that hasn't been discovered yet – mass tourism has conquered everything, from the backwaters of Kerala to the mountains of Madagascar.
Yet, I was wrong. Some wild, unspoilt, undiscovered places still exist – yes, even in Europe, and yes, even less than an hour away from an international airport.
One of them is Jezersko, a pristine mountain valley in Northern Slovenia, 40 minutes drive from Ljubljana airport. It just seemed incredible that in August, while the Alpine resorts of Austria and Italy are fully booked, Jezersko barely had any tourists.
Slovenia is well known for its beautiful nature, but most tourists whizz through the country, checking out Ljubljana and maybe the mountain wonderlands of Bled and Bohinj. Besides these locations lies a green, wild and adventurous country, ready to be explored, with welcoming locals, delicious food and activities on offer for everyone.
After having visited Jezersko, we're on a mission to tell the world about this place – not too loud, though, because part of its charm is the fact that it's still relatively unknown. So go. Now.
Jezersko, the land of lakes
'Do you know the story of our lake?' said Matej, our dreadlocked driver that was also Jezersko's resident herbalist. Jezersko means 'lakeland' in Slovenian. Once upon a time, a huge glacial lake covered the valley, until an earthquake in the 13th century destroyed the rock barrier that hemmed the lake in and allowed water to flow out little by little.
By the mid 19th century there was no water left at all.
About 50 years ago, a group of Jezersko locals created a man-made lake, in the shape of a heart – beautiful Lake Planšar, blue-green and surrounded by meadows and mountains. A homage to the big glacial lake of the past. 'Jezersko has its lake, once again'.
Over the next three days, we would hear the lake story countless times. Jezersko people are proud of their valley – trees, rocks and water always have a story to tell.
Plus, the land is in perpetual motion. 'Can you see that patch of red rock?' Matej asked. Up until 2008, it was the location of Čedca Waterfall, the highest waterfall in Slovenia, 132 meters high. Then, a series of landslides transformed the waterfall, drastically reducing its height. Now it's a mere trickle, between 20 and 30 meters high. 'But some say there's a treasure high up on the rocks' added Matej, gazing upwards with his deep green eyes.
The valley of Jezersko has about 700 inhabitants. Over the next three days, we would see the same people over and over again. Matej led us on a herbal walk. The same guy that checked us into the Hotel Planinka was also starring in a folk show the same night. A young lady named Nina was our mountain biking guide and also worked at the Stara Posta hostel, where we spent our last night.
Over the next three days, we fell in love with Jezersko's green meadows, with its woods and paths, its heart-shaped lake, little churches and friendly people. We learnt to recognize the profiles of the mountains at the far side of the valley, beyond which the land is called Austria.
We left with our bags full of presents and our hearts full of memories, and we're already planning to return for a longer stay, go mushroom-picking and foraging for herbs, and listen to the silence at night.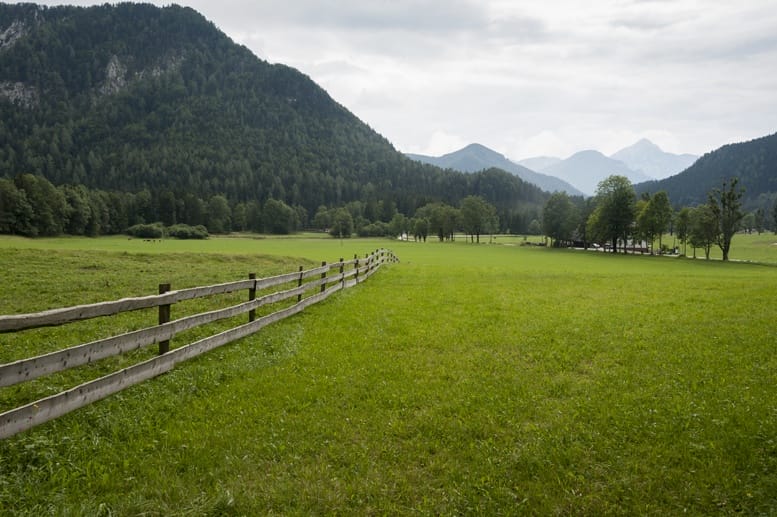 Here's an overview of what's special about Jezersko – some things to do, some awesome people and practical info to plan your visit in this mountain paradise.
Jezersko – the best hiking in Slovenia
In Jezersko, everyone seemed to be either a climber, a hiker and/or a mountain rescuer. Mountain activities are one of the main reasons to visit the valley, and have been so for over 100 years. Tourism in Jezersko began when the region was still part of the Austro-Hungarian Empire. A group of Czech mountain lovers started exploring the area, tracing paths and even built a mountain hut that still exists to this day – Češka koča, the Czech Hut, built in 1900.
The hike from Jezersko to Češka koča is a great way to spend a day – with 600 meters altitude difference it isn't a massive climb, it only has one very short exposed section (where you hang onto a chain) and offers amazing views over the surrounding peaks and the Jezersko Valley.
We hiked to Češka koča and back with Rok, a fun local guy that runs Feel Green, an adventure travel company offering trips all over the Balkans. On the way up from the village we passed a newly-opened eco glamping resort, showing Jezersko's commitment to investing in ecotourism.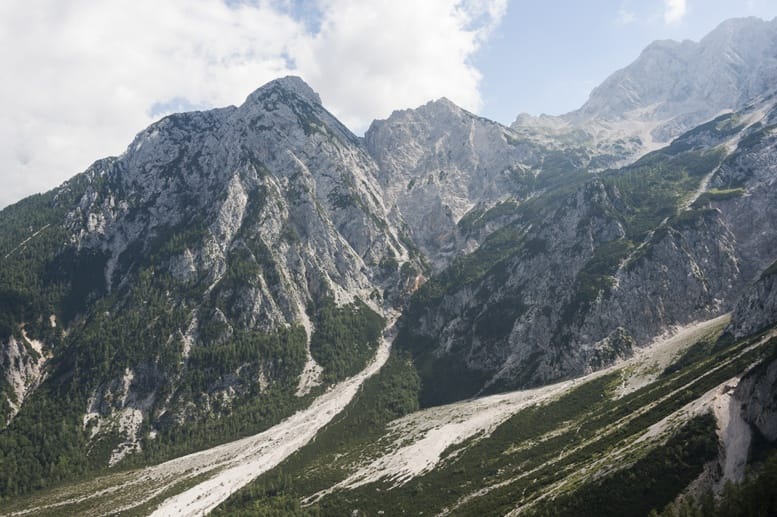 Rok explained that after experiencing a tourism heyday in Yugoslavian times, when it was a sanatorium destination specialized in eye diseases, Jezersko's tourist numbers have decreased. Yet, the local administration decided not to invest in mammoth concrete hotels and flashy ski resorts. The valley's charm lies in its simplicity, in the landscape and opportunities for adventure.
The trail to Ceska Koca travelled through a forest, before climbing above the treeline when the path got narrower and a bit more challenging – but shortly afterwards, the little mountain hut appears. Inside Češka koča, everything was as it had been built 115 years ago. The tiny kitchen dished out Slovenian mountain favourites, hearty barley soup, žganci (a kind of buckwheat polenta), and masunjek, a porridge-style dish made with whey and mixed with sour cream
On the way back, if you don't fancy retracing your steps, you can take another path that runs through the middle of the valley – it's a lot more challenging and exposed than the way up, but the views make it worth.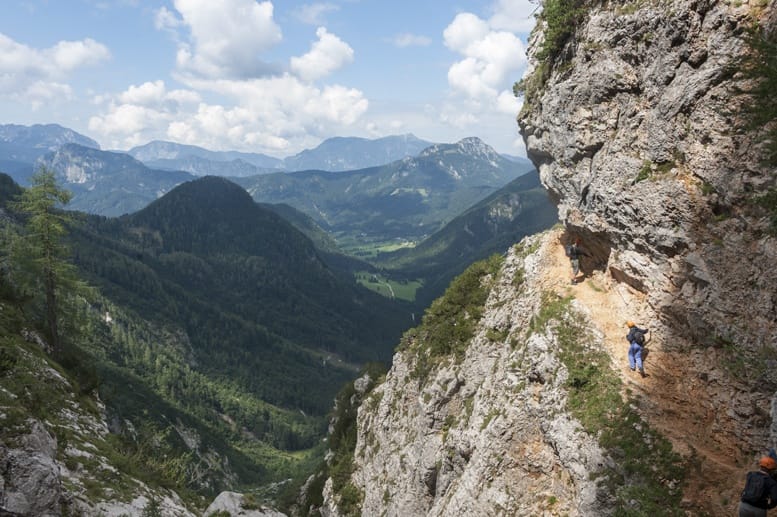 There are several other hiking options around Jezersko – a via ferrata for daredevils, among the most panoramic and challenging in the whole of the Alps, and an easy circular walk along the valley, with some rest stations equipped with mini-libraries.
Češka koča is actually the starting point to climb the surrounding mountains, like Grintavec, the highest peak of the area at 2550 meters. We saw climbers going back and forth with ropes and harnesses – and to be honest, I was itching to go along.
Mountain Biking around Jezersko
Jezersko is also popular with mountain bikers, but considering that we were all kind of hopeless on two wheels (remember our Carnia adventures?), we opted for an easy ride around the valley with our guide Nina, taking in a couple of panoramic points and Jezersko's famous Ankova water spring, with the highest percentage of magnesium in the country. When we visited, there were dozens of locals with crates filling one bottle after another – but to be brutally honest, it tasted weird and salty.
We circled around the valley a couple of times, feeling the wind in our hair and the thrill of speed. But Nina had a surprise in store for us. She led us up a steep path (I pushed the bike, of course) to a clearing with a farmhouse and the tiny church of St Oswald.
Marijana, owner of the Karničar farmhouse, greeted us with a warm handshake and led us to a table where she had set out a wooden board covered in sliced salami and cubes of cheese, some young, some aged, others flavoured with paprika, sunflower seeds and black pepper. She also offered some fresh milk and homemade yogurt.
Marijana spoke little English, but her body language showed warmth and kindness. She had a huge smile that lit up the room, and took joy in sharing her food with guests. After learning that our two friends had to leave all of a sudden, she even packaged some food for their trip.
Meanwhile, the sun was setting, turning the mountains golden, then pink, then deep blue. A few people drove up to the farmhouse to buy fresh milk or yogurt. Before we left, Marijana showed us the tiny church of St Oswald, and told us its tale.
In the ninth century, the people of Jezersko decided to build a church on one of the mountain peaks. They chose a spot and started building, but then noticed that the birds were transporting nails and other building material and placing them in another location. Interpreting it as an act of God, Jezersko locals decided to erect the church in that new location – and that's where it stands today.
The Amazing People of Jezersko & Other Activities
Matej – Herbalist and Nature Lover
Matej is a kind of local legend. He cycled to Thailand and back, and took several other long-distance biking trip around Europe and beyond – and when he's not riding his trusty two-wheeler, you'll find him in Jezersko, tending his herb garden or tramping the woods in search of herbs and flowers.
Matej is a herbalist, he cultivates and forages for herbs that are then dried and made into products, including tea, syrup and herb-flavoured salt. A young man with a creative mind, unable to find a job that fulfilled his desire to travel and his wish to stay close to nature, Matej created his own job. It all started while writing his biology dissertation, for which he collected and catalogued over 1000 plant species of the Jezersko valley, and got to know them closely.
Now business going well, and Matej started leading herbal walks around the valley, taking children and holidaymakers on a journey to discover the flora of Jezersko. He showed us his herb garden, where he cultivates mints, thyme, melissa and many other herbs we had never heard of. Then, he led us on a walk around the valley, and taught us to recognise both 'good' plants (many used in pharmaceutics) and 'bad' ones, some of which are really poisonous.
We ended our walk at Matej's house, where we made our very own tea blend that we then tasted in the garden, along with some pancakes made with foraged hazelnut flour and wild raspberries. I still have some of Matej's tea, and I treasure it – a sip takes me back to that sunny morning in Jezersko, learning about the magical world of herbs and flowers.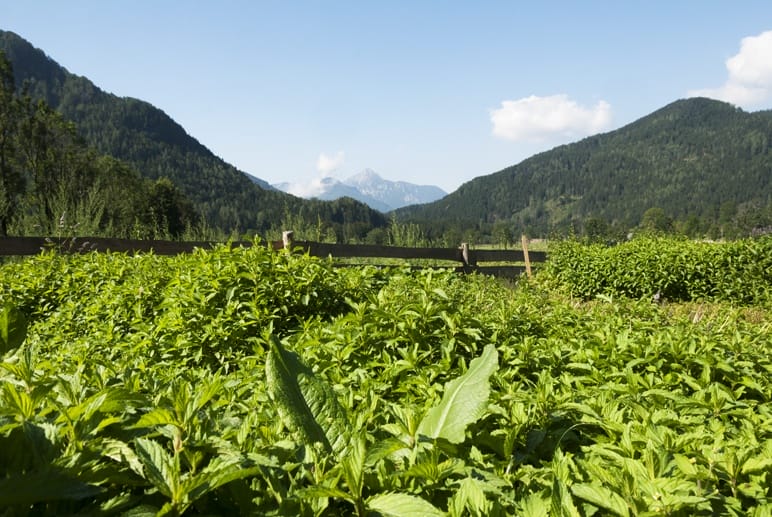 Joze – Custodian of the wonderful world of bees
We met Joze in front of his beekeeper's hut. His eyes shone with joy under his bucket hat – and with a checked shirt and corduroy trousers, he was the epitome of the nature lover.
Joze is an 'eco beekeeper'. He keeps bees and makes honey for himself and his family, and started taking his hobby to the next level after he retired from his job. Now, in addition to looking after his buzzing friends, Joze introduces locals and tourists to the wonderful world of beekeeping. And I say 'wonderful', because we were supposed to spend 45 minutes with Joze, but after two hours we were still with him, learning about pollen and royal jelly, why bee venom can be good for you and lots more interesting information.
For instance, I also didn't know that every year, half of the hive 'swarms' away, following the queen, and a new queen bee takes over. A beehive sounded like the ultimate utopian society, where all tasks are carried out in order, and the population chooses their own leader – and they actually follow her.
I didn't know the difference between 'flower' and 'forest' honey. Flower honey, as the name suggests, is made from flower nectar. At the same time, bees also carry pollen back to the hive – the substance sticks to the bee's leg and is collected in the hive, and it's especially good 'for old men like me', Joze said. On the other hand, forest honey is made from honeydew sucked from aphids who live on trees. It's darker in colour and deeper in taste.
At the end, we got to try Joze's honey, which is a mixture of flower and forest honey. It was silky in texture and wonderfully sweet, with an aftertaste of wood and forest. Absolutely amazing – and knowing where it comes from made it even more special.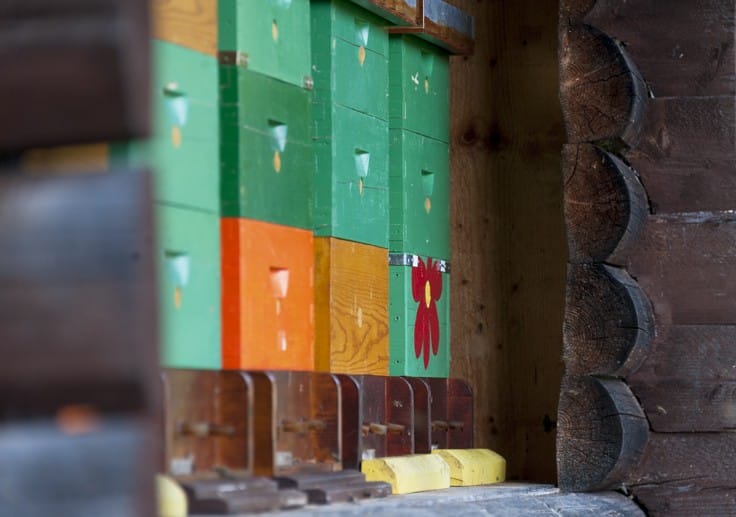 Jezersko Practical Info
Where to sleep
You won't find big, flashy hotels in Jezersko – most places are family run and they may not offer 5 star luxury, but make up for it in friendliness, charm and service.
One of the best options is Hotel Planinka, set in a great location overlooking the meadows and the mountains of Jezersko. The rooms are comfortable and waking up with sunrise over the valley makes this place even more special. The staff is especially helpful, trying their best to help out with wifi, transport in and out of the valley and any other problem we might have. The restaurant serves up great home-cooked food, including delicious pizza and tasty salads. Our favourite was the one with fried cheese, absolutely gigantic!
If you're looking for somewhere more low-key, original and with a kind of rural charm, check out the Hostel & Kamp Jezersko Stara Posta, run by friendly Tanja and her family. The hostel is set in the centre of the valley and offers accommodation in rooms, dorms and even some cute wooden A-frame huts. The bar serves drinks, pizzas and homemade pancakes. If Tanja offers you one of her homemade liqueurs, make sure you accept! Try 'Antioksidantar' with berries if you fancy something sweet, or Jezerska Pehta with 102 types of local herbs.
Where to eat
Besides the two hotels I mentioned above, there are two other great places to eat in Jezersko. One of them is tiny Gostisce ob Jezeru on the lake shore, usually busy with hikers enjoying a cold beer and locals lunching with traditional specialties.
Another great option is lunch in a local farm, usually offering a set menu including a soup, a meat and fish main with half a dozen sides and a tasty dessert. Tourist farm Olipje is a great option, about 5 minutes drive downhill from the centre of Jezersko. Owner Ana is a great cook and even made up something on the spot to cater to a vegetarian friend.
How to get to Jezersko
Getting to Jezersko by car is very easy, as the place is less than an hour away from Ljubljana via a comfortable motorway – don't forget to buy your 1-week motorway sticker, as there are frequent checks.
But what happens if you don't have a car? It's a little bit trickier, but possible. There are a couple of daily buses running from Ljubljana to Jezersko via Kranj, or you can just take a bus to Kranj (once every half an hour from the capital) then arrange a transfer with your hotel. And once you're in Jezersko, it's easy to go around by bike or on foot!
Jezersko is one of many amazing destinations close to Ljubliana – or you could head to Smarna Gora, one of the best day trips from Ljubliana!
For more options, here's an article with 15 day trips from Ljubljana – lots of options for all interests!
We were invited by Tic Jezersko to spend three days in the valley. All opinions are our own – we would never recommend the experience if we didn't love it. Our Eurail/Interrail tickets were provided free of charge.
Pin it for later?