Chronicle of an active weekend in Levanto, the adventure capital of Liguria.
Would you like to know about another amazing place on the Italian Riviera? Here's a post about the best things to do in Rapallo!
One step off the train, and Liguria overwhelmed me. It was there – in the smell of pine cones and resin, of pitosforo and wild herbs, carried by the warm wind of that summer evening.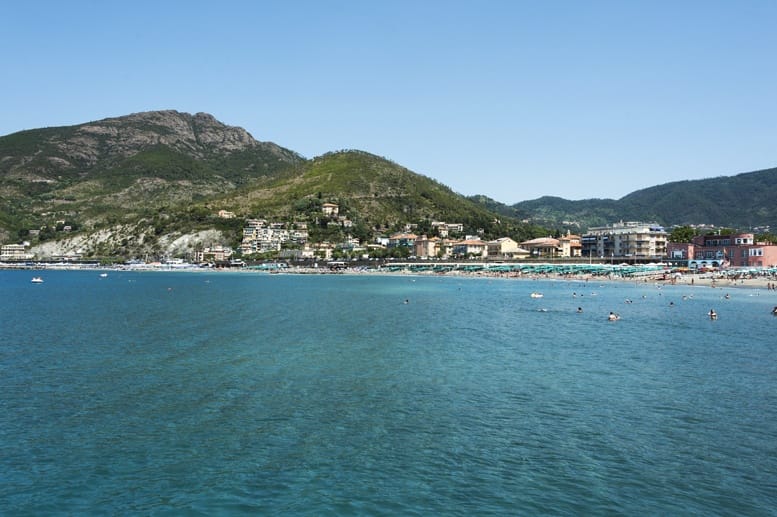 Liguria was all over me, all green and blue – the blue of the sea, barely visible in the distance, and of the cloudless sky, so blue you could touch it. Green like the hills behind me, those hills that are so close to the Ligurian coast that look like a castle, guarding an ageless secret.
Green and blue, scented like pines and wild herbs, with the faint tanginess of the sea in the air, charming, bewitching – that was my first glimpse of Levanto, a village in the eastern part of Liguria, just next to those five famous villages.
Levanto – so much better than Cinque Terre
Cinque Terre get the lion's share of tourism, but the results are streets chockablock with sweaty bodies, disgruntled locals and a stereotypical view of the Ligurian heritage. If you want to know more about this region of sailors and dreamers, of poets and musicians, head to a place like Levanto – yes, there are tourists, but it's not the kiss-me-quick kind of tourism you get in Cinque Terre. It's a town that celebrates living slowly, offering experiences that let visitors get close to the territory.
Levanto is unusual in the Ligurian holiday landscape. It's not all about beach and packaged fun. You can just take it easy, wander around the mountains and hills, explore coves and sea caves, get lost in the meandering streets of the historic centre, among pastel-colored houses with trompe l'oeil façades.
If you fancy an adventurous holiday, there are loads of activities on offer – from guided hikes around the hills, to diving in the Cinque Terre marine park, surf classes, kayaking, paddle boarding, mountain biking, you name it – Levanto is a haven not just for beach bums, but also for adventure lovers.
However, the town's greatest asset are its people. They are kind and make you feel welcome in their hometown – something unusual for Liguria, that carries the reputation of being the grumpiest region in Italy. You won't see locals skipping queues, shopkeepers overcharging tourists or grunting as they serve them.
The People of Levanto
Levanto's people have adventure in their genes. Our guide was Silvia, who has an Argentinian mother that crossed the Atlantic countless times on ocean liners, and a sailor father who disappeared for two years in Indonesia, chasing adventures, and then went back to the homeland and opened a hotel and a restaurant.
Silvia herself is an adventurer extraordinaire – but I won't reveal anything, just head over to her site Silvia's Trips to know more – and believe me, you'll want to head over to Levanto just to meet her, like I did.
But back to us now. We could have quite easily enjoyed some slow, relaxing time in Levanto – swimming and sunbathing during the day, enjoying focaccia for lunch and promenading around town, ice-cream in hand, at night.
Yet, the allure of adventure was too much for us to resist, and so we opted for two activities – one that was all about the hills, and one on water.
E-bike around Levanto
Summer 2015 has been one of the hottest ever. When we were in Levanto, the mercury touched 35°. Way too high for hiking or mountain biking – but not for touring around on an electric bike. When I first heard about e-biking, Damiano, owner of Ebikein, described it to me as 'just like cycling but without the hard work'.
Well, that is totally up our alley, I thought. I love cycling – but hate going uphill, and there was no way on earth I was going to cycle up those hills, under my own steam, even in winter.
E-bikes are heavy, but once you start pedaling, the electric motor kicks in and takes the hard work away. There are four 'speeds' from 'Eco' to help you along when you're pedaling on a flat surface, and 'Turbo' that makes steep hills accessible even to lazy sods just like ourselves.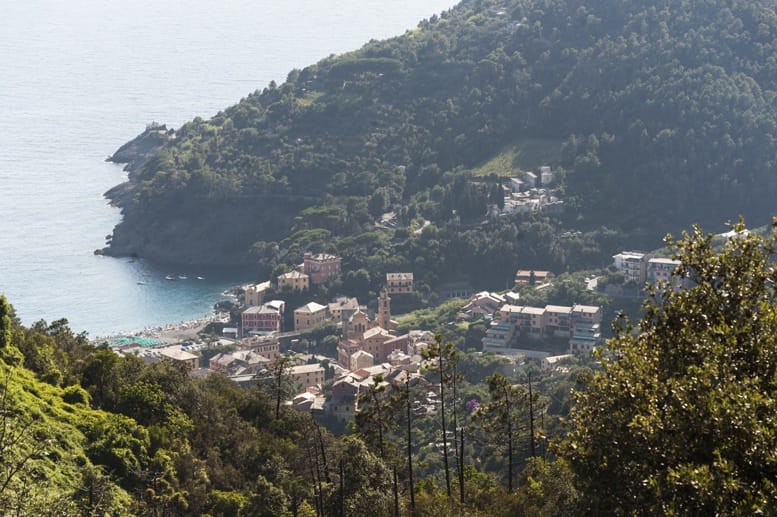 From Levanto, you can choose one of two e-bike tours. One takes you among the hills east of town, towards Cinque Terre, allowing you to see the colorful villages from above. The other trail travels west, above the villages of Bonassola and Framura, before going back to Levanto via a cycle path through former railway tunnels.
Our guide was the crazy Giovanna, an amazing adventurer, with a mane of blond hair and friendly blue eyes – I knew I would've liked her as soon as we met. She had just returned to Italy after spending some time in Uganda, working in the maternity ward of a rural hospital. Let's go west, it's less touristy, she said, and we didn't need any more convincing.
Cycling on an e-bike is really an exhilarating experience. Damiano was right, there's no hard work at all. One switchback after another, and Levanto looked like a toy village surrounded by green and blue.
A couple more turns and we were near La Francesca, the eco resort we visited last year. We kept cycling, upwards and upwards, until we saw some white paint on the road – last year's Giro d'Italia travelled through that very same stretch. Us cycling a section of Giro? Definitely impossible, was it not for the 'e' in 'e-bike'!
Giovanna took us to Montaretto, a village with a dozen houses on a hill, overlooking the coast. In Montaretto, time seems to have stopped half a century ago. A sickle and hammer painted on the road greeted visitors.
People chatted on their doorstep and sipped white wine in the local 'Casa del Popolo' under portraits of Che and Scarlet banners. Locals looked hungover from the previous night's wine festival.
We stopped for a quick drink, and Giovanna explained us that every single town, village and hamlet in the region had a different soul and character. Levanto was friendly and adventure central. Bonassola was a little more upmarket, full of the second homes of wealthy Milanese. Framura, the last location of our tour, is not one town but three hamlets, scattered around the hills, and beloved by hippies.
Then, were off again, passing a green marble cave where I took a tumble – Giovanna, a former midwife, rushed to make sure I was alright. After three fun-filled hours, climbing over hills with no effort at all, then zipping down, we cycled through the narrow streets of Setta, one of the Framura hamlets, then ended our tour with a dip and sunset drink at Framura's tiny harbour.
Stand-Up Paddle Boarding
E-biking was so much fun, I would've done it again the following day. However, after exploring the coast from high up, we wanted to get close, and enjoy the water. We thought of having a go at a surfing class, but the waves weren't high enough – the sea was as flat as slate, perfect conditions for stand-up paddle boarding. So, we headed to Brothers Surf, Levanto's best surfing school (that also sells cool t-shirts!) and signed up for a sunset trip.
Stand-up paddle boarding, or SUP, seems to be the flavour of the month, yet for some reason we hadn't tried it yet. We had seen loads of pictures of fellow bloggers, friends and travellers gracefully paddling around the world – from Bali to Berlin – so I, personally, thought it was going to be easy. So, when I tried to stand up and immediately lost balance, my mood dipped.
What's wrong with me, I thought, as I tried to stand up over and over again, only to fall on my bottom then splash into the sea. Paddle boarding is tricky, requiring good balance, and constant legwork to keep that balance. It's also hard work, as you constantly switch side as you paddle back and forth, working out both sides of your body.
After an hour of paddling sitting down, I managed to propel myself upwards and stand for two minutes without falling. Then for five. Then for ten. Finally, I got it – and immediately, I understood why SUP is such a big deal.
You feel like you're walking on the water. The sea lay before me, lit by the shining trail of the setting sun. Paddle left, paddle right. We entered tiny coves, too narrow and shallow for boats, inaccessible to anyone but swimmers and paddle boarders. Schools of tiny sliver fish zigzagged around the rocks. Deep-pink jellyfish floated towards us, graceful yet menacing.
Our guide Pippo looked like a beach boy from a Sixties song, tanned face and curly hair bleached by the sun. He was a Levanto local, another adventurer who spent his childhood exploring those very same coves on his surfboard. He took us to see some mysterious sea caves. In one, the water percolating from the rock was slowly creating stalagmites, one drop after another – you could see lines of calcium sediment all over the cave roof, looking like marble.
Another cave had a tiny beach at the end. The tide was rising, so I swam in as fast as I could, while the waves splashed all around us, echoed by the narrow cave walls. By the time we got to the beach end, it was almost total darkness – I imagined a sea monster lurking beneath the pebbles, guarding an ancient secret.
Finally, we watched the sunset from another spectacular cove, snacking on fruit washed with sea water. On the way back, we paddled with a smile. Yes, we had fallen a million times, my bottom and back hurt, and my arms were completely spent.
However, being on water at that special time of day, when the first stars start blinking through the sky, the land turns blue and the calm, flat sea reflects the pink of the sky, was magical. Just magical.
Eating and drinking in Levanto
If you like quick eats, you'll be spoilt in Levanto. Just one word: FOCACCIA. If there ever was one food that reminded me of Liguria, that's it, focaccia, plain or covered in onions, soft cheese, pesto, olives, or whatever else you like.
We ate loads of focaccia in Levanto; it was boiling, so we didn't really feel like big lunches. I have two great places for excellent focaccia; one is Focacceria Domè (try the cheese and pesto variety if it's on offer!) and Panificio Raso, that makes a delicious plain version, brushed with olive oil.
If it's a pizza you're after, head to La Picea, an award-winning pizzeria offering delicious and creative pizzas, thin and crispy and just the right size. I had the 'Tricolore', with tomato, stracchino (soft cheese) and pesto.
We do love good food and gourmet restaurants, so we're gutted we didn't get to try Ristorante Oasi, run by Silvia's father. The menu looked interesting, with an emphasis on fresh fish and local dishes, but it was full the night we visited. We spoke with some diners who sounded enthusiastic, so it's on the cards for next time!
Talking about drinks, if it's beer you're after, head to Gambrinus, a pub serving craft beers from all over the world. It's in lively Via Dante, Levanto's main drag. For something quieter, head to La Compera, a wine bar in a little square in a quiet section of the historic centre. They serve local wines by the glass accompanied by plates of cheeses and cold cuts. The best choice in town for an aperitivo!
Where to sleep in Levanto
Most hotels in Levanto are small, family run affairs. We stayed at Hotel Garden, a three-star property a stone's throw from the beaches. Our room was comfortable, with air conditioning (BLISS!) and a balcony. We had breakfast on the terrace with view on the sea – what a cool way to start the day. The owner Damiano is also one of the partners of Ebikein, the e-bike tour company, so if you're after a cool bike ride, ask him!
Another reliable choice is Oasi Hotel, Silvia's own. She serves delicious, creative breakfasts with a healthy twist – think fresh juices and smoothies! The hotel is in a quiet part of town, about 5-10 minutes walk from the beaches, and everything is supervised by Atena, Silvia's friendly dog.
Planning to explore further? Here's a great plan for a day trip to Cinque Terre!
We would like to thank Visit Levanto for having welcomed us on this trip. All opinions remain our own – but trust us, this is a spectacular place!
Pin it for later?