Searching for some really great things to do in Penang on your next trip? You've come to the right place – keep reading this guest post by Brodi from This Offbeat Life!
Whether you're traveling to Penang for a short getaway in Malaysia from Kuala Lumpur or planning a longer stay, I've compiled a list of activities that will ensure your time there is truly memorable.
While living in KL Malaysia for over a year, as well as spending two Christmases there, I spent a lot of time exploring the country. It's one of my favorite places in Southeast Asia.
Take some tips from this list, and you're sure to have a great time on your next trip to Penang!
Things to Do in Penang
1) Batu Ferringhi Beach
Situated on the northeastern coast of Penang Island, Batu Ferringhi Beach is a stunning stretch of white sand and crystal clear waters.
Even if you aren't staying at one of the many amazing Malaysian resorts that line the beach, you can still spend your days soaking up the sun, swimming in the ocean, or taking part in all sorts of water activities such as parasailing, banana boats, and jet skiing.
Plus, the Batu Ferringhi Night Market market stretches for most of the length of Batu Ferringhi and makes for some fun shopping every evening. It's a great place to pick up souvenirs, handicrafts, and snacks.
2) Penang Hill
Perched 821 meters above George Town, Penang Hill is the ideal weekend escape spot for locals and tourists alike, not to mention one of the best hikes in Malaysia. The cool part of this experience is you get to take a funicular up to the top of Penang Hill. Make sure to bring cash to buy funicular tickets.
From the top, you can enjoy unparalleled views of the city below as well as breathtaking views of the island and the Straits of Melaka, all while cooling off in a climate that's almost five degrees cooler than down on the lower ground.
Once at the top, there are also a number of things to do. You can explore beautiful gardens like the Habitat, take a walk through the canopy walkway, or enjoy some extra rides at the funicular station.
3) Explore George Town
Penang Island is home to George Town, a vibrant city offering plenty of culture and entertainment. It's also a UNESCO World Heritage Site!
The streets of George Town are lined with colonial architecture, street art, food stalls, and quirky cafes. Take a wander around the streets, explore some of the temples and churches, and discover why Penang street food is so famous.
Don't forget to swing by the Little India neighborhood to see the Sri Mahamariamman Temple. It's the oldest Hindu temple in Penang!
Would you like to read more about George Town? Here's our 5 Quick Penang Tips article!
4) Kek Lok Si Temple
Kek Lok Si is the largest Buddhist temple in Penang and is considered one of the most important temples in Southeast Asia. The complex is filled with beautiful pagodas, statues and gardens.
The temple also has a huge statue of the Goddess of Mercy which towers over the complex. It's definitely a sight to behold!
You can also take a cable car up to the highest point of the temple and enjoy a bird's eye view of the entire complex. There's also a small aviary at the topmost point as well.
5) Penang National Park
The Penang National Park is a great place to explore nature and enjoy the outdoors. It's just 90 minutes from George Town. Simply take Jalan Teluk Bahang past Batu Ferringhi so you can explore the great outdoors during your stay in Penang.
The National Park is a lovely spot for bird-watching and boasts some stunning beaches, hiking trails, mangrove forests, and waterfalls.
You can also rent a canoe and explore the park's diverse ecosystems from the lake, or choose to take a guided tour.
6) Cheong Fatt Tze Mansion
Cheong Fatt Tze Mansion is a stunning 19th-century mansion that was built by Chinese merchant Cheong Fatt Tze. It's also called the Blue Mansion, for its vivid exterior walls. The home has 38 rooms, five granite-paved courtyards, and seven staircases.
It's been converted into a luxury boutique hotel, with 18 guest rooms. So if you really want to experience the historical building, book a stay there!
The mansion also houses a restaurant and an events venue, so you can enjoy a meal or catch an event during your visit. It's near the Pulau Pinang Peranakan Mansion, which also allows visitors entry to explore historic Penang artifacts.
7) Tropical Spice Garden
An oasis of timeless beauty, Tropical Spice Garden presents a captivating eco-attraction surrounded by lush nature and situated along the Straits of Malacca.
With over 500 species of herb, spice and tropical plants scattered throughout trails that wind through hills, jungles terraces and streams, visitors have an opportunity to explore nature's wonderful diversity! It also has lovely gardens with stunning views of the ocean.
Guides are available for tours, and you can also take part in a cooking class! This is one of the most interesting and educational things to do in Penang.
Would you like to read more about Malaysia? Here's our 17 Best Places in Malaysia post!
8) Masjid Kapitan Keling
The Kapitan Keling Mosque is the largest mosque in Penang and is a great place to learn about Islamic culture. Located in the middle of George Town, it's one of the oldest and most important structures in the city.
The mosque is open to visitors of all religions during specified hours, so make sure you take the chance to explore it during your visit. Be sure to wear long pants and sleeved shirts when visiting the mosque. Otherwise, you may not be admitted indoors.
9) Escape Theme Park
Escape Theme Park is a great place to have some fun and get your adrenaline pumping. It's not just for kids, either!
While the main attraction is the large waterpark, it also offers a high ropes course, zip lines, slides, a climbing tower, and kid-friendly attractions, like the animal farm. Plus, the park is also home to some great restaurants and shops.
If you love water but want a change of pace from the beaches, Escape is a great spot to spend the day!
10) Penang Butterfly Farm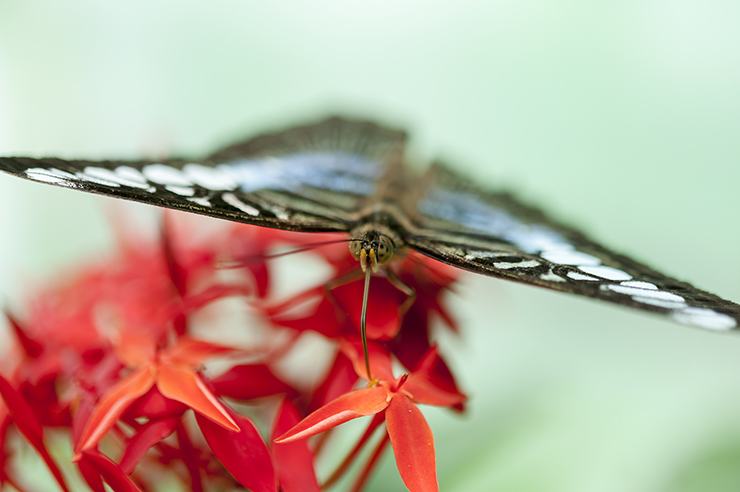 Penang Butterfly Farm was the first official butterfly sanctuary in Malaysia. It is home to thousands of beautiful species of butterflies and other insects.
This is a great place to learn more about the different species and take some stunning photos. The farm also offers educational tour packages and interactive activities, so make sure to check them out before leaving.
11) Penang State Museum
Opened in 1962, the Penang State Museum is the oldest museum in the country and a great place to learn about the history of Penang.
It houses artifacts from its long colonial past, such as maps, coins, sculptures, and other items. The museum also has an art gallery featuring local artists' works.
It's air-conditioned so if the Malaysian heat gets to you, head to this museum to enjoy a few cool hours.
12) Leong San Tong Khoo Kongsi
Also known as Khoo Kongsi, this is the ancestral temple of the Khoo clan and one of the most important buildings in Penang. It was built in 1820 and is one of the best examples of Chinese architecture still standing today.
The temple has a beautiful interior featuring intricate woodcarvings, detailed statues, and colorful paintings. You can explore the temple and learn more about traditional Chinese culture.
In addition, you can learn about the clan's lineage, which is known worldwide for being able to trace its ancestors back over 650 years ago.
13) Tanjung Bungah Floating Mosque
The Tanjung Bungah Floating Mosque is a unique sight to see. This beautiful building sits on the edge of the sea and looks like it's floating on the water.
It's a great place to come for some peace and quiet, as well as stunning views of the sunset. When visiting, be sure to wear modest clothing and respect the locals.
14) Penang Botanic Gardens
Penang Botanic Gardens is a great place to relax and take in the beauty of nature. It's located on a hillside and features various plants from all over the world, as well as a variety of birds.
You can also explore its pathways, lakes, and gardens. Plus, you'll get some spectacular views of the sea, rainforest, and nearby hills.
15) Penang War Museum
Located on the hill of Bukit Batu Maung, the Penang War Museum is a great place to learn more about the history of World War II in Malaysia. It houses a variety of artifacts, photographs, and other items from the war.
The museum also has an outdoor area with cannons and other pieces of artillery. It's a great experience for anyone interested in learning more about the war and the area's history.
Best Time to Visit Penang, Malaysia
The weather in Penang is hot and humid year-round, with very little change from month to month due to its vicinity to the Equator. To give you an idea, maximum temperatures are usually between 30/33°C (86/91°F) dropping to about 25°C (77°F) at night.
The monsoon season in Penang runs from April to October, and the rainiest months tend to be September and October. The driest months are January and February, and interesting festivals like Thaipusam and Chinese New Year take place during those two months, making them a great time to visit Penang. Unfortunately, this is also when prices are at their highest.
To save on travel and accommodation costs, visit during rainy season – after all, there are plenty of things to do in Penang even when it rains, not to mention lots of delicious food to eat!
So, Is Penang Worth Visiting?
Penang is a beautiful and vibrant city that offers something for everyone. Whether you're looking to explore the rich cultural heritage of Malaysia, take in some stunning natural beauty, or get your adrenaline pumping at an amusement park, Penang has it all.
From Masjid Kapitan Keling Mosque to Escape Theme Park and the Penang War Museum, there are plenty of amazing and cool things to do in Penang Malaysia.
With its diverse attractions, delicious food options, friendly locals, and welcoming atmosphere Penang is definitely worth visiting! So don't wait any longer – start planning your trip now so you can experience all that this incredible destination has to offer.
Brodi Cole of Our Offbeat Life is a digital nomad and family travel blogger who loves sharing her passion for adventurous family travel. She lived and traveled in SE Asia for almost 18 months and is currently driving the Pan-American Highway from Las Vegas, USA to Ushuaia, Argentina with her family through 2024.