Are you looking for things to do in Sarawak? In November we spent two weeks in Kuching, capital of Sarawak in Malaysian Borneo. Here's our guide to things to do in Sarawak that can be visited as a day trip from Kuching – 6 awesome destination that show the best of what Sarawak has to offer!
Kuching is often named as one of South East Asia's charming cities. Take a walk along the river in the late afternoon, and you'll see why – this city has all of SEA's best, minus the annoying parts. No touts, no honking tuk-tuks, no traffic and little pollution.
Instead, there's a vibrant food scene – second only to Penang, or so they say. There's the mighty Sarawak river, slicing the city in half – on one side there's the city center, with markets, food courts and temples, and on the other are two sleepy kampung (traditional Malay villages) where women bake kek lapis (layer cake) and longboats shuttle locals and visitors back and forth.
And did you know that Kuching is also known as the 'Cat City'? In Malaysian, the word kucing means cat, so Kuching is now full of all things cat, from cat-shaped sculptures to funky cat souvenirs – and even a cat museum! This is more likely to be a marketing stunt than anything related to a mythological cat – but it was enough to convince two cat lovers like ourselves to visit the city.
What made Kuching a great base for us was its vicinity to several top things to do in Sarawak that can be easily visited as a day trip from the city. We could leave in the morning, spend the day hiking in the rainforest/spotting orang utans/kayaking/visiting longhouses and then be back in Kuching for a bowl of wonton soup for dinner.
Since we started travelling full-time, we really enjoy having the opportunity to use a place as a 'base' rather than packing up and moving hotels every other day – so save for our three day stay in Gunung Mulu National Park, Kuching was our Sarawak home.
Here are 6 day trips to top Sarawak attractions that can be taken from Kuching – 6 fun and very different experiences, that can be enjoyed on your own or with a tour, and all without having to pack and leave Kuching!
Would you like to know nature in Malaysia? Read this post about the 13 best Malaysia hikes!
6 Things to do in Sarawak
Semenggoh Wildlife Centre
If you're in Borneo, I bet seeing orangutans is on your list. Sabah has Sepilok, where orangutan sightings are pretty much guaranteed. From Kuching, your best bet would be heading to Semenggoh, a rescue centre about 40 minutes drive out of the city.
Semenggoh is a rescue centre established in 1975 to care for injured and orphaned orangutans. These animals have suffered a lot in the past – they've been hunted, kept illegally as pets, and their habitat is decreasing year after year because of the demand for palm oil.
Female orangutans have even been kept as prostitutes in remote communities – but this is another story.
In rescue centres like Semenggoh, orangs go through a process of cures and rehabilitation, with the aim of being reintroduced in the wild. When they are released, the animals usually spend the rest of their lives in the forest surrounding the centre. 24 individuals live in the grounds of the rescue centre, and their 'fearless leader' is alpha-male Ritchie – who is kind of a celebrity around here, because of his fierce appearance and fiery personality.
In Semenggoh, feeding times are twice a day, in the morning (9-10 am) and in the afternoon (3-4 pm). The orangutans have the choice to return to the centre for a free meal, or find their own food in the forest.
'You shouldn't be disappointed if no orangutans turn up' our guide told us, after we spent an hour standing in the rain and no orangutans turned up. 'It means our programme has been successful'.
Remember we're dealing with nature here. I said that sightings are pretty much guaranteed at Sepilok, but this is not the case at Semenggoh. During fruiting season (roughly from November to April), the apes can find all food they need in the forest, and so they rarely turn up for feedings.
The ticket to Semenggoh costs RM10 and offers entry for the whole day. It's not possible to roam around the grounds between the morning and the afternoon feeding, because orangutans may attack. You are restricted to sitting the visitors centre, which may get kind of boring.
So, if you miss out on seeing orangutans in the morning like we did, head back to Kuching for lunch and then return in the afternoon. Luck was on our side, and we spotted six apes during our second visit.
How to get to Semenggoh
You can catch bus number K6 from the bus station in Kuching – the trip lasts 45 mins and costs RM 3. However, please note that you need to walk for 2 km between the bus stop and the feeding platform. Otherwise, local hotels arrange shuttle buses that will take you all the way to the entry for about RM 40 per person.
Bako National Park
This place is a real gem. It's close enough to Kuching to make a feasible day trip, but you will get so much more out of the experience if you decide to stay overnight. The national park is set on the tip of a peninsula, between the estuary of the Bako and Kuching river.
There's no road access to the park – you need to make your way to Bako Market, where the you find the ticket office and catch a longboat down the estuary to the park entrance.
In Bako National Park you are able to enjoy a variety of ecosystems – there are beaches, mangrove swamps, cliffs, rainforest and hills, and lots of wildlife. Picture wild pigs roaming on the beach, digging for roots between the mangroves. Walk around for a while, and you'll be able to spot the silhouettes of proboscis monkeys picking fruit from the treetops and macaques trying to snatch food from the tourists.
Wait for nightfall, and join a walk into the forest – follow your guide into the darkness of the jungle, looking for frogs, sleeping swiftlets and tarantulas, and even flying lemurs if you're lucky. Fall asleep in one of the bungalows in the national park grounds and listen to the sounds of the forest – which is never silent, you know.
During the day, there are miles of trails you can walk around the national park. We visited during low season so the longer, multi-day 'loops' were closed. We walked to the two beaches, Pandan Besar and Pandan Kecil – but forget a refreshing dip after the sweaty hike in the forest, as bathing is prohibited after crocodiles were spotted lounging on the shore. Yes, I said crocodiles! Another worthwhile walk is the Lintang trail, a 3 hour loop through the forest.
Trails are clearly signposted and easy to follow so guides are not necessary – but they'll add a lot to your visit. It is compulsory to inform rangers of your plans if you head off by yourself.
How to get to Bako National Park
Take bus number 1 from downtown Kuching to Bako Market. Ask around as stops change regularly. The trip takes about an hour and costs RM 3. Once at Bako Market, pay your entrance ticket (RM 20) and head to the boat counter to put your name down and pay for the ride (another RM 20 per person). You can charter a whole boat for RM 120 if you don't want to wait, but departures are usually frequent.
If you're planning to stay overnight in the park, make sure you book your accommodation online or through the National Park Booking Office near the Old Courthouse in Kuching.
Kubah National Park
Bako is far from being a hidden secret – if you want a whole forest to yourself, your best bet would be heading to Kubah. This park is the best place to see primary rainforest not far from Kuching – walk a few hundred meters from the park entrance and you'll be surrounded by huge dipterocarps and a variety of palms, ferns and orchids.
Kubah is also famous for its waterfall, which can be reached on a half day walk, Sadly, we couldn't visit as the trail was closed because of heavy rains, and so we walked the main trail and the Belian Trail, established for the conservation of the Belian (or Borneo Ironwood) tree.
Another recommended walk is the Gunung Serapi Summit trail, taking visitors to the top of Mount Serapi and offering a view that stretches from the coast to the border with Indonesia (on a clear day, of course).
Kubah is also a popular place for night walks, because of the huge variety of frog species that gathers around one of its ponds.
How to get to Kubah National Park
Bus K21 takes visitors to Kubah National Park from Kuching. Departures from Kubah are at 8:00, 11:00, 14:00, 17:00 from the Merdeka Shopping mall – for trips back you'd better ask at park headquarters for an updated schedule. It is also possible to stay overnight at Kubah – follow the procedure highlighted in the Bako section.
Matang Wildlife Center
A popular guidebook describes Matang Wildlife Center as 'nothing more than a zoo in the jungle'. For that reason, I was unsure on whether I wanted to visit Matang at all – but our guide insisted, saying that it was important that we saw the conservation work carried out at the center.
Without Matang, Semenggoh wouldn't exist. It is in Matang that rescued orangutans are first kept and trained to be reintroduced into the wild. While at Matang, animals are kept in enclosures – this is for their own safety, and because some animals have been injured or abused so severely that they have lost their sight, hearing or the use of their limbs.
Sometimes the process is successful, so the orangutans are transferred to Semenggoh and get to live a cage-free life in the forest. Other times, they have to come back – for instance, an orangutan called George was taken back to Matang after Ritchie (the alpha-male at Semenggoh) made it clear that he was no longer welcome.
In some cases the existing health problems of the animals are too severe that it becomes impossible for them to live an unassisted life. For instance, an orangutan called Aman arrived at Matang blind in both eyes. His eyesight was restored when he was 10 years old, thanks to a groundbreaking operation.
But at that stage, it was too late for him to learn the complex set of skills needed to sustain independent life in the wild – how to climb, swing from the branches, open fruit and so on.
Sometimes, before pointing the finger just because there's a cage, it's necessary to understand what we're actually talking about. Matang is not 'nothing more than a zoo in the jungle'. It's a rescue centre, where staff and volunteers do what they can to help unfortunate animals having a second chance at life. Sure, facilities are not top-notch, but our guide, who worked at Matang for seven years, told us that funding is far from sufficient.
Anyway, a more in-depth post about Matang is in the works. For the time being, I recommend visiting and making up your own mind.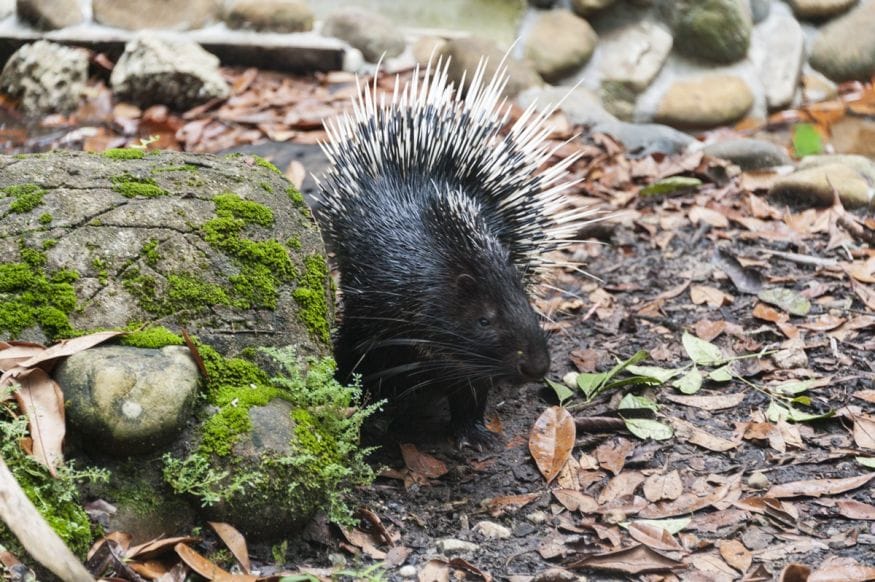 How to get to Matang
Matang is very close to Kubah, so the two can easily be combined as a day trip. You'll probably need a taxi or an organised tour for this though, as the K21 to Kubah doesn't run often enough to see both places in one day and return in time for the last bus. You can also hike from Kubah to Matang in about three hours.
Kayaking on the Semadang River
Sarawak is a land shaped by rivers – just peek out of the window as you land in Kuching to see why. A kayak tour is an excellent way to explore the region slowly, paddling leisurely as the river narrows and widens, while you pass villages and see locals going about their daily life.
There are several agencies offering kayak tours on the river. We chose to go with Buffalo Tours, that in turn uses the only kayaking operator owned by Bidayuh, a native Bornean tribe. Read this in-depth post about kayaking in Sarawak if you wish to know more!
Annah Rais Longhouse
Traditionally, indigenous tribes from Borneo live in longhouses, communal dwellings housing twenty families or more. Longhouse life survives in the remotest regions of Sarawak and it's possible to organise multi-day treks including longhouse stays with several agencies in Kuching.
If you only have a day to spare and don't want to get too far from Kuching, then visiting Annah Rais longhouse is probably your best bet, as it's about an hour drive from town.
But be warned – easy access also means that the longhouse is kind of touristy, and you won't really get to have an insight into longhouse life. Residents were at work in the fields and save for a couple of grandmothers selling herbs and tea, children and cats running around, we didn't see anyone and didn't get to visit any house from the inside.
We did get to visit the 'trophy room', where headhunters traditionally kept the skulls of their victims, and entrance was reserved to warriors (and certainly not women). Needless to say, headhunting hasn't been practised for about two centuries.
For a more in-depth visit, we recommend staying overnight, or joining one of the multi-day tours we mentioned before. There are activities on offer at Annah Rais, including jungle treks, kayaking and fishing with villagers. I really wish we had the time!
How to get to Annah Rais
We organised our trip to Annah Rais with Buffalo Tours, a company offering several tours around Malaysia, including custom tours. We recommend getting in touch with them and asking to help you plan a day-long or multi-day trip to Annah Rais. There is no bus service between Annah Rais and Kuching so a taxi or tour are your only options.
Where to stay in Kuching – Batik Boutique Hotel
Another reason why we were so happy to spend such a long time in Kuching was Batik Boutique Hotel, our lovely base in the Sarawak Capital. Batik is a recently-opened boutique hotel, in a great location close to the city centre, the river and most of the sights.
Rooms are large and comfortable and the toiletries on offer are all eco-friendly – a great plus in a land where rubbish and pollution are a serious problem. We also loved the fact that REAL TEA AND COFFEE were on offer – none of that 3-in-1, instant crap! There's a plunger and a kettle in each room, so every morning we woke up and brewed ourselves a cup of delicious Sarawak coffee, before heading out for a bowl of laksa for breakfast.
Another amazing asset of Batik is the staff – all the people we met were genuinely lovely and made us feel welcome throughout our stay. They let us store luggage when we went off to Gunung Mulu and gave us lots of great advice on how to find the best street food in town.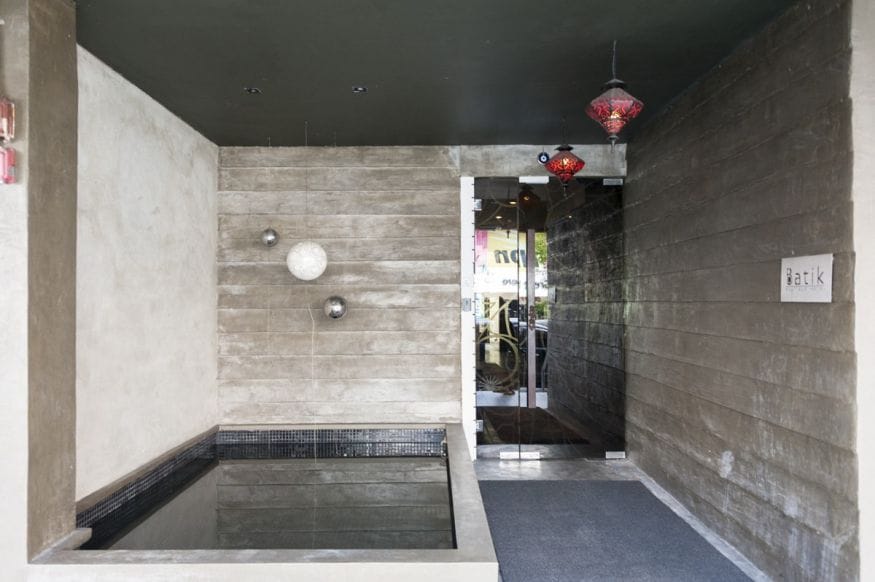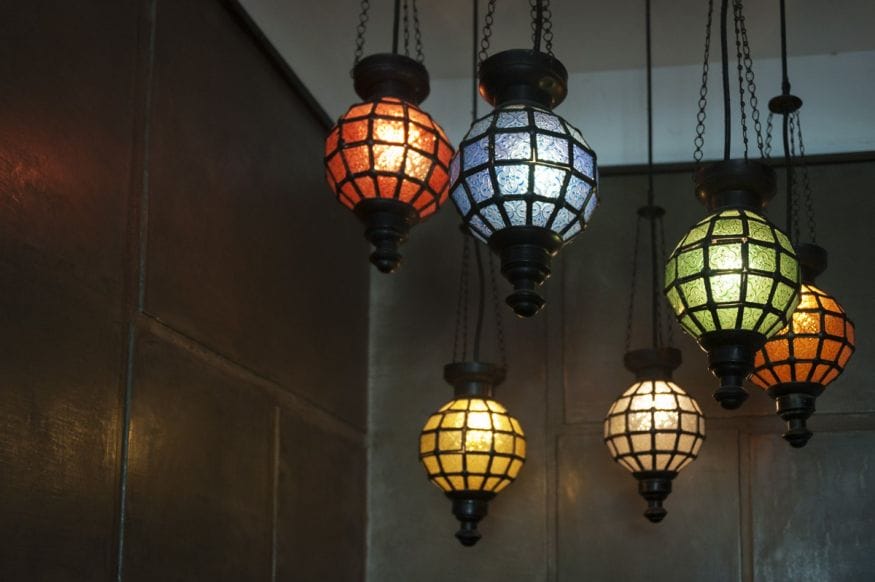 Beautiful textiles are used for decoration around the hotel – finely woven pillowcases, bed covers and hanging fabrics, one prettier than the other. The owner of Batik is also the founder of Tanoti House, a cooperative of Sarawakian women set up by the Queen of Malaysia in 2008 to preserve the ancient art of songket weaving.
Songket fabrics are made with woven silk thread intricately patterned with gold and silver thread. The result are delicate and incredibly precious fabrics – it's a work of precision, where even one tiny mistake can undo days of work.
We had the chance to visit the Tanoti workshop one afternoon, together with hotel manager Jo-Lynn. Songket was about to disappear before the cooperative was created, Jo-Lynn explained. This kind of weaving is very time consuming – it can take months for a shawl or a scarf to be completed, meaning that the final price is quite high.
Thanks to the cooperative, dozens of women have passed through the workshop and learnt this art, and some of them returned to their villages and are now songket teachers.
If you want a really special souvenir, make sure you visit Tanoti – it's a long walk or a quick taxi ride from the centre of town and if you're staying at Batik, Jo-Lynn will be more than happy to point you in the right direction. You'll find 'songket' fabrics all over souvenir shops in town, but more often than not it's just prints – at Tanoti, you'll find the real deal.
We would like to thank Batik Boutique Hotel for having welcomed us, and the Sarawak Tourism Board for having hosted and guided us in Bako, Kubah and Matang.
Pin it for later?