Have you ever considered visiting Sardinia in winter? If the answer is no, you should! It's the best season to discover the authentic heart of Sardinia, away from the beaches and the crowds. Here are some ideas of what so see and do, to discover the island away from the beaten track!
Sardinia is unique in so many ways. There's the colour of its sea, an azure so clear and crystalline that it puts the Philippines to shame. There's the local language, a mystery even for an Italians, a cuisine unlike any other, cultural traditions that stretch back centuries.
Yet, what in my mind makes Sardinia truly unique is the beauty of its undiscovered, little-visited interior. Leave the coast behind, and you'll find an expanse of hills and mountains – some rocky, some covered by small trees and hardy bushes, testament to the harshness of the land.
Moving away from the blue sea and golden beaches along the coast, the colour palette of inland Sardinia is dominated by the sage and olive green of the vegetation, and the flecked grey and rusty brown of its rocks. Shades that are fierce, proud, yet gentle, not unlike the inhabitants of this wonderful land.
Sardinia has been sung about, written in verses, turned as a setting for novels, movies and works of art. Yet, my favourite quote remains this one, by 18th century zoologist Francesco Cetti. 'There is not in Italy what there is in Sardinia, nor in Sardinia what there is in Italy.'
Yes, because Sardinia is – at the same time – part of Italy, and a separate, fiercely independent entity. Visiting in summer to frolic on stunning Sardinian beaches is fun indeed, but you won't get to uncover the island's genius loci.
To do so, you should visit Sardinia in winter, and move away from the beaches. You'll be amazed by what you may find.
Introducing the ItinERA Sardegna Project
Last December, just two weeks before Christmas, we were invited to join a 3-day Sardinia press tour in occasion of the presentation of ItinERA Sardegna. This was the Sardinian chapter of a much larger project, involving five regions between Italy and France, with the aim of promoting ecotourism and experiential travel in places that currently see only a trickle of visitors.
In this specific case, one of the aims of ItinERA Sardegna was introducing unique itineraries to offer on luxury cruises. These are itineraries that go far beyond the usual 'follow-the-umbrella' cruise excursions, responsible for overtourism that plagues much of Europe each summer.
The idea of having us visit Sardinia in winter was nor casual. The itineraries aim to showcase the lesser-known side of Sardinia, presenting it as a year-round destination – fulfilling the double aim of easing the summertime tourist traffic, and bringing much needed revenue to offbeat towns and villages away from the coast.
Here's our Sardinia in Winter video – take a look!
Day 1 – Cagliari in Winter
The first stop of our 3-day Sardinia tour was Cagliari, the largest city on the island. We reached it on a chilly, drizzly afternoon (don't forget to pack warm clothes if you're planning to visit Sardinia in winter!)
Strangely, Cagliari in winter looked even warmer and more welcoming then when I saw it in summer – even though that could be said of pretty much anywhere in Italy during winter!
The city was covered in Christmas lights, and main street Corso Vittorio Emanuele was lined with Alpine-style Christmas huts, selling specialties that went from traditional pane carasau (Sardinian crispbread), to hemp tea and chocolate, handmade jewels and felt decorations.
We all enjoyed a rooftop aperitivo overlooking the harbour at La Rinascente, the city's most famous department store, before heading back to our hotel for dinner.
Oh, that dinner. Course after course of Sardinian delicacies accompanied by wines from Cantina Mulleri – I loved the fact that their wine names take inspiration from the work of Grazia Deledda, Sardinia's greatest novelist.
Meanwhile, our dinner was accompanied by launeddas, a traditional Sardinian instrument made with reeds, with an plaintive, archaic sound that made me think of when the Mediterranean was a place of dynamic exchange, of cultures that transcended borders.
The launeddas were played by Graziano Montisci, a young man who fell in love with the instrument as a teenager, and still practices daily. You never stop learning, he said.
Day 2- Tharros Archaeological Site
The following day we left the city for Tharros, an archeological site in a rocky amphitheatre overlooking the coast not far from Oristano, on the Western coast of Sardinia.
Tharros was founded by the Phoenicians in the 8th century BC, on the location of a Nuragic village, home to a civilisation that left traces all over the island. Over its 2000-year history, Tharros changed hands various times – from the Carthaginians to the Romans, from the Vandals to the Byzantines, until it was repeatedly sacked and abandoned around the year 1050 AD. The fall of Tharros gave rise to Aristiane, that then became Oristano, as it is known this day.
We walked on ancient cobblestones feeling the wind on our faces, looking at clouds chase each other over the steel-blue sea. We found out that much of Tharros lays underwater, and it's still undiscovered. I whispered to the wind I'll return in summer, to explore beneath the sea.
The Giants of Mont'e Prama
If you find yourself exploring Sardinia in winter, and it's cold and windy just like when we were in Tharros, heading to a museum is a great way to warm up for a while.
A short drive from windswept Tharros we reached Cabras, and we were welcomed by none other than the mayor himself into the town's museum, famous for being home to one of the best recent archaeological discoveries in the Mediterranean – the Giants of Mont'e Prama.
In the Seventies, a local farmer was ploughing his fields when he came across unusually large pieces of rock. After excavating, over 5000 fragments were found in the area, which were then recomposed into anthropomorphic statues estimated to date back to the 13th century BC – making them the oldest statues in the Mediterranean.
The statues were dubbed 'the Giants' because of their size, over 2 meters tall. Not much is known in regards to their purpose, but it is believed that they were guarding a necropolis. The Giants are warriors, archers and boxers, standing guard with shields and weapons. Their most distinguishable feature are their large heads and saucer-sized eyes, motionless and expressionless.
If they ever were to say something, I'm pretty sure it would sound like thou shalt not pass.
Santu Lussurgiu
The villages of Sardinia's interior are fun to explore. After learning about the Giants we visited Santu Lussurgiu, in the heart of the volcanic Montiferru region, a hilltop village where the streets were filled with wisps of mist.
After a walk through the village's narrow streets, we reached Antica Dimora del Gruccione, an example of albergo diffuso, with rooms in various buildings around the whole village – we already stayed in an albergo diffuso when we visited Carnia, and found it a great way to attract people to small offbeat villages.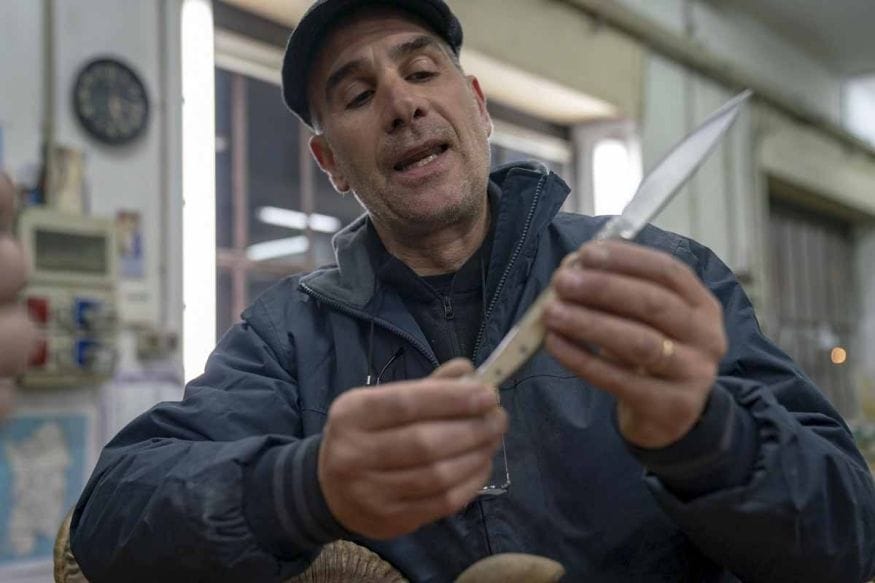 We sat down for another long, lazy lunch – this time we sampled recipes with local vegetables and cheeses, prepared by award-winning chef Sara Congiu. While we ate, we were treated to a cantu a tenore performance. This is a kind of polyphonic singing, performed by four men, each of them with a different voice – it is a truly unique tradition from Central Sardinia, so much that it was included in the UNESCO immaterial heritage list.
Oristano
Visiting Sardinia in winter, weather can truly be a hit an miss affair. After a windy morning, and an afternoon of spotty on and off rain, we reached the town of Oristano – right in the middle of a rainstorm.
We didn't have much time to explore Oristano, and the weather didn't help. We all promised to return soon, and meet all again in this Sardinian town in occasion of the Sartiglia, the local carnival, when masked characters ride horses around town, a true show of dexterity and horsemanship – with a little Sardinian craziness thrown in.
While enjoying yet another delicious meal, we also learned about Oristano's most illustrious citizen, a fierce lady judge called Eleonora d'Arborea. Back in the 14th century, Eleonora wrote the Carta de Logu, a code of laws that remained in place for over 500 years.
She was a fierce believer of the equality between men and women, and gave sons and daughters equal rights in terms of inheritance, as well as including norms to protect women who were victims of sexual assault.
Day 3 – Nuoro
Our 3-day trip around Sardinia in winter taught me that the island is still very much misunderstood and misrepresented, even within Italy. Not much is said or written about Sardinia away from the beaches, even though it is a place with a vibrant intellectual scene, and a cultural diversity with few equals elsewhere in the country.
Nuoro is the perfect example of all this. The town has been nicknamed the 'Sardinian Athens', after an article written by Nobel winner Grazia Deledda in the early years of the 20th century, where she described the town as full of 'artists and poets, writers and scholars, strong and kind, young people, some of whom honour Sardinia'.
Once again, it was rainy when we reached Nuoro, so we quickly sought refuge at Caffé Tettamanzi, the town's most famous historical café. The café was opened in the late 19th century, and it was the meeting place of choice for groups of literati and intellectuals.
The café interiors are still full of references to literature and the town's days as the Sardinian Athens – amongst the stucco decorations and gilded mirrors, there are also shelves packed with books, and more books hanging from the ceiling.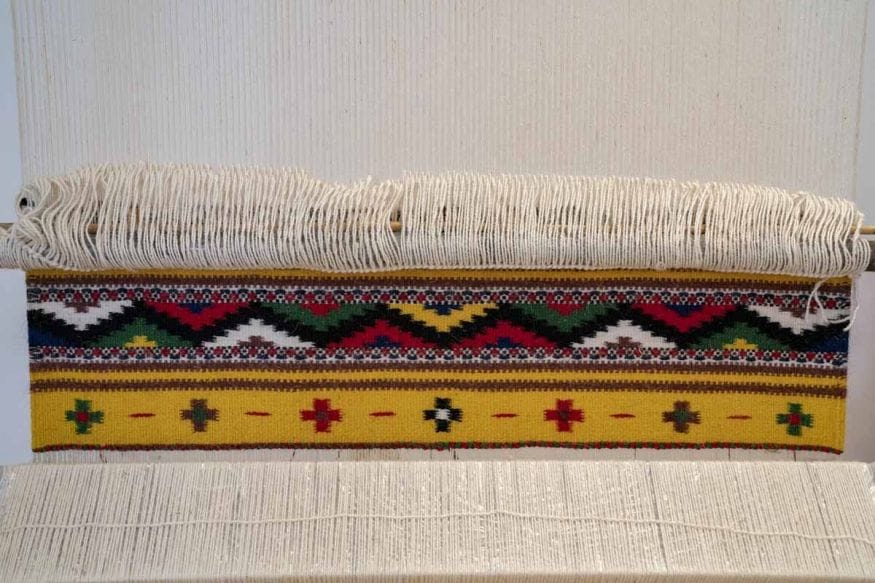 We spent most of our time in Nuoro touring the Museum of Costume, accompanied by the curator who walked us through the newly-opened exhibition. The museum is located in a complex of buildings erected in the Fifties to resemble a Sardinian village, providing visitors with a journey through the island's history, culture, and traditional artefacts.
The museum is the perfect introduction for those that want to explore the cultural heart of Sardinia, away from the beaches. The exhibits that impressed me the most was the one dedicated to bread of all shapes and sizes – not just bread rolls and crisp pane carasau, but also coccoi, intricate ceremonial breads, some portraying religious scenes.
There was also a room dedicated to traditional female outfits from various towns around Sardinia. The outfits were worn by mannequins, all lined up to symbolise a parade, celebrating the power and strength of Sardinian women – because Sardinia is a matriarchy at heart.
We had lunch at Montiblu, a concept store with a shop, café and restaurant overlooking Piazza Satta, dedicated to Sardinia's most celebrated poet. Before lunch, we had a quick cooking demonstration – first we learned to make sebadas, a sweet made with fried pastry filled with cheese and doused with honey.
Afterwards, we saw how the rarest pasta in the world is made. Paola Abraini is one of a handful of women still able to make su filindeu, fresh pasta made just with flour, water and salt, stretched and pulled seven times to form 256 strands as thin as human hair, which are then laid out on a wooden board to dry out, creating a lattice-like pattern.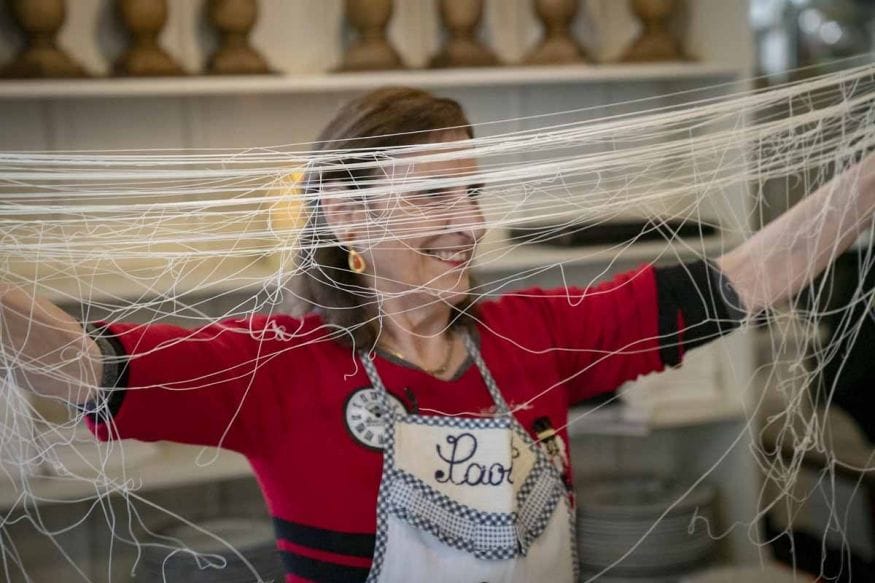 Mamoiada and Barbagia
Our lunch focused on lamb in all shapes and sizes – roasted lamb, braised sweetbreads, lamb broth with the famous filindeu. These are all specialties from Barbagia, the mountainous region surrounding Nuoro, and the fiercest heart of this fierce island.
The name 'Barbagia' derives from Barbaria, as this was where the Sardinians that wouldn't yield to the Romans and the Carthaginians took refuge, away from the coast. Barbagia is famous for its traditional masked characters like the mamuthones and issohadores, that we had the privilege to see in action during our first trip to Sardinia in winter.
This time, we headed back to Mamoiada to visit the Sedilesu winery. Their specialty is Cannonau, probably Sardinia's best known wine – a velvety, ripe red, with spiced notes and marked tannins. Naturally, their flagship bottle is named Mamuthone!
Baunei and Ogliastra
Our 3-day Sardinia tour ended in Baunei, a village in the stunning Ogliastra region, a place that Nick already had the opportunity to visit four years ago.
Ogliastra is one of six 'Blue Zones' in the world, places where people live longer than the average population. In Ogliastra, there's the village with the highest concentration of centenarians in the world, and the longest-living family in the world, with three siblings over 100 years old.
There are multiple reasons to explain why, but a common denominator found in Sardinia as well as in other 'Blue Zones' seems to be the fact that people live an active life outdoors, with a close-knit social circle, consume locally-produced food and drink moderate amounts of wine with a high content of polyphenol, a natural antioxidant. If the wines we consumed during our three days in Sardinia were indeed high in polyphenols, I believe I just added ten years to my life!
After a long evening spent eating, trying our hand at making culurgiones (fresh pasta filled with potatoes and mint), and admiring local artisans practicing their craft, we woke to a wonderful surprise – the clouds had cleared, revealing views over the Supramonte, a mountain region surrounding the Gennargentu, Sardinia's highest mountain.
I felt the mountains call me, so I made another promise to the wind – I will return to explore these mountains. There's a world of adventures, of millenary cultures, of mysteries and fierce female wisdom to discover in Sardinia away from the beaches, and I cannot wait to learn more about it.
Where to Stay in Sardinia in Winter
Villa Fanny in Cagliari – a boutique hotel with 18 rooms housed in a former convent, with a decor that blends tradition and minimalism
Residenza d'Epoca Regina d'Arborea in Oristano – right in the heart of Oristano, with seven individually-decorated rooms located in a 19th century palazzo, complete with frescos and Baroque decor
Hotel Bia Maore in Baunei – hotel with 11 rooms and stunning views over the Supramonte, in the ideal location to discover the village and surrounding mountains
Sardinia Weather in Winter
Sardinia has a typical Mediterranean climate, with hot summers, and mild weather year round. Autumn and winter are the rainiest times of the year, however heavy rains like what we found during our 3-day trip are rare in Sardinia.
In winter, Sardinia is quite windy – the most common wind in Autumn/Winter is the mistral, blowing from France and often making the sea rough.
The interior of Sardinia is covered in mountains, and it does snow from time to time – you can even ski! Temperatures rarely dip below zero along the coast, with maximum temperatures around 10-13°C dipping to 5-8°C at night. Inland, the climate is more continental, with temperatures about 5°C colder.
We would like to thank Alessandra Guigoni, Anna Mussetti and the rest of the ItinERA Sardegna team for having invited us to discover Sardinia in winter.