Reaching Lake Como from Milan is super easy, making it a popular day trip from the city. Here we've tried our best to clearly explain how to get to Lake Como from Milan, both from the city and airports!
With its lakeside villas, nearby mountains and promenades, Lake Como is a brilliant option for a day trip from Milan. Not to mention, Lake Como is also a great destination in its own right – you could spend days exploring the towns and villages around it, taking boat trips across the lake and eating lots of delicious food.
In any case, whether you're heading to there for a day trip or for a longer time, you're likely to be travelling through Milan to reach Lake Como.
If you are leaving from the city, it's super easy to get to Lake Como from Milan by train. Otherwise, if you're flying in, you'll definitely be landing in one of Milan's three airports.
Want to make it easy? Book a tour from Milan here!
How Far Away is Lake Como from Milan?
First things first – Lake Como is Italy's third largest lake after Lake Garda and Lake Maggiore, so the distance between Lake Como and Milan, as well as your travel route, will depend on where exactly in Lake Como you need to go.
Have a look at a map – you'll notice that Lake Como is shaped like an inverted Y. The two main towns on the lake, Como and Lecco, are located at the southern tip of the two branches of the Y, whereas super-famous Bellagio is in between, right where the two branches meet.
The southern tip of Lake Como is roughly 50 km north of Milan, and extends north for about 50 more km. The distance between Milan and Como is 51 km, and between Milan and Bellagio there are 82 km.
In this guide, we'll be focusing on how to reach the two most popular locations on Lake Como from Milan – its namesake town Como, and Bellagio. Here is a guide to the best things to do in Lake Como if you want to know more about other towns and villages!
Alternatively, if you prefer easy solutions, take a look at the best Como day trips from Milan below!
Milan to Como by Train
There are two railway lines connecting Milan and Como – from Milano Centrale/Milano Porta Garibaldi, and from Milano Nord Cadorna.
Download the Trenitalia app or check the Trenitalia website for info on train times from both stations, and to buy your tickets online. For more info on train travel, check our Italy train guide.
Milano Centrale/Milano Porta Garibaldi to Como S. Giovanni
The first option to reach Como from Milan by train is travelling by train from Milan Centrale or Porta Garibaldi to Como S. Giovanni, a station about 10 minutes walk from the lake front.
The trains departing from the two stations travel along the same railway line – the only difference is that trains from Centrale make fewer stops, but there are also fewer departures, while trains from Porta Garibaldi stop in every single local station and as a result take about double the time, but departures are much more frequent.
Travel time from Centrale to Como is 36 minutes, while from Porta Garibaldi to Como is just over an hour. Price varies between €4.80 for slow regional trains, to €14 for faster trains.
You can buy tickets online through Trenitalia, or in person at the station. Booking in advance is not necessary, as there are plenty of departures. If you buy your ticket at the station, don't forget to validate at the ticket machines located on the platform just before you get on the train.
If you're leaving from Centrale, the final destination of your train may not be Como, as most trains travel onwards to Chiasso or other Swiss cities. To find your platform easily, pay close attention to the departure boards, as they usually also list intermediate stations, or just ask station personnel.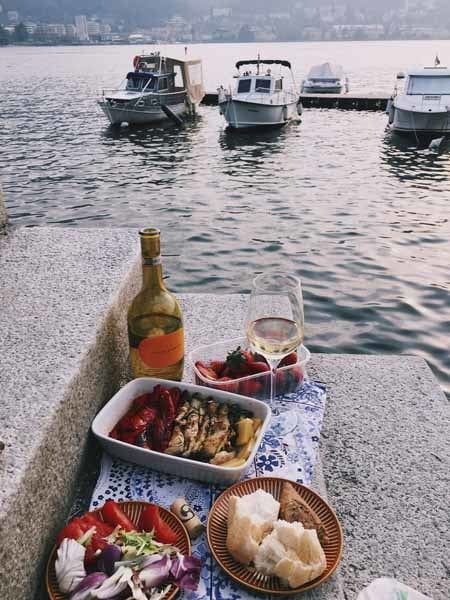 Milan Nord Cadorna to Como Nord Lago
A slower but more scenic alternative is taking the train from Milan Nord Cadorna to Como Nord Lago, the last station along the line. 'Lago' means lake in Italian – as you walk out of the station, the lake will literally be just steps away from you!
There are hourly departures, the train takes about an hour to cover the distance and tickets are €4.80 one way.
How to Reach Como from Milan Airports
Como from Milan Malpensa Airport by Train
Malpensa airport is the only one located north of Milan, and the closest one to Lake Como. If you're planning to head straight to Como from the airport, Malpensa is by far your best option.
It is possible to reach Como from Malpensa by train travelling along two different routes. The easiest is taking one of the nine direct TILO trains, travelling daily from the airport to Como S. Giovanni, taking an hour and a half.
These new direct trains have been introduced in June 2018. They operate between 7.12 am to 11.12 pm, once every two hours, and cost €17 each way.
The second option, with more frequent departures, is taking the Malpensa Express train heading to Milan and get off at Saronno station, from where you can hop on a train to Como Nord Lago, the station right next to the lake I described just before.
Total travel time between Malpensa and Como varies between 1 hour 20 to 50 minutes, depending on connections, and tickets cost €10.90 each way.
Como from Milan Linate and Milan Bergamo/Orio al Serio
The best option for those landing in Milan Linate or Milan Bergamo/Orio al Serio is taking the bus to Milan Centrale, taking half an hour from Linate, and one hour from Bergamo, and continuing by train from there.
Please note that in case of late evening arrivals, it may not be possible to travel to Como from Milan airports by bus/train, as the last trains depart Milan terminals around 11 pm.
If you're planning to stay in Como, here are some good hotel options for all budgets!
Milan to Bellagio by Train
Many Lake Como visitors opt to head to Bellagio instead of Como. The latter is a medium-sized city, offering convenient transport and more accommodation choices, whereas Bellagio is much smaller, and it is a lot more quaint and picturesque. Here's our guide to the best things to do in Bellagio!
You can easily reach Bellagio from Como by bus or boat, but it would be a lot faster and more convenient – especially if you're going to stay in Bellagio – to head there from Varenna.
You can take a train from Milan Centrale to Varenna-Esino – there are departures every hour and tickets cost €6.70 each way. From Varenna, there are frequent ferries to Bellagio, only 15 minutes away. Ferry tickets cost €4.60 each way.
Bellagio from Milan Malpensa/Linate/Bergamo
There is no direct connection between Bellagio and any of Milan's three airports. You will have to make your way to Milan Centrale, jump on the train to Varenna/Esino and then take the ferry.
An alternative would be heading to Como as mentioned above, and from there take a bus or train to Bellagio.
Both options require a minimum of 2/3 hours and at least two changes. It's definitely inconvenient and stressful for those with lots of luggage, children or after a very long flight. In this case, we recommend pre-arranging a transfer from the airport – it's a much cheaper option than taking an airport taxi, which can cost several hundred euro one way.