Is Dubrovnik too crowded for you? Guess what – we know just what to do! Here we'll tell you all about the 14 best day trips from Dubrovnik, including island-hopping and hiking day trips!
Dubrovnik is one of Croatia's most popular and fascinating cities. Its Old Town has been listed on UNESCO's World Heritage List for its rich history and stunning architecture, dating back to the time when the city was a bustling maritime republic.
The huge stone walls surrounding the Old Town were built between the 11th and 17th centuries to protect this former city-state that for centuries rivalled with Venice as a trading port.
With its dazzling paved streets and white facades, Dubrovnik is full of things to see and do – including Baroque churches, palaces, fountains, squares filled with cafés, restaurants serving delicious Mediterranean cuisine, and sunset bars built right on top of cliffs.
For a long time, Dubrovnik remained a kind of 'hidden secret' on the Southern Dalmatian coast. I remember visiting in the late Nineties, only a few years after the siege that brought the city to its knees for 7 months. Bullet holes were still visible on walls, and only a handful of tourists roamed the streets.
Then, we headed to Dubrovnik again in February 2006, and saw dozens of locals waited at the bus station with placards advertising their spare room. There were indeed more tourists around, but you could still roam Dubrovnik in total solitude, climbing on and off the city walls at will.
Fast-forward a decade or so, and Dubrovnik is one of the worst victims of overtourism in Europe. Two things have contributed to this – the decision of HBO power-series Game of Thrones to use Dubrovnik as one of its filming locations, and the rise in cruise tourism.
Visit Dubrovnik now, and you'll probably feel overwhelmed – especially in summer, when horde upon horde of cruise ship groups descends on the Old Town every single morning. Want to climb up the city walls? It will be €29 and a three-hour wait. Want to have lunch? There you are, some microwaved faux-Italian for about as much as you'll pay in Venice.
The solution? Head out of the city! Dubrovnik's position on the Southern Dalmatian coast, surrounded by islands on one side and mountains on the other, means it's easy to go island-hopping from Dubrovnik or on hiking day trips.
Those who are 'collecting countries' will also be very pleased to know that you can go on day trips from Dubrovnik to both Bosnia and Montenegro.
Here are our 15 favourite day trips from Dubrovnik to get you started!
Island-Hopping Day Trips from Dubrovnik
1) Elafiti Islands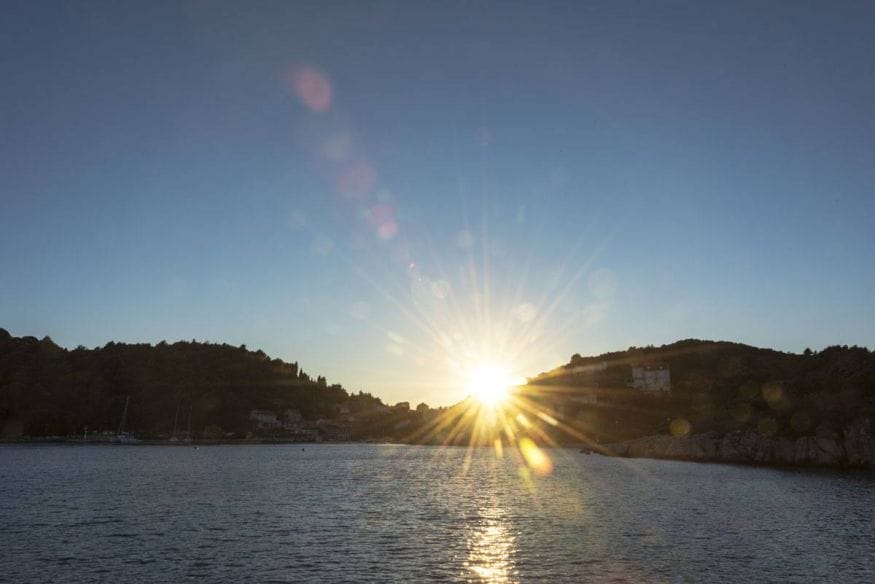 Easily reachable by boat from the city, the Elafiti Islands are among the easiest (and best!) day trips from Dubrovnik.
The archipelago is composed by a total of 14 islands and small islets, of which only three are inhabited – Koločep, Lopud, and Šipan. Kolocep and Lopud are also entirely car-free, which makes them the perfect getaway if you're looking for some peace and quiet.
With their warm and quiet waters, stunning landscapes and fascinating villas overlooking the sea, the Elafiti Islands are perfect for relaxing and practicing water sports such as swimming, snorkeling, and scuba diving.
You can choose to spend your entire day sunbathing, or enjoying one of the many tours that circles the three main islands.
Foodies take note – Šipan Island is also home to the highest concentration of olive trees per capita in Europe, and you'll find some really great konoba (traditional restaurant).
Getting to the Elaphiti Islands: there are four daily departures from Gruz Port with Jadrolinija. The first stop is Koločep (30 minutes), then Lopud (1 hour), and finally Šipan (1 hour 15 from Dubrovnik). However, please note that visiting all three islands in one day is near impossible – you better opt for one of the tours below!
Best Day Trips from Dubrovnik to the Elaphiti Islands
2) Lokrum
Lokrum Island is the perfect destination for a quick island-hopping day trip from Dubrovnik, as it's only a 20 minutes boat ride from the city, and you can depart right from the harbour in the Old Town (rather than having to cross the city to get to the larger Gruz Port!)
No cars are allowed on the island, so wear a comfy pair of shoes and be prepared to walk! One of the coolest things to do in Lokrum is hike to Fort Royal, which is located on the highest peak and is a former French garrison which looks out over the island and Dubrovnik.
You can also hike to the centre of the island to visit a shallow salt lake, and explore the ruins of a 15th-century monastery and a 12th-13th century basilica – Game of Thrones lovers take note, these last two locations were used as a setting for the city of Qarth in season 2!
After all the hard work is done, make sure you also enjoy a nice lunch at one of the local restaurants, or go sunbathing at the beach!
Getting to Lokrum: frequent departures by ferry, at least twice an hour, from the small harbour in the Old City. Travel time is 20 minutes.
Best Day Trips from Dubrovnik to Lokrum
3) Mljet
The island of Mljet is the perfect island-hopping day trip for travellers who like to be surrounded by nature.
This island includes one of Croatia's national parks, and it is often overlooked by most tourists. Those who do make it to Mljet will be rewarded with picturesque beaches, small villages, and naturally the national park, covering the entire north-western part of the island, which is fun to explore by bike.
Easily accessible by boat from Dubrovnik, Mljet is the ideal place to take a day off from the bustle of the mainland. Some of the best things to do on a Mljet day trip are taking a road trip to explore the island, hiking to Odysseus Cave, biking around the lakes, and naturally tasting the freshly caught seafood at one of the local restaurants.
Getting to Mljet: there are daily ferries from Gruz Port in Dubrovnik to Mljet taking two hours each way, but then you'll have to find your way around the island – probably not worth doing for a day trip. We recommend opting for a day trip instead!
Best Day Trips from Dubrovnik to Mljet
4) Hvar
Hvar is without a doubt one of Croatia's most charming islands. It takes about 4 hours to get there from Dubrovnik, so it can indeed be visited as a day trip, but we recommend staying longer if possible.
Hvar is a popular destination among celebrities – it's a large island, but it still manages to maintain some secluded getaways, with quiet beach bars and traditional villages.
One of the top things to do in Hvar is visiting the many beaches you can find all around the island – Dubovica and Pokonji Dol beaches are two of the best, and they're not far to get to from Hvar Town.
While you're there, don't forget to go exploring Hvar Town, with its crowded cobblestone streets filled with shops, bars and restaurants.
To take some truly great pictures head up to the fortress of Fortica, atop the highest part of the town. Ah, and before you leave, don't forget to taste the local wines, try some cheese from Pag, and enjoy a beautiful sunset.
Getting to Hvar: in high season, there are daily ferries travelling between Dubrovnik and Hvar in the morning and afternoon, making day trips possible. Travel time is 3 hours each way.
5) Korcula
Another top island-hopping day trip from Dubrovnik! There are actually many reasons to visit Korcula – touring the Medieval streets of Korcula Town, visiting the house where locals claim explorer Marco Polo was born, taking pictures of St. Mark's Cathedral and other Renaissance buildings.
However, nature is what makes Korcula really worth visiting. The island is full of crystalline, idyllic bays and beaches – Bačva beach is one of the best if you truly want to be alone, as access is only via a narrow staircase, or head to Lumbarda for either rocky Bilin Žal, or sandy Vela Pržina, the best beach in Korcula according to locals.
Yet, the real reason to visit Korcula is getting lost exploring its winding roads and villages, by bike if possible! Whatever you do, don't miss sampling a glass of local wine. Korcula, together with the nearby Peljesac Peninsula (which can easily be combined as a day trip from Dubrovnik!) is one of the best wine producing areas in Croatia.
Getting to Korcula: in high season, it's possible to take a ferry to and from Korcula, departing at 7 or 9 am and returning at about 4.30 pm. To save yourself the hassle and make sure you don't get stuck on the island, consider taking a tour!
Best Day Trips from Dubrovnik to Korcula
Day Trips from Dubrovnik to Montenegro
6) Kotor
Kotor is without a doubt one of the best places you can visit in Montenegro, and one of the easiest to visit as a day trip from Dubrovnik!
The medieval old town is a UNESCO World Heritage Site, it has a rich artistic and cultural heritage, narrow cobblestone streets that open on small charming squares, and is surrounded by luxuriant and largely unspoiled nature.
The Old Town is a stark contrast to the chaotic streets nearby. Explore the quiet and fascinating little pedestrian streets filled with shops, cafes and restaurants.
To fully admire the Gulf of Kotor and its winding, fjord like harbour you can climb up the Kotor City Walls, that will lead you high above the medieval town. It's bit of a hike, but it's absolutely worth it!
If you want to see more of Montenegro, you can tour some of the pretty fishermen's villages across the bay from Kotor (like Muo or Prcanj), visit Perast and Saint George's Island, or combine Kotor with a day trip to Budva!
Getting to Kotor: there are several daily buses between Kotor and Dubrovnik, with travel time ranging from 2 to 2 and a half hours. To make things easier, opt for a day trip!
Best Day Trips from Dubrovnik to Kotor
7) Budva
Many day tours from Dubrovnik combine the two cities of Kotor and Budva. If Kotor is best known for its walls and relaxed attitude, Budva is the place to visit if you're in a party mood.
Inside the Old Town walls you'll find a small but charming town with narrow pedestrian streets, places of historical and cultural interest, shops and restaurants.
Budva is also well known for its pebble and sand beaches, where you can rent sun beds and umbrellas for just a few euros and enjoy a drink at one of the many bars in the area. It's a great idea for a relaxing Montenegro day trip from Dubrovnik!
Getting to Budva: there are at least 9 daily buses connecting Dubrovnik and Budva, taking as little as 2 and a half hours each way.
Best Day Trips from Dubrovnik to Budva
Day Trips from Dubrovnik to Bosnia
8) Mostar
Known for its picturesque Old Bridge and its souvenir shops, Mostar is one of the most visited Bosnian cities. Its compact historic centre, and the fact it's only just over 2 hours away, makes it the perfect destination for a day trip from Dubrovnik.
Mostar's famous bridge, the Stari Most, is a UNESCO World Heritage Site. It was destroyed in 1993 during the Balkan War, and rebuilt to its former glory in 2004.
Nowadays, it's the most popular tourist attraction in town – not just because it's a great photo opportunity, but also because you'll be able to see local daredevils (and tourists!) brave the 20+ meter jump into the chilly waters of the Neretva river.
The city centre of Mostar is filled with traditional restaurants, market stalls, mosques, souvenir shops and historical buildings. Mostar is the perfect place to experience the local cuisine and, if you take a walk around the market stalls, getting a glimpse of the traditional Bosnian way of life.
Getting to Mostar: buses travel daily from Dubrovnik to Mostar, taking approximately 3 hours each way.
Best Day Trips from Dubrovnik to Mostar
9) Sarajevo
Sarajevo is definitely the number one destination to visit in Bosnia and Herzegovina. It's probably too far for a day trip from Dubrovnik (definitely if you want to use public transport!) but if this is your only time in the Balkans, we highly recommend visiting.
It is important to know the history of Sarajevo to fully understand it and appreciate it.
Sarajevo witnessed the outbreak of the First World War, has undergone years of communism as part of Yugoslavia, and suffered its own bloody civil war in the early 1990s.
The city now offers plenty of attractions and activities, such as the Latin Bridge, the Kovači Memorial Cemetery, the Sarajevo Tunnel Museum, the Jewish Museum and the old bazaar, also known as Baščaršija, where you can try lots of traditional food.
Getting to Sarajevo: travel time by bus is 6 hours each way, too far for a day trip! Spend the night or opt for a private tour instead.
Best Day Trips from Dubrovnik to Sarajevo
10) Medjugorje
Best known as the perfect destination for spiritual and religious reflection, and popular site of Catholic pilgrimage due to reports of alleged apparitions of the Virgin Mary to six local children, Medjugorje is also a place for relaxation and cultural sightseeing.
Among the most popular places you should visit in Medjugorje there's the Church of St. James, symbol of the Parish of Medjugorje, and Apparition Hill, with its Statue of Our Lady that commemorates the spot where She appeared.
You can also climb the Cross Mountain, walk along the Via Domini and spend some time in reflections and meditations at the Blue Cross.
To extend your Bosnia day trip from Dubrovnik, you can hike to the Kravice waterfalls, which is a great place for swimming, fishing and enjoying the surrounding nature.
Getting to Medjugorje: Medjugorje is just two hours drive from Dubrovnik, but there's only one daily bus. If you really want to go on a day trip, your best bet will be renting a car or going on a tour.
Best Day Trips from Dubrovnik to Medjugorje
11) Trebinje
Country-collectors looking for a Bosnia day trip from Dubrovnik, did you know that Trebinje is only 30 km from Dubrovnik, making it by far the easiest place to reach.
The only issue is that there aren't many daily buses, and timetables change constantly and aren't often updated online. For a day trip from Dubrovnik, you'd better rent a car or opt for a taxi.
We visited Trebinje a few years ago during our week in Herzegovina and loved the chilled atmosphere of the town. It's kind of like a mini Sarajevo – there's a Turkish neighbourhood reminiscent of Baščaršija, a blend of mosques and Orthodox churches, and not far from town you can also visit Trvdos Monastery, with its own wine cellar.
Alternatively, if you want to spend your day trip from Dubrovnik hiking and exploring nature, we recommend heading to Biela Gora, a mountain on the border between Herzegovina and Montenegro. To do that, you can get in touch with Sinda Kunic on his website!
Getting to Trebinje: there are two daily buses, double check at the bus station in Dubrovnik for the latest departure times.
Hiking Day Trips from Dubrovnik
12) Kravice Waterfalls
Would you like to visit Plitvice Lakes, but you're afraid you'll be stuck in crowds the whole day? Guess what – Kravice Waterfalls is the perfect solution for a nature and hiking day trip from Dubrovnik!
This is probably one of Bosnia's best kept secrets, and it can be easily combined with a visit to Mostar. At Kravice you'll find a rock amphitheatre with 28 meter-high waterfalls, and to make matters even better, you're allowed to swim in the stunning turquoise waters!
You can also rent boats, hike around the waterfalls, or simply sit and admire the waterfalls with a drink and a hot meal (make sure you try cevapi!) from one of the bars. This day trip is really worth doing from Dubrovnik, and it's just a matter of time before Kravice turns into a new version of Plitvice – so get there while you can!
Getting to Kravice: reaching Kravice for a day trip from Dubrovnik by public transport is impossible. Opt for a tour instead!
Best Day Trips from Dubrovnik to Trebinje
13) Peljesac Peninsula
The Peljesac Peninsula is the perfect day trip from Dubrovnik for all the food and wine lovers out there, as it's one of the best Croatian wine regions.
One of the best things to do is visiting local wineries, and naturally tasting amazing food at one of the many restaurants of the peninsula.
The Peljesac Peninsula is also a great place to relax, explore the historical sites, such as the fortification walls in Ston, sunbathe at the beach and go scuba diving or windsurfing.
Despite the increase in popularity of the area among tourists, Peljesac remains relatively offbeat – it's also a wonderful hiking destination, and there's a long tradition among locals to hike Sveti Iljia mountain, offering great views over the coast and Peljesac Channel from the summit. This is a great hiking day trip from Dubrovnik!
Getting to the Peljesac Peninsula: there are multiple buses (every 2/3 hours) travelling between Dubrovnik and Ston, the first town on the Peljesac Peninsula. Travel time is just over an hour each way.
Best Day Trips from Dubrovnik to Peljesac Peninsula
Day Trips from Dubrovnik to Other Places in Croatia
14) Cavtat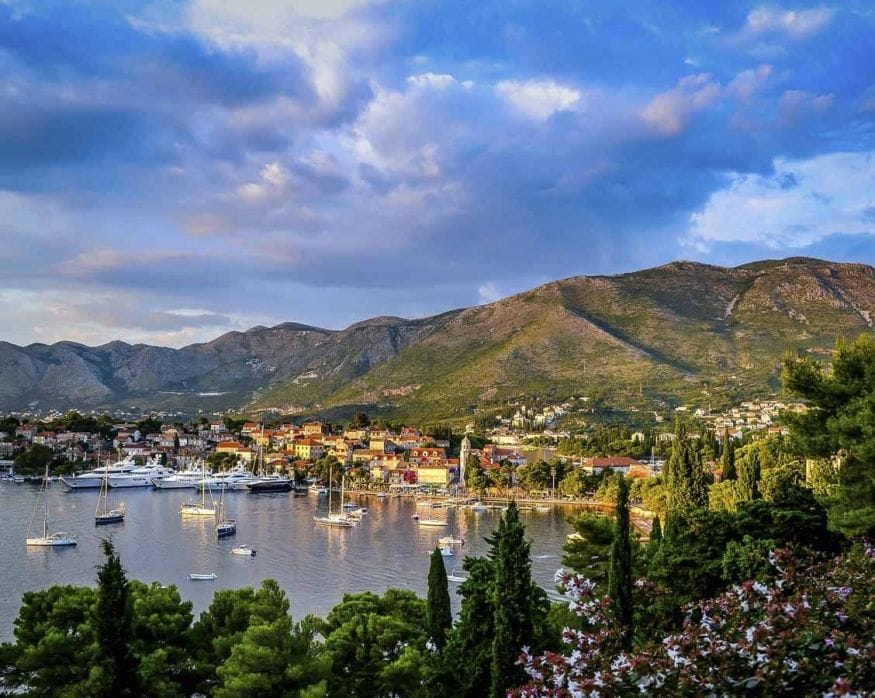 Cavtat is the perfect destination on the Croatian mainland if you want to escape the tourist crowds. It's only a short 20 minute drive from Dubrovnik, and its beaches and waterfront are the perfect places to relax – ideal for a day trip from Dubrovnik.
Cavtat is divided into two bays, of which Luka is the larger, and there is a nice footpath following the coastline, that can be traveled in 30 minutes.
Also, don't miss visiting the Old Town, built in classic Croatian style with cobbled streets and historical buildings. While wandering around the streets, make sure you check out St. Nicholas Church, the Rector's Palace and the Racic Mausoleum.
The two beaches closest to the Old Town are perfect to relax in the sun, swimming and practising water sports. The waterfront is a good option for lunch break as it's filled with cafes and restaurants.
Getting to Cavtat: this is probably the easiest day trip from Dubrovnik! Suburban bus number 10 travels from Dubrovnik to Cavtat every 45 to 60 minutes, taking about 20 mins. It's a great place to visit even just for half day!
Best Day Trips from Dubrovnik to Cavtat
15) Split
Even though the city often fails to impress at first sight, there are many things to do in Split, making it a great destination for a day trip or extension from Dubrovnik – especially if you're into history.
Spend your time exploring the Old Town, climbing to the top of the Bell Tower of St. Domnius Cathedral and strolling along the Riva Promenade. Don't forget to check out Diocletian's Palace, the emperor's retirement home, situated in the very centre of the Old Town.
To end your day off, explore the markets and taste the traditional food and wines at one of the many restaurants in town.
Getting to Split: there are hourly bus departures from Dubrovnik to Split, taking 4 hours each way. So, it's a LONG day trip – but it could be done, especially in summer when the days are long. Otherwise, try to spend at least a night in Split!
Best Day Trips from Dubrovnik to Split