Welcome to our third instalment of #MondaysinMilan! Today we would like to share with you the day we spent visiting the Eritrean community in Milan. Come and learn about the country and its culture.
"My name is Lucia", said the elderly woman, shaking my hand. "I was born in Asmara on the 13th of December, 1943, when the Italians were marching out of Eritrea". Lucia was petite and friendly, and within a few minutes she had invited us to her place for tea. She gave me the address. Come whenever you like, she said, before saying goodbye.
With her words, Lucia transported me back to school. I remember studying about Eritrea and how it had become an Italian colony. Yet, I knew absolutely nothing about the country. I didn't know about its customs and uses, about its history, food or religion.
I met Lucia one November morning, in front of the church of Santa Maria Annunciata in Camposanto, after having attended a 2 hour long mass in Eritrean. I had come out of curiosity, invited by my photojournalist sister who is working on a project about immigrant communities in Milan.
It was one of those dreary, grey days. I hate Milan in November; it feels like an endless night. We walked into a building I had never noticed before, just behind the Duomo. The church was hidden in a building, not the kind of place one walks into without knowing what to expect.
A few dozen worshippers were inside, singing Eritrean hymns, while two men played the drums and the tambourine. It was a Catholic mass, but it felt different from the other Catholic masses I had been to before. The atmosphere was solemn, but joyous. Children played around the church, people walked in and out, sang and clapped along. It was an odd crowd, much more varied than at ordinary masses. There were elderly men in trilby hats and immaculate shirts, women in bright white traditional clothes, some families, and many young men. I wondered if many were there for the mass, or just to spend time with the community.
The mass was in Eritrean, so we didn't understand a single word. As we walked out of the church after the service, I realised I probably was right. People all knew one another. It felt odd at first; it was like we had gatecrashed a party. Soon we started talking to Lucia, and then to Abramo, a man in his mid forties with a salt and pepper moustache and kind eyes.
We were invited to join the community for lunch, and set off with Abramo towards the canteen. He had been living in Italy since 1983, the year I was born. He spoke with a slight Bergamo accent, and told us of the life of the community. In Milan, there is a large Eritrean community, traditionally living around Porta Venezia.
My father lived in Porta Venezia when he was a child and I remember him telling me that, even 50 years ago, he had many Eritrean neighbours. "We have all gone through Porta Venezia, at some stage. All of us" said Abramo.
Abramo was lucky. His parents moved before him, and he joined them as soon as they were able to get papers for him to come officially. He did national service in the Italian army in the mid-Eighties, and gained Italian citizenship. Many of his Eritrean friends didn't want to do military service, even with the promise of citizenship. "They had known nothing but war, for their whole life", he revealed.
But most weren't as lucky as Abramo. "Look around" he said. "90 per cent of these people came from Lampedusa".
I looked around. By then we had got to the canteen, and we were sitting on yellow plastic chairs waiting for the food to be served. "They have just arrived, perhaps two months ago", he said, pointing to a group of young men, perhaps in their early twenties.
I couldn't help to feel a pang of sadness. I convinced myself I had already seen those guys, in news reports about migrant shipwrecks. I thought I had already seen them, trying to swim ashore after having been kicked out off a leaky ship, behind bars in some migrant centre, bewildered as they wandered around Milano Centrale after having left Lampedusa.
Abramo told us that the horror, the real horror, is not the crossing. By the time you get to Libya, or Tunisia, or whatever, the target is so close, you don't even think of the dangers. The real horror is leaving Eritrea and crossing the African continent. Even people with legitimate permits have to leave Eritrea illegally, as the borders are sealed by the authoritarian government. If you're caught, you're jailed or killed.
After clearing the border, it's time for a long, gruelling transfer north, across the Sahara. Sometimes migrants have no choice but to rely on people smugglers, and be transported for weeks on the back of trucks. "They have also come from Lampedusa, with the children" Abramo said, pointing to a family of four sitting a couple of tables away from us.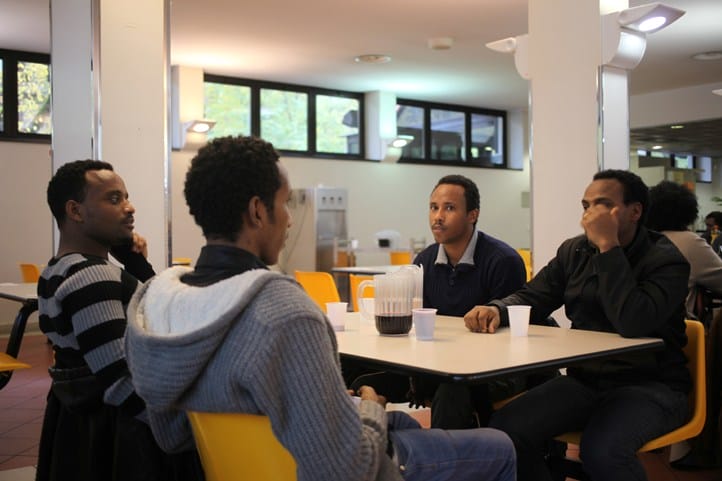 Just the day before, I had an argument with my family about 'boat people'. The crisis, in Italy and elsewhere, have made people distrustful of migrants. 'They come to steal our jobs', 'they have no right to be here'. I hear this on a daily basis.
Often, people resent migrants because they pay thousands of dollars to people smugglers, to get them across the Sahara and then the Mediterranean. "Fact is, they have no alternative" Abramo said. There simply are no other ways, or else, they would do it. Entire families chip in, entire villages put their savings together to allow young people to emigrate abroad, to collect the fee to pay people smugglers, in the hope that one of them will be saved, will be able to live a life of freedom.
Lunch was served. We ate all together, big plates of spicy zighini and injera, the spongy bread that is the Horn of Africa's staple food. People hadn't come out for Mass, that morning. I mean, I'm sure they were religious, but the main reason was community.
Community is their wealth, their anchor, their home base. Eritreans in Milan have one another to rely on. Abramo himself revealed he didn't come down from Bergamo every week to go to mass, he came 'meet his people'. That sense of community that us Italians have lost, a couple of generations ago. We are distrustful of our neighbours. We are distrustful of those who came from a distant land, escaping death and tyranny.
That day, I was able to appreciate the value of having a community. The group of young men, arrived from Lampedusa only a couple of months before, were not alone in the world. They had two whole communities to support them; the one they left behind, and the one they have found in Milan. After all, every Eritrean has gone through Porta Venezia, at some stage.
Photos by Caterina Ragg
Did you enjoy this #MondaysinMilan post? You can also learn more about Milan public transport, or discover the best trattorie where you can eat for under 20 euro.
Keep following us for more Milan articles – on Mondays, of course! The next one is coming on January 12th, after the Christmas break!