There are many beautiful places to visit in Malaysia, and a lifetime won't be enough to experience them all!
Of all the countries in Southeast Asia, Malaysia gets a bad reputation because it's an "Islamic country." Well… it's really not. A secular country with a majority of Malay Muslims, Malaysia is a smorgasbord of ethnicities, cultures, and food traditions.
Freed from British colonial rule in 1957, the relatively young Malaysia is incredibly underrated — and received significantly fewer tourists compared to nearby Thailand.
Getting to know Malaysia in one trip is impossible. But this post will help you decide what are the best places to visit in Malaysia, and how to plan a quick Malaysia itinerary, whether you have one week or one month.
How To Think of Malaysia's Destinations
First off, Malaysia is no ordinary country and it would take you a long time to discover all the places to visit in Malaysia. The country is divided into two parts, separated by a huge stretch of the South China Sea.
Peninsular Malaysia and capital Kuala Lumpur is what most people think of when they hear the word "Malaysia," but right across the pond are the states of Sarawak (the biggest) and Sabah which, together with Brunei, make up the upper quarter of Borneo.
Yes: notwithstanding the country's name is the same, it's like you'd venture into another (well, two) different countries, with diverse ethnic groups, traditions, religions, and languages.
Then, you have a cluster of tropical islands that oftentimes have different regulations, like Langkawi and Labuan, which are tax-free heavens and tourists love because of the cheap alcohol- which is due to the lack of Islamic tax.
INSIDER TIP: Keep in mind that once you travel to Peninsular Malaysia, you'll receive a 90 days stamp. If you hop to Sarawak, you'll get another 90 days stamp which, however, cannot go beyond the validity of your first visa. But if you fly from Sarawak to Sabah, or Sarawak to Peninsular Malaysia, you'll get another 90 days. Confusing? Yes, a bit. Visit frequently and you'll get used to it.
Continue reading to discover the most beautiful places to visit in the country.
A Selection Of The Best Places To Visit In Malaysia
The following is a list of the nicest places to visit in the peninsular area.
Penang
Penang is definitely one of the best places to visit in Malaysia. It is a tropical island but has a definite city feel, with its capital George Town a UNESCO World Heritage Site. Despite its compact size, there are many things to do in Penang, from strutting about the old city to admire the famous Penang Street Art, to exploring national parks shrouded in forest, and hiking on top of Penang Hill, a former British colonial hill station.
Kek Lok Si, one of Southeast Asia's biggest Buddhist Temples, is among the most stunning in an endless series of shrines that include among others the Hindu Waterfall Temple with its white gopuram set on a flank of Penang Hill.
Balik Pulau, in the southwestern corner of the island, is the most natural and unspoiled place, perfect for long bicycle rides (don't forget that there are several bike lanes running all over the eastern and northern side of the island) and offbeat exploring.
Penang food is also something not to miss — among many accolades, in 2014 even Lonely Planet declared Penang as the best place in the world for foodies.
One of Penang's perks is its large number of festivals and celebrations, a blend of the traditions of the Malay, Chinese and Indian inhabitants, so you can visit multiple times and always have a different experience. Two great festivals that shouldn't be missed are Thaipusam and Chinese New Year – try to time your visit to attend one of them!
Guided tours of Penang
To make the most of Penang, you may want to join one of these guided tours:
•Penang 3-hour Heritage Tour with Trishaw
•Half Day Penang Tasty Local Street Food Tour
•Iconic Temples and Penang Hills Half-Day Tour
In terms of accommodation in Penang, you can find a bit of everything, from the glitzy boutique hotels of George Town to the resorts of Batu Ferringhi beach and a great selection of Penang Airbnbs.
Ipoh
The capital of Perak was once the world's foremost center for tin mining, and that legacy has remained ingrained in the city's history. Scenically set in a plain filled with huge limestone hills sprawled all over the horizon, Ipoh has remained a hidden Malaysian gem for years, having gotten on tourists' radar only as of late.
Not going is a big mistake: the Old Town has everything George Town in Penang has, but with much fewer tourists, there are at least eight unique cave temples built inside of the limestone caves by the Chinese settlers, and the food (and Ipoh white coffee) is to die for. Gunung Lang, a park on the northern reaches of town, has a man-made lake that's perfect for strolling and paddling a canoe.
Once in Ipoh, you shouldn't forget that 20-km to the south is the small satellite town of Gopeng, one of the best places to try white river rafting in Malaysia, and a perfect spot for a day trip or further offbeat exploration. Apart from the river, there's abseiling down the Ulu Geruntum waterfall, and of course caving at Gua Tempurung, the biggest cave in Peninsular Malaysia.
Cameron Highlands
This former British Hill Station is a perfect place to get away from the heat of Malaysia's plains and experience a bit of semi-high altitude chills – it definitely is one of the coolest places to visit in Malaysia (literally!) The main attraction here are the tea estates: Boh Tea, one of Malaysia's biggest plantations, covers square kilometers of green carpeted hills.
You can roam around the vegetable farms, which include strawberries, and when night comes and it gets cooler, the popular past time is to sit down with friends and have the local delicacy, Chinese steamboat — a hotpot of flavored broth where you dunk and cook vegetables, fish and meat all by yourself.
Cameron Highlands also has some spectacular nature and many hiking trails. Every hotel will be able to recommend you where to strike off, but for a special experience, don't forget the Mossy Forest, a place where you'll feel like you have reached very different latitudes.
LOCAL TIP: As it's only about two and a half hours drive from capital Kuala Lumpur, the Cameron Highlands are VERY POPULAR with local tourists and become a horrible traffic gridlock on weekends. Try to visit during the week, especially if coming with your own car.
Alternatively, you may want to consider this guided tour of Cameron Highlands from Kuala Lumpur.
Taman Negara
Straddling the center of Peninsular Malaysia, Taman Negara is the world's oldest rainforest. Today, a series of easy boardwalks go around park headquarters and bring you to a Canopy Walkway where you can observe the tropical rainforest from a monkey's perspective.
The park is huge, and for anything involving overnight stays, you will have to hire a guide and join a group – don't do what we did and risk getting lost overnight!
For simple daytime exploration, there are more than enough guest houses in the small village of Kuala Tahan, right across the river from park headquarters, where the expensive Mutiara Taman Negara Resort is also located.
Back in the day it was possible to catch a boat from the town of Jerantut and spend a day floating on the river to Taman Negara, but this has changed by the tarmac road that now connects Jerantut to the park. Before you go, a visit to the cave complex of Kota Gelanggi near Jerantut is very recommended: expect to see a rock formation that looks like Leonardo's Monalisa, and see sun rays peek through the roof of a cave as if it was a light from paradise.
Check out this overnight tour of Taman Negara from Kuala Lumpur.
Kuala Lumpur
The capital of Malaysia, fondly called KL by locals, is an intoxicating mixture of ultra-modernity and hidden nooks that blend Chinese, Moorish and Indian influences. A magnet for shoppers from all over the world, Kuala Lumpur is best experienced over a couple of days, which are enough to take in the major sights.
Having said that, even just a layover in KL is fun and a good way to get a glimpse of the city.
Start in KLCC where you can climb the Petronas Twin Towers, some of the highest in Asia, and one main symbol of Malaysia's much sought-after progress.
TIP: Make sure to get skip-the-line tickets to the Petronas Twin Towers. You can get them here.
Then walk to the entertainment district of Bukit Bintang: perfect for an array of international dining options, at night it transforms into KL's most happening party district — and don't forget nearby TREK, packed with disco bars, eateries, and young locals who want to strut their stuff.
For a lower-key party atmosphere, the district of Old Bangsar is a perfect grid of mostly pedestrian streets lined with glitzy bars, bistros and low-key Muslim Indian eateries.
PRO TIP: Don't miss out on the street food in KL! Don't know where to start? Join this guided street food tour. You can book it here.
The area around the Central Market and Petaling Street is considered the historical heart of KL's Chinatown, and has emerged as another favorite hangout in recent years, with a lot of new and hip hidden speakeasy bars, art galleries, and cool hipster havens such as the Zhongsan Building, which packs a few floors of alternative boutiques, bars, bookstores, silk screen printing, and one rock and roll record store.
Don't leave the city without making the trip and the trek to the Batu Caves, whose staircases are one of the most colorful and Instagrammable places in Asia, and also lead to a sacred Hindu temple sheltered inside a limestone massif. A 43-meter high golden statue of Hindu God Lord Murugan guards the staircase to the place.
To make the most of Batu Caves, you may want to consider joining a guided tour. These are the best options:
•Batu Caves half-day tour – the most popular and budget-friendly option.
•Genting Highlands and Batu Caves day trip – an excellent option to visit two places on the same day.
•Batu Caves and cultural exploration tour – a GetYourGuide tour, for guaranteed quality.
•Batu Caves and firefly watching in Kuala Selangor – an excellent tour for impressive sights.
To find nature, you can take a stroll at KL's Bird Park, a perfect place to bring kids, or go to the northern district of Kepong to hike at the Forest Research Institute of Malaysia — a real full-fledged jungle within city limits. Deep in the center of town, also the verdant hill of Bukit Nanas spruces up the concrete with a dash of palm trees and occasional monkeys.
Melaka (Malacca)
A joint UNESCO World Heritage site with George Town in Penang, Melaka (internationally known as Malacca) is a perfect day trip from Kuala Lumpur, and packs so much charm you'd want to spend at least a few days here.
The old town is a maze of small streets dotted with Chinese temples which blend with the remnants of the Portuguese and the Dutch occupation on the Straits Sea. It all culminates with the old A Famosa, the old Portuguese citadel, set up high on a hill that overlooks the old town.
A smorgasbord of tiny hole-in-the-wall cafes', restaurants and perfect guesthouses pack the historical Jonker Street and its surroundings. Again, we recommend not visiting during weekends, as the place gets packed with holidaymakers from all over central Malaysia and nearby Singapore.
But during the week, Melaka is a little jewel to browse on foot, meandering the little cobbled alleys that skirt the Melaka River, where you can take a cruise, and sample the great local food.
It's easy enough to get to Melaka in less than two-hour drive from Kuala Lumpur, from where many buses shuttle between the TBS Bus terminal and Melaka Sentral. From here, take a bus headed into town or use a ride-hailing service like Grab, Mula or MyTeksi. Alternatively, you can join a guided tour such as this one.
Kuala Terengganu
Peninsular Malaysia's East Coast cities see less tourist traffic because this is definitely a Malay-dominated, more Islamic territory. But don't believe stereotypes and try for yourself, at least by visiting the beautiful Kuala Terengganu, set on the estuary of the Terengganu River.
Start by visiting the Floating Mosque just outside of town, possibly at sunrise (around 7 am) for beautiful picture opportunities with a purple sky and amazing reflections on the pool of water that surrounds the monument.
If Islamic architecture is what you are after, the Islamic Civilization Park (Taman Tamadun Islam), scenically set on islet Wan Man with beautiful views of the river, collects 22 small-scale replicas of the world's most iconic mosques. If you come here, don't forget to visit the beautiful Crystal Mosque, set in the northeastern corner of the little island.
Not far away is Pulau Duyong, a completely separated riverine island that's home to a community of incredibly skilled boat makers. There's one yearly boat race that leaves from here, too, so check for dates before you set out.
Lastly, Kuala Terengganu's pulsating earth is its thriving Chinatown, where you'll forget you are in Malaysia's most Islamic area. Come at sunset to see the Ho Ann Kiong and Tien Hou Kiong temples, built by early Chinese settlers in 1801 and 1896, and then walk across towards the riverside, passing through a lane covered in street art. Chinatown is also the best place in town to have a meal, especially if you are craving Chinese food, and a cold beer — alcohol is generally not served in most of East Malaysia's cities.
For some beaches and waves, Pantai Batu Burok, about 1 km out of town, is perfect for relaxing and surfing.
The Best Places To Visit In Malaysia – The Islands
Malaysian islands are either natural beauties ringed by aquamarine waters, or bastions of food and cultural traditions, like Penang. Whatever you plan on doing, you should reserve at least a few days to explore one of the following islands. Each has its own character, traditions, and attractions.
Langkawi
Tucked up high off the Kedah coast in northwestern Peninsular Malaysia, Langkawi is a duty-free port and one of Malaysia's most touristed islands — actually, it's an archipelago of 99 islets and one main island. It usually has a spot among the most famous places to visit in Malaysia.
For beach fun, resorts, and plenty of guesthouses and tourist facilities, head to popular Pantai Cenang. Its vibrant nightlife and trendy beachside disco pubs spill beanbags and umbrellas on the sand. Cenang beach itself is surprisingly nice for being so visited, and is a great place to catch the sunset, take a dip in eternally lukewarm waters, and feel like you are in nearby Thailand.
The most expensive and luxe five-star resorts, such as The Datai, are scattered along the other beaches in the northwestern corner of the island, near the UNESCO geopark of Gunung Machinchang.
The Seven Wells, a series of interconnected rock holes and waterfalls, are a popular spot, as much as Langkawi's real tourist attraction, the Langkawi Sky Bridge cable car, which whizzes you up to the top of the Machinchang mountain, where a suspended iron bridge gives non-acrophobics amazing views of the Andaman Sea. You can also soar above one of Southeast Asia's longest ziplines at Umgawa, which crosses the geopark.
No first visit to Langkawi is complete without splurging a bit into one of the many sunset cruises on offer: you'll get on a yacht, cruise somewhere off the main island, take a dip and then have a BBQ seafood dinner and free-flow of drinks until the boat will drop you back at the pier in the evening. It's also a popular activity for bachelors and bachelorettes, so pick your cruise wisely. This cruise may be a great option.
Nature lovers may avoid the touristy shenanigans and take one of the tours that set off by small boat to cruise the lesser-visited beaches of the archipelago. And if you love divine, nearby islet Pulau Payar is a beautiful place with transparent sea and plenty of baby Black Tip sharks to snorkel next to.
To make the most of Langkawi you may want to join one of these guided tours:
•Langkawi: Mangrove Kilim UNESCO Geopark & Cave Tour
Pulau Perhentian
Touted by many as Malaysia's two diving gems, the Perhentians (two islands, Besar, which means "big", and Kecil, meaning "small") are certainly stunning tropical paradises, but have seen so much tourism that they are now looking a bit tired. Yet they remain among the best places to visit in Malaysia.
Kecil is the most backpacker-friendly, packed with lower-key accommodation, while Besar has a more upmarket feel and fewer people. Pick what you prefer, and use sea taxis to hop between beaches and islands. They get expensive quickly, so pick Kecil if your main aim is meeting other travelers and party.
Coral Bay has the most vibrant nightlife, but don't expect the debauchery of Thailand east coast's islands like Koh Phangan and Samui. If you are interested in getting a PADI scuba diving certification, the Perhentians are among the cheapest in the world to do so, otherwise, half-day snorkeling packages (about RM50 – around $12 USD – per person) will bring you close to sea turtles and schools of multicolored tropical fish.
Pulau Pangkor
Soaring between Penang and Kuala Lumpur, Pulau Pangkor is not very well-known and often bypassed by travelers, but for no good reason. It really is one of the prettiest places to visit in Malaysia.
PRACTICAL INFORMATION: To get to Pulau Pangkor, you must first reach Lumut, from where ferries shuttle to Pangkor island proper every fifteen minutes or so. They cost around RM15 (about $3.5 USD).
Teluk Nipah is possibly the most charming bay: the waters are not as beautiful as on the East Coast but totally swimmable.
But what makes this island great is its unique ethnic mix of Malays and Chinese who coexist and live in their own separate villages scattered along the coast. The Fu Lin Kong temple is one of the biggest in Perak state, and sports a replica of the Great Wall of China and a bunch of interesting sculptures.
The perk in Pangkor is that, unlike elsewhere in Malaysia, you'll be seeing A LOT of hornbills, one of Malaysia's most endangered tropical birds. Dozens flock down from the jungle every day at 6.30 pm at Sunset Chalet for a very popular "hornbill feeding session." Prepare your camera as it's truly unmissable.
Pangkor is also a thriving center for fishing, dried shrimp making, and especially fishing boat construction. Take a tour of Sungai Pinang Besar, the Chinese town on the southern side of the island, and explore the jetties where people bang on the vessels, preparing them to brave the open sea to forage more fish.
The interior of the island is very jungly, and a couple of ATV operations organize tours that leave from Teluk Nipah and go through the jungle passing by the old abandoned airstrip, until the northern bay, Teluk Dalam.
PRO TIP: If you can ride a motorbike, rent one as soon as you get to the port, and tour the ring road that goes all around the island in about one hour.
Head to the southeastern coast, right south of the port, to see the old Dutch Fort and Batu Bersurat — a rock that, at first, seems like it has an ancient tiger inscription. It turns out it's a lion, with the VOC signature of the East India Company.
Pulau Tioman
This big island floats off the southeastern coast of Malaysia and is best reached by speedboat from the ports of Mersing (a full-fledged town that makes a pleasant stopover) or Tanjung Gemok (just a port).
Tioman itself is quite spread-out and has a lush jungly interior that makes for a stunning three-to-four hour hike, connecting the west coast near Tekek town to Juara, the main beach and settlement on the island's eastern side.
The main accommodation and tourist beaches lay on the northwestern side, in the two beaches of Air Batang and Salang, each with its own string of guesthouses and mini-resorts, restaurants, and facilities. A couple of dozen dive sites, including a wreck, dot the waters off the coast, and coming here without trying to dive at least once it's a mistake. It really is one of the best places to visit in Malaysia, at least for diving!
The southern side of the island is the wildest and least developed, with several hills and the beautiful Asah waterfall.
Pulau Sipadan
Declared by Jacques Cousteau as one of the most thriving marine environments in the whole world, this volcanic islet off the southeastern coast of Sabah in Borneo is a diver paradise, and obviously one of the most scenic places to visit in Malaysia.
On a good day you'll see hammerhead sharks, schools of black tip reef sharks, giant sea turtles and barracudas, all twirling around you in ways that only those who have dived here can describe to others.
Not exaggerating, this is a special place and for this reason, it is expensive to dive here, and no one is allowed to stay on this island — nearby Mabul and Kapalai, two other beautiful tropical atolls, do the trick — and most important, there is a set limited number of 120 divers per day.
The Best Places To Visit In Malaysia – Borneo
If you have seen Peninsular Malaysia, hopping on a short flight to anywhere in Malaysian Borneo may come as a shock, for the other side of the country, constituted by the states of Sarawak (Malaysia's biggest) and Sabah are really something else, from the ethnic groups who live here, to food and natural attractions. The following are some of the best places to visit in Malaysia, for the Borneo region.
Kuching
Sarawak's capital is perched on its easternmost corner, a bounty of sea, rivers, mountains and caves all packed within striking distance of this quaint and artsy city. This is easily one of the top places to visit in Malaysia.
First off, Kuching means "cat" in the Malay language, so don't be surprised if you see a large amount of cat statues spread all over the center of town.
Kuching old town is set on a bend of the mighty Sarawak river, where a bridge connects the esplanade to the other side where Fort Margherita recollects the vivid history of the Brookes, the White Rajahs of Sarawak. The Old Courthouse, which now houses a fancy bistro-cum-restaurant and live music room, is another piece in that heritage puzzle.
Carpenter Street, right opposite, is where many of Kuching's best bars, cafes and hostels are packed. The old market is another perfect place to visit, as much as is the Sarawak Museum, boasting one of the finest collections in Southeast Asia.
Done with the city, hop on a bus or get a Grab to Semenggoh Orangutan Sanctuary, where you'll see the mighty apes come down twice a day, at 9:00 am and 3:00 pm, for their fruit feast. Yes, this is a sanctuary, but it's also one of the few chances you'll have to see one of these semi-wild primates up close.
The Sarawak Cultural Center may be a bit touristy, but it's where you'll be able to see bits and pieces of traditional Dayak (the former headhunters) culture, and maybe listen to a performance of traditional sape — a lute-like instrument typical of the orang ulu tribes. For more "cultural trips," get down to the Batang Ai river where the Annah Rais Longhouse offers a show of Bidayuh lifestyle and culture.
Kuching is set in the ideal location for many of the best things to do in Sarawak. Not far away from the city is the incredible Bako National Park, which deserves at least two days, for its many hiking trails, beautiful scenery next to the sea, and the quirky local Proboscis Monkeys. This is easily one of the most beautiful places to visit in Malaysia for nature and wildlife lovers.
Don't forget Gunung Gading National Park near Lundu, where you can spot the Rafflesia, the world's biggest flower, when in season, and Mount Santubong, the steep mountain that dominates over the city's skyline.
Tanjung Dato National Park has some of the emptiest, most remote beaches in all of Borneo. Lastly, if you like caves, there are plenty near Bau, a former mining village 40km south of Kuching. The Fairy Cave and Wind Cave are huge (well, wait to get to Mulu National Park) and can be combined on tours from the city.
Gunung Mulu National Park
If there's only one place you'll see in Borneo, then Gunung Mulu National Park, a UNESCO World Heritage Site, has to be it. It really is one of the most special places to visit in Malaysia. Once home to the world's biggest cave (before a slightly bigger underground cave system was found in Vietnam) the Deer Cave is about two kilometers long and 90 meters tall and wide.
It is said that one could park over ten Boeing planes inside of here. It is reached after a 3-km-walk on a boardwalk passing dipterocarp forest, where the huge cave mouth welcomes you inside a world populated by… bats. Don't miss the bat exodus at sunset: thousands of bats leave the cave's roof, flying like a black dragon in the darkening sky.
Other caves, Clearwater and Lang, are smaller but equally interesting to visit by boat and foot.
The park has other attractions, such as the Pinnacles, a series of sword-like limestone rocks perched on top of a mountain that's a harsh climb. Hiking tours get here and back in two days, and one can also continue walking along the Headhunter's Trail to Limbang, where a small airport connects to other points in Sarawak.
The best way to get to Mulu is by small plane from the coastal hub of Miri. A logging road takes over 8 or 9 hours to get here if you have private transport, but because of the destructive effects of logging, it's not the recommended way to get here.
Kota Kinabalu
Sabah's capital is an overblown town that now looks like a swanky city, and is possibly the world's closest to a marine national park, the Tunku Abdul Rahman Marine Park, which comprises of several islands, like Gaya, Manukan, and Sapi. You could be snorkeling and diving in the morning, shop in an air-conditioned mall in the afternoon, and hit one of city's eclectic bars at night. It's really is one of the top places to visit in Malaysia!
The strength of Kota Kinabalu is its prime seafront location, the bloody red sunsets, the night markets, like the Filipino Market with its seafood stalls, or the Api-Api Night Market, which flares up main thoroughfare Gaya Street every weekend. Gaya Street is also home to a vibrant Sunday morning market.
Don't forget the nearby hills that you can trek before attempting the climb to the top of Mount Kinabalu, Southeast Asia's tallest peak at 4,095 meters. And to enjoy beautiful sunsets in a less crowded area, head down to Tanjung Aru Beach, the closest beach to the city.
Sandakan and the Kinabatangan River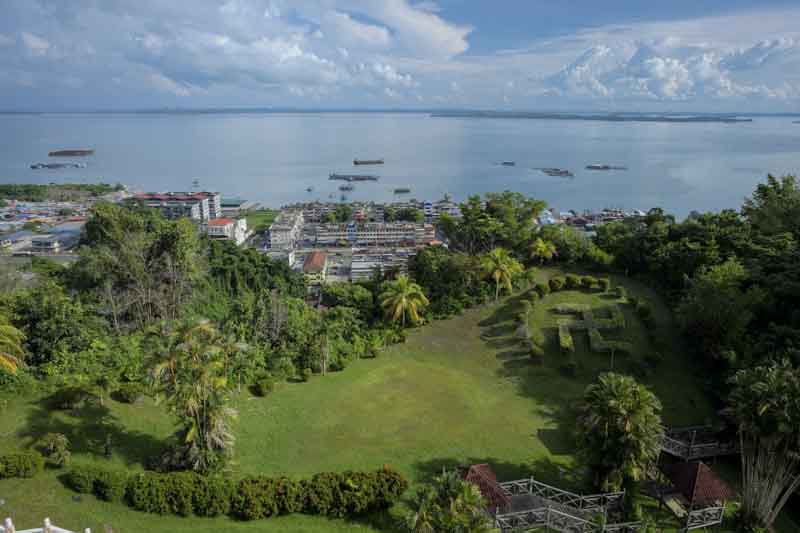 The Kinabatangan River is one of Borneo's longest, and Sandakan the city that developed close to where it meets the sea. Not a beauty after being razed down during World War II, Sandakan hugs a beautiful bay and feasts on plentiful seafood, and as such remains one of the places to visit in Malaysia.
Don't miss trying it at the stilt village of Sim Sim, particularly at the barebone Restaurant 88, where some of the best concoctions of Borneo-Chinese dishes and local herbs are used.
Follow Sandakan's Heritage Trail by taking in the old house of American writer Agnes Keith, who lived here during the war, and exploring the museum where you can have a pictorial journey of the beauty that was Elopura (Sandakan's old name) and the pictures of Martin and Osa Johnson, two of the world's first adventurers, who made films with the footage of wild places they found in Africa and Borneo.
Out of town at the village of Sepilok you have two of Borneo's best wildlife sanctuaries, one next to each other. Sepilok Orangutan Rehabilitation Center, opened from 9:00 to 11:00 am and 2:00 to 3:00 pm, is another place to see semi-wild orangutans come foraging for food. There is also a young orangutan nursery here, where the younger apes are often at play. Entry for foreigners costs RM30 (little over $7 USD).
Right opposite is the Bornean Sun Bear Conservation Centre, the home of the world's smallest — and cutest — species of bear, which is very endangered. It's open from 9:00 to 3:00 pm and costs RM30 (little over $7 USD).
After a couple of days exploring Shere, it's time to move to the river. You must get to a lodge that will organize all of your boat trips, and most of them are around the village of Sukau. But there are other stretches of the river where you'll be able to have an experience with less boats around.
At a minimum, expect to see plenty of macaques, proboscis monkeys, and if you are lucky, migrating pygmy elephants and orangutans hiding up in the trees. The best time for a cruise is in the early morning, when the wildlife is most active.
The Best Time To Visit Malaysia
As Malaysia straddles the equator, the weather is hot and humid year-round, with a temperature hovering between 27 and 35 degrees celsius (even if at times it can feel much hotter). You can visit anytime, but the Monsoon seasons make activities like hiking in the jungle and diving less rewarding at different times of the year.
The best months to visit the West Coast — Penang, Ipoh, Kuala Lumpur, Pangkor Island, Langkawi etcetera — are those of the dry season from December to February, but bear in mind this is also the hottest time of the year, and a time when it's raining on the East Coast.
If you want to go to the East Coast and enjoy the islands, the best time is May through September.
In Borneo, the most stable months are June, July and August, when there is less rain, but you can visit pretty much anytime outside of the rainy season between December and February, when forest hiking is pretty much hampered by the rains.
Consider however that due to climate change, there is lesser and lesser rainfall, and the information above, even if correct, doesn't have to be trusted entirely. For example, you may have fantastic sun all day and rain all night, or have no rain at all, even though it is expected.
This post was written by Marco Ferrarese of Penang Insider. Photo credit Kit Yeng Chan.