Are you wondering why you should visit Turku? Well, the short version of the answer is that it's a fun city that offers its best in summer, when the days are sunny and long and you can chill on the Aura River with the locals. The long version? Here's our post with 10 reasons why you should visit Turku on your next Finnish trip. Keep reading to find out!
'What are you doing next summer? We're walking across Finland, from Porvoo to Turku.'
Whenever people asked us about our plans for summer 2016, that was always our answer. We're hiking across the southern part of the country, starting in Porvoo, and finishing in Turku – even though that wasn't 100% true, as after Turku we spent one more week hiking the Aland islands.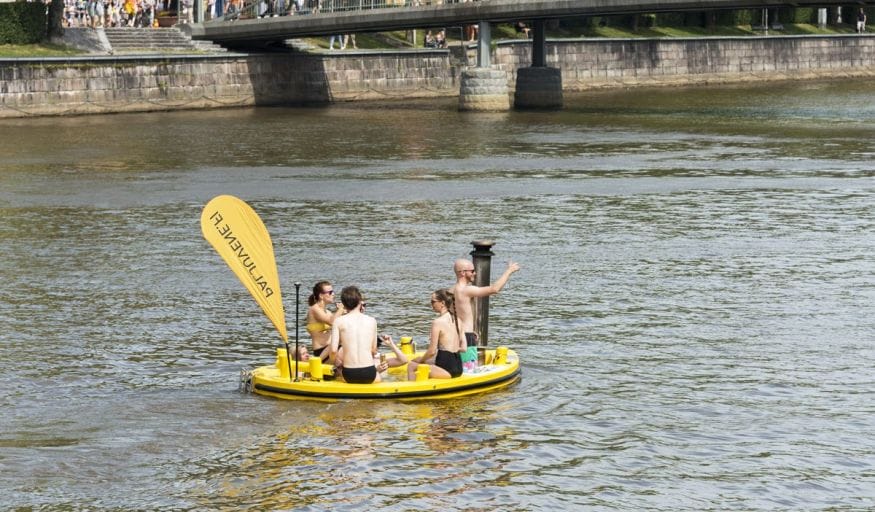 However, Turku was our last destination in mainland Finland, after another amazing (but demanding) week hiking the Finnish Archipelago. We spent the whole of June walking between 5 and 35 km every day, enjoying magical experiences like sleeping in the Bengtskär lighthouse, and two days in Nuuksio National Park, but also facing challenging moments like our freezing night in Sipoonkorpi.
Turku felt like the end of the line. After leaving magical Naantali we hiked 15 km along a cycle path to Turku – an easy and enjoyable walk. It was a sunny day, and we enjoyed watching the city take form before us as we headed closer, step after step. We crossed a couple of suburbs, then entered the city – Finland's oldest town and European capital of culture in 2011. It felt like a small town, surrounded by the magical Northern summer.
Just as we fell in love with Porvoo at the beginning of our hike, we fell in love with Turku at the end. However, we did so for very different reasons. Porvoo was quaint, cute, fairytale-like. Turku was a nice city, but looks aren't what makes it special – it's all about the vibe of the place, amazing in winter as well as summer.
For us, Turku means fun. The kind of fun we like – climbing trees, kayaking around the bay, drinking craft beers along the river under an endless Nordic summer sunset. Turku felt like a young town – chilled out, carefree, living the moment.
After all, what do you expect from a city whose tourism slogan is 'Kiss my Turku'? If you want to know where the idea for the slogan came from, find a map of pre-WW2 Finland. It's said to look like a maiden – do you see the resemblance? Now, locate Turku. 'Kiss my Turku' – get it?
And after three days in Turku, we realised there's a lot more than meets the eye – there's so much to see and do, and the more we asked people, the more ideas they gave us for another Turku visit.
Why visit Turku?
We started our summer in Finland series with 10 reasons to visit Porvoo, and we'd like to end it with 10 reasons to visit Turku. This time, though, we've also add three more items – three good reasons to visit Turku AGAIN. Hopefully sooner rather than later.
1) Explore the city centre – both sides of the river!
Our Turku exploration began on Market Square, the very centre of town, where our hotel Sokos Hamburger Bors was located. We had a room with a view, and every day we woke up and had breakfast while looking at market sellers set up their stalls with fruit, vegetables and colourful flowers.
From Market Square, the Aura River was only a few steps away, dividing the city in two – "täl puol jokke" ("on this side of the river") and "tois puol jokke" ("on the other side of the river"). I still don't understand which side is which, but never mind!
On opposite side of the Aura from Market Square you'll find the Old Town, the medieval heart of town, with massive Turku Cathedral overlooking cobbled streets. Many of Turku's sights and points of interest are located in the Old Town, including famous Åbo Universitet, the oldest in Finland, history and contemporary art museum Aboa Vetus & Ars Nova, the Sibelius Museum and Luostarinmäki Handicrafts Museum.
Once upon a time, the whole of Turku was built around the Cathedral, overlooking the city from its high belltower like a benevolent father. Then, in 1828, Turku was destroyed by terrible fire that razed the Old City – mostly made up of wooden houses – to the ground. A new extension to the city was built across the river – the area around Market Square. Sights in this area include the Market Hall (a foodie must visit!) and the newly-refurbished Main Library, with a modern steel and glass building added to the original one, dating back to 1906.
2) The Aura River
The Aura River is more of a simple landmark – it's the heart of town, especially in summer. Day and night you'll see locals and tourists walking up and down the riverbanks, stopping for a drink or a bite at one of many 'boat restaurants', or simply sitting on the banks watching life go by. You can also walk following the river all the way to Turku Castle, one of Finland's oldest continuously used buildings, and another very good reason to visit Turku again.
When we visited last summer we saw an art installation, five giant painted eider ducks floating gently in the waters of the Aura river, symbolising the fragility of Finnish nature and wildlife. I wonder if it will be there forever – we found it beautiful.
3) Föri, the small ferry
You know me, I love quirky stuff! So when I heard about Föri, the iconic Turku city ferry crossing the Aura river since 1903, I knew I wanted to ride on it. The trip across only lasts about a minute, as the river is not at all wide – yes, walking across a bridge is much faster, but Föri is so cute! And to make things better, it's totally free!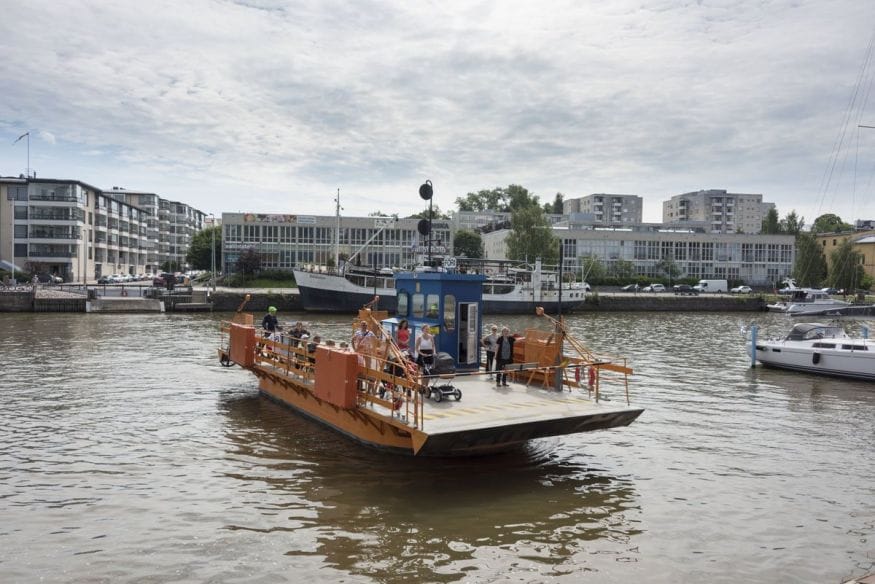 4) Turku Market Hall
The Turku Market Hall is located right next to Market Square, and it dates back to 1896, the time when the city was rebuilt after being destroyed by the Great Fire. Sellers and street food vendors display their wares under a glass and iron ceiling, creating an atmosphere that nods to the past, while looking for inspiration all around the world. In fact, besides traditional Finnish specialties like reindeer meat, sausages and cheese you'll find Vietnamese, Mexican and sushi stalls – and more.
Those with a sweet tooth – such as me – should definitely pay a stop to M Bakery inside the the Market Hall, and taste the famous Kiss my Turku cake. I won't reveal what's in it, but trust me, it's worth a stop!
5) The Medieval Festival in summer
We visited Turku on the first weekend of July, and we were lucky to be there in time for the medieval festival, an annual event that pays homage to the city's medieval past. The banks of the Aura river were lined with stalls of all kinds – selling medieval-inspired handicrafts (lots of wood and iron!), as well as tanners and blacksmiths demonstrating their crafts, and 'medieval' street food like A WHOLE roasted pig!
6) Kayaking around Ruissalo
Just like Helsinki with its islands, Turku is also surrounded by wonderful urban nature and an unspoilt archipelago where locals head to whenever they want to get away from the city. The closest wilderness to the city is the island of Ruissalo, covered by parks and forest, with ancient wooden villas surrounded by nature.
One of our missions for this summer trip was enjoying nature and adventure even when we got into towns, and so we were happy to sign up for a sunset kayaking tour of the Turku archipelago – a great way to spend our first evening in town!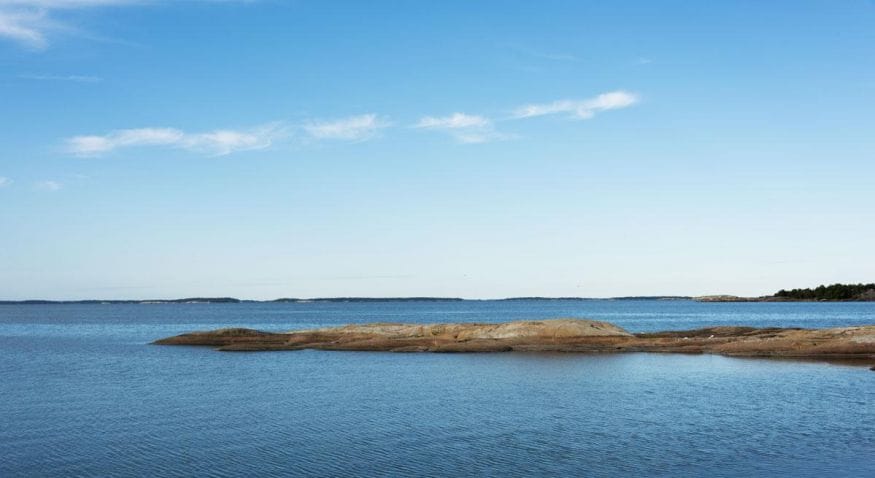 The departure point was Ruissalo, and the plan was kayaking to one of islands across the bay – but sadly, strong winds prevented us from kayaking far, and we ended up circling Ruissalo. Do you believe me if I tell you the waves were so strong that I got kayak-sick? It was great fun, though – truly an excellent way to enjoy urban nature and the long Nordic evenings.
7) Evening Cruise on the Ukkopekka
Our last night in Turku was also Nick's birthday, and we had a wonderful surprise – an evening cruise on the Ukkopekka, a vintage steamship offering daytime tours to Naantali and evening cruises to Loistokari, a tiny island in the Turku Archipelago.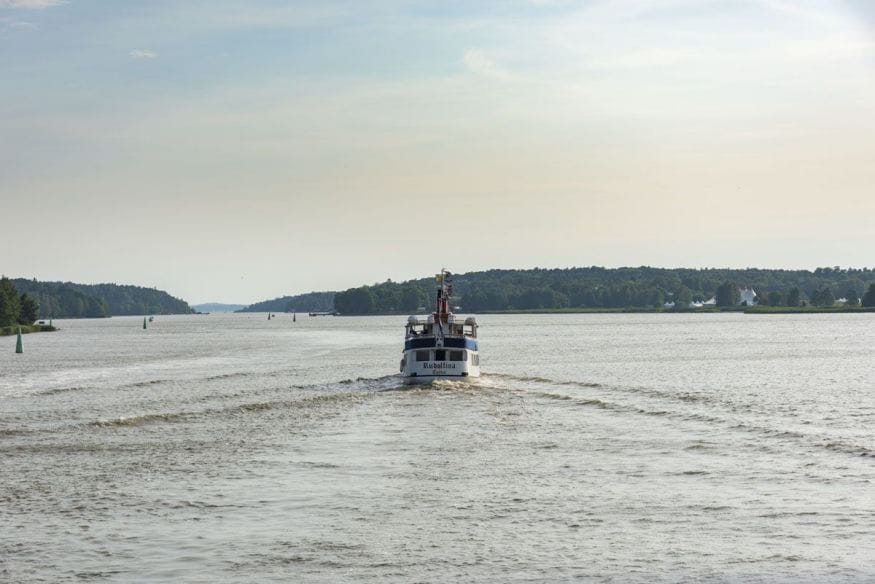 We hopped on the Ukkopekka in the early evening, and enjoyed an hour or so sailing down the Aura and across Turku harbour, with amazing sunset views of the surrounding islands and the big ferry liners travelling across the Baltic to Stockholm and the Aland Islands.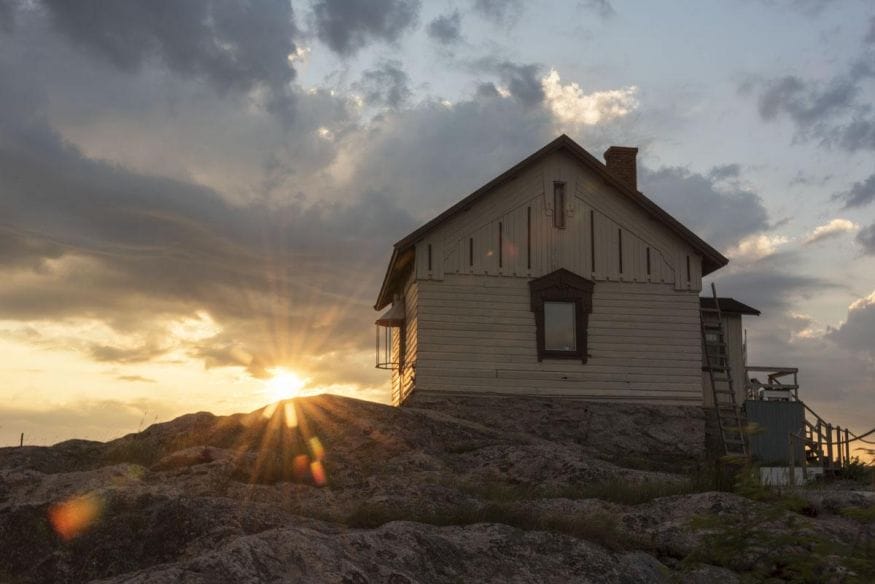 A live band played all the way to tiny Loistokari, where we disembarked. The island was only a few dozen meters across and there was a single building – the wooden house of the former lighthouse keeper, now housing a small museum. We had dinner sitting on the rocks, surrounded by music, sea and wild Nordic nature. After dinner, the band went on playing and people danced on the pier – it may have been the music, or the setting, or vintage Ukkopekka moored just before us, but it felt like a memory of times gone by.
After sweating and getting soaked kayaking, the evening cruise on the Ukkopekka was a wonderful, relaxing way to enjoy nature in the Turku archipelago, before setting off on another adventure.
8) Walk among the trees at Flowpark
We first heard of Flowpark last winter in Helsinki, when we went to their stall at Matka tourism fair and they talked us into climbing to the ceiling on a rope. Flowpark has several adventure rope courses all around Finland, including Turku – you know those places where you wear a helmet and harness and walk, climb and slide your way across the treetops? That's it – and it's great fun!
We had our first adventure course experience last year in Bozenov, Czech Republic, and loved it. However, I must admit it's a lot harder then it looks, and you may find yourself dangling from 10 or 20 meters high, which can be unnerving. Flowpark has 18 adventure trails, up to 20 meters high in the trees, colour-coded according to difficulty. We decided to take it easy and only completed the easiest paths. I did take a look at the hardest one, double black diamond Flowparkensis Hardcore, and one thought crossed my mind – NO WAY!
9) Enjoy the food and beer scene
Turku has all the potential to become Finland's newest foodie capital! In the Market Hall you'll find lots of tasty specialties, and all around the Aura river there are several excellent restaurants, serving dishes from Finland and beyond.
We tried two restaurants – Mami, where we had fried white fish and a delicious salmon salad, and Tintå, a cute riverside restaurant serving creative pizzas and fusion dishes from around the globe. Both excellent! There's also a buzzing craft beer scene in Turku – we had planned to visit a few breweries on the afternoon of Nick's birthday, but many were closed, so we just visited Panimoravintola Koulu, the largest brewery restaurant in Finland, and Brew Dog.
We also loved the Turku Food Walk Card idea – you purchase the card for €44, and you'll be able to stop at 5 out of 9 restaurants, and craft your own food tour, at your own pace! The possible tastings include craft coffee (did you know that the Finns LOVE coffee?), a tapas platter, pulled pork burger or iconic dishes like Svarte Rudolf's warm chicken sandwich with Aura blue cheese sauce, served in one of the boat restaurants.
We didn't have time for the Turku Food Walk Card this time – just another reason to visit Turku again!
10) Take a day trip to Kustavi
If you want to get away from Turku for a day or so, Kustavi is an excellent option for a day trip. The town is located on the very edge of Finland, just before the land crumbles away into thousands of islands, and it's another great spot to enjoy the magic of Finnish summer.
Kustavi is worth a visit for two reasons – the first is the Handicraft Village, housing a pottery and candle factory. We met the owner, who told us the story of the place – it was built by her parents, to offer local artists and craftspeople an affordable place to stay and practice their crafts. Nowadays, the Handicraft Village includes a pottery and candle factory, as well as several workshops that are rented out every summer – we saw visited a blacksmith's shop, complete with burning furnace, and two young jewellers creating nature-inspired masterpieces.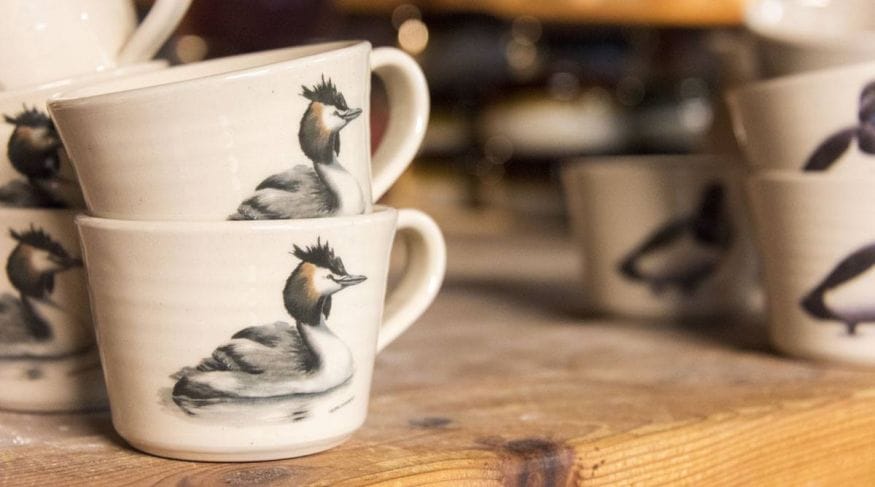 The second reason to visit Kustavi is staying at Peterzens Boathouse, one of the coolest places we stayed at during our Finnish trip – the 'boathouses' are in fact reconverted containers, transformed into cute cabins arranged around a marina. We visited during the weekend, on a lovely sunny day, and the place was buzzing with holidaymaking families – parents cleaning and mending their boats while children played around the park and jumped into the sea. In the evening, Peterzens' owner Leontina took us to her 'secret place' – a beach with a tiny abandoned lighthouse a couple of kilometers away.
We stood on the rocks and looked west, at the sun that didn't seem to want to set, despite being already 8 pm. For over a month we had walked following the setting sun, always heading west, until we ran out of land. We could see the Finnish coast breaking up into a breadcrumb trail of islands, stretching west towards Sweden.
But first, we had one last adventure left. The following day, we sailed to Åland.
Visit Turku AGAIN! 3 things we'd like to do
A self-guided food walk using the Turku Food Walk Card
Visiting Turku Castle – I know, it's terrible that we didn't see it this time!
Visiting Kakola Prison – Finland's most famous former maximum security prison, closed in 2007 and now abandoned. It's possible to join tours of the prison in summer but sadly we only found out the day we were meant to leave. The site is marked for development so it may soon be too late to visit – let's just hope we'll make it!
Where to stay in Turku
Our Turku home was the Sokos Hamburger Börs Hotel, located right in the middle of Market Square – AKA the best location in Turku! We've stayed in Sokos Hotels several times while travelling around Finland and we are big fans of their approach – rooms are always spacious and comfortable, and the original features of the buildings where they are located are always kept, lending each hotel a unique character and identity.
Our room faced Market Square and every morning we woke up with a wonderful view over the square and market sellers setting up their stalls. Bars, restaurants and the Aura River were just a hop and skip away – truly, we couldn't have asked for a better location! Breakfast also gets full marks, but the best thing about this hotel was the service – Nick spent his birthday in Turku and we were treated with a special delivery of strawberries, chocolates and prosecco. Lovely surprise!
We would like to thank Visit Turku for having hosted us. All opinions are our own. 
Pin it for later?