Welcome to Things to do in Yogyakarta, the first post of our Indonesia series. I had the chance to visit this wonderful country last October for the first time – which is quite strange because despite being Australian, I had never been to Indonesia.
Yes, you're reading this correctly – it's Nick writing, not Margherita!
There's no such thing as 'the real Indonesia'. Or let me rephrase – there are many 'real' versions of Indonesia. The forests of Sumatra, the volcanoes of Java, hiking the Ijen Crater, the villages of Bali and the stunning beaches of Raja Ampat are all facets of this huge and diverse country, home to over 800 million people and a variety of religions, traditions and cultures.
If I were to choose the perfect destination for first time visitors to Indonesia, I'd choose Yogyakarta. Not only because it was my first destination in the country, but also because Yogyakarta offers a great mix of things to do and see – to me, at least – come to mind when thinking of Indonesia.
The mighty UNESCO-listed Borobudur temple, my childhood image of Indonesia that I first saw in a faded poster in my school, is only 40 km from the city. Then, there are volcanoes – Mount Merapi is just about 50 km away, surrounded by wonderful nature. Definitely two of the best things to do in Yogyakarta!
Near Yogyakarta (also called Jogjakarta, or Jogja for short) there are several villages where it's possible to organise homestays, learn Bahasa or even just spend a day relaxing and getting to know local culture, helping locals with their work in the rice fields.
And what about the city itself? There are plenty of things to do in Yogyakarta – especially when it comes to arts and crafts. The city is famous for being the capital of Javanese art, a place where every other street hides a workshop or atelier of some kind, where you can get your hands on some truly wonderful souvenirs.
It is also a pleasant place to spend a few days, wandering around alleyways and markets. Traffic and pollution are not nearly as bad as Jakarta, the atmosphere is welcoming and relaxing and there's an interesting encounter of tradition and modernity, with ancient and modern art existing side by side.
Here I've included 24 things to do in Yogyakarta and around – including ideas on what to do in Yogyakarta at night, what to eat, shopping tips and where to stay!
Looking for transfers from Yogyakarta airport into town? Book here and make your arrival hassle free!
Pin it for later?
The Best Things to do in Yogyakarta, Indonesia
1) Sunrise at Borobudur
The best known tourist attraction around Yogyakarta is Borobudur, one of the best temple sites in Southeast Asia alongside Angkor Wat in Cambodia, and Bagan in Myanmar.
I had already visited Angkor and Bagan, and loved them both, but I must admit that Borobudur totally blew me away – whereas the first two are temple complexes, including several buildings, Borobudur is a single temple, and it's absolutely huge. In fact, it's considered to be the largest Buddhist monument on Earth, a giant pyramid with 9 levels, 2672 carved panels and 504 Buddha statues. To give you an idea, on the top level there are 72 bell-shaped stupas, each of them containing a statue of the Buddha.
The image of Borobudur I had in my school book was of a sunrise behind three stupas – I thought that would be it, so imagine my excitement when I saw that the temple was so much bigger than I expected. So big that no matter where I stood, it was impossible to capture it in a single shot.
Our plan was seeing the sunrise from the top of Borobudur, but once again it was a cloudy day, and the sun was hidden behind a hazy curtain. Somehow, though, the low clouds and mist added to the otherworldly, suspended-in-time feel of Borobudur temple.
Book your Borubudur sunrise tour here!
2) And Sunset at Prambanan!
Another stunning temple near Yogyakarta, and one that is believed by many to be even more beautiful than Borobudur, is the wonderful Prambanan. This is also a UNESCO-world heritage site, a complex of Hindu temples dedicated to the god Shiva, discovered by the Dutch in the 10th century.
Whereas Borobudur is famous for its sheer size, the Prambanan temples are best known for their height and intricate decoration – the tallest building is forty-seven meter high! The three biggest temples are dedicated to the main Hindu gods, Shiva, Vishnu, and Brahma, and are decorated with scenes from the Ramayana.
You can have a full-on temple day starting with sunrise at Borobodur and sunset at Prambanan, but it would be a looooong day. We recommend splitting the two temples over two separate days – after all, these are definitely the best things to do in Yogyakarta!
This rice terrace hiking tour includes a visit to Prambanan – book here!
3) Ramayana Ballet
After visiting Prambanan, stick around for the nightly Ramayana Ballet, where you'll have the chance to see dancers re-enact the scenes of the Ramayana that you have admired in the temples.
It's an unforgettable experience, reminiscent of Petra by Night – on one side, you'll have the temples all lit up, and right in front you'll see beautiful skilled dancers in colourful costumes bringing these ancient tales to life. Enjoying this ballet performance of Ramayana is truly one of the best things to do in Yogyakarta, Indonesia!
Book a wonderful tour of the Ramayana ballet here!
4) Karanganyar Pottery Village
After our time in Borobodur visit we paid a short visit to Karanganyar pottery village, where you can try your hand at making traditional pottery by hand, which is not as easy as it sounds! Yet, it's really worth adding to your list of things to do in Yogyakarta, especially if you love handmade souvenirs like me.
5) Visit Kota Gede
In Yogyakarta city itself, make sure you visit to Kota Gede, a former town now surrounded by the city that makes for a great afternoon stroll. It's the ideal place to discover the arts and crafts scene that Yogyakarta is famous for. It feels like a village inside the city, with narrow backstreets leading into courtyards and artist's workshops, and bicycles and rickshaws replacing motorbikes and cars.
Beautiful wooden panels decorated the entrance of houses lining Kota Gede streets, with the carvings revealing which era the houses were from – Hindu houses had a lotus flower, Muslim houses were decorated with Arabic script and colonial-time houses had the carving of a crown. You can't miss this, it's one of the best things to do in Yogyakarta!
We also wandered through a street market, where we worked hard to resist the temptation to grab some street food (sadly, we had just had lunch), and visited some silversmith workshops where some exquisite filigree items were offered for sale.
6) Make your own batik in Kota Gede
I'm always of the opinion that the best souvenirs are handmade ones, and so I was really looking forward to the idea of making batik. Trouble is, I had no idea it was going to be so difficult! We were given a piece of cloth with a drawing traced on it, and a tool filled with melted wax that we were supposed to use to trace the outline of the drawing.
Which – just like pottery – is easier said than done! I filled my tool too much and spilled wax all over my t-shirt, and now I'll have batik with me everywhere I go.
7) Visit the Batik Museum
If you want to know more about the ancient art of Batik decoration before trying your hand at making your very own batik souvenirs, you can visit the Batik Museum, located much closer to Jogja's centre than Kota Gede.
You can start off by visiting the museum to see ancient batik tools, then admire the stunning fabric on display before joining a batik workshop.
8) Join a Silver Jewellery Workshop
Another cool thing to do in Yogyakarta is joining a silver making workshop in Kota Gede, where you can make your own silver souvenirs follow local techniques. You'll need to have a lot of patience because you need to be very precise to master the filigree technique, but on the upside, there's a wonderful souvenir to remind you of your time in Yogyakarta!
9) Or try your hand at making a puppet!
My favourite thing to do in Yogyakarta (besides Borobudur) was visiting Papermoon Puppet, a theatre created by two Indonesian visual artists. Papermoon uses puppets, an art that is usually perceived as being for children, to talk about one of the darkest times in Indonesian history, the mass killings of 1965.
Puppets used vary from life-size, using two or more people to operate them, to smaller ones that can be operated by one person.
We didn't have time to attend a Papermoon show, but we got to try our hand at making our own puppet using clay and newspaper. Here's mine, Pirate cat!
10) Kraton Palace
Another must-visit place in Jogja is Kraton Palace is main palace in the city, and the home to the Sultan of Yogyakarta and his family. It is a great example of Javanese architecture, with a complex of pavilions and buildings that takes a few hours to explore.
Wandering through the grounds, you'll admire intricately decorated buildings, with golden ceilings and colonnaded exteriors – don't forget to check out the display of gifts received by the Sultan from world leaders.
11) Taman Sari
Right next to Kraton Palace, you can find Taman Sari, also known as the 'Water Castle'. This was supposed to be a pleasure park for the Sultan and his family – you'll find castles, pavillions and water features, but not only. There is also the mysterious underground mosque Sumur Gumuling and secret passages.
Taman Sari is a wonderful example of Javanese architecture, and the pools and bathing houses of the Sultan and his harem make for wonderful photo opportunities. Definitely one of the top unmissable things to do in Yogyakarta, Indonesia!
This full-day Yogyakarta tour includes a visit to Taman Sari – book here!
Places to Stay in Yogyakarta
Non-Touristy Things to do around Yogyakarta
12) Meeting the locals at Pentingsari Village
The first place we visited right outside Yogyakarta was Pentingsari, a village halfway between the city and the Mount Merapi area. If you're after a homestay, Pentingsari is the place for you – there are several local homes offering tourists the chance to stay for a few days, help in the rice fields or learn to make handicrafts.
13) Mount Merapi with Willy's Jeep
Visiting an Indonesian volcano was definitely in my list of things to do in Yogyakarta, and I was glad to get a chance to glimpse Mount Merapi, one of the largest in Java, and the most active volcano in Indonesia! Did you notice how I said 'glimpse' and not 'see'? The day we visited was cloudy and rainy, and so we missed out on the sweeping vistas of cone-shaped mount Merapi surrounded by rainforest and rice paddies.
However, the torrential rain made the experience even more fun. We zipped up and down the mountainsides, in and out fast-flowing latte-coloured rivers, doing donuts in our trusty old Willy's Jeep, led by a fearless driver who was completely oblivious to the buckets of water cascading from the sky.
Yet, our fun and laughs were in stark contrast with the reality of what happened in the area only 6 years ago – Merapi was hit by a destructive eruption that claimed over 300 lives and displaced thousands of villagers. Merapi in Indonesian means 'Mountain of Fire', testament to its power. The October 2010 eruption changed the landscape of the area – we could see the path created by the lava flow, looking like a canyon dug into the valley by the flaming river.
Book a tour of Merapi with Willy's Jeep here!
14) Visit Museum Sisa Hartaku
If you do like we did and book a Willy's Jeep tour with Kaliurang Adventures, one of the stops will be Museum Sisa Hartaku, a small museum established by a local family showing the effect of the 2010 eruption on people's lives. The house is still as it was left when the hot ash cloud reached the village – even the clock's hands are stuck exactly at the time of the eruption.
15) Stand on a Tree Platform at Kalibiru National Park
Can you imagine standing on a tree platform way over the treetops, observing the canopy from the same viewpoint as the birds? You can do so at Kalibiru, a national park located in the mountains right outside Jogja. This national park became an Insta-perfect destination for its wooden platforms on trees, overlooking nearby Lake Sermo.
The highlight of a visit to Kalibiru is climbing up to one of the four wooden platforms to enjoy the views and have your picture taken. However, please note it does get crowded, and your time on the platform is limited to 5 minutes. There are also othr activities available in this national park, including hiking, zip lines, and rock climbing.
16) Jomblang Cave
Another incredible thing to do in Yogyakarta for adventure lovers is visiting Jomblang Cave, a sinkhole-like cave famous for having beams of light shining through the cave opening from a hole on the top, making for great photo opportunities.
However, this isn't just an Instagram destination – you need to rappel down the cave to reach the base, there are no stairs! To get the best opportunities of light beams, visit the cave in the middle of the day – like we did when we went to see the cenotes in Valladolid, Mexico!
17) Surf the Sand Dunes at Parangkusumo
Another fun adventurous thing to do in Yogyakarta is surfing the Parangsumo sand dunes. These dunes were a consequence of the Mount Merapi eruption, and they look a bit incongruous surrounded by forest – but there are plenty of activities to be enjoyed, from sand boarding to horse riding and ATV.
18) Visit Yogyakarta's Beaches
When thinking of things to do in Yogyakarta, I'm sure not many of you would consider going to the beach. Yet, Indonesia is famous for its beaches, right? Most of Yogyakarta's beaches are about two hours drive from the city, so they can be a valuable option for a day trip.
Siung Beach is one of the nicest beaches near Yogyakarta, also famous for its coastal cliffs that include wonderful climbing opportunities, Timang Beach with its unique 'gondola' used by fishermen, and Pok Tunggal Beach – one of the most beautiful in Yogyakarta, with water springs and white sand.
19) Hike Mount Merapi or Mount Nglanggeran
If you're up for it, you can also climb Mount Merapi – it takes approximately three hours, and the last stretch is really quite strenuous, but you can say you've climbed Indonesia's most active volcano! Most people climb around sunset, stay overnight and tackle the last stretch in the dark to be on the summit for sunrise.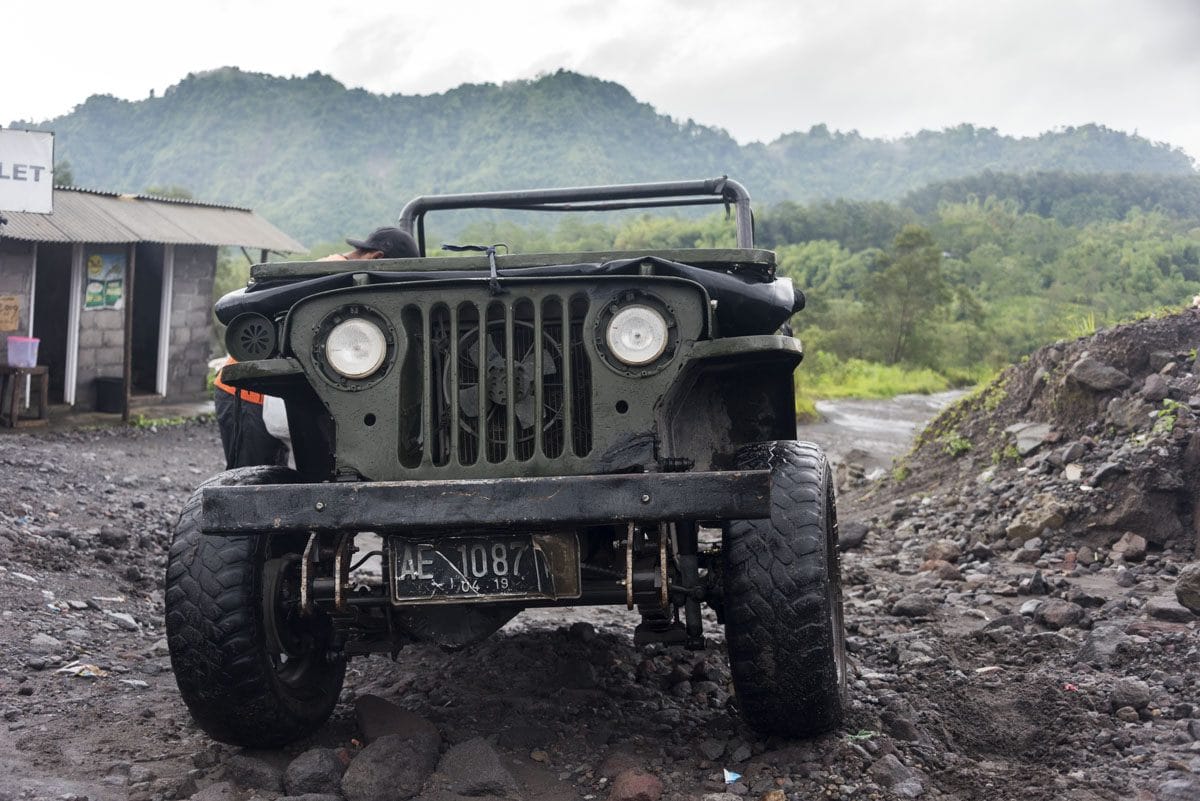 An alternative to Mount Merapi, if you're not up for such a challenge but still want to add hiking to your list of things to do in Yogyakarta, is Mount Nglanggeran, located about an hour away from Yogyakarta and taking about an hour each way to climb.
Shopping in Yogyakarta
20) Head to Malioboro!
One of the best and most famous things to do in Yogyakarta is checking out Malioboro, the famous shopping street – even though the entire surrounding area is also known as Malioboro.
Malioboro is a bargain shopping paradise, and ideal for those who want to stock up on souvenirs to take home. You'll find bags, batik fabrics, Javanese sculptures, artworks of all kinds, printed t-shirts and more, on sale both along street stalls and small shops. Malioboro is also often full of street artists – especially in the evening!
Things to do in Yogyakarta at Night
21) Eat Street Food in Malioboro
Besides street food, there's also one more thing to do in Malioboro – eating street food! As soon as night falls, street food carts (known in Indonesian as 'lesehan') start lining the street.
Some of the specialties on offer include onde-onde (fried rice cakes stuffed with molasses), gudeg (a jackfruit-based savory dish, eaten with rice), brongkos (spicy dark beef) and sego pecel (rice with vegetables in peanut sauce, wonderful for vegetarians).
22) Enjoy a Show at the Wayang Theatre
Another unique thing to do in Yogyakarta (and a must if you're the kind of person who likes checking out UNESCO lists) is attending a shadow puppet show, an ancient Javanese art that are included in the list of Oral and Intangible Heritage of Humanity.
At Wayang Theatre in Yogyakarta you'll be able to attend one of these show most nights, where dramatic stories about gods and heroes are told through the shadows of puppets, sometimes with the participation of 'human actors).
23) Wander around South Square
During the day, Alun Alun Kidul (also known as South Square) is busy and traffic-congested, while during the day it becomes a hive of activities, with street food stalls, hawkers blowing giant bubbles and selling toys, and one of the most unique things you can do in Jogja…
24) Ride on Neon Cars
Don't miss riding on these giant pimped-up pedicabs, found all over Alun Alun Kidul! Some have been modified to resemble WV Beetles, vans or other kind of cars, but unfortunately there's no engine – you'll have to pedal. This is by far the most fun and unique thing to do in Yogyakarta at night!
Where to stay in Yogyakarta
Greenhost Boutique Hotel
Our home for the three days we spent in Yogyakarta was Greenhost Boutique Hotel, an eco-friendly property constructed from recycled and sustainable materials.
If you're envisioning a fake-shabby, post-hipster place with pallets instead of beds, think again – Greenhost is a stylish boutique place, with materials like salvaged doors and old fruit boxes integrated into a context of modern design. The kind of place that made me gaze pensively into the lobby pool in search of that perfect Insta shot, before remembering that I'm not a pretty girl but a bearded almost 40 year old dude, so I'd better not.
The hotel also has a greenhouse and there are hydroponically-grown vegetables on every balcony, that are then used in the hotel restaurant – sadly we never ate there as our dinners were always organised elsewhere, but the menu sounded delicious. If you fancy some R&R you can head to the Tea Spa or swimming pool, and if you need to get something done, there's a coworking space onsite.
I'm not usually a person that loves hanging around hotels, but Greenhost made me really want to stay and enjoy the eco awesome atmosphere. That means I'll have to be back – not a problem, there are plenty more things to do in Yogyakarta!
Do you have tips for other things to do in Yogyakarta? Let us know in the comments!
My trip to Indonesia was organised by Indonesia Travel as part of the #TripOfWonders and #WonderfulIndonesia campaigns. All thoughts and opinions remain my own.
Don't forget to arrange travel medical insurance before you leave for your trip! We recommend SafetyWing, especially aimed at long-term travellers and digital nomads. SafetyWing offers medical assistance all over the world, including your own country!
Get your Travel Insurance Quote Here!
Pin it for later?