Dear friends, do you want to go to Paradise? Travel Raja Ampat, AKA the best islands in Indonesia! Now, I'm far from being a beach bum – my idea of heaven usually involves either jungle or high mountains – but Raja Ampat… well, it was quite something. Keep reading, and tell me what you think!
Are you a beach lover? Make sure to save our 5 days in Fiji itinerary for your daily dose of paradise!
The reason why I decided to become a photographer is that sometimes, images speak louder than words. There's no amount of adjectives, no metaphor or verse that can express the heart-wrenching beauty of Raja Ampat. I close my eyes and I can see the underwater corals, the multicoloured fish, the pale-blue, transparent ocean water; I can feel the soft sands of Pasir Timbul; I can hear the laughs and guitar-strumming of the children of Arborek, and the waves lapping against the pontoon at Raja Ampat Dive Lodge.
If you asked me to name the best islands in Indonesia, I'd say Raja Ampat – without a doubt. Yet, I had never heard of the place before two months ago. I guess this is a good thing – part of Raja Ampat's beauty lies in the fact that there were no tourist-laden speedboats, no jet skis drawing donuts on the glowing surface of the water.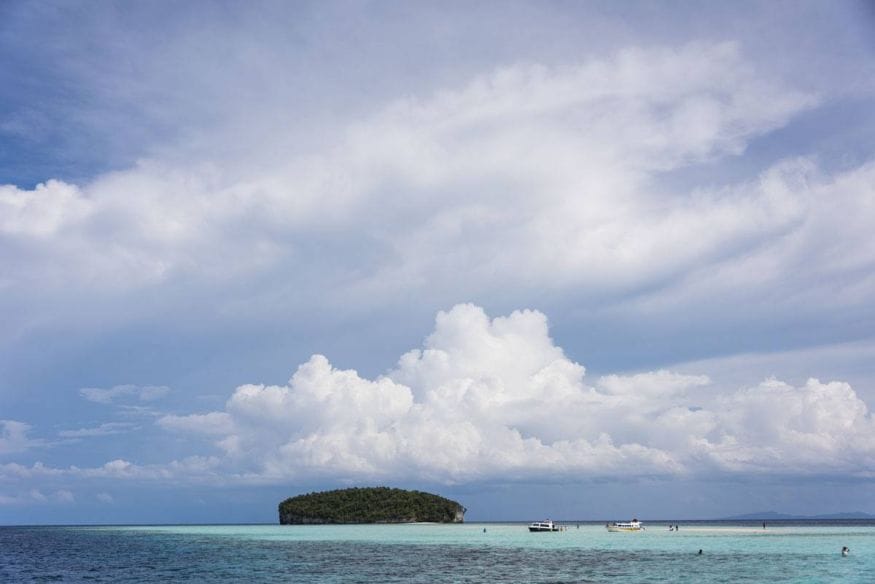 There was just silence, nature, the slow rhythm of local life and a few outsiders, mostly divers and wilderness-lovers who aren't afraid to journey to the edge of the map.
Have I convinced you to travel to Raja Ampat? No? Read on!
How Raja Ampat got its name
Raja Ampat is not a single island – it is an archipelago, made up of over 1500 islands and islets. The name Raja Ampat means Four Kings, and indeed there are four main islands in the archipelago. There is a local myth that reveals the origins of this ancient and mysterious name. There were once a man and woman who walked into a forest looking for food, and they found six dragon's eggs.
Then the woman jumped onto the husband's funeral pyre, and three dragons were born… oh no, wait, that's another story!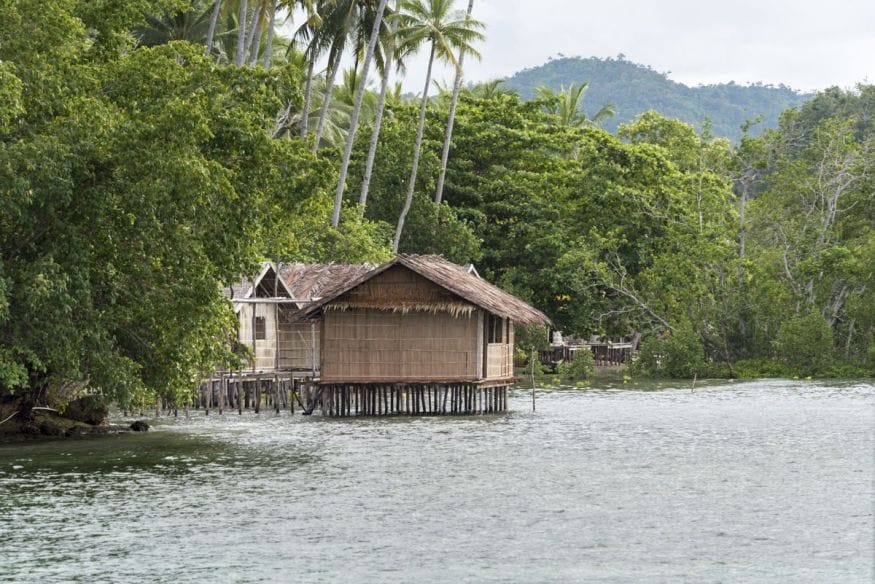 Back to the six dragon's eggs. Five eggs hatched, and four sons and a daughter were born, already finely dressed, showing that they were of royal descent. The four sons went on to become the four kings of the archipelago's largest islands, and when the daughter was found pregnant, her brothers put her in a basket and made her float away, until she ended up on a nearby island.
The sixth egg never hatched and turned into a stone that is still venerated by locals every year.
So, why you should travel to Raja Ampat, and what is there to do around the best islands in Indonesia? Activity number one is relaxing and filling your eyes and soul with the beautiful scenery – and most importantly, enjoying being in a place that is still wild and untouched. Let's just hope it stays like that.
Travel Raja Ampat, Indonesian Paradise
1) Volunteer with local children
Our first post of call in Raja Ampat was Waisai, the regional capital and largest city in this dreamy archipelago. In Waisai we had the chance to visit a local school part of the Rainbow Reading Garden (Taman Bacaan Pelangi) project, a non-profit organisation created by local blogger and TV host Nila Tanzil, working to establish children's libraries on some of Indonesia's remotest corners.
If you skip down to the 'how to get to Raja Ampat' section, you'll see that these islands are really, really remote – therefore, for some of these children, even places like Yogyakarta and Bali may as well be on the other side of the world.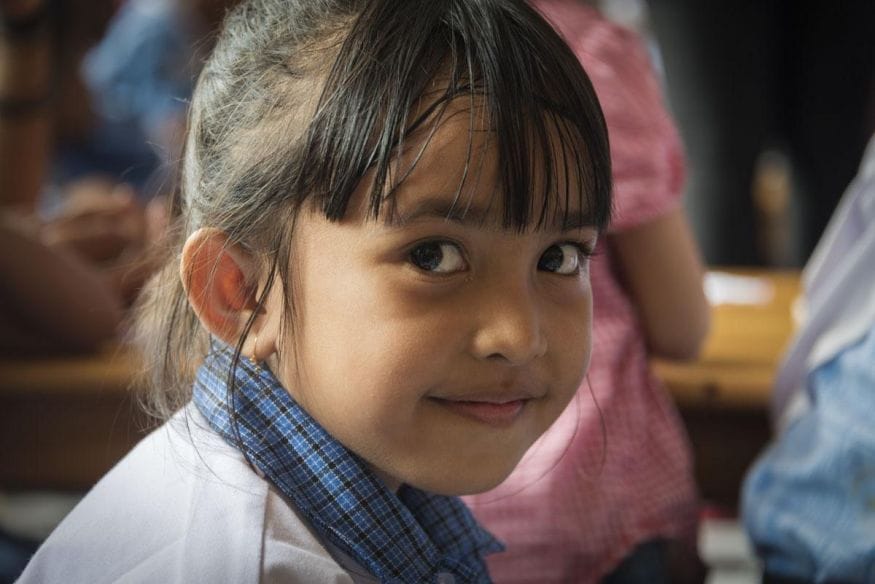 Books donated by Rainbow Reading Garden and visits of travellers and volunteers help these children grow up with the awareness that there's a whole world beyond the paradise beaches and islands of Raja Ampat. If you do decide to visit, be assured that you'll have great fun, surrounded by smiles and laughs, and you'll pose for hundreds of selfies.
2) Go Birdwatching and spot the Bird of Paradise
Raja Ampat is one of the best places in Indonesia to spot the Bird of Paradise, Indonesia's national bird and a real stunner, with its colourful feather and long tail. The bird of paradise is extremely hard to see and only survives on remote corners of Eastern Indonesia, Australia and Papua New Guinea.
The village of Sawinggrai is a kind of bird of paradise hotspot – four species are found in the vicinity of the village. Birds of paradise are very shy and if you want to see them do their famous dance, showing off the colourful plumage they're famous for, you need to be very cautious and climb to a nearby hill very early in the morning. We were lucky to see a few red birds of paradise, shimmying among the treetops as the land around us was waking up.
3) Climb to the top of Pianemo
Google 'Raja Ampat', and you'll see a stunning landscape of a star-shaped bay with tiny islands scattered in a sapphire and turquoise sea. This is Pianemo, the kind of landscape that makes you blink and ask yourself is that real?
Well, Pianemo is real indeed. It is a cluster of coral islands, with sheer, forest-covered cliffs rising out of the pristine sea for up to 30-40 meters. Somebody described it as 'fragments of heaven fallen from the sky' – and I believe the description is very fitting. The islands are uninhabited, but jetties and paths have been built to allow people to climb to the top of the one tallest island and enjoy the stunning view that makes Pianemo – and Raja Ampat – one of the most stunning sights I've ever seen in my life.
Yes, you hard that right. You can get this view simply by climbing up a couple of flights of stairs, you don't need a helicopter. And from the top, the view is incredible. All shades of green and blue extended all around us – the forest, wild and untouched, the star-shaped bay and the sky, stretching all the way were reality ends and dreams begin.
4) Swim around pristine Pasir Timbul
If Pianemo wins the award for most stunning Raja Ampat sight, position number two will have to be Pasir Timbul, a sandbank located in the middle of nowhere, like a ghost islet appearing out of the oceans at low tide.
One of the versions of the Raja Ampat legend I read mentioned a seventh egg, that turned into a ghost. I wonder if the ghost decided to take residence near Pasir Timbul, and create this stunning natural wonder that appears and disappears, captured by the water.
If the scenery of Pianemo was sapphire and turquoise, Pasir Timbul is aquamarine and a pale, milky blue. The sea is so transparent that boats appear to be levitating in mid air, and everything is so pure and beautiful that you'll want to jump into the sea and absorb every second of the experience.
And guess what – you'll be alone. This is not one of those 'expectation vs reality' places, and trust me, you'll see no carnage and pollution. Not many people make it all this far, but those who do will be rewarded beyond their wildest imagination.
5) Visit Arborek Village
If you're wondering how people live in Raja Ampat, Arborek village is a good place to visit. The village only has 197 inhabitants, and diving and snorkelling options are just a couple of strokes away – walk down the jetty and peer into the water, and you'll see what I mean.
Arborek is a real success story both in terms of marine conservation and community-based management – you'll find no big hotels or resorts, just local homestays where you can stay at a reasonable price and experience local life for a few days. The culture here has a lot more in common with that of the South Pacific, compared to Java and Bali – at our arrival we were greeted by children in white face paint performing a traditional dance, not unlike dances you might see in French Polynesia or Vanuatu.
We weren't allowed to take pictures of the children dancing, but they were more than happy to pose with us afterwards.
5) See the wonderful sea stacks of Kabui Bay
An alternative to Pianemo could be Kabui Bay, another dreamlike seascape with rocky stacks dotted around a pristine lagoon. The islets are much smaller than those you'll find on Pianemo, so you can't climb to the top and get that stunning bird's eye view, but you can get off your boat and walk around some of the stacks on wooden jetties. Some of the stacks were completely barren, one was sharp and sheer and kind of looked like a knife slicing across the sea.
In Kabui Bay it's possible to have a closer look at the rocks, finding shapes in the limestone and looking at how the colour of the water changes with the passing clouds. If you were forced to choose, I'd recommend Pianemo out of the two – but really, visit both if you can.
6) Discover ancient hand paintings
Another reason to head to the Kabui Bay area is that it's possible to see ancient hand paintings only a short boat ride away. Those hand paintings are similar to others seen halfway across the world, from France to Australia, and their origin is still shrouded in mystery.
7) DIVE DIVE DIVE DIVE Raja Ampat
Diving is really the number one reason to travel Raja Ampat. Nowhere else in my life have I seen so much biological diversity – corals look out of an Eighties videogame with their bright, almost-fluorescent colours, and you're likely to see more species in one dive than in all your other dives added together.
We were lucky to be able to dive twice in Raja Ampat. Out first dive was in a site called Sawardri (or something along those lines) where we were able to see sharks, barracudas, turtles, giant shrimps, thousands of fish and the best corals of my life. And I had to cut the dive short, as I was having some technical issues! The following day we did another dive around Arborek – it was less visually amazing, but still a great dive.
Raja Ampat is one of the best (if not THE BEST) place in the world in terms of tropical marine biodiversity, and it's still wonderfully undiscovered, so divers, please listen to me and travel to Raja Ampat soon, before it gets on everyone's radar!
Where to stay in Raja Ampat
Raja Ampat is not a budget destination – so once you make it there, you may as well splurge on the stunning Raja Ampat Dive Lodge and truly make it a holiday to remember. Raja Ampat Dive Lodge is best defined as 'barefoot luxury' – stunning but unpretentious, the kind of place where dressing up is not necessary (luckily for me) and you can enjoy a sunset beer with your toes in the sand.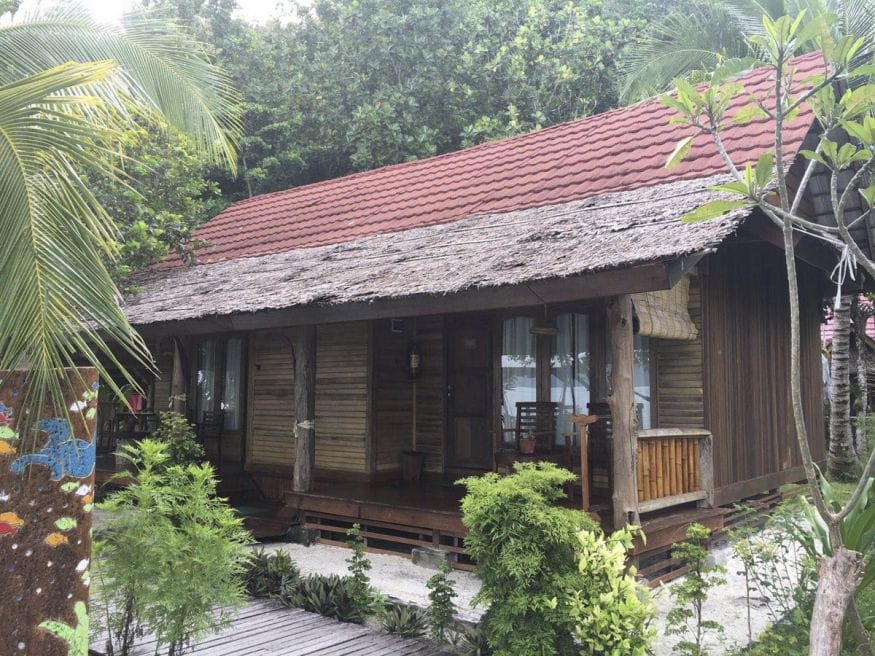 Accommodation is in beautiful cabins surrounded by lush jungle vegetation and pristine, white beaches. Some of the best dive sites are a short boat ride away and even if you just take a short walk down the pier you'll be able to appreciate the marine life that Raja Ampat is famous for – colourful fish zipping through the water, large clams and sea urchins.
At lunch or dinner you'll no doubt get to know Raja Ampat Dive Lodge's resident cats – here's Kitty, my best friend!
A budget alternative to Raja Ampat Dive Lodge could be a homestay – there are several homestays on offer in Arborek village and near Pianemo. Prices range around €30 per person per day and usually include all meals.
How to get to Raja Ampat
Have you wondered why you're likely to be alone if you travel to Raja Ampat? In an uber-touristed world, where everything is a budget flight away, Raja Ampat is a rarity. There are no $50 AirAsia flights – getting to the best islands in Indonesia is no easy feat, and it ain't cheap. So, take note of the steps!
First of all you need to get to Sorong, the capital of West Papua. If you're leaving from Jakarta, there are 1 or 2 direct flights a day to Sorong.
If you're leaving from Bali or elsewhere in Java, you'll probably have to connect in Makassar on the Indonesian island of Sulawesi. More than likely, you'll have to spend a few hours or even a night in Makassar – near the airport there's the Hotel Ibis Budget Makassar Airport, which is totally fine for a few hours rest.
Once in Sorong airport, hop on a taxi or bus to the port, where you'll be able to jump on a ferry for Waisai, the main city in the Raja Ampat archipelago. There are fast ferries, slow ferries and express boats – schedules change regularly, so make sure you ask your accommodation to double check. This site also has useful transport info.
You can usually ask your accommodation to arrange a speedboat transfer from Waisai – getting to Raja Ampat Dive Lodge and Arborek Homestays costs around 1 million rupiah and takes around 2 hours.
My trip to Indonesia was organised by Indonesia Travel as part of the #TripOfWonders and #WonderfulIndonesia campaigns. All thoughts and opinions remain my own.
Pin it for later?