Are you looking for a fun, affordable beach holiday destination in Italy? What about heading to the Romagna coast – here are 8 reasons why it's a good idea to visit Cervia, Italy! Spoiler alert – there's more than just beaches!
If you're Italian, or if you know Italy well, the words 'Riviera Romagnola' will convey images of endless sandy beaches with colourful deckchairs and umbrellas, excellent hospitality in family-run hotels, and lively nightlife as soon as the sun goes down. We are often used to considering the stretch of coast running from Ravenna to Cattolica as one single destination, the ideal place for affordable, family-friendly (and young people-friendly) holidays.
However, the Romagna coast is made up of several different towns and villages – indeed, the culture is shared to a certain degree, but each of them has a different personality, and offers unique things to see and do. Take Cesenatico, for example, with its elegant canal port designed by Leonardo Da Vinci in 1502, and Rimini, a town with a centuries-old history and priceless art just steps away from the beaches.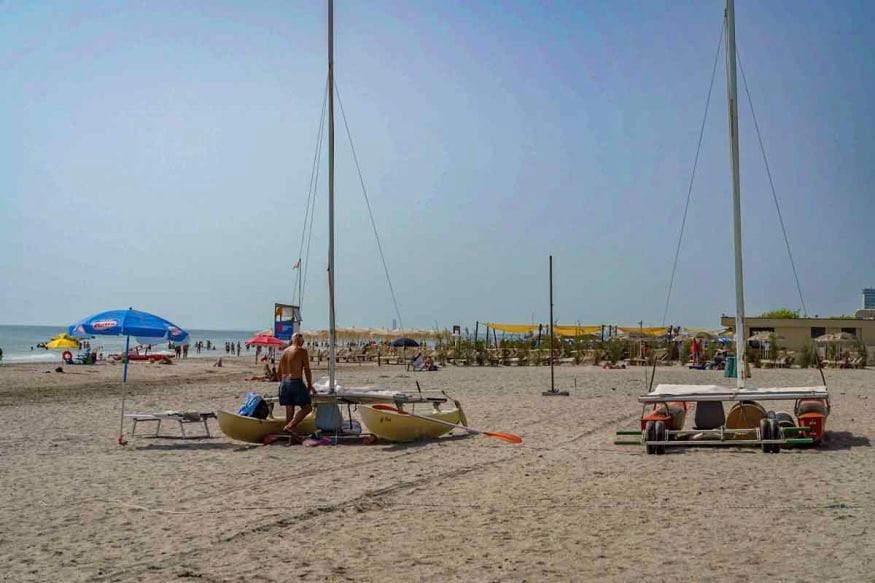 There's another destination on the Romagna coast we think is really worth visiting. A town with the same wide beaches, tasty cuisine, and warm hospitality that attracts tourists year after year, but also with a really interesting historical heritage and two unique things to see – the northernmost salt pans in Italy, and a twin 'garden city'.
Let's discover 8 reasons to visit Cervia, Italy, whether or not you're a beach lover!
Reasons to Visit Cervia, Italy
1) Learn about Cervia Nuova
Cervia is often known as 'la città del sale' (the city of salt) – the extraction and trade in sea salt have been its primary source of income ever since Etruscan times, even though the first records of the Cervia salt pans date back to the 9th/10th century.
At the time, salt was extremely precious, used to preserve food and for medicinal purposes. In Roman times, some workers were paid in salt – this is where the word 'salary' comes from.
The first settlement, known as Ficocle, was located about 2 km from the coast, close to the marshy area that included the salt pans. In the 17th century, insalubrious conditions and rampant malaria led the Papal State – to which Cervia belonged to at the time – to move the town closer to the Adriatic coast.
The construction of Cervia Nuova began in 1698, using the same brick and stones as the old town, of which nothing is sadly left. Cervia Nuova was planned with the salt pans in mind, allowing space for the houses of salt workers and warehouses to store the salt bricks.
You can still see the old nucleus of Cervia Nuova – a fortress-like rectangle enclosing the workers' houses and warehouses, with no doors facing outside, but just barred windows to protect the precious 'white gold' from attacks.
2) Visit the Saline di Cervia
No visit to Cervia is complete without a tour of the saline, right on the edge of the town. Cervia is known for its sale dolce (sweet salt), taking its name from the fact it contains pure sodium chloride, with a lower content of other minerals like calcium, magnesium and potassium, which may lend a bitter aftertaste to the sale crystals.
This is due to the lower salt content in this stretch of the Adriatic Sea, and to a specific, labour-intensive extraction technique. The salt doesn't undergo chemical or industrial refining processes – as a result, it's a highly sought-after product, for its delicate taste and health benefits.
The salt works in Cervia are a fraction of what they used to be – out of 144 salt pans, only one is currently active. It is possible to visit it every Thursday and Sunday at 5 pm on a guided tour, where you can see the salt workers in action.
The Saline di Cervia also offer several other activities – like salinaro per un giorno, the opportunity to become a salt worker for one day, as well as bike tours, boat tours and sunset concerts in the salt pans. Check out the Saline di Cervia website for info and bookings.
3) Tour MUSA – Museo del Sale
Can't make it all the way to the salt pans? There's another way to learn about Cervia's salt – visit MUSA Museo del Sale, a museum dedicated to the history of salt extraction in the region.
The museum is located in a former salt warehouse, in the historic centre of Cervia. The display includes the wooden tools used by salt workers, period photographs of the salt workers in action, and an intact burchiella, a flat-bottomed boat in use until the 1960s to transport salt to and from the pans.
There are also several objects made out of salt, including an intricate sailboat, and an overview of how salt extraction changed throughout the centuries – from the Papal State to the time when salt was a state monopoly, before it was abolished in 1975.
If you happen to be in Cervia in late August/early September, don't miss Sapore di Sale – it's primarily a food festival, with the presentation of recipes and products that contain the 'sweet salt', but there are also historical reenactments, and the burchiella housed in the museum usually sets sail once again.
4) Climb Torre San Michele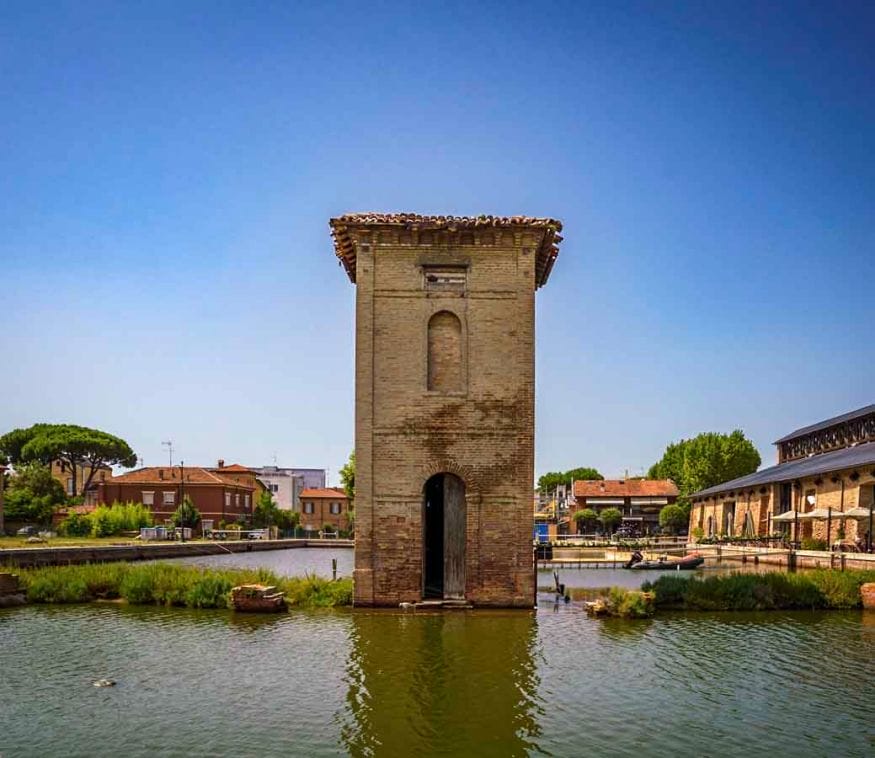 Earlier we mentioned there's nothing left of 'Old Cervia', since the new town was built using the same bricks and stones. This is not 100% accurate though – there's one building that predates Cervia Nuova.
I am talking about Torre San Michele, built between 1689 and 1691 with the aim of protecting the town and the salt pans from the attacks of pirates and looters. The tower is 22 meters high, large enough to accommodate resident guards and allow them to resist to a siege – there were chimneys, water reservoirs, showers, and ways to discharge waste.
Nowadays, the Torre houses the tourism information centre. Every Thursday afternoon the top floor is opened, and visitors are allowed to climb to the top and enjoy great sunset views over the Porto Canale and the historic centre of Cervia. Don't miss it if you're in town!
5) Walk around Milano Marittima
Did you know there was also a 'Milan-by-the-sea'? As a Milan native, I'm ashamed to admit it took me almost 40 years to pay my first visit to Milano Marittima, a planned 'garden town' dating back to the beginning of the 20th century.
In 1884, the railway from Ravenna reached Cervia, and it was decided to start developing the city as a tourist destination. At the time, only the rich and famous could afford going on holiday, so the city administration struck a deal with the Maffei, a family of industrial entrepreneurs from Milano. The Maffei family was granted use of a vast, empty area along the coast, just north of Cervia – it was named 'Milano Marittima', to strengthen the bond with Milan.
Over the course of three decades, the area was developed with villas, parks, and gardens mainly aimed at the wealthy Milanese elite. Milano Marittima was built with Ebenezer Howard's theory of the 'Garden City' in mind, which included the presence of 'green belts' around places where people live – for this reason, Milano Marittima was built with wide tree-lined avenues, gardens shaded by maritime pines, and lots of nature all around.
You can still see some of Milano Marittima's original villas – some are privately owned and others have been turned into hotels.
6) Support turtle rescue projects
Looking at Cervia and Milano Marittima's busy beaches, it seems incredible to think that they are also marine turtle nesting sites. Volunteers constantly patrol the beaches, identifying nesting sites and roping them off until the eggs hatch and the turtles swim into the waves of the Adriatic.
But this is not all. Turtles face a number of challenges, from being killed or injured by boats and fishing nets, to suffocating on plastic, and more. TAO – Turtles of the Adriatic is a nonprofit association that operates in the Cervia/Milano Marittima area, organizing fun activities to raise awareness on the challenges that turtles, dolphins and other marine inhabitants face.
For instance, you can join boat tours to spot turtles and dolphins, and assist their resident marine biologists in monitoring activities. If you have more time on your hands, TAO also organizes week-long eco camps, where participants are involved in beach clean-ups, boat outings to monitor turtles and dolphins, and other activities to assist their rescue projects. You can find more info on their website.
7) Become an Ironman
Have you ever considered joining a triathlon race? Cervia is one of Italy's triathlon hotspots, hosting not one but two weekends of triathlon competitions each year.
In September, it's time for Ironman Emilia-Romagna, where three races are on offer – 5150/Olympic distance (1500 m swim, 40 km bike, 10 km run), 70.3/half Ironman (1900 m swim, 90 km bike, 21 km run), and full Ironman (3800 m swim, 180 km bike, 42 km run).
A couple of weeks later, Cervia hosts the Italian Sprint Triathlon championships, with the shortest triathlon distance – 750 meters swim, 20 km bike, 5 km run. If you're around on either of these two weekends, we really recommend coming to see the race – it's a fun event with lots of participants from all over the world.
If you're a triathlete, we recommend making time in your calendar for a race in Cervia – and if you're interested in triathlon but have never trained, why not use this as an excuse to start? The sprint race is really fun and a great first experience!
8) Visit Comacchio or Ravenna
Are you spending your beach holiday in Cervia, Italy, but want a break from the beaches? Cervia is perfectly located for a day trip to two really cool destinations – Ravenna and Comacchio.
Ravenna is only half an hour's drive away and less than 20 minutes by train, and it's known for its mosaic tradition. You'll find a wealth of Byzantine mosaics in its churches and baptisteries, eight of which are UNESCO-listed.
The mosaic-making tradition in Ravenna continues up to the present day – there are opportunities to see modern mosaics at MAR – Museo d'Arte, the city's main art museum. You can also learn to make mosaics at Koko Mosaico, offering workshops as short as just 2 hours, where you get to make a 4×4 mosaic. What a wonderful souvenir!
Comacchio is another day trip idea from Cervia. It's a little further, about an hour by car each way, but it's a delightful little town to visit for those interested in history and culture. The historic centre of Comacchio is known as 'Little Venice' for its canal-lined streets, and there's a very interesting archaeology museum to visit with a sunken Roman ship and ruins of an Etruscan town.
Comacchio is also the ideal starting point for boat or land-based excursions to the Po Delta, a very interesting destination for birdwatchers and nature lovers. Check out our visit Comacchio in 1 day article for more info!
Getting to Cervia, Italy
The Cervia-Milano Marittima station is roughly halfway between Cervia and Milano Marittima, and it's well-placed along the Ravenna-Rimini line. Trains from Ravenna take less than 20 minutes, whereas trains from Rimini take half an hour.
To reach Cervia-Milano Marittima station from Milan, Rome and other main cities, make your way to Bologna with high-speed trains, and then switch to a local train bound for Rimini via Ravenna – Cervia-Milano Marittima is one of the stops, about 1 hour and a half from Bologna.
Getting to Cervia by car will allow you greater flexibility, especially if you're planning to visit Comacchio or other small towns in Emilia-Romagna on a day trip. The closest exit is Cesena Nord on the A14 motorway. However, if you're visiting Cervia in high-season parking might be scarce, so we recommend reserving a parking spot when you book your hotel.
Best Time to Visit Cervia
We usually recommend visiting Italian destinations in spring and autumn, avoiding summer at all costs to escape the tourist crowds. In this case, the situation is a little different – Cervia and Milano Marittima are very much seasonal destinations, with many hotels, restaurants and attractions opening their doors only between May and mid-October. Visit outside this time period, and the 'off-season' vibe will be very much palpable.
To give you an example, TAO only runs activities between May and October, the Torre San Michele is open on Thursdays only between late June and mid-September, and most of the activities at the salt pans also take place during these months.
To avoid the crowds, the best times to visit Cervia are May/early June, the second half of September and early October. Alternatively, visit during July and August – it will be busy, but you'll get to experience an Italian summer at a beach resort!
Our trip was sponsored by the tourism boards of Emilia-Romagna, Ravenna, Comacchio and Cervia. Thanks for the wonderful experience!