Are you planning to visit Italy this summer and are looking for an unusual destination? Check out this guide on how to spend 1 day in Comacchio, Italy – a tiny canal town in Emilia-Romagna with charming canals and interesting things to do.
If you're heading to the area, have a look at this article about 8 reasons to visit Cervia, Italy!
We visited Emilia-Romagna more times than we can count. From checking out non-touristy sights in Bologna to visiting small towns in Emilia-Romagna, from hiking the Via degli Abati to cycling the Cammino di San Vicinio, there are very few places in the region we haven't yet been to.
One of them is Comacchio, a small town in the province of Ferrara, not far from the Po Delta, where Italy's longest river flows into the Adriatic Sea.
Comacchio is built on 13 islands divided by canals, with picturesque stone bridges, dating back over 500 years. Its appearance lent it the nickname 'Little Venice' – minus the crowds and tacky souvenir shops, of course. Even though, to be honest, it reminded me more of Burano than Venice. I guess the little colourful houses and peaceful atmosphere had something to do with it.
So, yes, Comacchio is indeed a beautiful little town, one where photo opportunities can be found around every corner. But there's more. The town and surroundings are rich in history – the important Etruscan town of Spina and a Roman ship were excavated nearby. It is also the perfect base to explore the Po Delta, one of Italy's best wildlife destinations, and it's an interesting destination for food lovers, with a fish canning factory active for over 100 years.
If you find yourself in Ravenna, Bologna, or on a road trip around Northern Italy, Comacchio is definitely worth a stop. You can stay in the town itself, or in one of the campsites and holiday resorts on the nearby Adriatic coast, offering excellent value for money. Comacchio is also great to explore on a day trip – keep reading to find out how to plan the perfect day trip to this offbeat destination!
Getting to Comacchio, Italy
Part of the reason why Comacchio is so quiet is that there is no train station. The closest station is in Ostellato, about 20 km away, but it's a lot easier to reach Comacchio by bus from either Ravenna (bus 333) or Ferrara (bus 331) – you can find info and timetables on this website.
If you have your own car, driving from Ravenna or Ferrara is very easy, taking about 40 minutes from both cities. Driving time from Bologna is approximately 1 hour 15. Comacchio could also be a quick detour for those driving along the Adriatic coast of Italy, or between Bologna and Venice, being approximately halfway between the two cities.
1 Day in Comacchio – Morning
Visit the Historic Centre
If you are visiting Comacchio in summer, try to get there as early as possible to avoid the extreme heat and be able to sightsee with no one else around. Even though Comacchio is visited by far fewer tourists compared to other Italian hotspots, it's still a popular day-trip destination for people spending their holidays on the nearby Adriatic coast.
The heart of the Comacchio historic centre includes a pedestrian-only zone bordered by canals, where you'll find most of the main sights. Start your visit at Trepponti, a unique triple bridge that once doubled up as a city gate, when access to the town was only possible by water.
The bridge has three towers and five staircases, connecting four different canals – it's interesting to notice that the span of the bridge facing the Adriatic is higher than the ones leading to the town, preventing larger boats from crossing without authorization.
Trepponti was designed by architect Claudio Danesi in the 17th century, when most of the city was renovated. Just like Trepponti, it was built with bricks and stones caved in Istria, just across the Adriatic. The same architect also designed the Ponte degli Sbirri (Cops Bridge), taking its name from the nearby city prison. This bridge connects four different canals heading to the Adriatic to the east, to the lagoon to the south, and to the city centre to the north.
The same Istrian stone and red bricks combo can be found in the architecture of Comacchio's Cathedral, dedicated to San Cassiano da Imola, the city's patron saint which you can see portrayed on a wooden statue on the main altar.
The main canal in Comacchio is Canale Pallotta, named after the cardinal who ruled the city in the 17th century and commissioned Trepponti and the other main bridges in the city. Outside the historic centre, along the canal you'll find a cycle path leading out of the town to the beaches.
Other notable buildings in Comacchio include the Loggia dei Mercanti del Grano, an elegant 17th-century building with a double archway entrance that once housed Comacchio's grain storehouse, and Palazzo Bellini, dating back to the 19th century and now home to Comacchio's library.
Head to Manifattura dei Marinati
Looking in the windows of specialty food shops or on the menus of restaurants all over Comacchio, you'll notice one item being repeated over and over again – anguille, meaning eels. You'll find smoked eels, marinated eels, grilled eels, eels in brodetto – these fish were once the staple food of this region, and a vital part of its economy.
Eels are born in the Sargasso Sea, in the heart of the Atlantic ocean, and migrate to the calm, warm waters of the lagoons around Comacchio to mate and spend about 15 years of their lives, before returning to the Sargasso Sea to die. The abundance not just of eels but also of sardines and other types of fish was already known in ancient times, and a system was devised to catch eels, store them in low-bottomed boats, before roasting and marinating them to preserve them for longer.
You can learn about this process at the Manifattura dei Marinati, a building that works both as a fish factory, and a museum. You can see the tools and boats used to catch and store eels, see the fireplaces where they are roasted and find out about this century-old system still in use to this day.
Wandering around the site, you'll also notice photos of Sophia Loren. The famous actress spent time in Comacchio in 1955, starring in the movie 'La Donna del Fiume', where she played a local girl who worked at the fish factory.
Every autumn, the Manifattura dei Marinati becomes a factory once again – eels, sardines, and other fish are caught, roasted and preserved in vinegar into tins. You can buy the fish at the shop onsite or at many food stores all over Comacchio.
Lunch at a Traditional Restaurant
After learning about how fish is traditionally caught and prepared in the Po Delta, your 1 day in Comacchio could continue with a traditional lunch to try some of those recipes!
The historical centre is awash with restaurants offering local cuisine – a good one is La Comacina, serving up traditional recipes including risotto with locally-caught fish, barbecued eel, strigoli pasta with eels and other recipes hard to find outside the Po Delta.
1 Day in Comacchio – Afternoon
Visit Museo del Delta Antico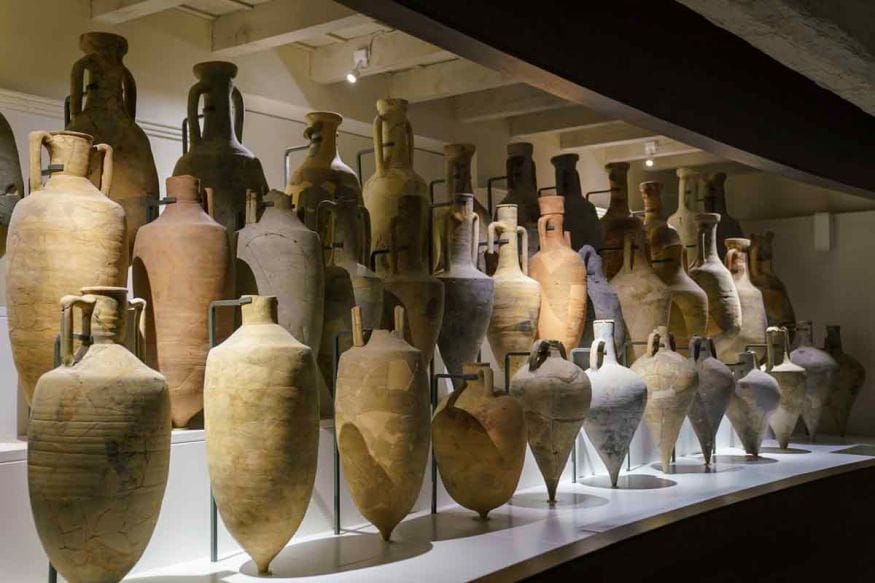 On hot days, early afternoons are when the heat is at its most unbearable, making it the perfect time to retreat to a cool, air-conditioned museum. Luckily, Comacchio has the perfect place to do so – Museo del Delta Antico (Ancient Delta Museum), an excellent archeology museum. The building housing the museum was once a hospital, active until the late 1970s.
The Po Delta area has been inhabited ever since the Iron Age, but the first sizeable settlement is the Etruscan town of Spina, dating back to the 6th century BC. Spina was at the crossroads between the Mediterranean and continental Europe, where amber from the Baltic Sea was traded with wine, oil, and pottery from Greece.
Spina was discovered at the start of the 20th century just outside Comacchio, and many findings from its necropolis are housed in the museum. Yet, the main exhibit in the museum is the Roman ship Fortuna Maris, wrecked in the 1st century BC and found in 1981 with its cargo still intact and well preserved. You can see Spanish lead ingots, amphorae containing wines from the Greek Islands, and the belongings of the crew and passengers, including some unique 'portable' temples used for prayer.
The museum also highlights Comacchio's heyday in the Middle Ages, when the town was very wealthy thanks to the trade of salt from the nearby saltpans. The town changed hands multiple times between the 5th and 9th century AD, between the Western Roman Empire, Byzantines, Goths, Lombards and Venetians – at the time, it was a busy port with a powerful navy rivaling Venice.
Please note that the Museum is open from 9.30 am to 6.30 pm with no break only in July and August. All other months, it is closed for lunch between 1 and 3 pm – just take a leisurely lunch break and get there as soon as it opens to maximise your time in Comacchio!
Boat Tour of the Po Delta
Depending on how long you take at the museum, you'll probably have time for an afternoon ice-cream before continuing your day in Comacchio with a sunset boat tour of the Po Delta Regional Park. As mentioned before, Comacchio is close to where the Po river meets the Adriatic Sea, creating a shifting landscape of islands and lagoons, canals and tidelands.
A boat tour is a great way to explore this delicate ecosystem, where humans and nature have worked together for centuries to preserve ecological balance. You'll see the valli di pesca, shallow sectioned parts of lagoon where sustainable fish farming has been practised since Roman times – it was interesting to learn that this technique actually increases biodiversity, attracting marine birds and protecting the lagoon from external pollutants.
We also passed by some bilance, fishing machines with huge nets attached to a crane which is then lowered into the lagoon. Most of them are privately owned, but some have been turned into seafood restaurants.
A Po Delta boat tour is especially worth doing at sunset, to admire the show of the setting sun reflecting into the lagoon and to increase your chances of spotting some wildlife. This time we only saw flamingoes from a distance, but during our other visit of the Po Delta in 2015 we saw many marine birds and even some wild horses.
Boat tours are between one and two hours long, start and end in Comacchio, and usually cost around €25. Get in touch with Po Delta tourism if you want to know more – they also organize land-based tours of the Delta by bike and minibus, as well as kayaking tours.
1 Day in Comacchio – Evening
Spritz and Dinner at Camping Florenz
There's one last stop I recommend before finishing your day in Comacchio – aperitivo and beachside dinner at Restaurant Monnalisa in Camping Florenz, just a quick drive away.
If you want to spend longer than just a day in Comacchio, you might want to stay on the coast rather than in town. This stretch of Adriatic Coast is made up of long, wide, sandy beaches, with shallow and (usually) calm water, ideal for families and beginner swimmers. There are a variety of campsites and holiday resorts located right by the beach, offering a variety of accommodation options that range from tent pitches, to private bungalows and luxury beachside suites with private verandah.
One of the best holiday resorts is Camping Florenz – whether or not you decide to spend the night, we recommend swinging by in the evening for dinner at their Restaurant Monnalisa, with a creative seafood-based menu and fantastic location right on the beach. What a way to end a wonderful day in Comacchio!
When to Visit Comacchio, Italy
The best times of the year to visit Comacchio are definitely late spring and early autumn, when the temperature is mild and the days are still long. Comacchio is never overrun with crowds, but it can get busy on summer weekends or when special events are on. If crowds bother you, avoid weekends and visit during the week instead.
October is a very good time to visit, especially when the Sagra dell'Anguilla is on – a food festival on the first three weekends of the month focusing on eel and other traditional fish-based preparations, with tastings around the cities and special degustation menus. There are also historical reenactments, live music and cooking shows with chefs from other countries presenting their eel-based recipes – in 2022 one of the guests was a chef from the Ivory Coast.
Another good time to visit Comacchio is February, when the Carnevale sull'Acqua takes place. Instead of the traditional floats, decorated boats with masqueraded people sail down Comacchio's canals, and many locals parade around the city in fancy dress.
This is not a historical carnevale like Ivrea or Venice, having been held only since 2012, but it's still a very fun reason to visit Comacchio, Italy!
Our trip was sponsored by the tourism boards of Emilia-Romagna, Ravenna, Comacchio and Cervia. Thanks for the wonderful experience!