Have you ever heard of Bregenzerwald? Up until a few months ago, I hadn't either. Then we headed to the Austrian state of Vorarlberg for a stunning 3 day hut-to-hut hike around Widderstein mountain. Now, we can't wait to plan our next hike!
Every summer, we like to escape the heat and disappear for a multi-day hike, somewhere with mountains. In 2017, we jetted off to Kyrgyzstan for the unforgettable Turgen-Ak Suu hike, whereas in 2018 we headed to Trentino, to hike the Brenta Dolomites.
In 2019, we opted to visit Austria, the land of my childhood holidays – a place I hadn't been to for over a decade, save for a couple of Vienna city breaks, and a winter trip to the Pillerseetal, in Tirol.
My father's family is of Austrian descent, and for years we visited the country for a week-long break in early summer. Holiday memories with my family include lake swims, long walks in forests and fields full of wildflowers, mugs full of sparkling hollersaft (elderflower syrup with sparkling water), and hours and hours playing with other children, in a language I could kind of understand, but not quite.
There was only one thing missing from my memories – mountains. My family was never into hiking – I remember the mountains being there in my summer memories, a silent witness of our adventures. Yet, we were never in them, and I always wondered why.
So, I hope you can appreciate my excitement for our hiking adventure in Vorarlberg, the westernmost state in Austria. We hiked for three days around Widderstein, one of the highest mountains in the Allgäu Alps.
Our hike completely surpassed our expectations. The scenery was out of this world, with limestone peaks piercing the sapphire-blue sky, storybook villages down in the valleys, and endless fields of colourful wildflowers – so pretty they looked painted.
The bells of cows grazing in the high Alpine pastures, kept us company and reminded us of the turn of seasons, and of the century-old cycle of transhumance.
Here is our guide to our 3-day Widderstein hiking adventure, full of practical tips and info on how to plan and hike the route independently.
When to Hike Widderstein
The weather in Bregenzerwald is typically Alpine, cold and snowy in winter, and warm during the summer.
The three day Widderstein hike illustrated in this article extends from a minimum of 852 meters above sea level, the altitude of Schoppernau, to over 2100 meters in the section between Koblat Pass and Mindelheimer Hütte on the last day.
Temperature changes dramatically between lower and higher altitudes, and between day and night – you may be leaving the valley with sunshine and temperatures in the mid-20s, and see the mercury drop to close to 0 at night in the mountains.
You'll be staying at two mountain huts, Schwarzwasser Hütte at 1620 meters, and the Widderstein Hütte at 2009. These huts are only open between late June and late September, depending on snowfall and weather condition – as a result, this (and other) hut-to-hut hikes are only doable in summer.
Please don't forget that in the mountains, weather can be unstable and unpredictable even in summer. During our three day hike we experienced a severe summer storm with heavy rain, that almost made us turn back, followed by two hot and sunny days. Always check the weather forecast and ask locally if you're not sure!
What to Pack
This hike is self guided and you'll be carrying your pack the entire time, so we highly recommend packing light! Please refer to our long-distance hiking packing list for a detail rundown of what goes into our backpacks on a hike like this.
We often hike with trail shoes, but for this hike we recommend using proper hiking boots, as the trail is very rocky and steep, especially when going downhill on Day 2 and 3. We also didn't have hiking poles and wished we did, so don't forget to pack yours!
One last warning. On the last day, when we descended from Koblat Pass to Mindelheimer Hütte, the highest section of the trail, we found some snow. Most of it was well beaten and didn't include any steep sections, making it easy to cross. However, if you were to do this hike earlier in the season, be very careful – ask locally or the huts about snow conditions, and maybe pack some small-spike crampons to be extra careful.
3-Day Widderstein Hike Costs
This 3-day hike can be booked directly on the Bregenzerwald tourism website. There are two packages available, one including accommodation and breakfast, and another with half-board.
Space at mountain huts is limited and they do book up fast – we recommend reserving your spot as quickly as possible, by May at the latest!
Accommodation – Mountain Huts
During this 3-day Widderstein hike you'll be staying in mountain huts. If you've never stayed at one before, please don't expect hotel-like facilities – most mountain huts were built over 100 years ago to provide a base for explorers and mountaineers climbing to the peaks of nearby mountains.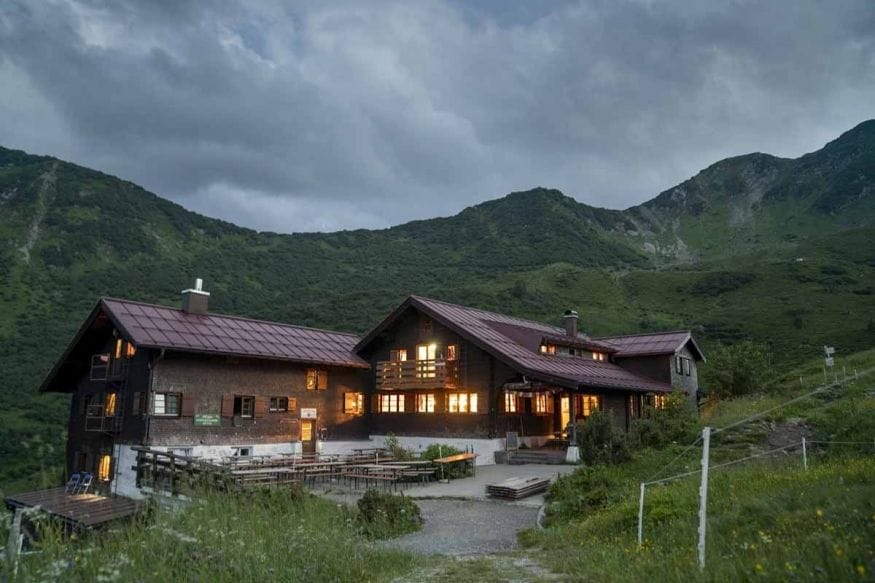 Facilities are bare-bones and include shared sleeping quarters, shared toilets, and limited showers.
When staying at mountain huts, in Austria or elsewhere, you'll need to be mindful of three rules. First, you're not allowed to access the inside of the huts with your hiking boots – these need to be stored outside, on special racks, and you can usually borrow some huttenschuhe ('hut shoes', normally sliders or Crocs) to enter the dining room and dorms. If you're not comfortable borrowing shared shoes, pack your own.
Second rule – bedding is not usually changed in mountain huts between guests. You need to take your own sleeping bag or sleep sheet, and then you can add one or more blankets (provided by the hut) if you're cold. Don't forget to pack your sleep sheet – we use a silk one, which weighs only about 100 grams or so and packs tiny.
Finally, don't forget to respect Hüttenruhe, the period of night silence from 10 PM to 6 AM. Please don't be 'that person' that wakes the entire dorm up because they want to hit the trails at 4 AM!
Food and Water
All mountain huts also serve meals. If you opt for the half-board solution when booking your hike, you'll be having a set dinner, including a soup (we had frittatensuppe, a clear broth with pancake strips, both nights!), a main dish with meat in a creamy sauce and dumplings or salad on the side, and a dessert.
Those choosing the breakfast-only option can order from the menu, choosing from a selection of hearty dishes including knödel (bread dumplings), käsespätzle (cheesy, smaller dumplings), and even spaghetti bolognese. Portions are rather big, so order accordingly.
Breakfast is quite simple, including bread with ham and cheese and a variety of spreads. For lunch, you can either pack your own, ask the hut where you spend the night to prepare a packed lunch for you, or stop at one of the huts you'll encounter along the way for a quick lunch – we included lunch options in the detailed trail notes below.
It was easy to fill our water bottles along the trail – there was drinkable water at nearly all the huts we stopped at, save for one.
Widderstein Hiking Itinerary
We started our Widderstein hike in Schoppernau, a village about 50 minutes from Bregenz and from the Swiss border. It was one of those picture-perfect mountain villages, with traditional wooden houses and geraniums cascading from flower boxes, goats grazing in the fields, and a local kaserei (cheese factory) with a cheese 'vending machine' out the front.
From Schoppernau, we crossed into the Kleinwalsertal on the second day of our hike. The name translates as 'Small Walser Valley' – the Walser people are originally from the Valais canton of Switzerland, and migrated to other parts of Switzerland, Austria, Liechtenstein and even Italy, from the 12th century onwards. They still speak a unique Germanic language, which can sometimes be heard and seen written on signs.
One of the unique things about Kleinwalsertal is that it has no road connections with elsewhere in Austria – it needs to be accessed from Germany. On this hike, after crossing Kleinwalsertal on the second day and stopping at Widderstein Hütte for the night, you'll briefly be crossing into Germany on day 3, and then back into Austria before descending towards Warth, where the hike ends and you can hop on a bus back towards Schoppernau.
Day 1 – Schoppernau to Schwarzwasser Hütte
Distance: 12.9 km
Ascent: 1381 meters
Descent: 595 meters
Hiking Time: 5 hours
Your hike will start in the centre of Schoppernau, right around the corner from the cheese factory. Follow the directions for Neuhornbachhaus, heading towards the Siedlung neighbourhood first, keeping the Schoppernau church on your right hand side but without climbing up to it.
After crossing Siedlung, you'll notice an unpaved road heading uphill through a pine forest. The trail climbs steadily for about two hours, with wonderful views over the valley and the surrounding mountains at every turn. We hiked this section just after a heavy thunderstorm, and seeing the clouds lift over the valley and mountains lent a magical feel to what is already a magical place.
Once you reach 1500 meters altitude, the trees end, replaced by Alpine pastures. Soon you'll start hearing a noise that will accompany you for the next three days – the clang of cow bells, roaming the high altitude pastures.
If you're getting hungry, you can stop at Falzalpe, a teeny-tiny hut serving simple homemade meals – we had some lovely bergkase and a hausgemacht wurst, homemade sausages with a mixture of beef and pork meat. Half an hour later we were already back on out way.
Those fancying larger meals should keep going past Falzalpe towards Neuhornbachhaus, a larger hut serving full cooked meals, which is just 10 minutes walk ahead. Past the hut, follow directions for Neuhornbachjoch – this is the steepest part of the day, but thankfully it's quite short.
Keep climbing towards the pass right in front of you, surrounded by fields of wildflowers and rhododendron bushes in bloom. After the pass there's a short descent towards a plateau crossed by a river – you may think you've reached your destination, but there's still a small challenge ahead!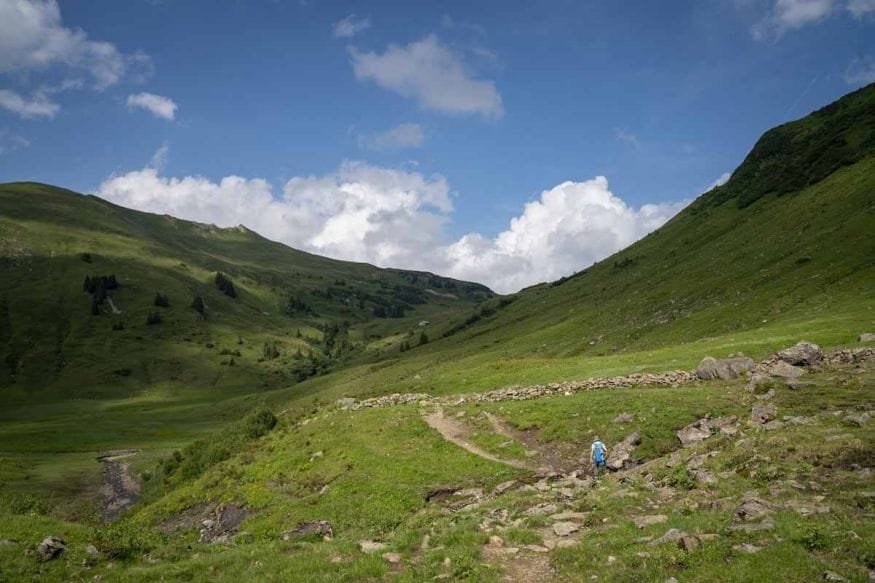 After a flat section, take the trail continuing uphill on your right hand side, heading towards a small hut. After approximately half an hour, the Schwarzwasser Hütte will come into view, with the mighty Hoher Ifen peak in the background.
Enjoy your rest at Schwarzwasser Hütte, a comfortable hut serving great food. There are also double rooms with a tiny ensuite bathroom and showers in a separate building, a real treat when it comes to mountain huts!
Day 2 – Schwarzwasser Hütte to Widderstein Hütte
Distance: 13.7 km
Ascent: 1310 meters
Descent: 930 meters
Hiking Time: 7 hours
Let's start with a bang, shall we? Can you see the steep climb right at the back of Schwarzwasser Hütte? This is the first challenge of the day, a sweaty hour-long climb to the top of Ochsenhofer Scharte – you'll see the hut getting smaller and smaller in the valley below, until you finally reach the top and start descending towards the Kleinwalsertal.
The descent from the top of the pass to Baad, the smallest and highest settlement in the Kleinwalsertal, takes about an hour and a half. The descent starts gradually and then it gets increasingly steeper as you enter the forest and start getting close to the village, where you can enjoy an ice cream or a cold drink.
If you want, it's possible to have lunch in Baad – there are a few restaurant options. However, the day is all but finished at this stage – there's still a very long climb ahead, so we recommend pushing through a little more.
From Baad, the trail runs along a stream until you reach Bärguntalpe, a wonderful lunch spot where you can order a variety of wurst mit brot und senf (sausages with bread and mustard), homemade cakes, soups and more. It's about half an hour from Baad, or 45 minutes if you opt for the higher 'Panoramatrail'.
After lunch, the real challenge of the day begins! It's steady three-hour climb to the Widderstein Hütte, your stop for the night. For the first hour or so, the trail weaves in and out of the forest offering some shade, then the trees end, and you'll be crossing Alpine pastures and grassy fields – with the mighty Widderstein summit looking at you from above.
After crossing the Hochalppass, you'll start seeing the hut in the distance on your left hand side – it looks close, but it actually takes close to an hour to get there from the moment the hut comes into view.
Widdestein Hütte is a lot smaller and offers fewer comforts compared to Schwarzwasser, but the food is really good, and you'll be so exhausted that you'll sleep well for sure!
Day 3 – Widderstein Hütte to Warth
Distance: 16.8 km
Ascent: 1051 meters
Descent: 1335 meters
Hiking Time: 7 hours
The last day of your 3-day Widderstein hike is also the longest, so make sure you leave early to be in Warth in time to catch the bus back to Schoppernau – the last bus leaves Warth at 5.28 PM!
We left Widderstein Hütte at about 8.30 AM and made it to Warth by 4.30 PM, with an hour-long lunch break in between. The first part of the day, from the hut to Koblat Pass, is mostly flat, but the trail is quite rocky so be sure to step carefully.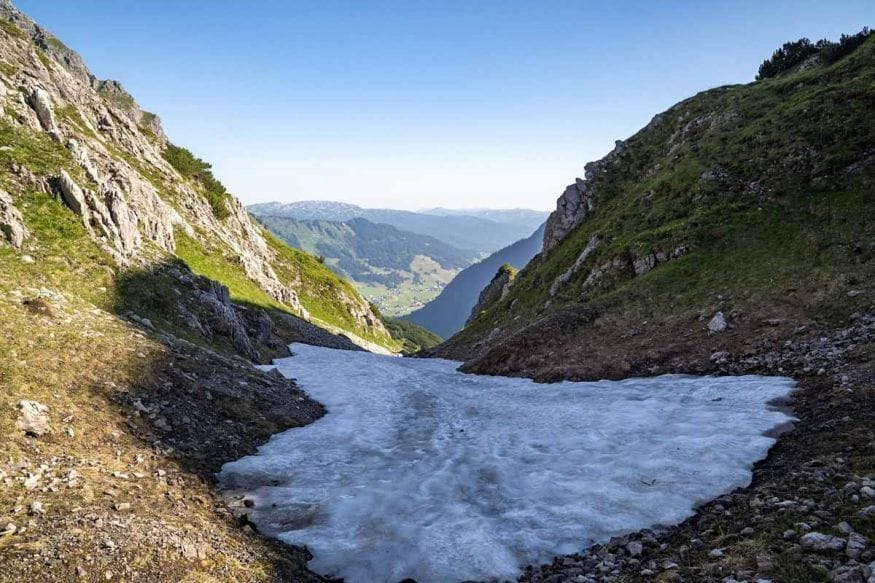 At Koblat Pass, a steep climb begins up the slopes of Geiβhorn – you'll be walking up for aout 45 minutes, until the road forks – left heads towards the summit, or continue right to get to Mindelheimer Hütte, where you can have lunch. Koblat Pass also marks the Austrian/German border – from there until Schrofenpass, about three hours later, you'll be in Bavaria.
This 'German' section is also the highest of the entire three days – you'll be climbing over 2000 meters until you reach Mindelheimer Hütte, and you may find some slippery snowy patches even in late summer. Hiking sticks really come in handy here!
When you reach the hut, it's time for lunch – we recommend opting for the Speckteller if you're after something quick and easy. From the hut, there's a very steep 90 minutes descent, followed by a 45 minutes ascent to Schrofenpass, which includes some exposed sections with metal bridges and fixed ropes.
The trail notes we had mentioned that the section may be difficult for those with a fear of heights, but to be honest we encountered no problem whatsoever.
At the top of Schrofenpass, you'll be back in Austria. There's a further hour or so to go until Warth, where you can hop on the bus back to Schoppernau – the first section crosses Alpine pastures until you reach a hamlet named Gehren. If you're really exhausted, you can take a bus from Gehren to Warth – the bus stop is right at the bottom of the road.
If you opt to walk, continue down the road and cross the bridge over the Krumbach river, until you notice a trail heading up to Warth on your left – this is a shortcut, don't miss it! It climbs fairly steep for about 15 minutes, through trees and then across a small field.
At the end of this shortcut you'll be right in the heart of Warth – to Schoppernau you need bus 40a, from the bus stop in Dorfplatz, right next to the tourism office. Bus departures are hourly – to kill time, head to Wälder Metzge, a deli and bistro 2 minutes from the bus stop, where you can grab a drink and a snack.
Reaching Schoppernau from Warth by bus takes about half an hour. Try not to fall asleep – enjoy your rest once you made it back to your hotel, you've earned it after this 3 day Widderstein hiking adventure!
Our hiking adventure was sponsored by the Vorarlberg and Bregenzerwald tourism boards. Thanks so much for having us!
Pin it for later?