Heading to Bali? Ditch (in)famous Kuta and head to Seminyak, its more elegant and hipster neighbour. From staying in a villa, to cooking classes and more, here are 15 fun things to do in Seminyak!
Kuta and Seminyak may be right next door to each other, but they couldn't be more different. Yes, they may have things in common – after all, we are talking about two tourist-oriented areas, right on the beach in the southern part of Bali.
Kuta is famous for its wild parties, beer buckets by the dozen, and for being a destination for Australian 'schoolies' and other tourists looking for a party. On the other hand, Seminyak is dedicated to all fine things in life – luxury villas, high-end restaurants, boutiques, and beach clubs visited by the world's top DJs.
Seminyak is just half an hour drive from Bali Airport, making it a great first stop on the island – whether you're going to spend two days or two weeks in Bali, or longer. You'll find plenty of things to do in Seminyak, and it's a great hub to organise day trips to other parts of the island.
After two stays in Bali, we've come up with this list of 15 fun things to do in Seminyak to start your Bali experience with a bang. Let us know if you have more to add!
Fun Things to do in Seminyak
1) Hit Seminyak or Double 6 Beach
Let's start with the main thing to do in Seminyak – spending time on the beach! Now, don't expect a paradisiac stretch of white sand, with calm turquoise water and gentle wavelets lapping the shore. If this is what you want, you'd better head to Raja Ampat!
Seminyak and nearby Double Six Beach are buzzing places, full of beach bars, locals selling kites, towels and other beach knick-knacks, surfers practising their moves and people swimming or sunbathing.
It's a fun place to spend the day, with always something to do – and if you get hungry, there are a lot of beach restaurants to choose from!
2) Learn How to Surf
You'll find people swimming on Seminyak and Double Six Beach, but these are really surf beaches. Joining a surf class or spending a day (or three) hitting the waves is next up on our list of things to do in Seminyak – after all, Bali is what it is because of surf!
Seminyak is a great place to learn how to surf – it's not as busy as Canggu, and not as challenging as the legendary surf beaches in the Bukit. The beach is long and offers a variety of conditions, so even if you're a complete novice you'll be able to have some fun.
Book your surf lesson below – or arrange it locally, but remember that places do fill up!
3) Practice Yoga
Are you heading to Bali to improve your spiritual wellbeing? If that is the case, I'm sure yoga will be part of your plans. Well, guess what – you're in the right place. Even though Ubud is Bali's yoga capital, you'll find great yoga studios everywhere you go, including Seminyak.
Seminyak's best known yoga studios are Ashtanga-focused Yoga Shala, Yoga 108, and Jiwa Yoga, the best known Bikram studio on the island. If you're staying in a villa, you can also arrange for a private yoga instructor to visit, and if you're in a hotel, yoga lessons are sometimes offered for free.
4) Join a Cooking Class
This is definitely one of the most fun things to do in Seminyak! There are tons of cooking classes on offer, usually starting with a market visit where you pick the day's freshest ingredients guided by your chef, and then followed by a lesson where you learn to make Balinese favourites like satay, gado gado, spicy salads and more.
After cooking, it's time to savour the fruits of your hard work! Your cooking class will be followed by lunch or dinner, and you'll be given a booklet with the recipes you've just cooked to take home, so you can surprise your guests next time you host a dinner party.
Take a look at the food tour below – but make sure to arrive hungry!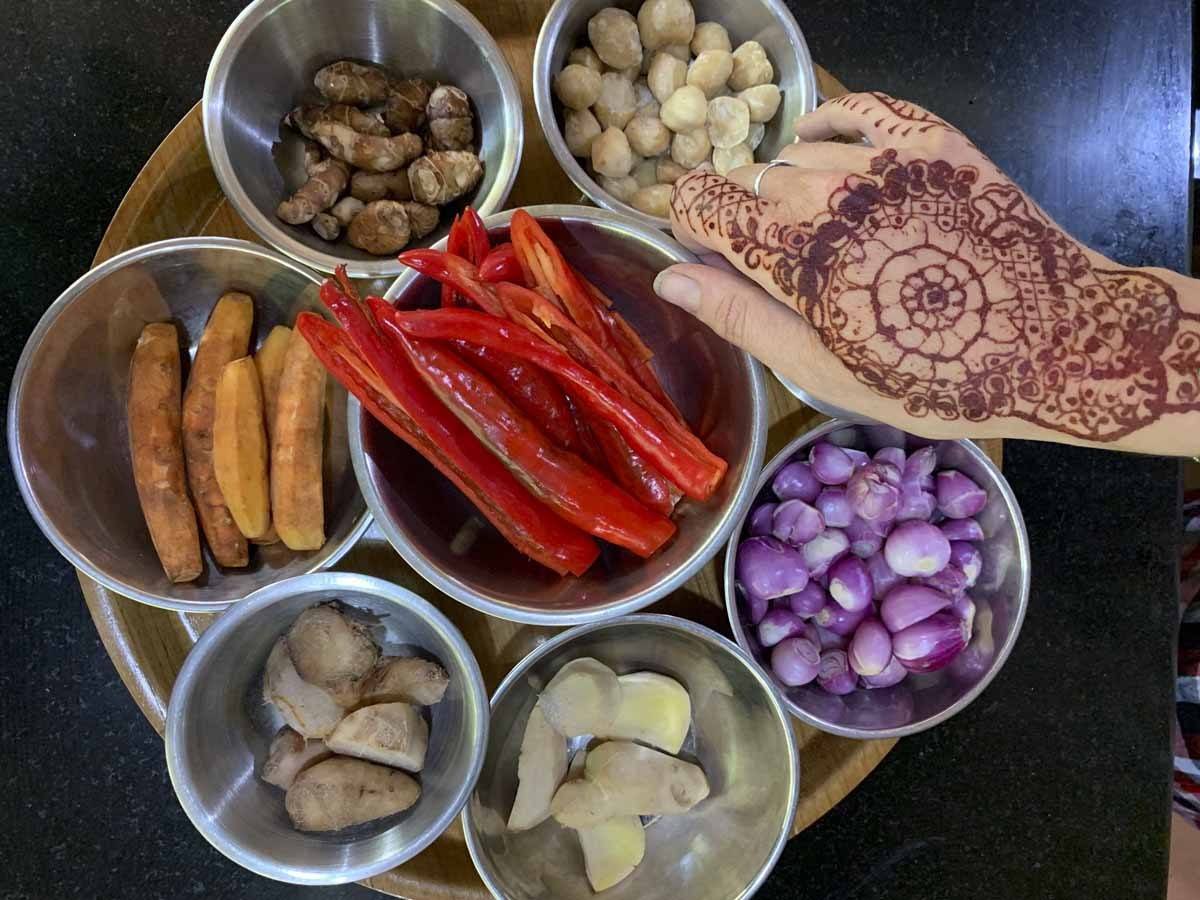 5) Take a Food Tour
Do you love to eat, but you're not willing to work hard for your dinner? Instead of a cooking class, you can opt for a Seminyak food tour – or rather, for a self-styled Culinary Experience!
Don't forget that Seminyak has a hip, luxury vibe – this is not really the place to head into any old warung, as you can do that anywhere in Bali. In Seminyak, you should treat yourself – and if you want to do so on a food tour, the Seminyak Ultimate Culinary Experience should be your choice.
The tour includes stops at four luxury restaurants, sampling a variety of cuisines that range from Italian to Balinese and Spanish!
6) Visit Petitenget Temple
If you're in Bali just for a short time and want to visit a temple, the closest one to Seminyak will be Petitenget Temple.
This is very much a locals-only temple, hidden away between the glitzy Seminyak hotels and eateries. A red brick and sandstone entrance with an elaborate Balinese portal surrounds a number of pavillions and shrines. As it's the case with other temples in Bali, tourists are not allowed to enter the inner sanctum, reserved for locals and praying.
Right next to Petitenget Temple you can also see the smaller Pura Masceti, where locals worship asking the gods to protect their crops. Both temples are fun to visit during celebrations happening according to the Balinese calendar, when you can see dancing and locals in their best traditional clothing.
Try to visit with a local guide if possible, so you'll be well versed in temple dos and don'ts. Definitely an unusual thing to do in Seminyak, as most visitors stick to the beach!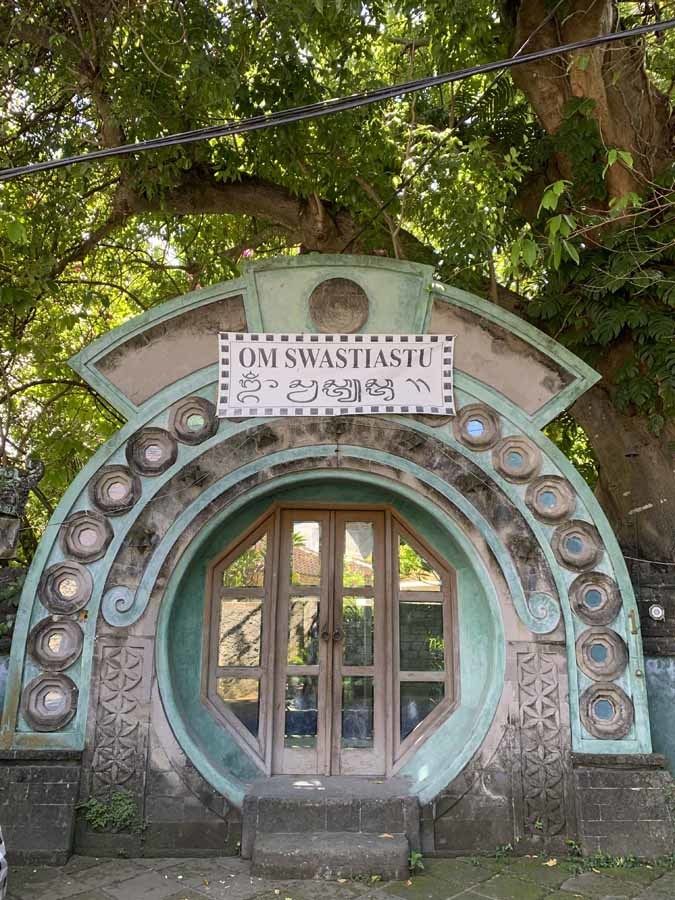 7) Get Your Coffee Fix
You can really find anything in Seminyak – including excellent coffee! If you've spent time in offbeat places in Bali or beyond and are craving that perfect latte from home, you're more than likely to find it here.
Seminyak is second only to Canggu for that Insta-perfect blend of colourful walls, totally extra latte art and tasty cakes and slices – including plenty of raw and/or vegan options, bien sûr!
There are literally dozens of cafés in Seminyak – we recommend checking out Revolver (or Baby Revolver, depending where in Seminyak you are), Sisterfields, Coffee Cartel or Bottega Italiana in Petitenget.
8) Go Scuba or Helmet Diving
Bali is home to great scuba diving, and even though Seminyak itself doesn't have any dive sites, it's a very convenient place to arrange scuba diving trips.
Dive shops organising fun dives in places like Padangbai's Blue Lagoon and Tulamben Bay (home to the famous USAT Liberty wreck!) will also include pick up and drop off from Seminyak hotels.
If you're not certified but still want to experience the thrill of being underwater, opt for a helmet diving session – you'll be walking on the seabed without even getting your hair wet, I guarantee it's super fun!
Here are some of the best diving excursions from Seminyak: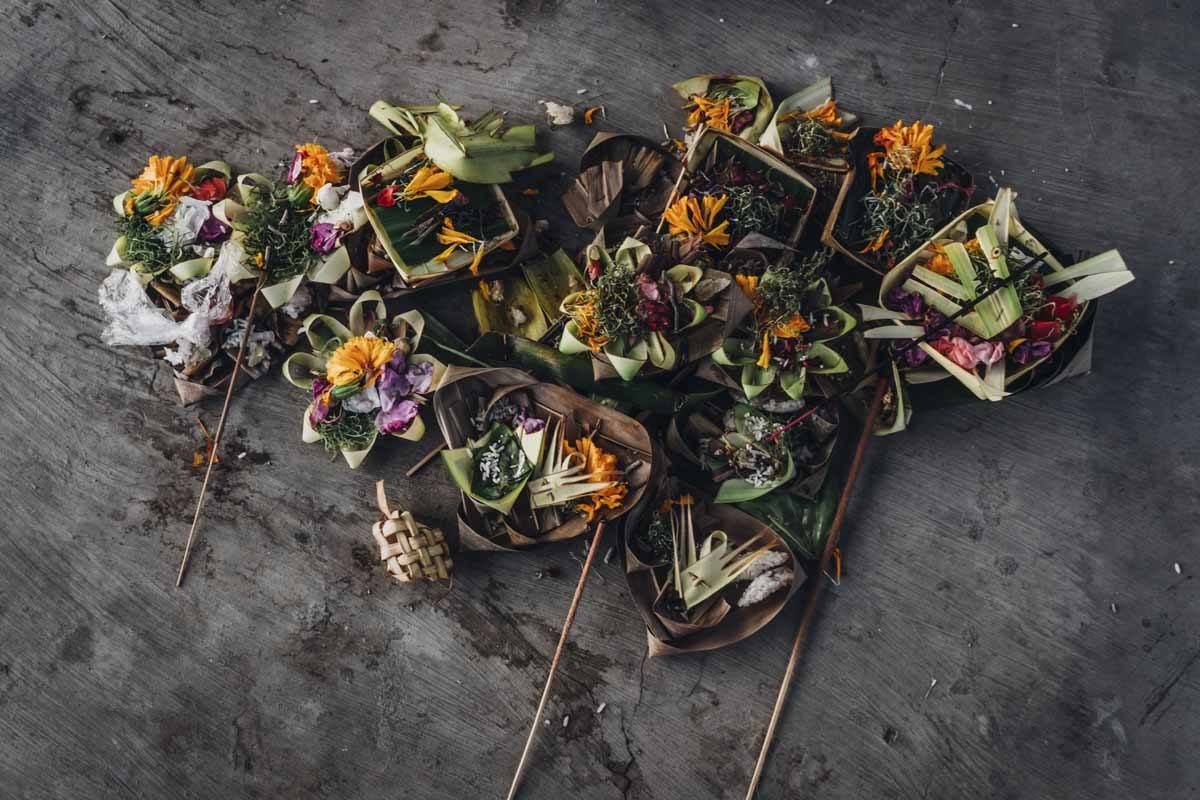 9) Go Shopping!
Do you think shopping in Bali is all about Bintang t-shirts and knock-off batik? Think again – Seminyak is a real shopping paradise, with a multitude of boutiques where you'll find kaftans, sarongs, camisoles and more of that boho-chic style that's become synonym with Bali, plus swimwear, surf clothing and accessories, leather goods, and more.
In Seminyak you'll also find two shopping malls, Seminyak Square and Seminyak Village – the latter has more upmarket shops compared to the former. Yet, the real deals to be had in Seminyak are at boutiques – the best ones are on Jalan Kunti and Jalan Laksmana.
Do you want to check out the best iconic Seminyak experiences in a day, with none of the hassle? Check the tour below!
10) Visit an Art Gallery
If you're into art, another fun thing to do in Seminyak is going to visit an art gallery and maybe even picking up some exclusive souvenirs to remember your time in Bali.
The best known art gallery in Seminyak is definitely Nyaman Gallery – the word 'nyaman' means 'cozy' in Indonesian, as the gallerists aim to recreate a welcoming environment to showcase the work of emerging Bali-based artists. You'll find a variety of paintings, sculpture, tribal art with beads and feathers, plus artworks made from natural materials like wood and stone.
Other art galleries in Seminyak include Purpa Art Gallery, also focusing on Indonesian artists with pieces for every budget, Positive Negative Visual Gallery also selling prints, and Syah, where you can also have a portrait done in real time!
11) Have a Massage
Bali is a true paradise for massage lovers – everywhere you go, you'll find massages and beauty treatments on offer, and even the fanciest spas are affordable by Western standards.
This is also true in Seminyak – every upmarket hotel will have treatments and massages on offer, and if you're staying in a villa it's usually possible to have a therapist visit. Balinese massage makes use of scented herbal oils, and it's usually quite gentle, but if you like deep-tissue stimulation you can always ask for a stronger massage.
Finding the best spa in Seminyak is probably a subject for another post, so here are three options if you want to add 'have a massage' to your list of things to do in Seminyak. AWAY Spa is known its oxygen treatments and the fact that it's open 24/7, Moroccan-themed Prana Spa offers Ayurvedic treatments and is super Instagrammable, and Bodyworks has cool therapy rooms and great value for money.
12) Explore the Rest of Bali on a Day Trip
Seminyak is a great first stop in Bali, and the great choice of transport options also make it a good base, especially if you're in Bali only for a few days.
From Seminyak, it's easy to arrange day trips to other locations in Bali – for example, to climb Mount Batur at sunrise, to Nungnung and other waterfalls around Bali, or to the Jatiluwih rice terraces.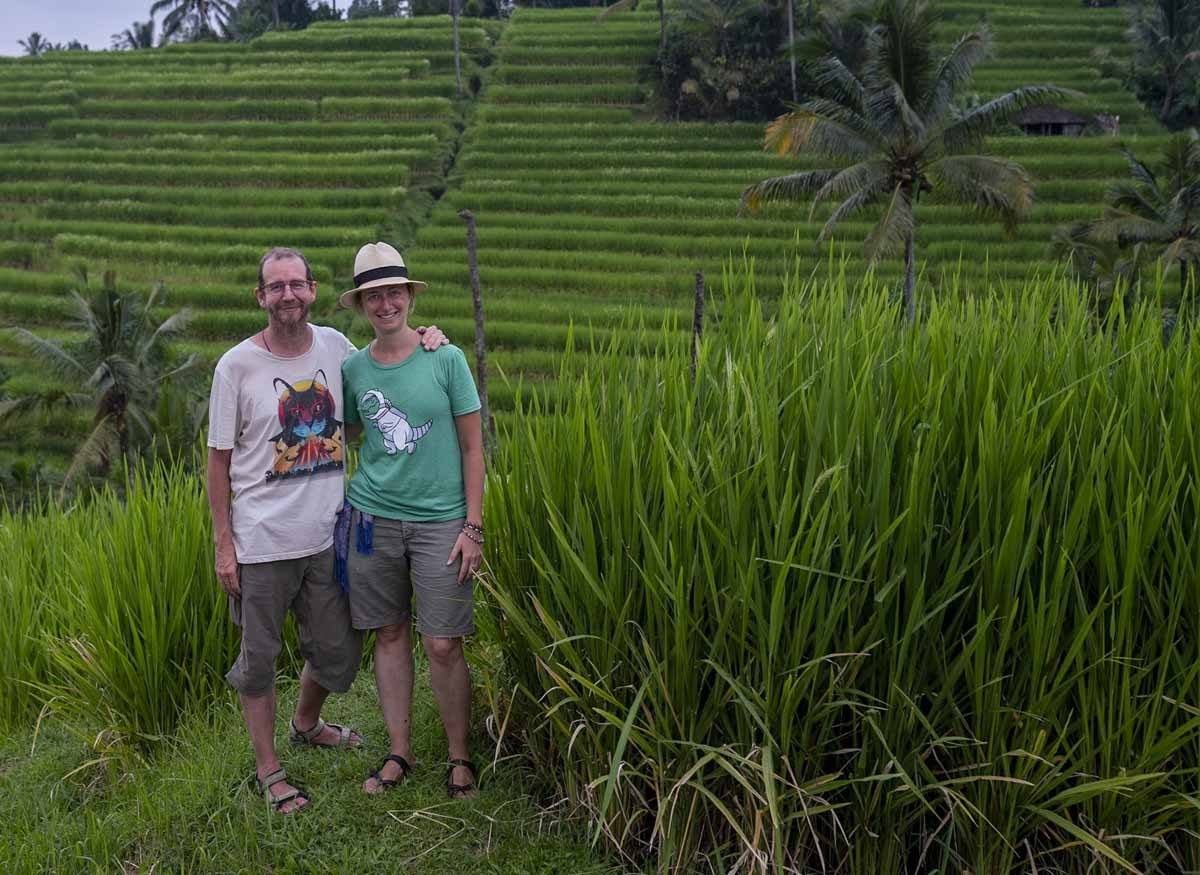 Here are some amazing day trips you can take from Seminyak!
Things to do in Seminyak at Night
13) Enjoy the Foodie Scene
So much to eat, so little time! This is particularly true in Seminyak – from uber-fancy conceptual eateries to bare-bones warung, and everything in between, the restaurant choice is almost endless.
A lively expat scene means that Seminyak is also a good place to enjoy your favourite food – be it ramen, burgers, pizza or whatever else, you can be sure to find it in Seminyak.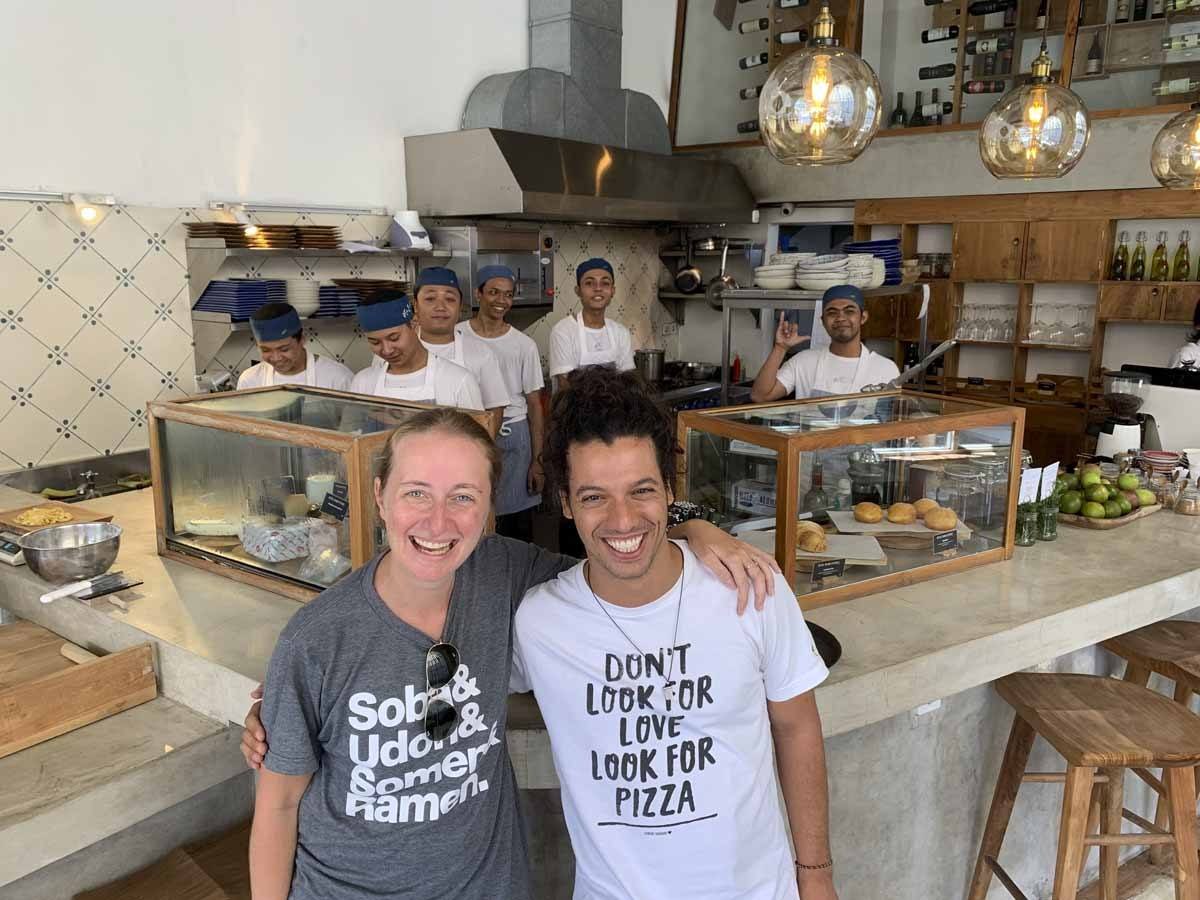 Choosing the best restaurant in Seminyak is likely to be a formidable task, so here are 6 of your favourites – if you know of any more, feel free to let us know and we'll add them!
Bottega Italiana – excellent Italian restaurant with the best pizza and pasta in two locations in Seminyak! The owner is a friend of mine from Milan.
Wacko Burger Cafe – the best burgers in Seminyak, period! There are also vegetarian and vegan burgers.
Naughty Nuri's Warung – the Seminyak outpost of the original Naughty Nuri in Ubud, famous for its sticky ribs and dirty Martinis.
Motel Mexicola – this fun restaurant/bar with a retro vibe is worth visiting for its excellent Mexican food, but make sure you also stay for the party!
Mama San – delicious Pan-Asian cuisine and cocktails plus classy interiors.
Merah Putih – THE place to go for upscale Indonesian food! The eye-catching architecture and great prices will make you want to return time and time again.
14) Go to a Beach Bar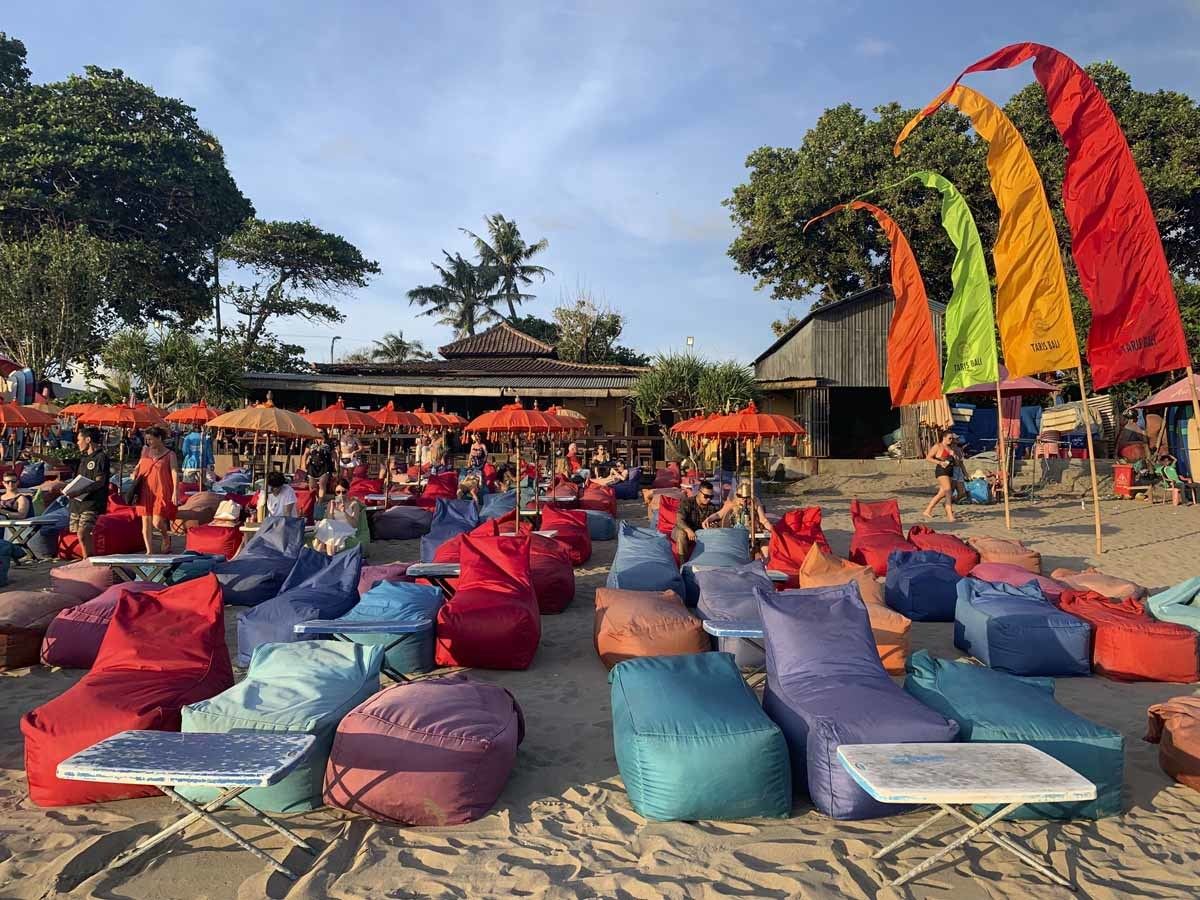 Well, having fun on the beach is definitely the best thing to do in Seminyak, and the reason why many visit! We've already seen above that Seminyak and Double Six beaches are buzzing during the day – after dark, the fun just keeps on going.
Most revellers start their night with a sunset beer (or six) at a beach bar, before moving on to a club. Both Seminyak and Double Six beaches are full of beach bars with colourful umbrellas and bean bags, plus a choice of simple meals and plenty of chilled beverages.
La Plancha is a long-running favourite, but loud music and hefty prices mean it's probably better to look for alternatives. Taris Bali and D'Joglo are just a short walk away and just as fun!
15) Or Party at a Beach Club!
There's one more unmissable thing to do in Seminyak at night – party away at a beach club! If you've never heard of Bali beach clubs, I'm sure you have seen pictures on Instagram – they're those paradise places with beachside infinity pools, daybeds and beanbags to lounge on during the day while you snack on Bali bowls and sip fruit cocktails.
When sunset comes, the party begins. There are live shows, music ranging from EDT to smooth lounge tunes, international DJs visiting, swanky restaurants, and more. Start your night with sunset beers at a beach bar and then move onto one of Seminyak's historic clubs like Ku De Ta or Potato Head.
Otherwise, hit one of the new kids on the block like Tropicola (from the same management as Motel Mexicola!) or Sugarsand, known for its rooftop lounge and Peruvian/Japanese menu.
How to Get to and Around Seminyak
Seminyak is only about half an hour away from Bali airport, so it's a great place to stay as a first or last stop on the island.
The best way to get between Seminyak and the airport is by Bluebird taxi or private driver – expect to pay about 150K IDR for the ride, more at night.
To get around Seminyak, or between Seminyak and other towns in Bali, you have several options:
-Scooter Rental
This is the most popular way to get around Seminyak and the rest of Bali. Scooter rental is about 60K IDR per day, and approx 600/700K IDR for an entire month.
PLEASE exercise extreme caution if you have never ridden scooters or motorbikes before, and make sure you're covered by travel insurance.
-Ride Sharing Apps
Ride sharing apps like Grab/Go-Jek are very popular with visitors that don't want to rent scooters and don't want to battle with taxi drivers every day.
They work exactly like Uber – if you need a car, opt for Grab, while Go-Jek allows you to hitch a ride on the back of a motorbike, which is usually cheaper and faster.
The only issue in Seminyak and other tourist hotspots is that taxi drivers prevent Uber and Go-Jek drivers from operating, and you may find it hard to get a ride. If that's the case, a taxi will be your only option.
-Taxi
You'll find taxis everywhere in Seminyak, but if you hop on a random taxi on the street, you almost certainly will get ripped off.
The best way to prevent this is using Bluebird taxis, which are safe and always use a meter. They're easy to spot as all their cars are the same bright blue colour, but pay attention to the sign on the door and make sure it says says BLUEBIRD and not 'Blue Bali' or something similar, as there are plenty of copycats!
-Private Driver
Hiring a private driver may not be so convenient for short hops around Seminyak, but it's definitely a good idea if you're planning to go on day trips around Bali including several stops, or to get between the airport and Seminyak.
Rates are convenient at about 600K IDR for a day – if there is four of you, it means less than €10 each for the day! A 'whole day' means 10 hours, if you need your driver for longer it usually costs an extra 50K per hour.
If you are looking for a reliable private driver, get in touch with Yung – her phone number is +62 811 5997 995
Where to Stay in Seminyak
Where to begin? Are you after a resort-style hotel, a swanky villa, or some moderately-priced accommodation? There are literally hundreds of hotels, villas and guesthouses to choose from in Seminyak, so it all depends on what you're after.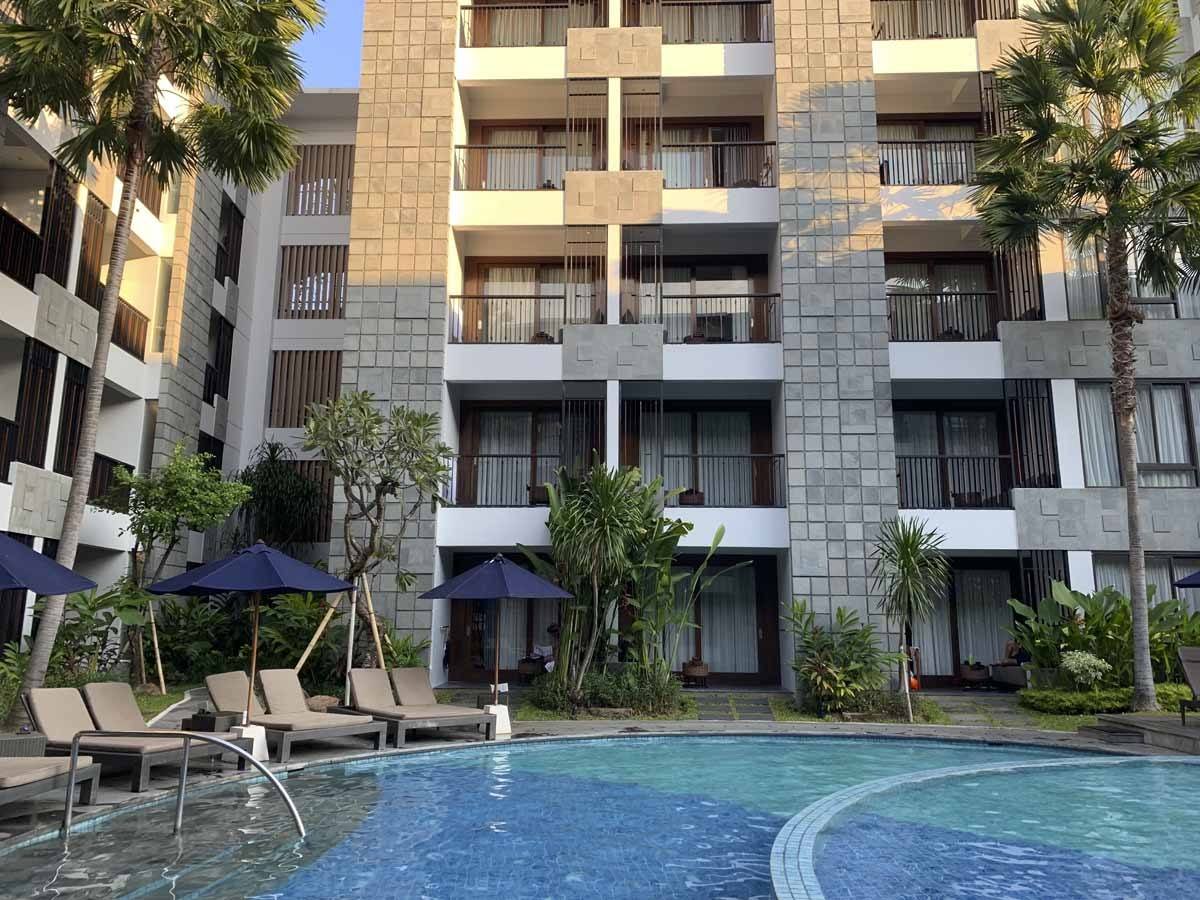 We stayed at Courtyard Marriott Seminyak, a resort-style hotel just steps away from Double Six beach, with a large swimming pool with three sections (including one with a swim-up bar!), a lounging area, and THE BEST BREAKFAST I've ever had in my life. Honestly, I'll stay there again for the breakfast alone!
Here are other great accommodation option in Seminyak!