Are you looking for the best views of the Petronas Towers? Do you need a place to stay in KL? At The Retreat KL, you'll find both!
KL locals and lovers, please don't hate me. I've never been a big fan of the city. I don't hate it, but I don't love it either. The food is good, but it doesn't quite reach the heights of Kuching and Penang. The city is cool, but not as stylish and sophisticated as Singapore, or as fun as Bangkok.
Having said that, KL a place we enjoy visiting. Jalan Alor remains one of my all-time favorite places for street food, and Low Yat Plaza is a great place to shop for cut-price electronics.
The city offers enough sights to fill a few days – if you fancy knowing more, have a look at our Five Quick Tips KL post, or read our article about what to do in Kuala Lumpur on a layover.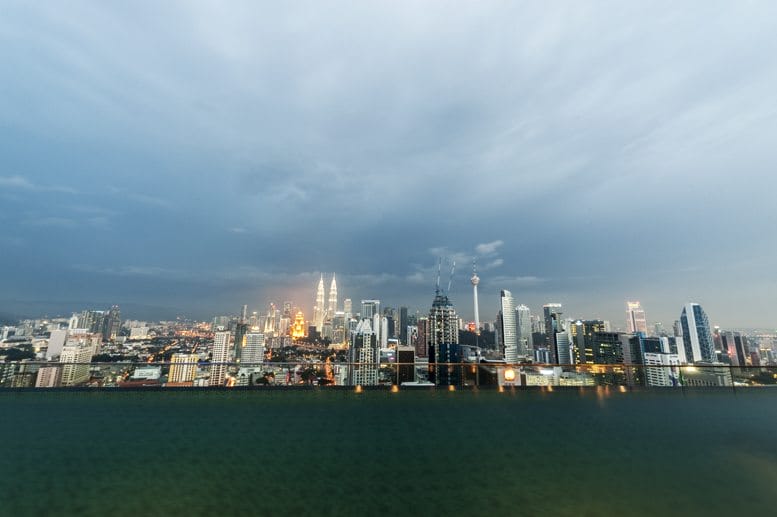 In Search of the Best View of Petronas Towers
The best feature of the city is perhaps its stunning skyline. KL is becoming a 'vertical city' – a place of high-rises, where anything new and cool seems to have the prefix 'sky'. Ground level is for street sellers and few unlucky pedestrians, between one 'skywalk' and another.
From high up, KL is beautiful. Gone is the traffic, the noise, the fumes. The mighty Petronas dominate the cityscape, and at night it all becomes an extravaganza of flashing, twinkling, blinking lights. From the 'sky bars' and 'sky restaurants' you can enjoy the show unfurling, while you sit with an overpriced cocktail at the center of a 360° stage.
You'll understand why as soon as I saw this picture I wanted to stay at The Retreat KL. Skyline and infinity pool – and the best view of Petronas Towers. I could just sit and enjoy the KL show for the whole of the two days we planned to spend in the city, between a trip to Lao Yat and a visit to an old friend and his wife.
Are you a fan of modern architecture? Read our post about 7 interesting facts about the Burj Khalifa in Dubai!
What on earth is The Retreat KL, you'll probably be wondering at this stage. Something like Singapore's Marina Bay Hotel, where rooms start at $400? A five-star hotel where the entry price to enjoy the view is a $40 cocktail?
Oh no. The Retreat KL is a collection of Airbnb apartment rentals, owned by a local guy called Greg – and the price tag is only 35 EURO. I swear I'm not joking!!!
The apartments are in a complex of four high-rises, conveniently located near the KTM and the Monorail, and five minutes walk from a mall. The airport can be reached in about one hour, and the sights of central KL are a few minutes away by public transport.
Another benefit of The Retreat KL is that there's a coded door, and Greg sends you all instructions on how to access the property via email, so that you can check in by yourself. In a city like KL where many people are in transit, and so arrive in the middle of the night or early morning, this is a definite plus.
Our Room & Amenities @ The Retreat KL
Our apartment was a studio with all the essentials for a few days stay – a fridge with some treats, a kettle with tea and coffee, fast wifi, aircon and a big flatscreen TV with lots of movies in English. Everything worked perfectly well – Greg had also left a folder with KL tips and instructions on how to work the wifi, the TV and everything else.
I'm a big fan of Airbnb rentals, especially when we're on the road for a while. It's just nice to feel 'home' for a few days.
But hey, I still haven't told you about that crazy amazing pool, have I? Staying at The Retreat KL will grant you access to the 'Sky Lounge' on the 37th floor of one of the high-rises. There you'll find the pool, a cocktail bar and restaurant and, of course, that stunning vista.
The Sky Lounge is open from 7 am to 2 am every day – the pool closes at 10 pm if I'm not mistaken though. It's a common space for all residents and visitors of the high-rises, but somehow it was never busy – and trust me, we spent a LOT of time there during our stay in KL, swimming during the day, pretending to be a pop star on the cover of my first album, taking pics at night, and watching a storm travel across the sky – with the Petronas Towers always at the centre of the scene.
I'll be lying if I told you that the view and the pool weren't a big part of why we liked The Retreat KL so much – but really, the place was just perfect for a quick transit or city break. It was far enough from central KL to be fairly quiet, public transport was good, the apartment was comfy and it had everything we needed.
Greg was a wonderful host, one of those people that genuinely likes having people visit – perhaps a Couchsurfer at heart? Even though he had left us instructions for self check in, he came to meet us and shared lots of local tips – sadly, we were only in town for two days and were unable to sightsee that much.
A very very quick guide to KL
Here's a quick rundown of our KL favorites – the list is likely to grow, as were transiting again in the city in January.
Petronas Towers: yes, you may check them out from one sky bar or another, but don't miss getting close for a true Metropolis atmosphere. If you want to get to the viewing deck, don't forget to book online!
Jalan Alor: KL locals and die-hard foodies will scream 'touristy!' but I still think the street food there is amazing, and I'm yet to find better chicken wings than the ones at WAW, and better salt and pepper squid than Golden Dragon's.
Low Yat Mall: for electronics about 20-30 per cent cheaper than Europe. Shop around though as some sellers are more reliable and better priced than others!
Berjaya Plaza Mall: one of those crazy multistorey SE Asian malls where you can get everything and the kitchen sink – I especially like this one because it has some 'dark' floors with less than reputable shops and an indoors amusement park!
Batu Caves: a must see in KL! Make sure you take the short trip to Batu to get a taste of Indian culture. And if your visit coincides with Thaipusam, don't miss it!
FRIM: the Forest Research Institute of Malaysia can easily be combined with Batu Caves as an easy day out. A great option to get a taste of nature just outside the city.
Islamic Art Museum & National Mosque: two amazing places to learn about Islam in Malaysia.
Pin it for later?