Heading to Lake Garda this summer? This article is all about the new Lake Garda summer experiences. From Goethe-themed hikes, to paddleboarding to a secret waterfall, I'm sure you'll find one (or more) you like!
Picture this. It's early morning. You've been hiking through a forest for over an hour, then walked along a ridge… until your view opened up to this. The whole of the lake stretches before you, painted with strokes of golden light by the rising sun.
Or imagine this. You are walking along the Ponale, Lake Garda's most scenic road, but your guide disappears behind a gate – you follow him, walk down a tunnel and an endless flight of steps. Is it the way to a secret supervillain mansion? No, it's a 19th-century fort, built by the Austro-Hungarian Army to watch over the lake without being seen.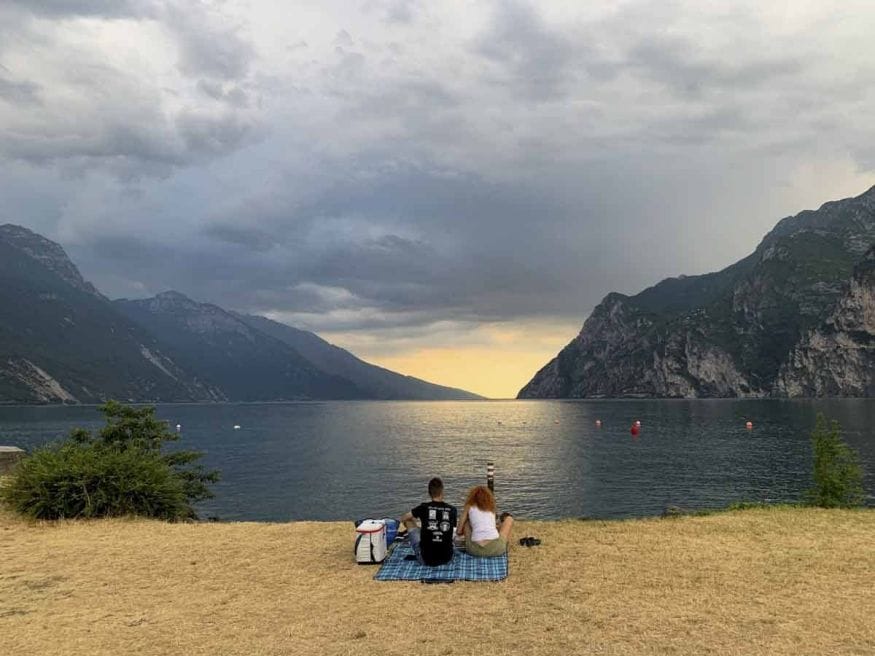 Garda Trentino, the northern shore of the lake, is a true paradise for adventure lovers. Over the years, we've been hiking, mountain biking, rock climbing, and even ran a marathon, falling in love with it more and more with each visit.
Yet, there's plenty to see and do around Lake Garda even if you're not an adrenaline junkie. You'll find historic towns and villages to explore, museums and forts to discover, and naturally plenty of food and wine – and also some very good beer at Birrificio Impavida, a recently-opened artisanal brewery.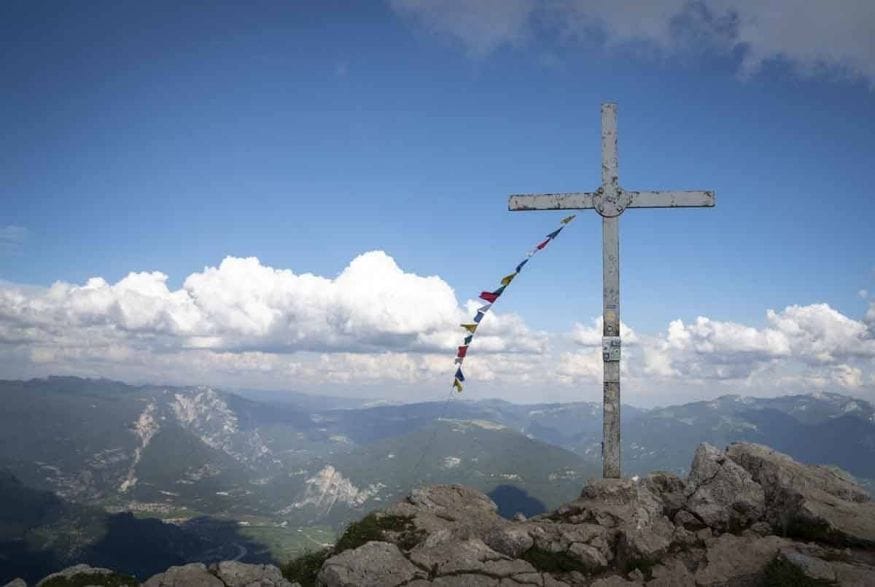 What are Garda Trentino Top Experiences?
Throughout all of July and August 2021, you'll have a chance to try out the new Garda Trentino Top Experiences – 11 fantastic activities taking place on set days of the week, available in Italian, English, and German, allowing visitors to experience the best of what the territory has to offer.
It's super easy to book the Top Experiences – you can do so via the official Garda Trentino website, or in person at the tourist info centers in Riva, Torbole and Arco. All tours are run by qualified guides, and prices are a steal – from just €10 for a sunrise yoga lesson!
Let's have a look at the 11 Garda Top Experiences on offer – if you are planning to visit, make sure you set aside some time for one or more!
Garda Trentino Top Experiences Summer Calendar
1) Follow Goethe's Footsteps in Torbole (Monday)
North Lake Garda has been a popular tourist destination ever since the 18th century, an unmissable spot on the famous Grand Tour taken by aristocrats and literati from all over Europe.
One of the most famous visitors to the area was Goethe, who described the lake as "eine herrliche Naturwirkung" (a wonderful show of nature). Every Monday you'll have the chance to join a Goethe-themed tour around Torbole, where the poet stayed during his visit.
The guide is a literature expert and will read you portions of Goethe's works to make for you to better understand the mind of the great writer and his search for beauty.
If you are more of a history/literature person than a nature/hiking person, this Garda Top Experience is for you!
2) Lakeview Picnic Under the Olive Trees (Monday)
So, what's the best way to try all Lake Garda's wonderful products? Olive oil, wine, carne salada, and a few other surprises?
On a picnic under the olive trees, of course! This experience takes place in a farm near Arco, in a scenic position overlooking the lake. You'll get a basket filled with Garda delicacies, and your very own olive tree to sit and enjoy your lunch in the shade!
3) Sunrise Yoga (Tuesday)
Any yoga lovers out there? I know I am one!
This was the one Garda Top Experience I couldn't say no to! I am NOT a morning person (everyone who knows me can confirm that), but there is really no better way to wake up than a gentle yoga practice under the rising sun, surrounded by a beautiful park and with Lake Garda as a backdrop.
The practice is led by Katia, an experienced yoga teacher who will lead you on a blissful hour of gentle hatha, breathwork and meditation. Follow that with a swim in the lake – a great way to start the day!
4) Sunset Hike to Mount Stivo (Tuesday)
Are you more of a sunset than a sunrise person? I totally get that – I am with you on this one! If this is the case, make sure you set aside half a day for the sunset hike to the top of Mount Stivo, taking place every Tuesday afternoon!
Stivo is the tallest mountain overlooking Lake Garda, just over 2000 meters high. The hike to the top takes about two and a half hours, with approx 900 meters altitude difference. You'll hike through a forest first, and then along paths until you reach Rifugio Marchetti, a mountain hut a short distance away from the summit.
There will be time to hike a further 10 minutes to the top, to admire a sweeping view all over Lake Garda on one side, and the Adige valley on the other. Then, you can have dinner in the mountain hut as the sun sets, before hiking down in the twilight.
This hike is suitable for everyone in good physical conditions. Don't forget a torch/flashlight, since you'll be hiking part of the way down in the darkness.
5) Discover Ancient Forts along the Ponale Trail (Wednesday)
In our post about the best things to do in Riva del Garda I mentioned the Ponale, a super scenic road that was once the only connection between Lake Garda and the Ledro Valley, now turned into a bike/pedestrian path with breathtaking views!
Most people don't know that one of the Ponale tunnels conceals a secret – Tagliata del Ponale, a system of Austro-Hungarian fortifications, built in the 19th century.
The fort is virtually invisible from the lake, allowing the army to watch over the lake without being seen. The Ponale fort was also used during WW1, when North Lake Garda became the frontline between the Italian and Austrian armies.
You can only visit Tagliata del Ponale on this guided tour taking place every Wednesday at 9 am. The tour offers the perfect combination between history and adventure – you'll be walking down tunnels and passages, while your guide shares fascinating wartime stories.
6) Charming Canale, Calvola and Lake Tenno (Wednesday)
What's the prettiest village near Lake Garda? If you've visited the area, I'm sure you'll agree with me that the trophy goes to Canale di Tenno, a stunning medieval hamlet part of the Tenno municipality.
I've already told you about Canale in my post about Tenno, but if lakes and villages are your jam I highly recommend this tour – you'll also be exploring Calvola, another village that retains the original Medieval architecture, and finish off with a walk around pristine Lake Tenno.
7) Dawn in Punta Larici (Thursday)
This Top Experience is totally worth the early wake-up call! Garda Trentino is full of scenic viewpoints, but there's one that is truly hard to beat – Punta Larici, about an hour 15 walk from Pregasina.
Every Thursday you'll have the chance to join a guided hike to Punta Larici, to see the sunrise over the lake. You'll meet your guide at 5 am in Pregasina, and hike through a forest, all uphill but with a steady gradient. Then, you'll cross a small ridge, until you get to this!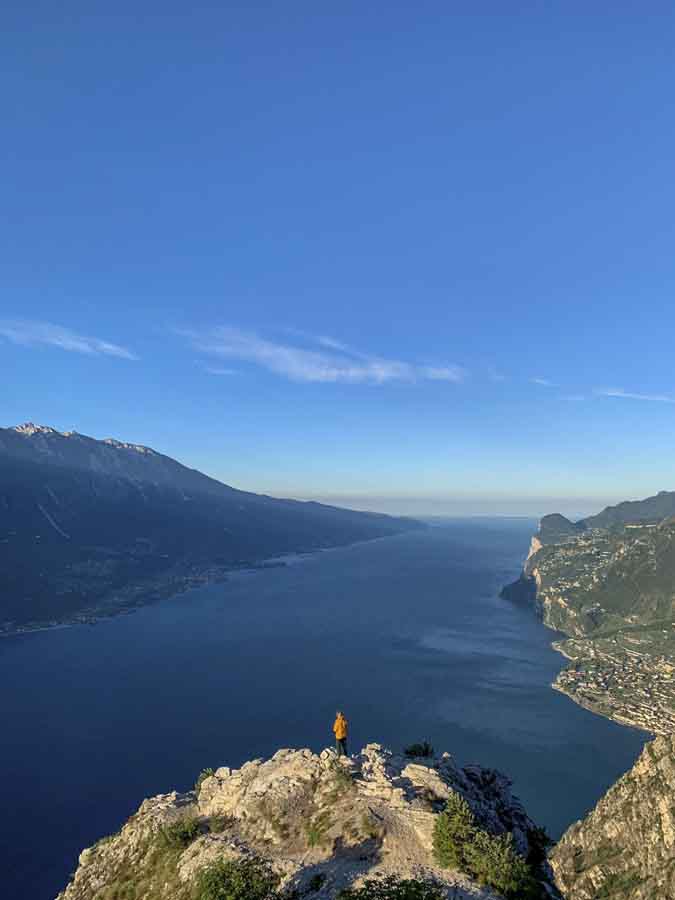 You can take pictures from the point where I stood, or hike down to the very edge, to see the endless golden-blue expanse of the lake in the morning light. Please pay attention though – it's often windy in the morning, so watch your step and be mindful of your balance. Don't get into silly poses for the sake of an Insta picture!
Two things are worth mentioning – first of all, the hike starts at 5, so in early summer you may reach the viewpoint just after sunrise. Second, don't forget warm clothes and a windproof jacket, even in the middle of summer!
8) The Medieval Charm of Arco (Thursday)
Have you ever visited Arco? This town is well known for being one of the best climbing destinations in Italy, but it's also home to some true Medieval gems – like Arco Castle and Stranfora, a neighbourhood of twisting streets retaining the original Medieval urban plan.
Every Thursday, you can visit Arco with a guide who will shine a light on the town's history while showcasing some spectacular examples of Medieval architecture. It's a great choice if you need a break from all that adrenaline!
9) Mysterious Riva (Friday)
Untold mysteries lie behind the polished stones and pretty buildings of Riva del Garda – tales of intrigue, legends lost in the depths of time, stories of ghosts and witches.
If 'traditional' historic tours are not for you, why not opt for this unique urban exploration focusing on legends and mysteries? It takes place every Friday evening, so you'll also get to see Riva at sunset!
10) Paddleboard to a Secret Waterfall (Friday)
There's no better way to experience the Lake Garda landscapes than from the water! On Friday morning, you can join a guided paddleboarding tour taking you from Riva del Garda to the Ponale Waterfall, flowing from Lake Ledro to Lake Garda, and only accessible from the water!
The waterfall is southwest from Riva, and it's very hard to spot from the lake, since it's hidden in a waterfall. It's possible to paddle right into the cave and get close to the waterfall – you'll immediately notice how chilly the water is compared to Lake Garda!
You'll also get a good look at an abandoned hotel right on the lake's edge. Don't think about returning later to get in for some URBEX – it's strictly forbidden to enter, and there are alarms everywhere.
It takes about two hours to paddle to the waterfall and back. Depending on the wind, the water may be a little rough in spots – make sure you take a change of clothes, as it's very likely you'll fall in at some stage!
11) Aperitivo on a Sailing Boat (Wednesday)
Does the idea of exploring Lake Garda from the water intrigue you, but you don't feel like doing any hard work? I have the solution for you – a sailing aperitivo, taking place every Wednesday at sunset!
You'll be cruising around Lake Garda while drinking bubbly Trentodoc and enjoying a selection of gourmet dishes made with Garda products from L'Ora Restaurant, which I also featured in my best restaurants in Riva del Garda post!
This tour is the ideal Top Experience to say goodbye to Lake Garda after an adventure-filled week – but I'm sure you'll be back!
Where to Stay This Summer on Lake Garda
We spent a week on Lake Garda trying out all the different Top Experiences, while staying at the stunning, recently-opened ALEA Garda Lake Suite – probably the most beautiful Lake Garda hotel we've ever stayed at!
ALEA is in Arco, set back from the busy lakeside, which you can easily reach by bike if you fancy some action. There are city bikes to rent at the hotel – just ask reception at they'll set you up!
You truly get the best of both worlds by staying at ALEA – you can rest at night, wake up with a fantastic view of vineyards and mountains at your front door, and reach the lake, the hiking trails, and climbing walls very easily!
The hotel is sleek and modern, with white walls and lots of natural light streaming into the suite from the spacious windows. All the suites have a private area to relax outdoors, either a balcony or a small garden.
In the garden you'll also find a swimming pool, surrounded by sunbeds and sun loungers. There truly is no better place to while away a lazy afternoon, especially on summer weekends when the lake is super busy!
Our visit was in collaboration with Garda Dolomiti. We would like to thank Natasha Bontadi and Vale Bellotti for having invited us once again!