Italy in September is simply amazing to visit, with great weather and far fewer tourists. Let's see where to go and what weather to expect in September in Italy!
Planning to visit Italy in September? Summer is not over! I repeat, summer is not over! You've chosen a great month to visit!
By the first week of September, the madness of the August peak season has come to an end. The crowds start leaving beach resorts, breathing some much-needed life back into the cities.
As a result, September is a great month to visit beaches, countryside, and mountain towns, as the weather is still sunny and warm, but prices are lower. It's also a great time to head to cities like Rome and Florence, to see them bustling once again after the August slumber.
By mid-September, schools open up again, so during the second part of the month you'll find even fewer people at holiday destinations. This might mean that some beach clubs and bars start to close for the season – however, many stay open until the end of the month.
September also coincides with the start of shoulder season in most of Italy, lasting all the way to early November (give or take) before the slow winter season. All in all, September is a great time to visit Italy – ready to know more?
Weather in September in Italy
So, let's start with the weather. The weather in September is usually very nice from north to south. The extreme heat experienced in summer is usually on its way out, and the arrival of autumn is announced by cold spells and rain showers.
At the same time, it is not uncommon to have 'mini heatwaves', especially in Southern Italy, but the mercury usually stops around 30°C.
In terms of average temps, you'll have maximums of around 22/24°C in Northern Italy, and up to 26/28°C down south. At night, the temperature drops further compared to July and August – make sure you pack some layers.
Minimum temperatures are usually around 10/15°C up North, and 15/20°C in Southern Italy.
September is also a good month to visit the Alps. The weather is still stable and mountain huts are open until the 20th of the month – they may stay open even longer, depending on snowfall, so it's worth checking. Make sure you pack some warm clothes as the temperature may dip close to zero!
Where to Go in Italy in September
1) Langhe
September is harvest time, making it a great time to visit wine regions! One of the best wine regions to visit is Langhe in the heart of Piedmont, famous for Barbera, Dolcetto and many other wines, including Barolo of course!
A great base in the region is Alba, also famous for its white truffles – make sure you join a truffle-hunting tour, or just sample this delicacy at a restaurant. If you prefer staying in a smaller, quieter town, Cherasco and La Morra are great choices. Make sure you also stop at Cappella del Barolo, the most Instagrammable place in the Langhe!
It's also worth mentioning Bra, a really lovely little city home to many foodie delights, even though technically it's not in Langhe but in the nearby Roero region.
In September of odd-numbered years, the streets of Bra host Cheese, an event dedicated to the world of cheese and other dairy products. More about it later!
2) Valdobbiadene
Wine, you said? If you are into Prosecco (who isn't?) you may wish to visit Valdobbiadene, the area where this wonderful sparkling wine is produced. BTW, did you know that Valdobbiadene is also UNESCO-listed?
The Prosecco region includes the towns of Conegliano and Valdobbiadene, plus the area in between the two. It's easy to reach from Venice, making it a wonderful day trip, or also as an intermediate stop while driving from Venice to the Dolomites (or vice versa).
Harvest time starts in mid-September, and there are often special events and cantine aperte (open cellars) – often continuing all the way to October, but make sure you check as events calendars change every year.
3) Cinque Terre
So, I know I said I would try not to mention big-name attractions in this series, but truth is that many of them are amazing and really worth visiting! An example is Cinque Terre, the five little villages on the eastern end of Liguria (aka 'The Italian Riviera'), close to the Tuscan border.
Cinque Terre villages are tiny, and absolutely overrun with tourists in summer. Please, try not to visit in July and August – it's really not very pleasant, for yourself and for locals. From mid-September onwards, it's a great time to visit and to go hiking, as it's generally much cooler.
My two favourite villages are Vernazza and Corniglia, so that's where I would recommend staying. Manarola is also lovely, especially at sunset, and Monterosso is the only place with an actual beach – which is lovely in September! I'm personally not a fan of Riomaggiore, but that's just me.
Please do keep an eye on the weather forecast as the Cinque Terre are prone to flooding and landslides, so try not to go hiking if heavy rain is expected. You can always explore the villages or drink some Sciacchetrà, Cinque Terre's very own wine, one of the rarest in Italy!
4) Ponza
There's something about islands, a wild, secluded feel that is best appreciated in shoulder season. An example is Ponza, an island situated right opposite Latina, just south of Rome.
In August, Ponza is packed with holidaying Romans – as soon as schools open up again, it becomes a true delight to visit. The island is famous for its beaches, some of which are really secluded – for instance, sandy Cala Feola can only be reached on foot, while Cala del Core, famous for a heart-shaped volcanic rock formation, is only accessible by boat.
Ponza has more than beaches to offer – there's a botanical garden, a picturesque port and some unique 'cave houses', some of which were turned into apartment rentals. Another place you might consider visiting is nearby Ventotene island, and September is the perfect time for both beach time and birdwatching!
5) Tuscia
Tucked in the northern part of Lazio, close to Umbria and Tuscany, Tuscia is one of Italy's best-kept secrets, full of unusual things to see and do.
You'll find thermal baths, hilltop villages like cute Vitorchiano, and volcanic Bracciano and Bolsena lakes – but also the crazy 'monsters garden' of Bomarzo, the abandoned village of Celleno, and Civita di Bagnoregio, known as 'la città che muore' (the dying city), one of the most beautiful hilltop villages in Central Italy.
Tuscia is also a great place to learn about the Etruscans, a pre-Roman civilization that settled in this territory. Tarquinia and Tuscania are two great places to do so!
6) Salento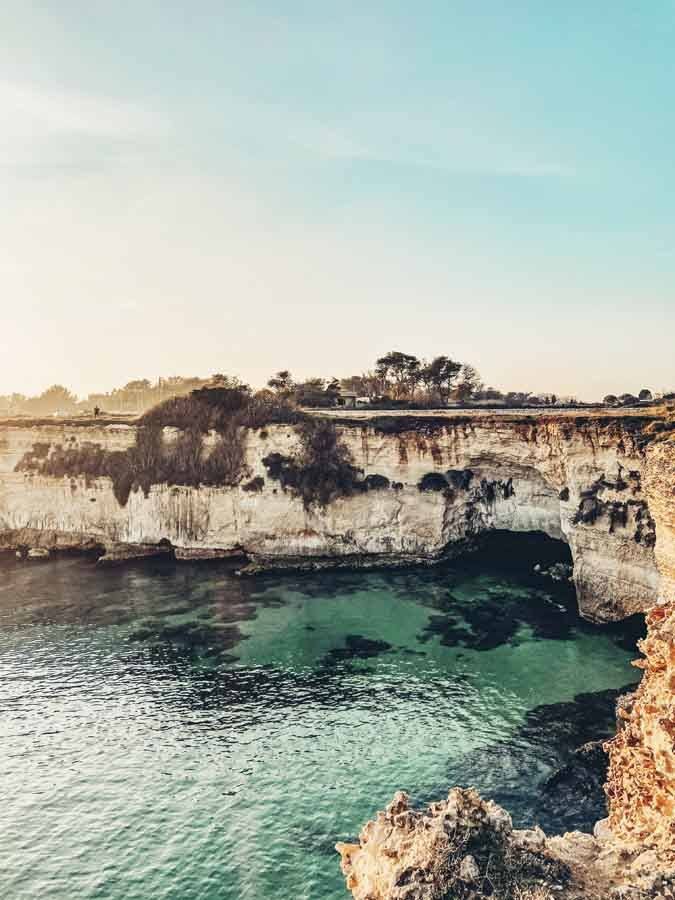 September is a fantastic month to head to the beach! The days are shorter compared to July and August, and you may find yourself reaching for a jumper after sunset – but you might have the beach to yourself, especially in the latter part of the month!
A wonderful place to visit in September is Salento, the southernmost tip of the Puglia region. You'll find both sandy and rocky beaches – Punta Prosciutto is stunning if you like sand, Torre dell'Orso and Porto Badisco are perfect if you're into rocky coves.
Salento is also full of little villages to explore if the day is not quite warm enough for the beach. Gallipoli and Otranto are two examples, or else you may head to Calimera, home to the last Greek-speaking minority in Italy!
7) Ustica
It's no doubt I loooooove little islands! One of the coolest to visit in September is Ustica, just off the northern coast of Sicily.
Ustica receives far fewer visitors compared to the Aeolian and Egadi Islands, perhaps because it's a 'lone' island and not part of an archipelago. Having said that, it's home to pristine beaches – Cala Santa Maria and Caletta dello Spalmatore are good choices.
Most of the island is part of a marine reserve, offering plenty of diving and snorkeling opportunities – with opportunities to see all sorts of fish, plus octopus and lobsters!
Have a look at our 7-day Sicily itinerary for first-timers!
September Events and Festivals in Italy
Venice Film Festival
September is a great time to visit Venice, with two wonderful events happening – first up is the Venice Film Festival, the most famous in Italy, taking place during the ten days of the month at Lido Island.
Lido is just a short hop from Venice on a ferry. Some events are by invitation only, but it's also possible to buy tickets for screenings – and naturally, walking around the island spotting celebrities is always fun!
Regata Storica di Venezia
The Regata Storica takes place the first Sunday in September, and it includes two events – the historical boat parade, and a series of rowing races. Rowing is done Venetian style, standing up and using two oars that cross over one another.
The Regata Storica pays homage to Venice's centuries-old rowing tradition, and it's very popular with locals, not just tourists! The parade and races happen between San Marco and Rialto – as you may expect, anywhere along the Grand Canal becomes unbearably busy.
You can book seats at a floating island (visit the Regata Storica website for info) or head to Punta della Dogana, where it's usually not as busy.
Cheese
Cheese lovers, come to me! This cheese-fest takes place every two years, on odd-numbered years, in the Piedmontese town of Bra.
It's an unmissable event for cheese lovers, with the opportunity to buy cheese from really small producers, as well as attend cooking shows, lectures, conferences and workshops all dedicated to the wonderful world of cheese.
Cheese happens in mid-September and it's organized by Slow Food, an association that promotes local food cultures and traditions.
Marostica Chess Game
Marostica is a cute town in the hills of Veneto, not far from Vicenza. Visit at any time of the year, and you may wonder why there's a giant chessboard in the main square.
That is because every other year, Marostica hosts a live chess game – the huge chess board comes alive with people dressed in full 15th-century costumes (plus real horses), following the directions of two players.
The chess game dates back to a 'love duel' that happened in the 15th century, when two suitors challenged each other now not to a sword fight, but to a chess battle!
San Gennaro
On September 19th, Naples comes alive with the festival of San Gennaro, the city's patron saint. The climax of celebrations is the miracle of the blood – vials containing the blood of the saint supposedly become liquid, among the cheers and prayers of bystanders.
The miracle takes place during a solemn mass celebrated in San Gennaro's Cathedral, in the heart of historic centre, and it is followed by a parade. You can expect both the cathedral and surrounding streets to be PACKED, but it's a very special time to visit the city, and reason enough to head to Italy in September!
Looking for more month-by-month Italy guides? There you are!