Yes, Milan is expensive – that doesn't mean there aren't any free things to do in Milan, or even cheap Milan activities for backpackers and budget-conscious travellers. With an eye to fellow budget travellers, we've complied this list of free Milan attractions and activities – just to show you that you can indeed enjoy the city on a budget.
Visiting Milan? Here are 18 Fun Day Trips from Milan!
Free things to do in Milan? Yes, you can!
I get a bit annoyed when I hear the reasons why people don't like Milan. Normally, it has to do with the cost, but many money saving tricks just require a bit of common sense!
Yes, the food can be overpriced and disgusting – but there are plenty of affordable options, including my five favourite trattoria. Yes, taxis are extortionately expensive – but there's no need to take them, with an excellent bike sharing and public transport system.
However, sightseeing can be very, very affordable. There are plenty of free (or almost free) things to do in Milan, from exploring Piazza del Duomo, visiting most of the churches (the Duomo Cathedral only costs a few euros) to enjoying Milan's best parks, touring some of its best museums, or going for a bike ride along the Navigli.
Here are our favourite free things to do in Milan – including top Milan attractions, and offbeat points of interest. All free, or almost free. Do you have anything to add?
BTW, did you know you can also take a FREE Milan guided tour, covering the Duomo, Galleria, the Scala Theatre and more? Just remember to tip your guide!
Here are other great Milan tours (not free, but still amazing!)
Click below to jump to the relevant section!
Best Cheap (but Awesome) Places to Stay in Milan
(Almost) Free Things to do in Milan at Night
Free Things to do in Milan
1) Check out the Duomo
Naturally, any list of things to do in Milan has to start with the Duomo, the wonderful cathedral built over a 600-year period, still standing proud in Piazza del Duomo, the square of the same name
For years, entering the Duomo was free, save for a €2 camera permit. From 2015 onwards, a €3 charge was introduced for tourists visiting the Duomo, while worshippers can still enter for free, but only gain access to part of the Cathedral – so, if you're thinking to pose as a devout Catholic just to tour the inside for free, don't do it!
However, looking at the wonderful storybook façade of the Duomo is still free! There are hundreds of statues of saints, monsters and gargoyles decorating the spires and doors of Milan's cathedral.
My favourite (and perhaps the most mysterious one) is the statue of Tarantasio, a dragon-dinosaur-looking creature found on the right hand side of the Duomo's main door.
As you can see, the creature looks small and cute – that is because the scene depicted on the Duomo façade is Tarantasio's birth, so he was still a puppy dinosaur!
The legend goes that Tarantasio was a dragon that appeared in a swamp south of Milan in the 12th century, after the area was flooded from heavy rains.
The 'dragon' terrorised villagers for two hundred years, until he mysteriously disappeared after yet another night of heavy rains – all that remained of him was a huge bone, floating to the top of the swamp.
How to get there: M1/M3 Duomo
If you want to know more, check out these Duomo Tours!
2) Galleria Vittorio Emanuele II – Spin on the Bull's Balls!
Another unmissable free Milan activity is checking out Galleria Vittorio Emanuele II, the stunning arcade on the left hand side of the square when you stand in front of the Duomo, known as 'il salotto di Milano' (Milan's sitting room).
Just walk through admiring the beautiful glass roof, luxury boutiques and historic stores lining the arcade, and stop in the centre to look at the four mosaics depicting the four continents. Do not stop at one of the bars or restaurants in the Galleria if you're in Milan on a budget – prices are highly inflated and aimed at tourists.
You may also notice a small crowd standing in a spot near the centre of the arcade, with people taking turns spinning on their heels on a bull mosaic depicted on the floor. This unique Milan tourist attraction is totally free – anyone is welcome to spin on the bull's balls three times, for good luck.
Why the bull, you may ask? Even as a Milan local, I don't really know for sure – the most likely explanation is that the bull is the symbol of Turin, one of Milan's arch rivals, and spinning on the bull's balls is a tongue-in-cheek way to say 'we're better than you!'
How to get there: M1/M3 Duomo
3) Explore Castello Sforzesco
A short distance away from the Duomo you'll find Castello Sforzesco (Sforza or Sforzesco Castle in English), home to Milan's rulers in the 15th and 16th century and still a stunning sight, standing right in the heart of the city, surrounded by moats that are home to a cute cat colony.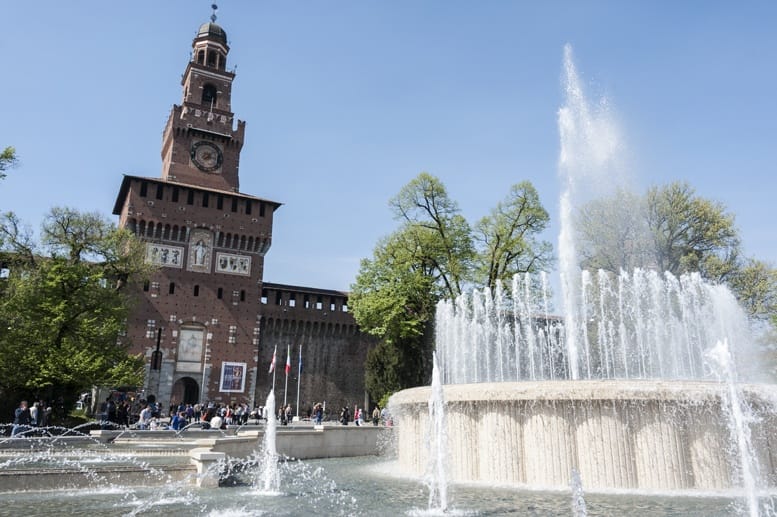 It's free to walk through the castle courtyards, check out the moats and see the castle from the outside. Inside, the castle houses several civic museums, including an archaeological museum focusing on Egyptian artefacts, one dedicated to musical instruments, and a museum displaying Michelangelo's masterpiece Pietà Rondanini.
There's also an entire room decorated with frescoes by Leonardo Da Vinci, who lived in the castle for a number of years – for more info on museums, check out the castle's official site.
You can enter for free every Tuesday from 2 pm onwards, and from Wednesday to Sunday from 4.30 to closing time.
How to get there: M1 Cairoli
Here are some cool Castello Sforzesco tours!
4) Stroll around Parco Sempione
Again, Milan may not be London when it comes to parks, but it has some really amazing green spaces. In the centre, you'll find Parco Sempione, extending north from the back of Sforzesco Castle, and definitely one of the coolest free places to see in Milan.
When I was a child, Parco Sempione had a bad reputation. In 1996, the Milan administration decided to clean it up, and since then it has become one of my favourite things to see in Milan. It's a great choice for a picnic, on a nice spring day, for a run or just a wander, a breath of fresh air in the traffic-congested centre.
Architecture-lovers will especially dig the park. From the Art Nouveau Acquario, to examples of Fascist architecture like Palazzo dell'Arte and Torre Branca, the Arena (Milan's first stadium) and of course Castello Sforzesco, Parco Sempione is an open air museum of the history of Milan's architecture – and access is always free.
The area around Arco della Pace (the big arch at the opposite end from the Castle) is one of Milan's coolest places to visit at night. Head there for an aperitivo after your stroll!
How to get there: M1 Cairoli, M1/M2 Cadorna
5) Visit the Acquario (from the outside)
I couldn't fail to mention the Acquario in this list of free things to see in Milan, because when I was a child it was my favourite building. I loved the hippo fountain, the fish-like carvings and even the cavernous interior, and the neon-fish were my absolute favourites.
I bet many of you don't even know Milan has an aquarium. It's definitely no Sydney or Genova affair – there are no sharks, penguins or even dolphins, and the star-attractions are probably the jellyfish. Entrance used to be free for a long time, but recently a €5 entry charge was introduced.
However, you can still enter the Acquario for free every first and third Tuesday of the month, from 2 PM onwards – it's a great way to enjoy Milan when it rains, especially if you have kids!
So, why am I recommending the Acquario in this free things to do in Milan post? Because the building is absolutely stunning. It's one of the most beautiful examples of Milanese Liberty, dating back from the early Twentieth century, with beautiful details such as tiled decorations representing marine life, carvings of squid and octopus and (of course) my beloved hippo fountain.
How to get there: M2 Lanza
6) Relax in Milan's Parks, Gardens and Farmhouses
I said that Milan is no London when it comes to urban nature – yet, it still has a pretty impressive collection of parks, gardens and even cascine (farmhouses). And naturally, all parks and gardens are 100% free!
I've written a detailed post about the best Milan parks and gardens – besides Parco Sempione, the best ones to visit for a quick nature fix are the Giardini Pubblici Indro Montanelli near Porta Venezia, and Giardino della Guastalla not far from San Babila.
If you want to 'feel' as if you're the countryside without leaving Milan, head to one of the restored farmhouses in the city – two great options are Cascina Cuccagna near Porta Romana, housing a km zero restaurant and some indie shops, and Cascina Martesana, a great place for a beer in summer.
7) DIY sightseeing on a Vintage Tram
Milan's iconic orange trams are not used for sightseeing tours, they're public transport! The oldest-running public transport vehicles in the world, to be precise, having been in service since 1928.
Elsewhere in the world, a ride on such a cool-looking tram will be rather expensive, but in Milan it will cost you nothing more than an ordinary ticket (€2). So, it's an ideal addition to your list of what to do in Milan on a budget!
My favourite lines are tram 19, taking you from the working class world of Lambrate (my neighbourhood!) through some beautiful tree-lined avenues to Piazza Fontana, just off Duomo, and then around the centre, past Sforza Castle and all the way to the Arco della Pace (a great spot for aperitivo, another unmissable Milan experience!)
Another great option is tram 1, travelling from Greco through the backstreets of the centre and then down genteel Via Vincenzo Monti and Corso Sempione, covering several Milan points of interest along its route.
Hop on and hop off at your leisure, but don't forget a ticket is valid 90 minutes!
8) Explore Unique Milan Churches
Besides the Duomo, every other church in Milan (that I know of) is free to enter. Here are some of my favourites!
If you are visiting in autumn or spring and weather is not the greatest, visiting churches is a great free thing to do in Milan on a rainy day!
Sant'Eustorgio, one of Milan's oldest churches, famous for being home to the stunning Renaissance Cappella Portinari and to fragments of the bones of the Three Kings
San Maurizio al Monastero Maggiore, dubbed Milan's Sistine Chapel on account of its beautiful frescoes
Santa Maria alla Fontana, worth a visit for its fresco-covered cloister and 'miraculous' fountain, believed to have healing properties
San Marco near Brera, one of Milan's most unique churches, rich of mysterious symbols
San Simpliciano, also near Brera, dating back to the 3rd century and with a beautiful mosaic covering the apse
9) Visit Sant'Ambrogio
I couldn't just add Sant'Ambrogio to the previous paragraph – this church is really worth a visit, and naturally it's also one of the best free Milan attractions.
Dedicated to the patron saint of Milan, Sant'Ambrogio is one of the oldest churches in the city dating back to the 4th century, and one of the finest examples of Romanesque architecture in Italy.
Walk through the courtyard in front of the church and look at the beautiful capitals holding up the columns, all carved differently. In the church, check out the mosaic on the apse and remains of medieval frescoes.
You'll also notice a snake on top of a column – according to a local legend, the snake will slither down on Judgement Day, to grab the souls of sinners and carry them off to Hell.
10) Hunt for Street Art
Will you laugh if I tell you Milan has some great street art? Going on a DIY street art hunt in Milan is a cool free and fun activity. Most of it is found around the Isola district, not far from Garibaldi station.
Another street art hotspot is Corso di Porta Ticinese and the Colonne di San Lorenzo, the area around Via Leoncavallo, the gates surrounding the Ippodromo in San Siro, and Via Gaetano Pini near Porta Romana.
If you want to make things easy, join this Milan street art tour!
11) Ride your Bike Along the Navigli
I've told you how easy it is to ride a bike around Milan. Shame bike lanes are still few and far between. If you fancy a Sunday morning bike ride, there are two great options – both involving the Navigli, Milan's artificial canals, one of Milan's best free places to visit both during the day and at night!
One is the popular bike path along the Naviglio Grande, from the Porta Genova area in the city centre through some open countryside to the pretty villages of Gaggiano and Abbiategrasso. The trip is about 30 km in total, and it is possible to return by train.
The second is the Naviglio Martesana cycle path, from the Gioia area in the city to the Adda river, 40 km later. You'll travel through some great urban nature, a coypu colony (yes, odd) and locks designed by Leonardo da Vinci himself (or so the story goes).
A reader recommends cycling down Naviglio Pavese, all the way to Bereguardo. I haven't tried this path myself but I'm sure it would be fun!
How to get there: M2 Porta Genova (for Naviglio Grande and Pavese) and M2 Gioia for Naviglio Martesana!
Here are some Milan tours by bike if you want to explore more!
Every great city has a great cemetery, and Milan's very own is rather spectacular. Cimitero Monumentale is a real 'city of the dead', and a place where Milan's history lives on through the graves of its most illustrious inhabitants.
If you like quirky places, add this to your list of free Milan points of interest to visit!
There are more than 15.000 statues and three famous buildings; the Famedio or Pantheon (where writer Manzoni, politician Cattaneo and other famous Milanese are buried), the Ossario and the neoclassical former Crematorium.
But the best thing to do is just wandering around the gravel lanes, marvelling at the sculptures and taking in the solemn (and slightly spooky) atmosphere.
How to get there: M2 Garibaldi and M5 Monumentale
13) See the world in one city at Chinatown
Milan's first multicultural district, Chinatown, is definitely worth a visit if you ask me. Since main drag Via Paolo Sarpi, was made pedestrian, the district has become a pleasant place to walk around, buy some Chinese-style souvenirs and have a tasty Chinese meal.
Some of the best Chinese eateries in Chinatown include Wang Jiao, the Ravioleria Sarpi for takeaway dumplings and Chinese crepes, and Chateau Dufan for bubble tea and other sweet treats.
Chinatown is especially cool around Chinese New Year time, when lanterns light the streets, dragons and lion dances parade around accompanied by the sound of the drums. The next Chinese New Year celebration is on Feb 12th, 2021 – who's coming?
How to get there: M2 Moscova
14) Check out the Porta Nuova Skyscrapers
Not far from Garibaldi station, you can't miss Porta Nuova, the new steel-and-glass 'district', centrepiece for the Expo 2015 development and one of the best newest Milan attractions!
Sit in lovely Piazza Gae Aulenti and crane your neck looking at the spire of the Unicredit building, the tallest in the city, check out the Egg artwork just around the corner, with brass pipes where you can listen to the sounds of the city, then follow the walkway to Bosco Verticale, a high-rise block of flats with trees and bushes planted on each terrace.
I wasn't a big fan, but my recent visit of the district with Waam Tours definitely made me change my mind and include it in my list of favourite free Milan points of interest. Visit in the late afternoon on a bright day, to see the pink sky reflected into the water of the fountains and the glassy façades. Don't forget to take a spare memory card!
How to get there: M2 Garibaldi
15) Old Meets New in Isola
After Porta Nuova, take a quick walk around the corner to Isola, one of my favourite neighbourhoods in town – the easiest way to access it is walking underneath Garibaldi station, following the signs to Via Pepe.
The reason why I love Isola so much is that it's a perfect example of old meets new – you'll find hipster hangouts like Frida, excellent restaurants like Capra e Cavoli (one of my favourite vegetarian restaurants in Milan!) and lots of 'Old Milan' shops, unchanged for 50 years or longer.
If you want to know more, check this post about Isola, its street art and more! Make sure you also add Isola to your list of what to do in Milan!
How to get there: M2 Garibaldi, M5 Isola
16) Explore the Garden of Villa Necchi Campiglio
One of Milan's best museums is Villa Necchi Campiglio, home to a rich bourgeois family during the early 20th century.
The museum isn't free, but the stunning garden with a decorative pool all around the residence is – a wonderful free alternative to a bar or café if you want to take a break from the chaos of the city centre!
How to get there: M1 Palestro
17) Piazza Affari and L.O.V.E.
This is one of Milan's most unique and ironic sights, and also happens to be free! In 2010, when Italy was in the middle of the economic recession, a sculpture depicting a hand giving the 'middle finger' was placed in Piazza Affari, in front of Milan's stock market.
The sculpture is titled L.O.V.E., an acronym for Libertà, Odio, Vendetta, Eternità (Freedom, Hate, Vengeance, Eternity), the author is Maurizio Cattelan, who never commented publicly on the meaning of his work.
Is it the 1% giving the middle finger to the rest of the world? Or is it the 99% saying 'f*** you' to the capitalist world of bankers and finance? In any case, check it out – definitely one of the most unique Milan attractions!
How to get there: M1 Duomo
18) Leonardo's Horse at the Hippodrome
When Leonardo da Vinci lived in Sforzesco Castle at the court of Ludovico il Moro, the ruler challenged him to build the largest equestrian statue ever in honour of his nephew. The statue was never completed, and the clay model, sketches and casts were lost over the centuries.
The sketches were found in 1965, and statue finally came to light in 1999, 500 years after the original model was destroyed, thanks to an art enthusiast that commissioned it to a Japanese artist.
It stands in front of the Hippodrome, not far from San Siro stadium – the area is worth a visit also because it also houses the longest street art wall in Milan. This is also really offbeat, so definitely add it to your list of what to do in Milan to escape crowds!
How to get there: M1 Lotto, M5 San Siro
19) Fondazione Prada & Bar Luce
Fondazione Prada is a contemporary art gallery, housed in a former gin distillery, opened by the popular Prada fashion family. It houses a permanent collection in a super cool post-industrial setting – however, entrance is not free, it costs €15 per person.
Why am I mentioning it as a free Milan attraction? Because you can walk around the courtyard and check out the reconverted buildings for free, and access the uber famous Bar Luce, the insta-perfect bar designed by filmmaker Wes Anderson.
A coffee at the counter will only set you off about a euro or so – almost free!
How to get there: M3 Lodi TIBB
20) Visit Milan's Abbeys
The southern outskirts of Milan are home to several abbeys and monasteries – Chiaravalle, a wonderful example of Romanesque-Gothic architecture set in a large park, Viboldone, famous for its wonderful frescoes, and the abbeys of Morimondo and Mirasole, located further from Milan's city borders but still worth a visit.
You can easily cycle to all these abbeys following cycle paths, or even combine two or more of them for a Milan day trip dedicated to silence and spirituality. Whoever said Milan is all about hustle and traffic?
21) Go to the Beach – Idroscalo!
Did you know you can also go to the beach in Milan? Well, not quite – but you can go to Idroscalo, an artificial lake not far from Linate airport.
This is indeed the closest you'll get to feeling 'at the beach' in Milan – you can rent pedal boats, lie in the sun, swim, go kayaking or even wake boarding. Access to the Idroscalo is free, activities are charged separately.
Another great option for a fun day trip from Milan, not too far from the city!
How to get there: Bus 183, 923
22) Go (Window) Shopping
Shopping is at the top of the list of all fashion-related things to do in Milan – however, it's anything but free! Luckily for all budget conscious travellers, window shopping (and browsing) is definitely free, and always fun in Milan.
If you're wondering where to go shopping in Milan, head to the Galleria Vittorio Emanuele or Quadrilatero d'Oro, the legendary shopping district between Via Montenapoleone, Via della Spiga, Via Manzoni and Corso Venezia – the huge Armani megastore on Via Manzoni is a great place to browse, then you can check out Gucci, Prada, Versace and all the others.
Another place that's worth a visit for all fashion lovers is 10 Corso Como, Milan's most famous concept store opened in the 1990s along (yes, you guessed it) Corso Como. The store is hidden in a courtyard and includes a boutique, cocktail bar, restaurant, bed and breakfast, bookstore and art gallery – which is free to enter!
Top tip – walk to the rooftop terrace to get a great view over Porta Nuova, for free of course! Definitely one of my favourite cool things to do in Milan!
How to get there: M2 Garibaldi
23) Sit in Milan's Last Medieval Square
Just around the corner from the Duomo you'll find one of my favourite Milan places to see – Piazza dei Mercanti, probably the most charming square in town.
Piazza dei Mercanti (meaning Merchants' Square) used to be the heart of the city in Medieval times, and it's still one of the last remaining places where you can see Medieval buildings.
The most striking of them all is Palazzo della Ragione, a 13th century red brick building that used to house the courts of justice, and the daily market under its arches. There is also the Palazzo delle Scuole Palatine, once Milan's most famous school, the Loggia degli Osii decorated with statues, and the Casa dei Panigarola, one of the best preserved (and least known) Gothic buildings in town.
How to get there: M1/M3 Duomo
24) See Milan's Creepiest Church
Here's another super creepy and cool free thing to do in Milan! The secret of San Bernardino alle Ossa is in its name – ossa means bones in Italian, referring to the decoration of one of its chapels.
The church was built on the location of a former hospital and cemetery, that within the space of a century became overflowing with bodies, so that an ossario (ossuary) was added to gather bones and skeletons of those who couldn't pay for a grave.
When San Bernardino alle Ossa was erected in 1269, the ossuary was full too, so some of these bones (especially skulls and femurs) were used to decorate a side chapel. There's a giant cross made of skulls, piles of skulls stacked on top of one another behind grates, and even skulls of beheaded criminals on display on shelves.
Visiting San Bernardino alle Ossa is a truly unmissable free Milan attraction, but please be aware that photography is strictly forbidden.
How to get there: M1 San Babila
25) Check Out Some Roman Ruins
Did you know that Milan was a Roman city, and you can still see some Roman ruins around – for free, of course!
There are more than 10 places where you can see Roman ruins, but some are little more than a pile of rocks, and other are within the wall of museums, so they're not technically free.
So, in the spirit of this post, here are my 3 favourite Roman ruins in Milan!
-Roman Amphiteatre, it's now a park, you can find it in Via De Amicis 17
-Imperial Palace of Maximian, with a great viewing platform, in Via Brisa. Did you know that Milan was capital of the Roman empire for over a century!
-Colonne di San Lorenzo, the best known Roman ruins in Milan. Having a drink there is one of the must-do Milan activities at night!
26) Explore NOLO, Milan's New Hip Neighbourhood
NOLO stands for 'north of Loreto', referring to the area included between Piazzale Loreto, Stazione Centrale and the railway tracks, and Via Padova.
This area used to be fairly seedy up until a few years ago, and now the sweeping wave of gentrification is largely on its way. In any case, NOLO is worth visiting – it's still one of Milan's most multicultural neighbourhoods, with some truly incredible restaurants like Sichuanese Nove Scodelle, Wang Jiao serving up Hong Kong cuisine, and the Mercato Comunale, home to several great eateries.
However, NOLO is not just about food – you can find some of Milan's coolest hybrid spaces, like Bici & Radici, a bike and flower store, Heracles Gymnasium, a gym and library all in one, and Salumeria del Design, an interior designer studio that becomes a restaurant at night.
How to get there: M1/M2 Loreto
27) Wander Around Lambrate and Ortica
Come to my own 'hood! Lambrate and its little sister Ortica were once a separate village from Milan, but they were annexed to the city in the 1920s, and have been a part of Milan ever since.
Lambrate is one of those places where former industrial buildings have been turned into cool vintage stores, design shops, and super cool cocktail bars – even though it's hard to recommend where to go, as uber-cool bars and restaurants seem to open and close faster than it takes to say gentrificazione.
So, I'll recommend you my own favourite haunts between Lambrate and Ortica – for the best design and vintage stores, walk down Via Conte Rosso and Via Ventura, stop at Birrificio Lambrate for the best craft beer in Milan (more below…) and visit Pizzeria dallo Zio, where you can eat with less than €10.
Then, take a quick walk to Ortica – there is some great street art to be seen on Via Ortica, and the wonderfully quirky Balera dell'Ortica is another unmissable Milan attraction in my opinion. It's a trattoria, dancing hall and bocce club, housing a craft/vintage market every month!
So, if you have a knack for going off the beaten path, definitely add these two districts to your list of cool things to do in Milan!
How to get there: M2 Lambrate FS
28) See San Siro Stadium Before It's Too Late
Are you a football lover? If the answer is yes, add San Siro Stadium to your list of unmissable things to see in Milan!
Milan's stadium was opened in 1926, and renamed after Milanese footballer Giuseppe Meazza in 1980. It's home to Milan's two footballing giants, AC Milan and Inter, and one of Italy's largest stadiums, seating up to 80,000 people.
Its mighty silhouette with signature 'spiralling towers' is easy to recognise when looking at Milan from above. However, it's only by standing next to it that you realise how huge and amazing San Siro Stadium is – and no, you don't need to take expensive tours. Just take the M5 to San Siro Stadio and look up!
You'll have to be quick though – San Siro Stadium will be knocked down within the next two years, and a new stadium will be rebuilt in time for the Milano Cortina Winter Olympics in 2026.
How to get there: M5 San Siro Stadio
29) Visit Milan's Sistine Chapel
Why have I save this till now? Because this is really one of the best cool things to do in Milan, so I'll only share it if you've been good and read up to here!
The San Maurizio al Monastero Maggiore Church dates back to Renaissance times, and it is known as Milan's Sistine Chapel on account of its beautiful frescoes by Bernardino Luini and his sons, covering every inch of the walls and ceiling.
A monastery used to be located nearby, and for this reason the church is divided in two – the 'regular' church, accessible through the front door, and the Hall of the Nuns just behind of the altar, connected to the monastery behind, and reserved to nuns.
Nowadays, you visit the front half of the church first, then move to the Hall of the Nuns by way of a tiny door located to the left of the altar. Once there, prepare to be amazed again.
Don't forget to take a close look to the paintings of biblical scenes in the side chapels. In the one featuring Noah's Ark you can see pairs of animals of all kinds, including unicorns!
How to get there: M1/M2 Cadorna
30) Walk Down Milan's Most Multicultural Street
Do you want to know about one more unusual and fun place to see in Milan? You just have to visit Via Padova, Milan's most multicultural street.
Via Padova starts from Piazzale Loreto, right around the corner from NOLO described just above. In NOLO, gentrification is well and truly in full swing, whereas Via Padova still retains an authentic, working class vibe – much like Lambrate and Isola, but with a more multicultural vibe.
To give you an idea, you can grab Sri Lankan takeaway, play at a vintage bowling alley and have your hair cut by an Egyptian barber all within a few blocks. There's also street art, some really cool old school bars, and naturally lots of tasty food – making it definitely a fun and cool place to see in Milan.
I'll just recommend two addresses – El Carajo, probably the best Peruvian restaurant in town, and Quattro Stagioni, recommended by a Chinese friend for hot pot!
31) Visit the New Biblioteca degli Alberi
What on earth is a 'Library of Trees', you may ask. Biblioteca degli Alberi one of Milan's newest attractions, a wonderful park and botanical gardens right around the corner from Isola and Porta Nuova.
In spring, the entire park is full of wildflowers in bloom, and all year round you can join many free activities, like morning yoga and fitness classes, open air concerts and poetry readings.
In summer, a section of the park turns into an 'urban beach' with deckchairs and umbrellas – definitely a cool, fun thing to do in Milan on a budget, since access is only €2 per person!
32) Marvel at the Tre Torri in CityLife
Looking for where to go shopping in Milan away from the centre? Head to CityLife, one of Milan's newest (and coolest) places to see.
It was created in the spaces of the old FieraMilano, Milan's former exhibition centre. CityLife has something to offer for everyone – shopping lovers who will enjoy browsing the upscale shopping district, and those looking for nature can explore the stunning CityLife park, either on foot or by bicycle or electric scooter.
Yet, this place in Milan is a must-do for architecture nerds! The most famous attraction in CityLife are the Tre Torri, three skyscrapers designed by true starchitects.
The three towers are also famous for their fun yet descriptive names – Il Dritto (the straight one) was designed by Arata Isozaki, Lo Storto (the twisted one) is Zaha Hadid's work, and Il Curvo (the curved one – yet unfinished) was planned by Daniel Liebeskind.
Best Cheap (but Awesome) Places to Stay in Milan
Best Free Museums in Milan
33) Hangar Bicocca
This contemporary art space was opened in an area that formerly used to house Pirelli factories. It specialises in large scale and site specific installations, and entrance is always free – a great place to see in Milan on a rainy day!
Check the official website for opening times and to know what's on.
How to get there: Greco Pirelli station, bus 51 and 87
34) Brera Library and Botanical Gardens
The famous Pinacoteca di Brera art gallery is only free to access for special occasions – however, if you're visiting Milan on a budget, you'll be happy to know you can enter for €3 every first and third Thursday of the month, from 6 to 10 PM.
Yet, there's more to Brera than just the art gallery – the same building houses Milan's most famous art academy, dating back 250 years, and it is also worth a visit to see the stunning Braidense Library and Botanical Gardens, which are both free to access.
How to get there: M2 Lanza
35) Casa Museo Boschi di Stefano
One of Milan's best offbeat and free museums in Milan! This is a really cool house museum, a once private collection of 20th century Italian art, on display in the Art Deco apartment where the owners used to live. There are 11 spaces to explore, in a peaceful and stylish setting. Definitely one of Milan's best free hidden gems!
How to get there: M1 Lima
36) Studio Francesco Messina
This museum used to be the place where Sicilian artist Francesco Messina worked, a studio in a deconsecrated church. After the artist's death, it was turned into a museum dedicated to his life and work, housing over 80 sculptures and 26 sketches and drawings.
This museum is worth a visit for two reasons, for the unusual setting, and quality of the exhibits – and it's free!
How to get there: M2 Sant'Ambrogio
37) Triennale Design Museum
I already mentioned the Triennale in the paragraph about Parco Sempione – it's one of the best examples of Fascist architecture in Milan, and it also houses the city's design museum, including a permanent collection dedicated to modern Italian design that is always free to access.
Another reason to visit the Triennale is the view from the balcony upstairs, where you can also enjoy a delicious aperitivo. Don't miss visiting at sunset for a wonderful view over the Duomo and Parco Sempione!
How to get there: M1/M2 Cadorna FN
38) MUDEC
If you find yourself in the Navigli, make sure you pay a visit to this wonderful newly-opened museum dedicated to world cultures, with a permanent collection including artefacts from as far afield as Polynesia and South America, as well as temporary exhibitions.
The exhibitions are charged separately, but you can enter the permanent collection for free.
How to get there: M2 Porta Genova
39) Palazzo Morando
This one is for fashion lovers! Palazzo Morando is a free museum dedicated to fashion located in a historic palazzo just around the corner from Via Montenapoleone.
On the lower floor there are usually temporary exhibitions about fashion and Milanese style, while upstairs you can see dresses and clothing dating back to the mid-19th century and admire a picture gallery that portrays scenes and locations of Milan in the past.
How to get there: M3 Montenapoleone
BTW, did you know you can also visit Leonardo Da Vinci's Last Supper for free once a month?
(Almost) Free Things to do in Milan at Night
40) Have Aperitivo
Aperitivo is a real Milanese institution – from 6 pm onwards, every bar and cafe in town starts preparing a huge food buffet, free to enjoy with a drink. The idea sounds brilliant, right? A drink and a huge buffet for €8-10 – that's almost a free dinner!
Well, not all aperitivo were created equal. The quality of food varies dramatically, from barely edible to delicious and anything in between. My favourite places for aperitivo are Carlo e Camilla in Segheria near the Navigli, Lacerba in Porta Romana (a Futurism-inspired bar!), Bhangra Bar near Arco della Pace, and the Triennale terrace bar.
41) Find the Best Street Food
Did yo know that Milan has great street food, especially in summer, and that street food is a great way to eat in Milan on the cheap?
The Navigli are a great place to start if you want to have street food, with lots of food trucks and street food places along Via Vigevano and the Naviglio Grande, alternatively Chinatown is always a good idea. Check out our Milan street food post for more info!
42) Enjoy Craft Beer
There's a booming craft beer scene in Milan, and a night spent sampling brews is a great way to have fun on the cheap. My favourite microbrewery is Birrificio Lambrate, with two locations in the neighbourhood of the same name, which also happens to be where I live!
If you want to be closer to the centre you can have some great craft beers at La Ribalta and La Birrofila in Barona, Baladin near Brera or LambicZoon near Porta Romana, where you can also have some of the best burgers in Milan!
Take a look at our Milan craft beer guide to know more about where to find good beer!
43) Have a Cheap Meal
Some say that you can't eat out in Milan for less than €50 per person. Wrong. If you want a sit-down meal, there are loads of excellent options in Milan – for €20 or even less you can have great pasta, pizza, gelato, regional Chinese food, Japanese, you name it!
Check out our cheap Milan restaurants post to find out where to go!
44) Hang Out at the Colonne di San Lorenzo or Darsena
Another fun free thing to do in Milan at night is sitting down in a place like the Colonne di San Lorenzo (Colonne for short), the Roman colonnade opposite the San Lorenzo Basilica, about ten minutes walk from the Duomo.
Every evening, the benches surrounding the colonnade are full of young people drinking beer, eating street food or just people-watching and enjoying the sunset atmosphere – sometimes there are impromptu concerts, or street artists performing.
The Darsena, the small 'harbour' at the end of Corso di Porta Ticinese where the Naviglio Grande and Pavese flow, is also a great place to sit down and people-watch – the area was derelict until recently and was restored in occasion of Expo.
It's a great place to visit in Milan at night, with lots of places to grab beer, street food and gelato in the vicinity.
45) Dance in the Streets
This is by far the most fun free thing to do in Milan at night! The trend started a few years ago, perhaps in response to the crisis and the uber-pricey Milan club scenes. Two groups of tango and folk dance aficionados, named Tango Illegal and Mazurka Klandestina, decided to organise secret dance parties in the city's streets and squares at night.
Locations are kept secret, but two popular venues are Piazza Affari and the courtyard of Palazzo della Regione, two symbolic pro-establishment places. In any case, a night out dancing (or just watching people dancing, in my case) is great fun, and a wonderful alternative way to spin your brogues without paying a fortune.
Join Mazurka Klandestina's FB group for info on venues. The page is in Italian, but I'm sure someone will help if you ask in English.
Pin it for later?